Summers in Georgia
A Pyramid of Gold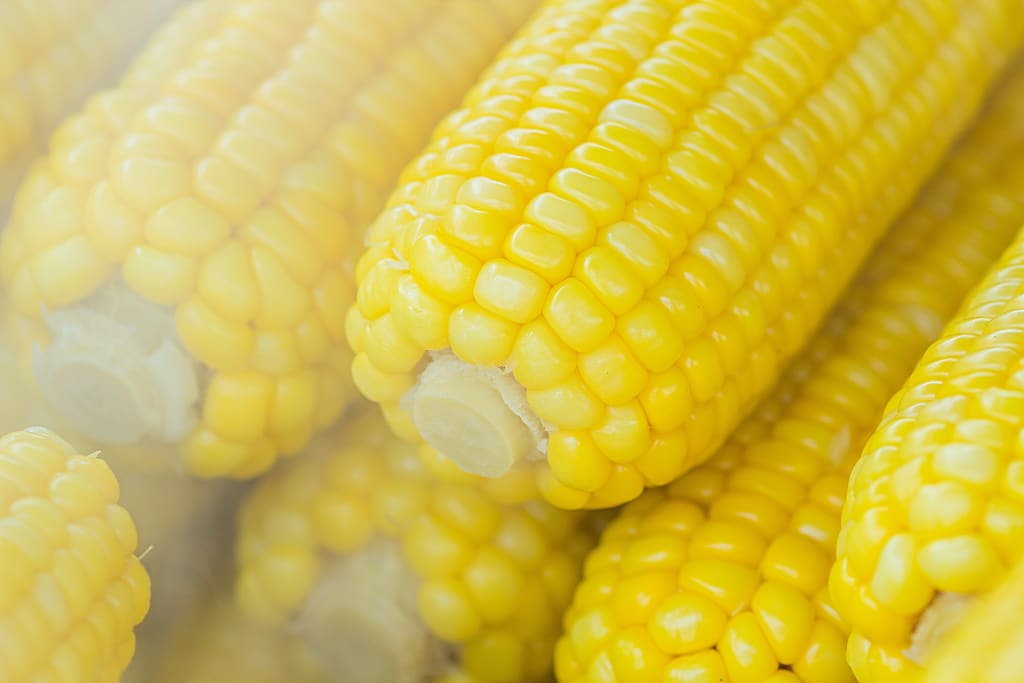 Photo by NEOSiAM 2021: https://www.pexels.com/photo/pile-of-sweet-corns-603030/
My grandmother composes menus like symphonies, each hors d'oeuvre, entree, and accompaniment tabulated in 3/4 time. Preparation takes on a rhythm, and dawn is the down beat. Wake up, two, three; marinate ribs, two, three; fry bacon, two, three; slice grapefruit, two, three; scramble eggs, two, three; start the slow roast, two, three. There is a delicate dance of timing, such that each moment of the day is spent either cooking food or consuming it.
When we arrive in Georgia, we are immediately placed under her capable conduction. Mother assembles the table salad while my brother is put to grilling while I butter up bread rounds for the oven. Grandma strides about the kitchen with metronome steps, lending a hand wherever she feels her careful rhythm might falter. Under her direction, every meal arrives with a flourish - each component having come to a crescendo at the same moment.
There are, thank heavens, stanzas of rest in this score. Time to breathe, to take in a little sunshine by the pool, and to relish in the fruits of our labors.
Meals are languid affairs. Conversations flow freely as the wine as the hours drift by like distant clouds. For breakfast, there is a heaped serving bowl of scrambled cheese eggs, a platter piled with several types of sausage and bacon, grapefruits sliced neatly in half resting in small crystal bowls, a plethora of toasted breads to choose from, and a basket stuffed with morning glory muffins. We are always assured that should we be in danger of going hungry, there is plenty more in the kitchen.
Immediately after the meal, a tray of hors d'oeuvres is laid out. Butter crackers and slices of cheese, cuts of summer sausage and paper thin charcuterie meats, a creamy dip matched with carrots and potato chips, several different types of salsas with corn chips, all arranged on trays. One goes beside the pool, the other in the tv room. Lunch is a lighter repaste, featuring lunch meat for sandwiches and a generous helping of potato salad. A healthy supplementation of more cheese and crackers rounds out our plates.
Dinner is the true climax of the day, with rhythms set in motion at dawn finally coming to fruition. A slow roasted pork loin on a bed of carrots, rosemary, and celery takes center stage. It is flanked by a cloud of mashed potatoes and a salad rich with blueberries, pine nuts, and crumbled blue cheese. A basket of crunchy, buttery garlic bread makes its way around the table, followed by a bowl of peas.
Placed near my grandfather's end of the table, complemented by a tub of spreadable butter, there is a pyramid of gold. With a dozen or more corn cobs, there are enough for each of us to have at least two. Each kernel shines, plump and perfect, and the whole arrangement is still steaming from the pot. It does not take long for us to dismantle the structure and dig in.
There is nothing very fancy in the way the cobs are prepared. First, we peel away the large leaves surrounding the ear and remove the fine hairlike strands that tend to get caught between the kernels. Depending on if we ask Grandma or Grandaddy, this process is either called "shucking the husks" or "husking the shucks." It's been a hot debate in their household for decades now; according to the dictionary, they are both correct. Once the corn is clean, we simply boil it for three to five minutes in water with just a bit of salt. The rest is all done to taste at the table.
Butter is the key to truly excellent corn on the cob. Growing up, we had a butter dispensing tool to make it easier to cover every in melted bliss. A piece of bread makes a suitable substitute, however. Simply spread the butter thickly across one side of the bread, then wrap the bread around the corn and twist it several times. The corn needs to be warm still to properly heat the butter, and it should be dripping. I love to see the rivulets of gold trickling through the cracks between kernels, like a river through a canyon. A dusting of salt across the cob and it's ready for the first bite.
My teeth sink into the corn, and the kernels burst into sweetness. Warm and savory from the butter, and enhanced by the salt, the flavors dance across my tongue. No other type of corn can compare to this rush of flavor. The sudden explosion of texture from the meat of the corn, the slightly harder and saltier seed for contrast. The soft, fragile skins get caught between my teeth as I demolish the treat in my hands. Each bite is as good as the first; bright, rich, and hot as the Georgia sun.
I rarely eat dessert on nights when we have corn on the cob, though it is always part of the arrangement. A tray of cookies is set out on the coffee table as we all sit on the couches and armchairs and enjoy some classic westerns. We rest now, this movement of the symphony finally winding down. Tomorrow will begin the process anew, with Grandma rising early to conduct us all again.
cuisine
About the author
I've wanted to write since I was in the fifth grade and been too scared of failing. This is me, still afraid, jumping in anyway.
If you like things that are slightly spooky or slightly sad, come on in.
Photo by Саша: https://www.pexels.com/
Reader insights
Be the first to share your insights about this piece.
Add your insights