Summer Treats Are Back
Who's Ready for Funnel Cakes?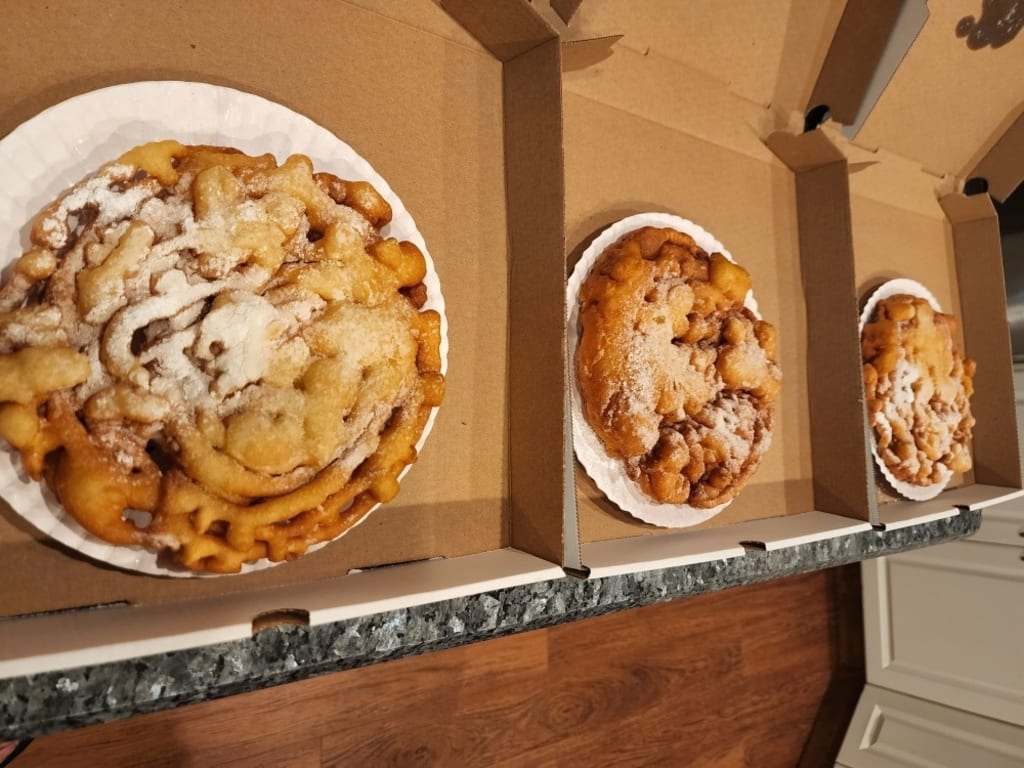 Photo by Zak Jones
Summertime is here and so are everyone's favorite summertime foods. There are so many choices, fresh fruits, clam bakes, grilled specialties, mountain pies, fresh tomatoes, corn on the cob, s'mores, but I gravitate to carnival fare. Just walking through the local carnival and fairs you see them, you smell them, kettle corn, snow cones, candy apples, fried dough, food on a stick, and…funnel cakes. To me, there is nothing better.
What would summer be without a warm, melt in your mouth, funnel cake? There isn't a carnival or fair that doesn't serve these tasty treats. And it's carnival season. All around my hometown are several carnivals that take place in May, June, and July, and that means several opportunities for carnival eats, and for me, funnel cakes.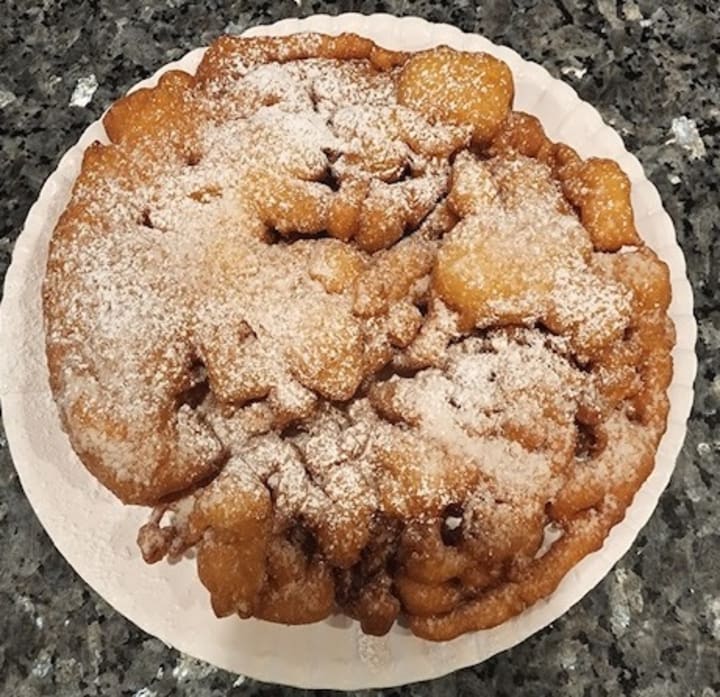 Not only can I get this treat at local carnivals and fairs, but, as luck would have it, my campground sells them every other Friday night as well. Another way for me to take advantage of this yummy treat. How lucky can one girl get?
As I sit outside on my deck at camp, that delicious, sweet, fried aroma wafts passed. I'm hooked. How can I possibly wait any longer? I need my fix, and I need it now. I grab the keys to the golf cart and away I go. Finally, and its only a minute or two, I make it to the concessions stand.
To my dismay, the line is long. The longer I wait, the more the smell tickles my nose. My mouth waters just thinking about tearing off a big piece and eating it, licking the powdered sugar from my fingers.
I jump out of the cart and get into the line. When will I get my chance to order? The wait drives me crazy, it's the hardest part. Why isn't this line moving? I talk to those waiting in line with me to pass the time. It isn't keeping me from seeing others with their funnel cakes. They pass me by, eating them, licking their fingers, sharing with their friends. Why can't they share with me? My patience is running out. I pace anxiously in my small spot and keep talking. Anything to keep my mind off the long line.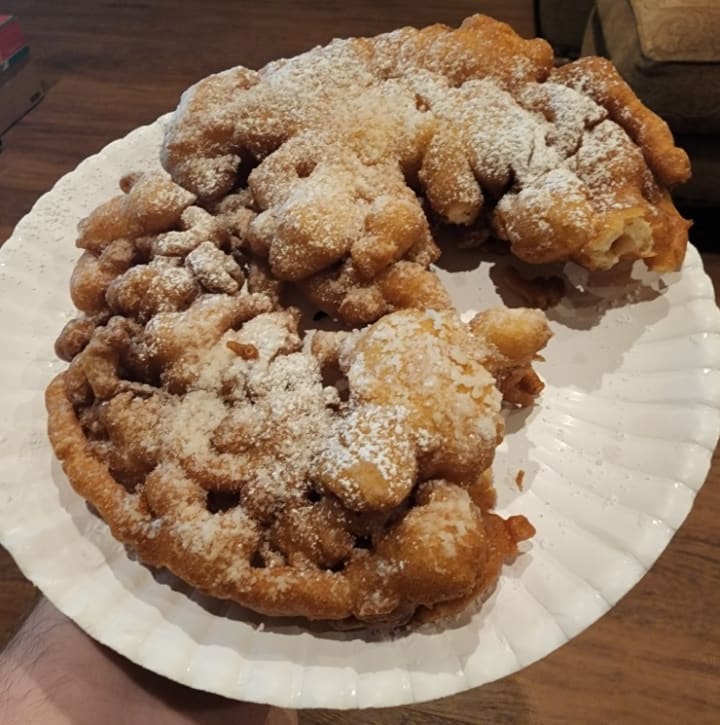 Finally, it's my turn to order. I step up to the window and place my order. Two funnel cakes, one for me, the other for the hubby and dogs. Yes, dogs love them. Getting two assures me that I won't have to share. Mine is mine. No toppings for either this time, just extra powdered sugar. I like them both ways, but today I simply want that delicious fried treat.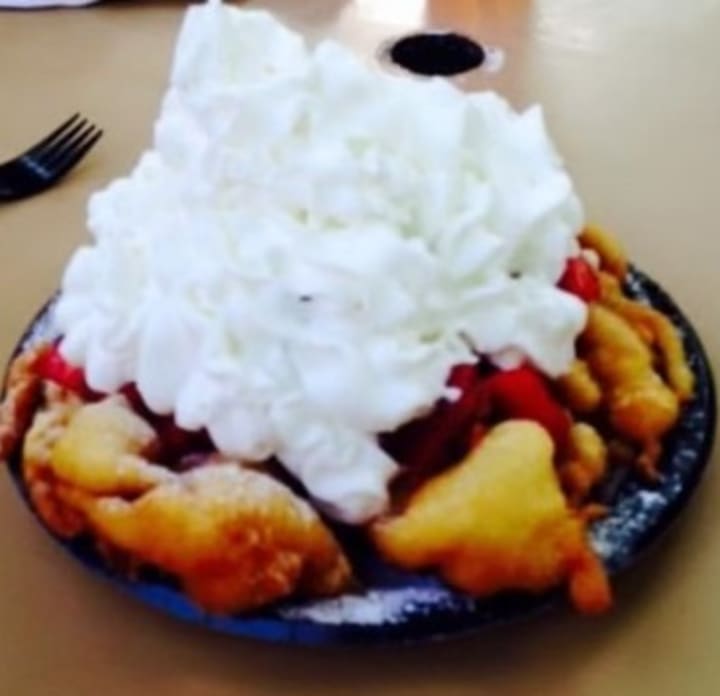 After paying, I step aside and wait, again. It shouldn't be too long, but it seems like an eternity. I'm pacing again. I look up at the concession stand. They are pumping out food as fast as possible.
Still Waiting.
Several names are called before mine, and they pass by eating that delicious dessert that makes my mouth water. Please call my name. They call out another name. Still not me.
More waiting.
At last, I hear my name and rush to the pickup window. Like the others, I tear off a piece, shove it in my mouth and lick my fingers. I should have ordered three. I take the rest with me back to our camper. Maybe I won't have to share. Ha Ha Ha. That never happens. They are waiting for me on the deck.
I got my fix for today. But I'll be back again.
You can only camp and go to carnivals and fares where I live until November. What happens then? How can I get my funnel cake fix? Surely, I won't have to wait months to munch on my favorite.
As a funnel cake fanatic, I had to come up with a way to have my summer favorite whenever I wanted. And I did. I came up with a recipe that's easy to make and uses ingredients that most of us keep in our pantry.
If you want to make this mouthwatering summer favorite, my recipe is below.
1 Cup Pancake Mix (I use buttermilk pancake mix)
1/4 Cup Sugar
1 Tsp. Vanilla Extract
1/2 Cup Water
Oil for Frying
Powdered Sugar for Dusting
Heat one inch of oil in a heavy bottom pan (I use cast iron) to 375.
Combine the pancake mix, sugar, and vanilla extract in a medium bowl. Whisk in the water until the batter is not too runny but not too thick (a little thicker than cake batter).
Transfer your batter into a pastry bag with a 1/4-inch tip (you can use a squeeze bottle, freezer bag, funnel, or whatever you have for this).
Working quickly, squeeze the batter in a crisscross circular motion into the hot oil, forming a large circle. Fry 1-2 minutes until golden brown on first side. Flip funnel cake and fry an additional minute or until golden brown on second side. Transfer to a paper towel-lined plate and dust with powdered sugar.
Repeat with remaining batter.
The options for this are limited by you. Swap out the vanilla extract for lemon or maple.
Want more than powdered sugar on top? Use your favorite fruit compote. Try maple or chocolate syrup and whipped cream.
Want something savory? Omit the sugar and top with bacon and cheese.
How about a breakfast sandwich? Just add your sausage, egg, and cheese between two funnel cakes.
Do you like ice cream? Make a funnel cake ice cream sandwich. Just let your funnel cake cool a few minutes before filling.
So, who's hungry?
About the Creator
Michele Jones is an author whose work explores the darker side of a character's psyche.
When she isn't working, she enjoys spending time with her family, cooking, and doing charity work.
Reader insights
Outstanding
Excellent work. Looking forward to reading more!
Top insights
Easy to read and follow

Well-structured & engaging content

Expert insights and opinions

Arguments were carefully researched and presented

Heartfelt and relatable

The story invoked strong personal emotions
On-point and relevant

Writing reflected the title & theme
Add your insights