Summer Begins with Strawberries
Working our Way Through Summer by Preserving the Bounty...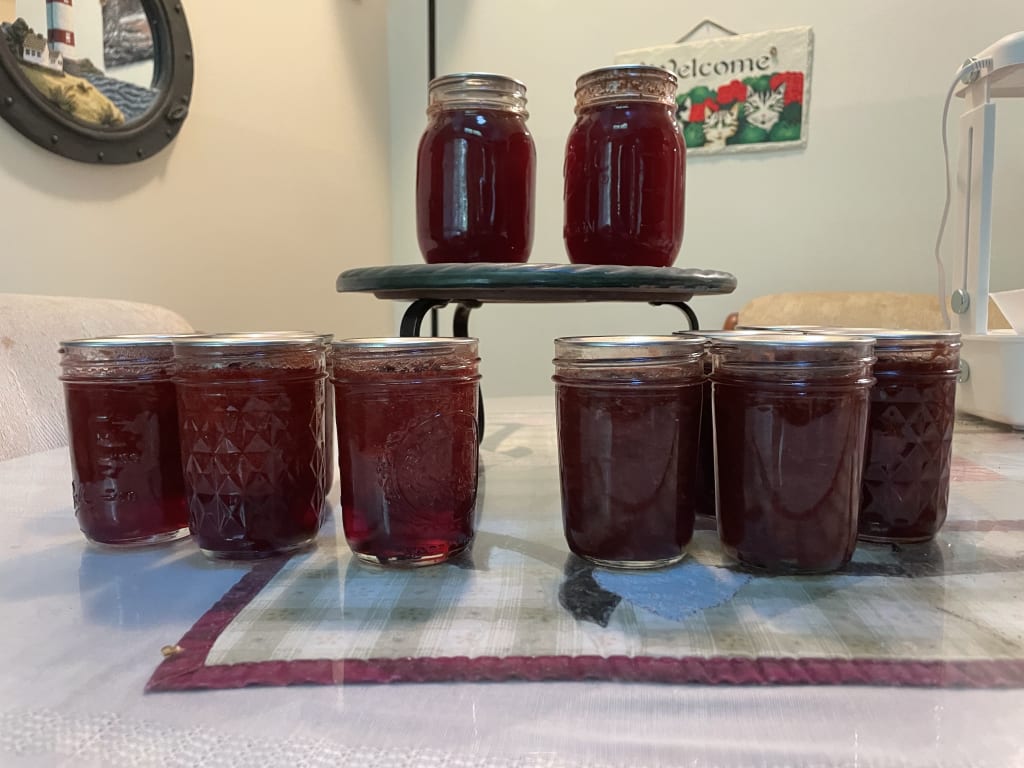 Most of this year's summer canning
Our summer food season revolves around the desire to fill our shelves with fresh summer produce to use in the dreary days of winter. It might also be pride and ego that makes us think that we can preserve summer better than any factory. We don't have to count the bugs in our foods since we wash more than 3 times when prepping food (unless beets - then maybe 5 times). There is also the gratification of knowing that we have taken food at its best and put it up to enjoy later. We love having the jars lined up on the shelves at the end of September. We are surrounded by farms here in Central PA and some are minimal or no spray - and organic. Some aren't. We buy from both, but still the produce is at the height of its perfection. We love it.
We love strawberries. We eat them straight up from the box and forget to even wash them as we consume berries in the car - throwing that top out the window like crazy people. Don't worry - we only throw in wooded areas where no one lives. That is easy since we live smashed between state game lands for the hunters and a state park for the hikers. We are the canners, preservers, dehydrators, and fermenters. We don't hunt and we really do not hike – too many ticks and we all run screaming from ticks which is really funny when they are lodged on you - just where are you running to or from?
Preserving season has officially started with strawberries. I should say it started with rhubarb, but really, we grab that rhubarb and chop it so we can freeze it until the strawberries are ready. Because although we have made regular strawberry jam, it is not our jelly of choice with strawberries. I live with a family divided: half of the household loves strawberry rhubarb and the other half wants strawberry lemon marmalade. If you ask me - both fill a need throughout the year in our household.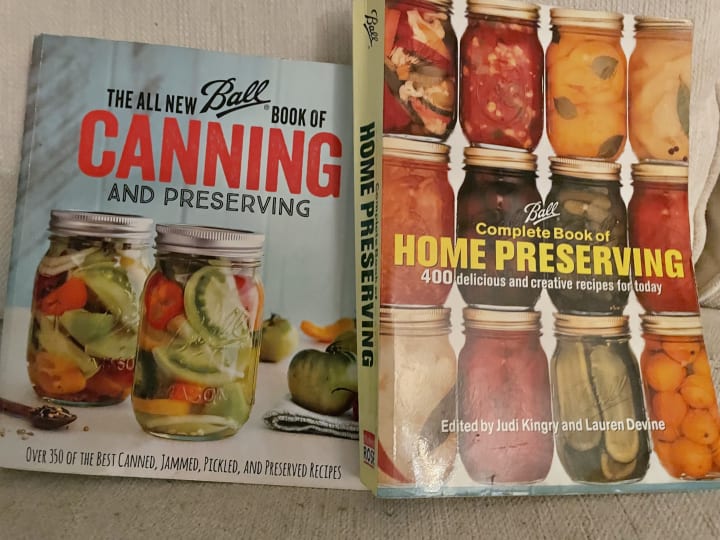 We use approved canning recipes from Ball or the USDA or any of the other approved resources out there. Two of my favorite books are pictured above.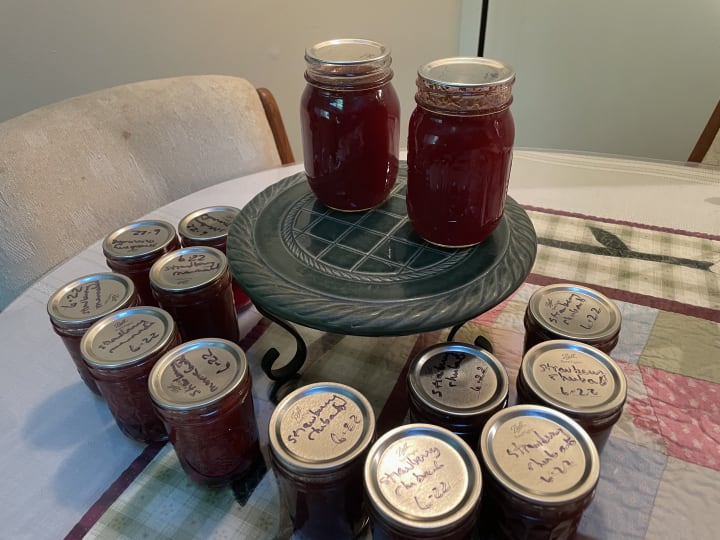 Here are our strawberry preserves for the year: 6 jars of strawberry rhubarb, 6 jars of strawberry lemon marmalade and 4 jars of strawberry lemonade concentrate. Ok, I know you only see two pint jars that are the concentrate, but that is because two jars disappeared with my daughter. She will return the jars empty later - she is well trained that way.
Unlike Kyle at work - he actually recycled my jars from the homemade salsa he took from me. I hope to forgive him someday, but it doesn't look hopeful. And he knows it. He says he is too young to know that (he is 28) because only "old" people can. See why I can't let it go. lol
It doesn't sound like we like strawberry rhubarb and strawberry lemon marmalade with the little amount I just canned, but that is because I still have 6 jars of each from last year. I do that on purpose - we only average 6 jars of any type of jam throughout the year (except plum - that one is just devoured). We have piles of types of jam on shelves and tend to only have to do a bit each year to keep my desired 12 jars of each type on the shelves (except plum - seriously we have an issue with plum – more during plum season).
I will admit that the strawberry rhubarb is mostly used in pb&j by my daughter and granddaughter, but the strawberry lemon marmalade makes an incredible salad dressing. It is good on any pb&j or toast or bagel or whatever way you like to take your jam…. But, I love making jams, salsas and chutneys that can be used for more than just one item. And strawberry lemon marmalade mixes beautifully with vinegar to make a vinaigrette for salad. If you must add oil (we tend to not see the need), you must use olive oil.
You can also use either jam to make an incredible oat shortcake that is to die for. I'll share the recipe if there is any interest. I love strawberry lemon marmalade in between the layers of the oats mixed with applesauce and sometimes bananas and pecans or walnuts in the top layer. No oil or fat needed to make an incredible bar!
You can also add them to the top of cakes and muffins and as filling for any type of thumbprint cookies (usually made from oat flour here).
So, I have a day or two of rest before the sour cherries attack… stay tuned!
healthy
About the author
I write, I read, I cook, I preserve, I strive to be my best at them all. But, writing, cooking and preserving are all works in progress - just like life. I've got the reading down pat except for the lack of time.
Reader insights
Nice work
Very well written. Keep up the good work!
Top insights
Easy to read and follow

Well-structured & engaging content

Heartfelt and relatable

The story invoked strong personal emotions

On-point and relevant

Writing reflected the title & theme
Add your insights