Sugar Cookies
The Best Cookie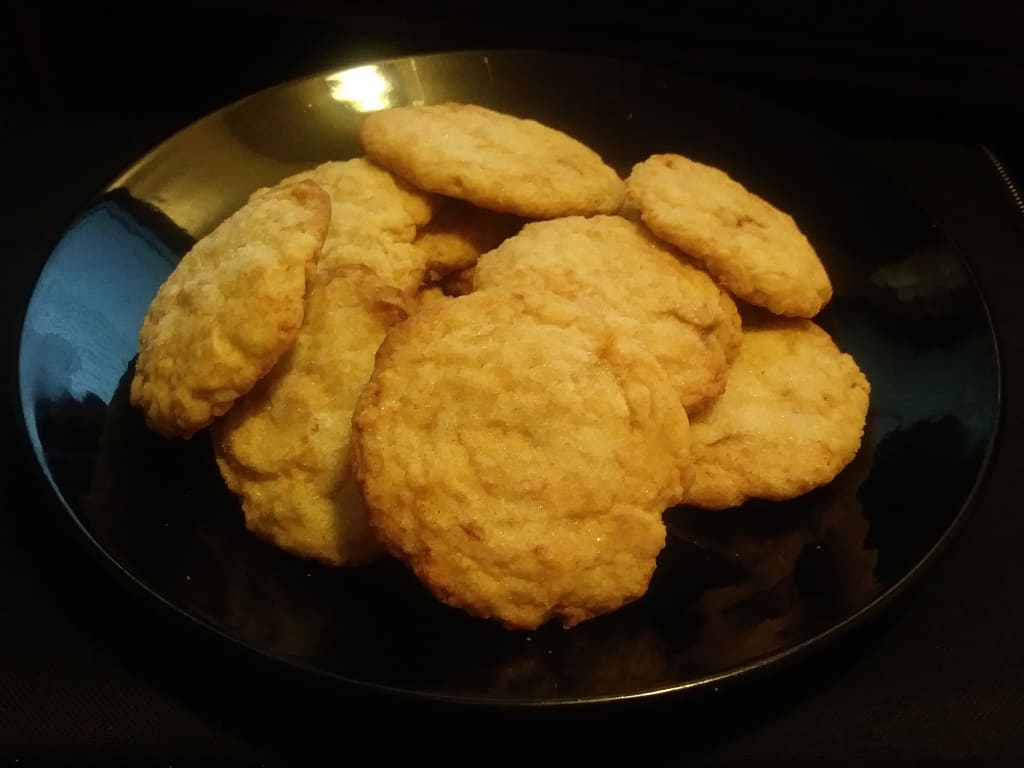 Sweets have always been my thing, but of late, I bake them more than I eat them. I've found that baking greatly helps with my depression and anxiety, mainly because I am doing something with my hands. It's all fine by me; I bake them and the boyfriend eats them all, and lately we've both had this idea that since I want to advertise and sell homemade books of poetry, we've been thinking of baking a lot of goodies and selling them alongside my books at Drum Circle every Sunday at Liberty Park here in Salt Lake City. As a child, my mom was instructed to feed me peanut butter cookies to put weight on me, and I remember how much fun it was when she'd get the eggs, peanut butter, and sugar out and let me roll the dough into little balls before pressing them down with a fork. It was even better when my dad came home and grabbed the fresh ones, telling me I was a great cook and needed to make more. As I got older, I started branching out and making my own variations of each cookie, intent to eat the dough rather than eat the baked goods. That still stands today! I keep having to tell myself to put the dough on the cookie sheet instead of in my mouth! There's just something about uncooked cookies that makes the process fun. Culinary schools will tell you not to eat raw cookie dough because of the egg, but our grandparents ate dozens of raw eggs after school every day when they were younger (a story my grandfather loves to tell). Let's face it, cookie dough is like ice cream. It helps take all the bad away after a nasty breakup, if not doing a way better job than ice cream.
Today, I wanted to share a recipe for sugar cookies that I really enjoy making occasionally. I think they will be the cookies I sell at Drum Circle alongside my books.
Ingredients:
1 cup butter, softened (I've found that if you just leave the butter out for about an hour or two, it softens quite well, instead of throwing it the microwave)
1 cup of white sugar
1 egg
2 ½ teaspoons vanilla extract
2 ½ c flour
½ teaspoon baking soda
½ teaspoon baking powder
¼ teaspoon salt
1 tablespoon honey
Instructions:
Preheat oven to 350 degrees F
Cream butter and sugar together
Add egg, vanilla, and honey
Add flour, baking soda, baking powder, and salt
Roll into decent sized balls and place on cookie sheet 1 ½ inches apart
Using your pointer finger or thumb, press down gently, and sprinkle with sugar
Place cookie sheet in the oven and bake the cookies for about 12 minutes
Optional: If you have Pam cooking spray or wax paper, line the cookie sheet prior placing the cookies on. This will help make it so the cookies don't stick and crumble apart when you pull them off.
Though I rarely eat baked goods anymore, I have to admit that these sugar cookies were delicious and even better with milk. Perfect for snacking on while I played video games! They were nice and crispy golden brown on the outside and chewy on the inside—the perfect cookie. As I move forward to advertise and sell my book of poetry, I do hope that these cookies will be a nice treat for my readers. Not only that, but they are the perfect cookie to bake for Christmas gifts and a great activity for younger children.