Strawberry Funnel Cake Frappuccino
Starbucks Frappuccino Review
A little too late, or it never hit my small town of Cleveland, Tennessee. The Unicorn Frappuccino looked so good as I was wandering online to find the perfect Starbucks drink to write a review that I have not tried yet. As I called one of the local Starbucks, they seemed a bit clueless about what I was asking for but ensured me they have a unicorn cake pop.
The sweet woman did ask if I had a recipe as I told her about what I discovered the vanilla bean with pink powder and unicorn dust. She had responded, "with, we could do that with a touch of dragon fruit maybe." My excitement to try this cool Unicorn drink was then crushed. As I kindly thanked her and got off the phone. The next drink in mind was the strawberry funnel cake frappuccino, and my excitement started to rise. But, the search to try one of these new drinks was not over.
The Strawberry Funnel Cake Frappuccino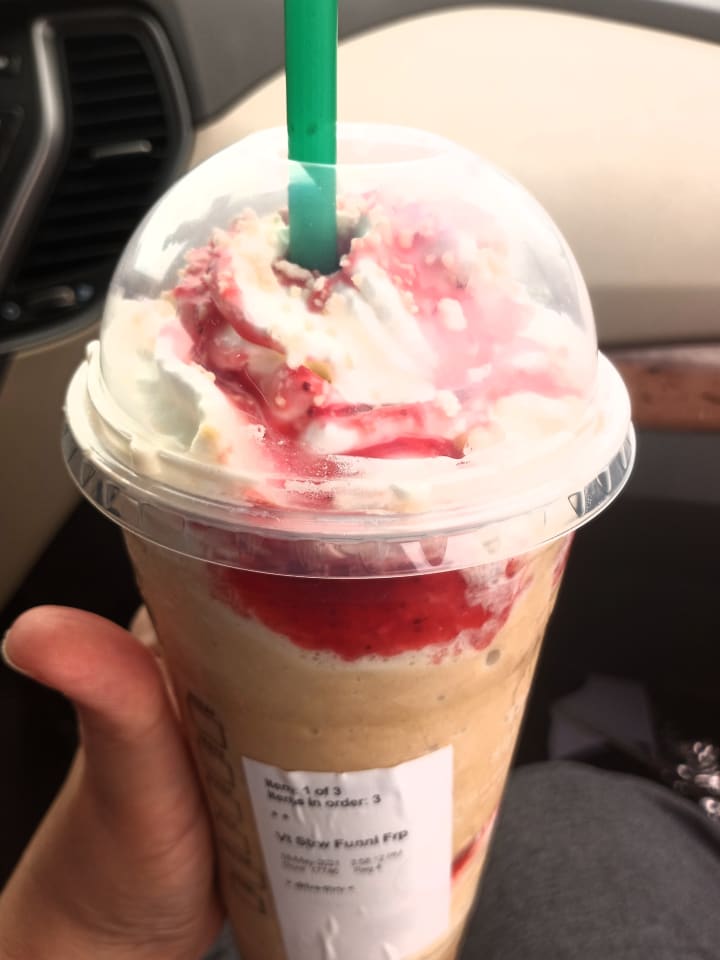 Grabbing a funnel cake at an amusement park is a tradition every time you get a taste; it takes you back to being a kid again. Starbucks had the brilliant idea to collaborate that taste with coffee, and they had done a fantastic job with the strawberry funnel cake frappuccino. Starbucks' new spring drink was my second choice after being crushed over Starbucks not having the Unicorn Frappuccino.
So, I decided to try the Strawberry Funnel Cake Frappuccino from Starbucks, and it was terrific. This drink also looks exciting and delicious, and I still had to try it. After going through the drive-thru, I must say this frappuccino was worth the long wait as the cashier handed my drink to me through the window. I could not wait to shove my straw down into it for its first taste.
It was fun in a cup with every sip, and it will take you back to being at an amusement park with a touch of espresso. This drink is combined with ice, whole milk, coffee frappuccino syrup, whipped cream, vanilla syrup, coffee, strawberry puree sauce, and funnel cake syrup. I had enjoyed this coffee as I had said; it was fun in a cup. It was almost like having a strawberry funnel cheesecake milkshake. This Strawberry Funnel Cake Frappuccino was also topped with some tiny sugar crunches. So even though there was no unicorn drink to try out. I was not let down by the taste of the new Strawberry Funnel Cake Frappuccino from Starbucks.
Caramel Ribbon Crunch Frappuccino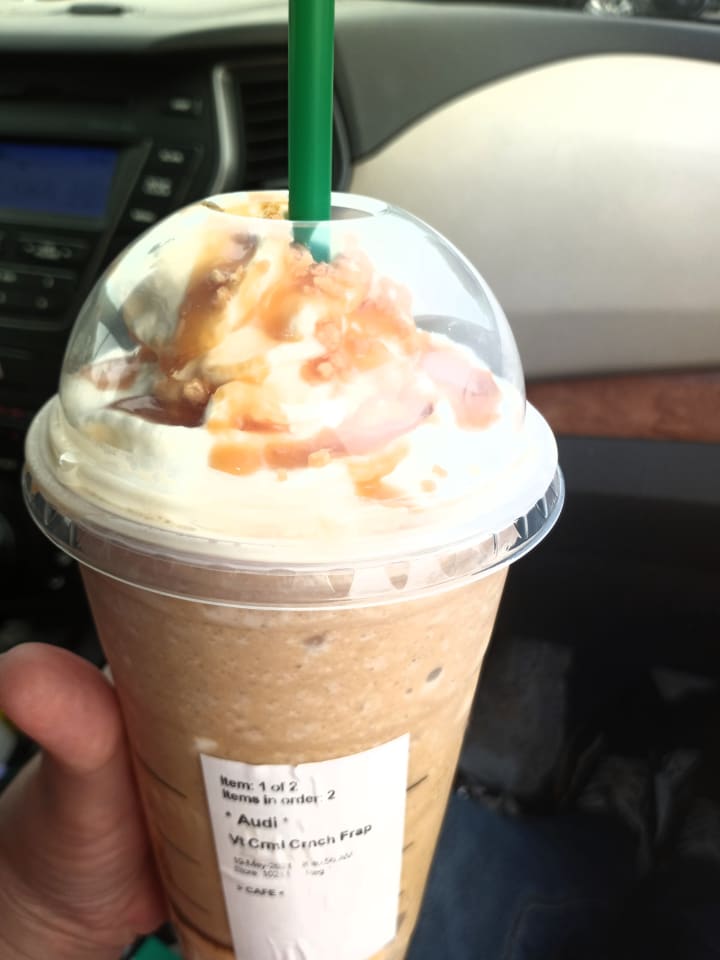 This drink is my go-to drink when it is hot outside, and I need a wake me up. It tastes fantastic and gives you the perk you were desperately needing. After drinking the caramel ribbon crunch frappuccino, I find myself back in the Starbucks line for another. The taste is hard to resist. This drink is fun in a cup with a divine creamy taste of magic. While I was at, I had to review this drink the Caramel Ribbon Crunch Frappuccino at Starbucks.
This drink is not a new drink, but it was one of my favorites, and I could not write about it in my first ever review amount Starbucks. This drink is also like a cup of espresso combined with a milkshake. This drink is drizzled caramel and the sugar caramel crunch and whipped cream topping. Every sip is like heaven. The taste is a cold, creamy sweet caramel crunch with a hint of coffee. This "Caramel Ribbon Crunch Frappuccino" recipe is butter caramel syrup, with a dash of espresso, milk, and even ice. Caramel Crunch is then topped with layers of dark caramel sauce, whipped cream, caramel drizzle, and even crunchy caramel sugar toppings.
*********************************************************
Keep an eye out for some more reviews
by yours truly, The Noble Writer:
product review
About the author
I am an amateur writer, who loves to write poems.
I feel poetry is my only escape from reality. I love to play with the imagination a little and get Dark. We all have nightmares and fears
I just put mine to work in a beautifully written poem.
Reader insights
Be the first to share your insights about this piece.
Add your insights