Strawberry Banana Bread
Gluten Free and Vegan Banana Bread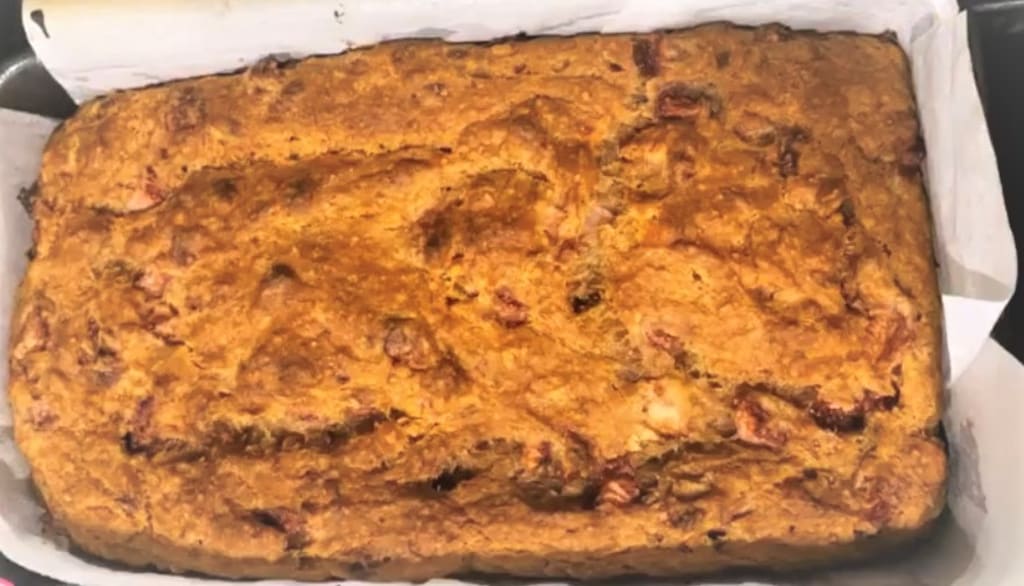 A picture of my freshly baked bread! #YU
VEGAN, GLUTEN FREE (GF) STRAWBERRY BANANA BREAD
I love to bake, and during lockdown I made it my GF mission to bake tasty, healthy, vegan, GF, desserts. One of my new inventions was my Strawberry, Banana Bread. My dad usually can't eat strawberries, yet because I cut them so finely they didn't upset his stomach at all! Everyone in my family loves this bread, and I may have the fussiest family ever for eating food. As always, I want to give credit where credit is due. I find multiple recipes on Pinterest, and then I twist them into my own recipes and concoctions! I also don't use regular teaspoon, tablespoon measurements, and instead always use dessert spoons, and serving spoons … and I use the splash, dash metric for extracts, spices and herbs.
The Ingredients
About 1 cup of chopped strawberries. (Cut these up into very small pieces. The smaller the better. More the merrier.)
2 OVER RIPE bananas (Mushy bananas that are ripe are the best because they are the easiest to smash. I find that squeezing the banana in its peel, and squirting the crushed banana from inside the peel to inside the bowl, speeds up the process of mushing the bananas.)
2 cups of a good GF flour that already has xanthan gum in it. (WARNING some of the good GF flours use whey, which has dairy in it, so check the ingredients before purchasing. I like to use King Arthur, Measure for Measure Flour, Certified Gluten-Free If you cannot find a good GF flour, use almond flour or oat flour with a serving spoon of xanthan gum. The xanthan gum helps the bread to rise and not be gooey.)
2 dessert spoons of ground flaxseeds
¾ a cup of almond coconut milk (any dairy free milk is fine but this adds the most flavour).
⅓ cup (or 3 serving spoons) of melted coconut oil
⅓ cup of coconut sugar (if you use a different sugar, up the amount of sugar added to 3/4 of a cup. Coconut sugar tastes sweeter, although it's better for you.)
2 desert spoons of baking powder
splash of almond extract
splash of vanilla extract
dash of salt (not too much though … this is sweet, not savoury)
The Recipe
Preheat the oven to 375F or 190C
Line a bread tin (or baking pan) with parchment paper (or baking sheets) and then grease it with coconut oil. (A great way to stick the coconut-oil-covered parchment papers is by greasing the tin then sticking the greased paper to the tin. This way it won't curl. I know I'm a genius!)
Get a large mixing bowl. Add and stir together the almond coconut milk, ground flaxseeds, coconut oils, vanilla extract, and almond extract.
Once it's combined, add in the GF flour (and xanthan gum if needed), coconut sugar, baking powder, and the dash of salt. Then whisk the batter until it is creamy and smooth! (I do you the electric mixer for this activity because it speeds up the mixing process. But a whisk is fine.)
Then in a separate bowl mash the bananas. Tip mashed bananas into the batter. Continue mixing and whisking!
Finally add in the strawberries that have already been finely chopped. The batter with begin to turn pink the more you mix and that is okay and expected! The batter will feel springy.
DO NOT just pour the batter into the pan. Scoop it into the sheeted bread tin. Then bake the bread for 75 minutes.
IMPORTANT!!!!! When it's done, stick a toothpick in the top and pull it out. Make sure the batter isn't sticky and crumbs are on the wood!
I HOPE YOU ENJOY!!
P.S. This is made with fresh fruit so it only stays nice for about a week. Make sure to keep it covered in the meantime!