Strawberries, Cream, and Chocolate!
...Breakfast has never been better.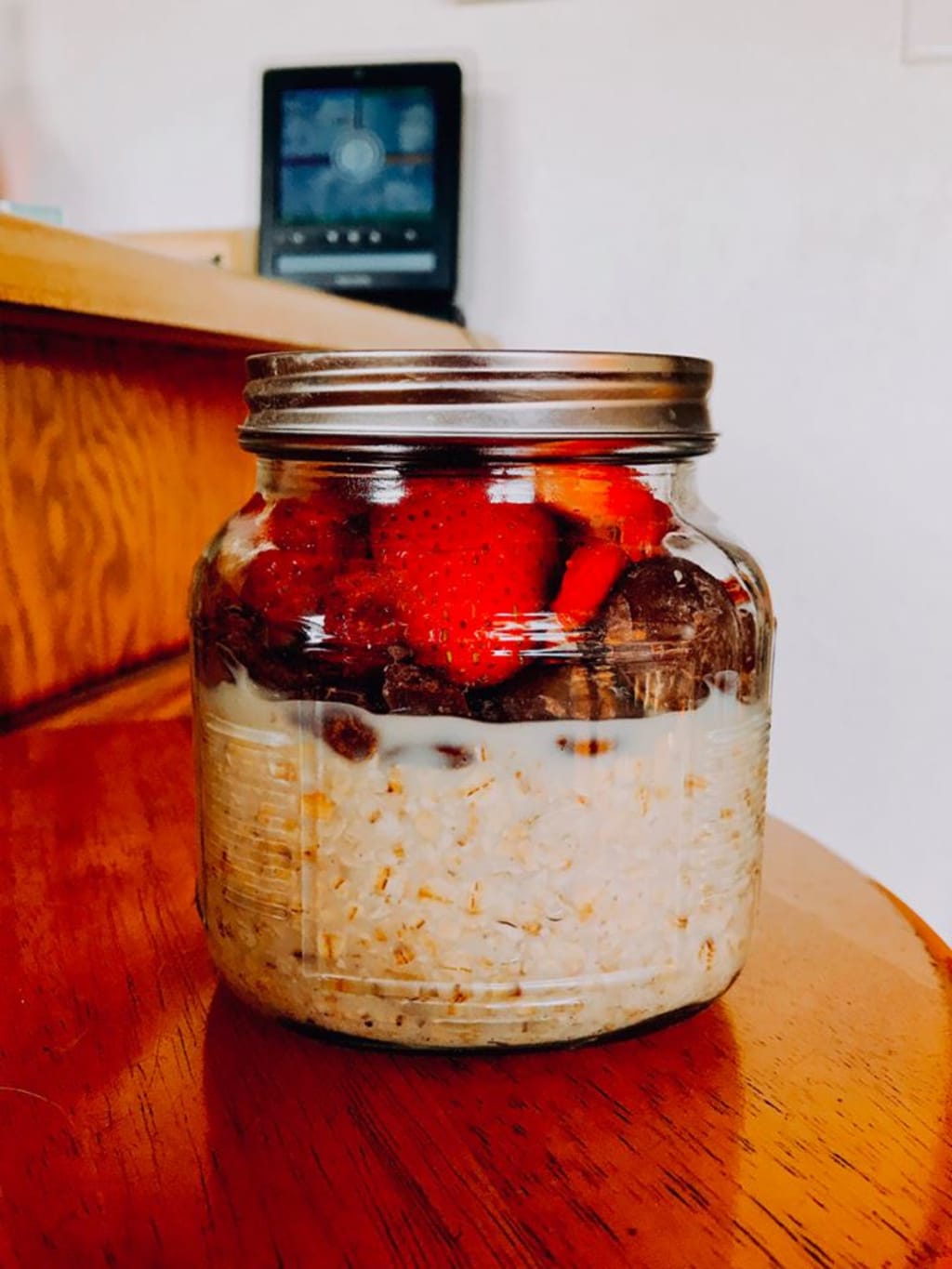 I cannot get enough of these Overnight Oats. There is no reason to stop making jars and jars of overnight oats!
Strawberries, Cream and Chocolate Overnight Oats
I'm hooked on overnight oats. I eat them at least several times a week. If I had more time, I'd make more and never get sick of them.
One of my recent creations was this jar of strawberries, cream and chocolate overnight oats. It was delicious.
Here is what I put in it:
2 cups oats
1 cup soy milk (or an 8oz. box)
1/4 cup chocolate melts broken into pieces
However many strawberries fit to the top of the jar.
In the morning, I use a spoon to get the whole thing out into a nice sized bowl. It is actually more than I can eat, I usually have a bit left over to use if I feel it is necessary with my breakfasts when I don't have overnight oats.
Personally, my favorite fruit is strawberries. I leave this in the refrigerator and eat it as soon as I wake up. The strawberries taste fresh.
Jar foods look great also. They look like a decoration with everything you need inside, even just sitting in the refrigerator. It looks like layers of food I love; strawberries, chocolate, oats, I can even see the milky white cream of the soymilk. I end up thinking about it all night and rushing to the table in the morning to pour out my breakfast. I am glad I discovered this type of breakfast creation. I cannot think of a better breakfast.
Jars of food are fun to put together too, I love putting in the ingredients the night before (probably because I love cooking). Once I complete the next morning's breakfast, I am ready to relax all night afterwards, since I feel my morning meal is done. There is nothing left to do as soon as I wake up, first thing in the morning and the food is that deliciously good! I usually make the overnight oats jars at night, after I finish cleaning up from dinner.
Once the jar is done and put away, the kitchen looks better, even if it is just inside the refrigerator. The feeling I get from it is simply uplifting. Breakfast is done and I still have the rest of the night ahead of me. Of course, I cannot stop thinking of the oats! They taste delicious and I can only have them if I remember to make them the night before, so I can't stop thinking about how good breakfast will be. I know these jars can last a few days at least, but it is fun for me to only make one the night before and leave it overnight because they are called "overnight oats." I think it adds to the pleasure of eating them.
Breakfast creations like this make life a lot more interesting, at least during meal time. Meal time is then a happier, better addition to the day. It makes a meal something to look forward to. The clear jars do look great with food in them. This meal prep meal gives the kitchen an extra touch of decoration. It is a type of decoration that makes your house feel like a good, old fashioned place to live. The food is inviting, but can also look like a non-edible ornament, since you usually do not see all the ingredient layers in a package of food, even if the container is clear. A jar of overnight oats makes the kitchen look like a comfy home. I am even starting to post pictures of them to my Instagram. I think these make a great hobby addition to crafting, home decorating, and the art of cooking.