Strawberries and Chocolate Milk Overnight Oats
Another Great Breakfast Jar of Oats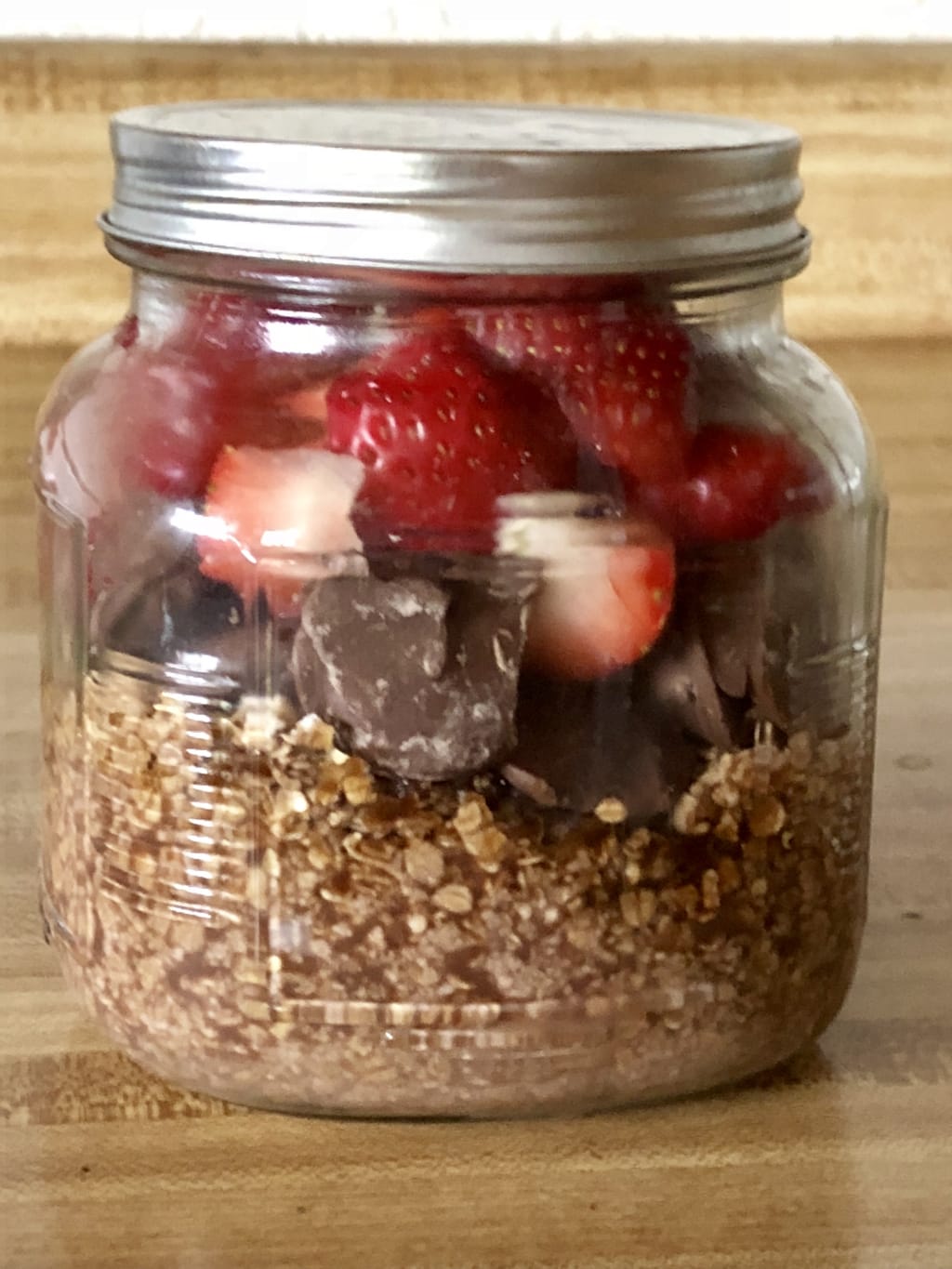 Chocolate Milk and Strawberries Overnight Oats
I have not at all stopped eating overnight oats, whenever I have the chance to make a nice jar of that wonderful breakfast. A few days ago, however, I found a delicious new way of eating overnight oats. Instead of regular milk, I used chocolate milk.
It was great. Not as creamy as I expect my overnight oats to be, but I loved it. It is a wonderful way to experiment with fun ingredients and add variety new flavor to a breakfast you cannot get tired of. I had a lot of fun making these.
Here is the recipe I used for my first jar of chocolate milk overnight oats:
Strawberries and Chocolate Milk Overnight Oats
2 Cups Oats
2 Cups Chocolate Milk
1 Tablespoon Brown Sugar
1 Cup Chocolate Melts (broken into pieces if you like)
Fill to the top of the jar with fresh strawberries, cut in half.
Secure the top onto the jar. Leave it in the refrigerator overnight. In the morning, enjoy an overnight oats breakfast of a different kind!
I will not forget this recipe. It was very chocolatey and delicious. My strawberries were very fresh and it was so delicious, I loved it. The fresher the strawberries, the more flavor is added to this jar. It is filled with flavors: chocolate, strawberries, and the chocolate means chocolate milk through the whole meal. If you love strawberries and chocolate, this is without a doubt a breakfast for you. You will taste nothing but rich chocolate drenched strawberries as a breakfast (because of the oats in my senses eating this) and enjoy it as a morning meal to start your day. I was energized after eating this fun breakfast jar.
I have to say, I do prefer the creamy taste of just milk: almond milk, regular milk, etc. I would make this again if I just want to feel the fun of chocolate milk. It is good, delicious even, but not your regular overnight oats breakfast.
Do not hesitate to try this, however, if overnight oats are something that you enjoy. It can be a nice treat in addition to the regular overnight oats recipes. I was excited to try this, even though I really wanted regular, creamy tasting oats because I love chocolate milk. I can eat chocolate milk with chocolatey treats. I thought it would be okay. It was a nice, filling morning treat.
As for a final outcome: I think I will give it five of ten stars to myself, because it was as good as a full ten stars overnight oats, but not what I usually want to wake up to. I want my creamy overnight oats which are more of a meal in the morning to me. This is like a meal that is also a bit of a dessert. It is really good, so maybe I will make some more to use as a side with morning pancakes or waffles. That might make it ten stars of fun.
However, I am the type that likes a healthy start to the day. I love chocolate and treats in my breakfast, I just feel the need to add some good meal-worthy foods so that I can feel I started my day right. I think I will make these again, to use as a side dish, because I also love chocolate in the morning—as long as I can make it feel like a healthy start so that I have energy and motivation that lasts throughout my day.
I liked it a lot though, so maybe I will try other things like chocolate milk in my oats. I think it will be a lot of fun. I just need to wait until I find something else like chocolate milk to experiment with.