Steel Cut Crock-Pot Oatmeal
Is it breakfast food or dessert?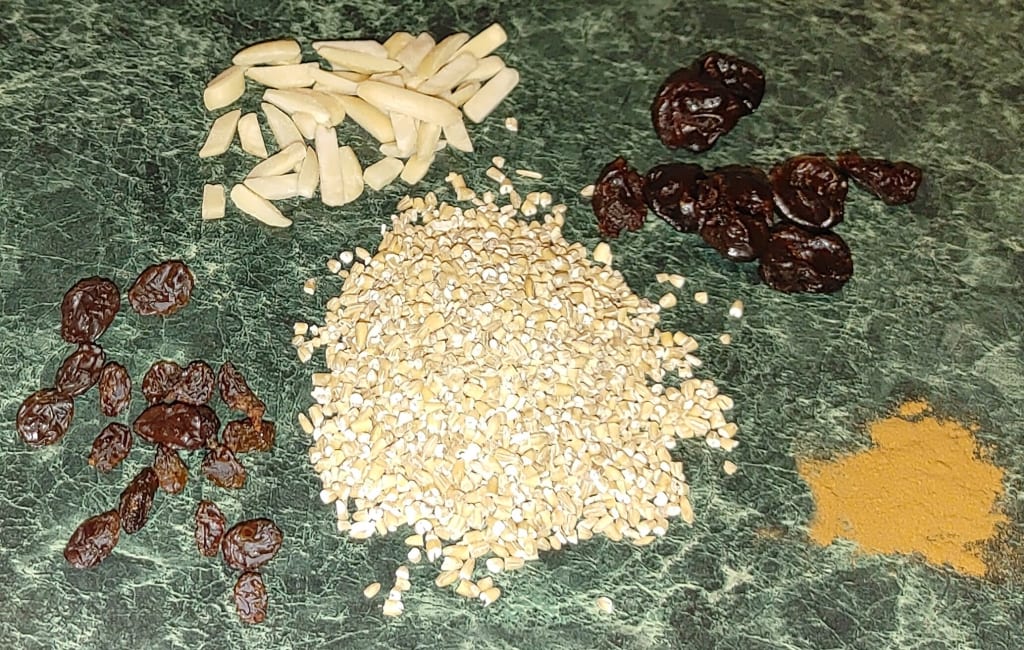 Author Photo: Basic ingredients needed for Steel Cut Crock-Pot Oatmeal
So, my sister has been raving about a breakfast dish that she prepares for her family. According to what she told me, her family often wakes up to a delicious aroma after her recipe cooks slowly through the night. My sister also said that the taste of the oatmeal is so delicious her husband and children join her in eating it as if it were a dessert.
Since I taught her how to release her culinary creativity in her kitchen, I refused to be outdone. While I did not have her directions for preparing this dish, I researched many different recipes and created my own.
Overnight Steel Cut Oatmeal Delight
2 cups steel cut oatmeal
4 cups water
4 cups vanilla flavored soy milk
2 teaspoons vanilla extract
2 tablespoons ground cinnamon
1/2 teaspoon salt
1/2 stick butter
1 cup raisins
1/2 dried tart cherries
1 cup chopped pecans
1 cup brown sugar
1. Before you go to sleep, grease or spray the slow cooker pot to prevent the cereal from sticking.
2. Add all of the ingredients except the nuts and blend well.
3. Cover and cook slowly for a minimum of 8 hours.
4. Add the nuts to the cereal prior to turning off the crock-pot.
5. Enjoy with you family in the morning or set the crock-pot to warm for your family to enjoy as a snack throughout the day.
Since this recipe freezes will, it can be enjoyed several weeks and months later. After labeling with the date added, here are a few ways to preserve it in the freezer.
1. Place the cereal in small plastic single-serve containers or in larger plastic containers. Cover each bowl tightly. Microwave each container until hot prior to enjoying the dish.
2. Spray muffin tins and fill the cups with oatmeal. (Each cup will be one servings of cereal.) Top with extra treats like fresh or dried fruit pieces and assorted nuts. Cover the muffin tray securely and freeze. Use a table knife to gently remove each serving and place in a serving bowl. Microwave until hot and enjoy.
3. Another alternative to keeping the cereal in the muffin tins is to remove each frozen serving when they are firmly set. The frozen cups can be arranged in a plastic storage bag and returned to the freezer.
This is a fun and easy recipe to make!
My Daughter's Response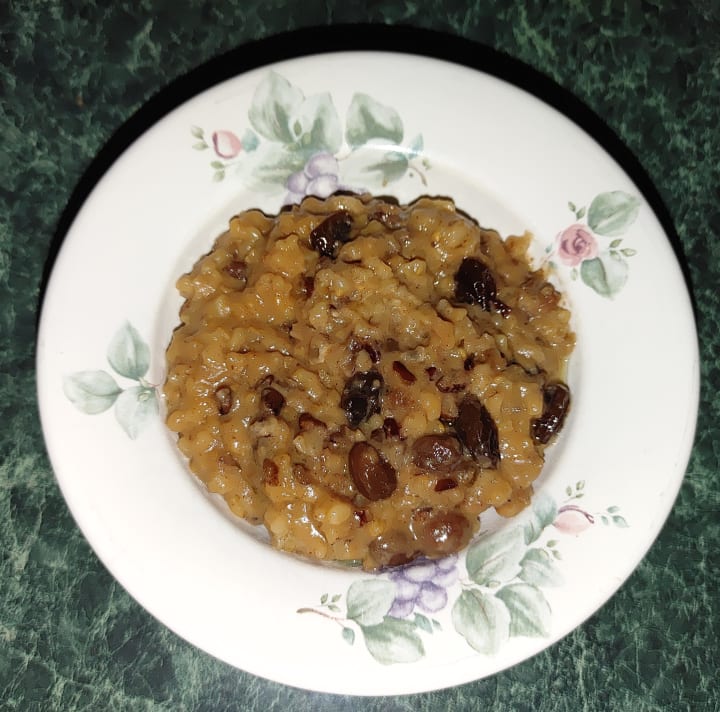 I found the dish to be sweet and savory at the same time. Because nuts were added to the mixture, the oatmeal dish had contrasting textures.
Just as my sister said, this recipe is not only great for breakfast, it can be eaten as a snack, too. In fact, I think that a dollop of vanilla ice cream or whipped cream or a small wedge of brie cheese would transform it into a delicious dessert.
Despite my exclusive opinion, my teenage daughter had one of her own. Being a girl of few words she simply said
"it's good"
several times as she eat a bowl for breakfast. Since she also told me that the oatmeal
"tastes like apple crisp without the apples",
I know that she enjoyed it. As somewhat of a picky eater, my 15 year old is reliable. If she liked the crock-pot oatmeal, other children and teenagers will like it, too. So, this dish can be considered a great recipe for the entire family.
Release Your Creativity
This is the type of recipe that you can adapt according to what your family likes. Perhaps the ideas that follow will provide great suggestions.
- Use alternative sweeteners like maple, Agave, and cane syrup, jelly, apple butter, fruit juice, or molasses.
- Make a healthier variation by omitting the butter and adding ingredients like protein power, peanut butter, and flax seed.
- Prepare the recipe with one fresh fruit.
- Substitute some of the liquid for heavy cream and add peaches or strawberries to make the recipe peaches and cream or strawberries and cream.
- Consider adding assorted nuts including those that are candied or spiced.
- Experiment with various dried fruits and interesting flavorings as well as extracts.
Just be willing to find your family's sweet spot by creating a unique variation they are bound to love…and devour!
Do you find this recipe to reflect an interesting way to transform oatmeal? If so, consider sharing it on your social media platforms. Also, please consider adding a tip to help fund my work to increase family engagement in education.
I am also a content creator on YouTube. Be sure to visit my "Ignite Family Engagement" channel to view my videos related to the role of parents in education. Here is the link:
Thank you.
This story was originally published on Medium.com in ILLUMINATION-Curated.
recipe
As a mom, former family and consumer sciences teacher, and school administrator, I write about parenting, family, and education topics. Visit www.Drdeborahmvereen.com to view my work as a family engagement influencer & my YouTube channel!
Receive stories by Dr Deborah M Vereen in

your feed