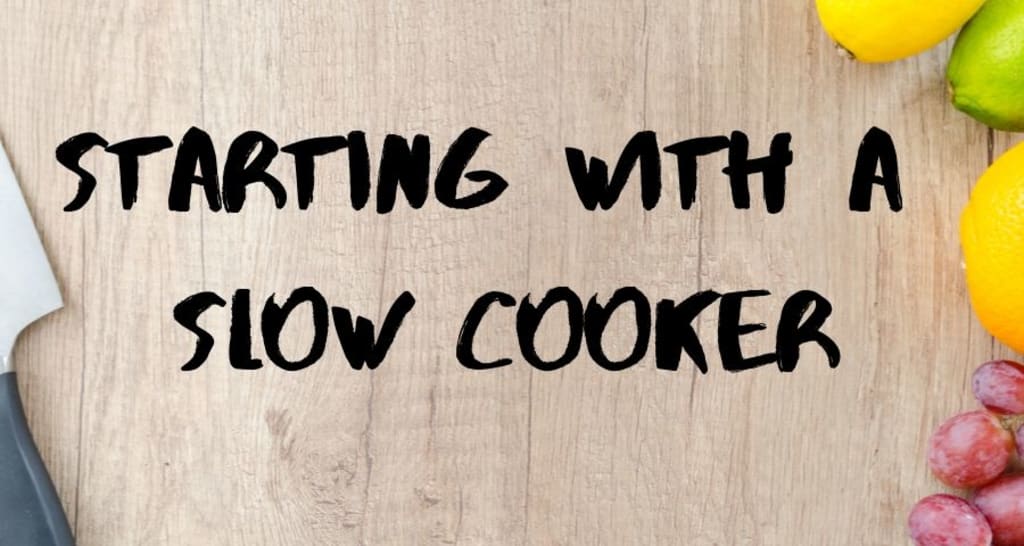 I have a confession... I don't know how to cook... not even a little. I have a slow cooker, but I only ever used it to make chai tea. Which was amazing BTW! However, it's time for me to grow up and act like a normal adult! For some reason I think that making Stew and Chili is the way to prove to my self that I am an adult now. I will also be making Mac and Cheese and DIY iced coffee, because no one is perfect. So here it is, I present to you an easy intro to cooking with a slow cooker, and four easy-peasy recipes.
Using a Slow Cooker
I love using a slow cooker, because I feel like it is safer to use than the oven. It is completely safe to leave at home while you go out, or stay on all night while you sleep. However, I do have some basic tips... just in case. Be sure to place your slow cooker on a hard, flat, and heat proof surface. Keep the top on. Don't over fill your slow cooker, and when in doubt... keep the heat on the low.
What recipes are in this article?
Beef Stew
Chili
Mac & Cheese
Iced Coffee (make it ahead of time in bulk)

Beef Stew
2 pounds beef stew meat, cut into 1-inch pieces
1/4 cup all-purpose flour
1 onion, chopped
1 1/2 cups beef broth
3 potatoes, diced
4 carrots, sliced
1 stalk celery, chopped
1 clove garlic, minced
1/2 teaspoon salt
1 teaspoon Worcestershire sauce
1/2 teaspoon ground black pepper
Place the meat in the slow cooker first. On the side, mix together the flour, salt, and pepper. Then pour it over the meat and stir. Next, add the Stir in the garlic, Worcestershire sauce, onion, beef broth, potatoes, carrots and celery. Cover and cook.
Low setting for 10 to 12 hours, or on High setting for 4 to 6 hours.
Chili
2 cloves garlic, chopped
One 8-ounce can tomato sauce
half a cup of diced tomatoes (optional)
2 tablespoons chili powder
1 teaspoon ground oregano
1 teaspoon salt
1/4 teaspoon cayenne pepper
One 15-ounce can kidney beans
One 15-ounce can pinto beans
Place the ground beef in a large pot and throw in the garlic. Cook over medium heat until browned. Grease your crock pot with cooking spray. Place all of your ingredients into the crock pot and stir. Cover and cook on low for 8 hours.
Add Shredded Cheddar on top and eat it with Tortilla chips!
Mac And Cheese
4 cups of elbow macaroni
5 tablespoons unsalted butter
4 cups milk
1/2 medium onion, stuck with 1 clove
4 cloves garlic
3 sprigs fresh thyme
2 tablespoons all-purpose flour
2 cups grated Cheddar, plus 1 cup in big chunks
1/2 cup grated Parmesan
Kosher salt and freshly ground black pepper
Cook the macaroni in a large pot of boiling salted water until done, about 5 to 7 minutes. Drain and toss it with 2 tablespoons butter. Mix everything in your crock pot and cook on low for 2 hours.
Iced Coffee
2 cups of water
1 oz. ground coffee beans
1 teaspoon of sugar
Or
24 cups of water
12 oz. ground coffee beans
12 teaspoons of sugar
Let it sit in the slow cooker for eight hours and then strain the coffee through a cheesecloth into your pitcher.
Fun Tip: Use' Coffee Iced Cubes' so your drink doesn't get watered down!
Want to make that iced coffee vanilla flavored with DIY Vanilla Syrup?
This recipe is from 'Kitchen Treaty' for 1 cup of homemade vanilla syrup.
1 cup granulated sugar
1 cup water
1 vanilla bean, sliced open vertically and seeds scraped
2 teaspoons vanilla extract
"Add sugar, water, and the vanilla bean and seeds to a small saucepan over medium heat. Bring to boil a full boil, then remove from heat. Let sit for at least 1/2 hour (up to 2 hours). Add vanilla extract. Pour syrup over a fine-mesh sieve to catch the vanilla pod and any pieces. Store refrigerated in an airtight jar; keeps up to 2 weeks." - Kitchen Treaty
Iced Coffee (without a slowcooker)
3/4 cup coffee beans coarsely ground, or ground coffee (about 2 ounces coffee by weight)
3 cups cold water
Keep in mind that this recipe has a 14 hour brew time.
Use a mason jar (or something else, but mason jars are fun) mix the ground coffee and water by gentle shaking the closed jar. Here is the part that you may not have the patience for... let the grounds steep for 14-18 hours. I put it in the fridge... but you can leave it out in room temperature.
Next, strain out the coffee grounds (I've heard a cheese cloth works well). Mix with milk, sugar. etc. Your DIY cold brew can stay in the fridge for up to a week. With that said, I love coffee so it rarely lasts four days.
Planning ahead with a slow cooker.
One fallback with a slow cooker is that you have to plan ahead. For example, I want my to make chili tomorrow for dinner (for both me and my hard working boyfriend).
Work Cited
"Beef Stew with Root Vegetables." Food Network, www.foodnetwork.com/recipes/ree-drummond/beef-stew-with-root-vegetables-recipe-1983394.
Buchko. "Slow Cooker Beef Stew Recipe." Allrecipes, 10 Oct. 2006, www.allrecipes.com/recipe/14685/slow-cooker-beef-stew-i/.
"Cold Brew Coffee - Easy Iced Coffee Recipe." Kristine's Kitchen, 27 May 2019, kristineskitchenblog.com/perfect-iced-coffee/.
"Is It Safe to Leave The Crock-Pot On All Day?" Bustle, www.bustle.com/p/is-it-safe-to-leave-the-crock-pot-on-all-day-instructions-are-key-30508.
Kare. "Creamy Vanilla Iced Coffee + Homemade Vanilla Syrup." Kitchen Treaty RSS2, 6 June 2013, www.kitchentreaty.com/creamy-vanilla-iced-coffee-homemade-vanilla-syrup/.
"Macaroni and Cheese." Food Network, www.foodnetwork.com/recipes/tyler-florence/macaroni-and-cheese-recipe-1915846.
"Prepare Bulk Coffee with a Slow Cooker to Always Have Iced Coffee on Hand." Lifehacker, lifehacker.com/prepare-bulk-coffee-with-a-slow-cooker-to-always-have-i-5979295.
"Simple, Perfect Chili." Food Network, www.foodnetwork.com/recipes/ree-drummond/simple-perfect-chili-recipe-2107099.