Soy Sauce Noodles
Easy-to-Make Soy Sauce Noodles, Ingredients & Directions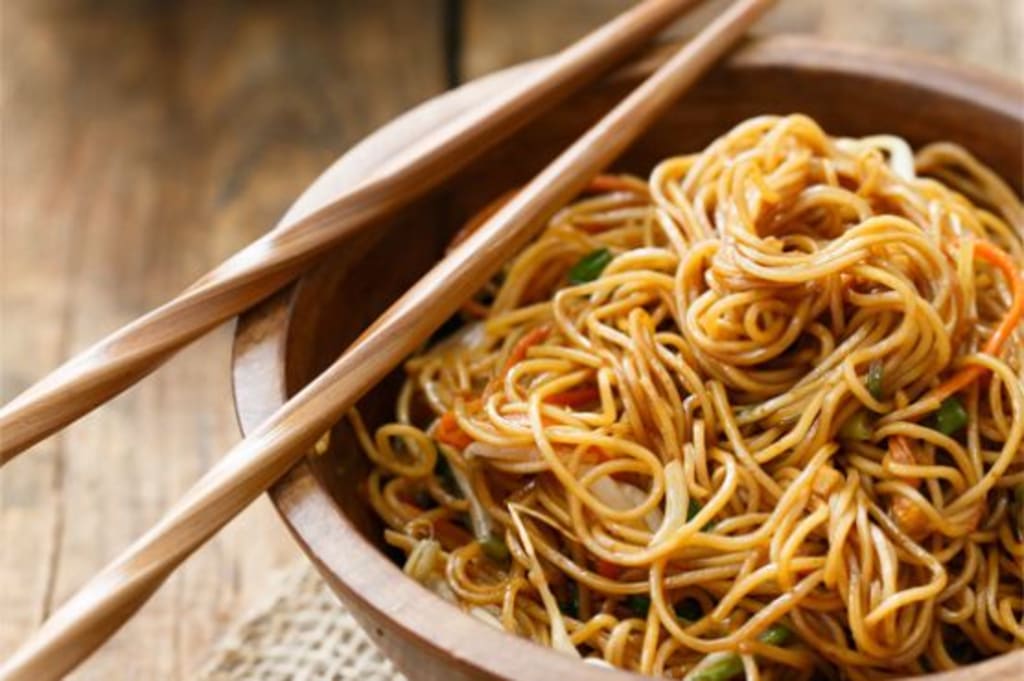 Wow, you guys really seem to like noodles! If you go on my page, you will also find recipes for copycat noodles from Panda Express and a super easy garlic noodle recipe. I'm obsessed with noodles and if you've read pretty much anything I write, you know I also love to hand make pasta.
This recipe is almost as easy (if not easier) than my "garlic noodle recipe" on my page. I find it's a fast and delicious meal to whip up any night and your family will have you begging for more. (I always have to make a double batch for seconds and for leftover lunches.)
**See photos below for more explanations on a couple things**
So the ingredients are plain and simple:
1 TBSP soy sauce
1 TBSP Shaoxing wine *used for cooking rice*
2 teaspoons (dark) soy sauce
2 teaspoons sesame oil
2 teaspoons brown sugar
1 teaspoon sriracha
2 TBSP vegetable oil (divided)
3 ounces (2 packs) thin Hong Kong-style egg noodles (noodle of choice)
2 garlic cloves, minced
2 green onions (sliced)
1 medium carrot (thinly sliced)
3 ounces bean sprouts
Directions:
In a small bowl, mix together soy sauce, dark soy sauce, Shaoxing wine, sesame oil, sugar, and sriracha (Set aside).
Bring a large pot of water to a boil. Cook according to package (or until tender). Drain and rinse under cold water (to stop the cooking).
In a large skillet or wok, heat 1 tablespoon vegetable oil over medium-high until it bubbles. Add noodles and cook for 2-3 minutes (without stirring) until bottoms are slightly browned.
Flip over as best you can and let cook for another 2 minutes. (Even though the noodles will not get entirely crispy, this step helps dry them out so they do not stick.) Slide noodles onto a plate and set aside temporarily.
Return skillet to medium-high heat with remaining 1 tablespoon oil. Add garlic along with green onion and quickly cook until fragrant (about 30 seconds).
Return noodles to skillet along with soy sauce mixture. Toss well with a pair of tongs, breaking up clumps of noodles as you go, until noodles are entirely coated (about 2 to 3 minutes).
Add dark green parts of green onion, carrot ribbons, and bean sprouts and cook for 1 minute more or until just softened.
Remove from heat and divide among bowls.
Serve immediately.
Shaoxing Wine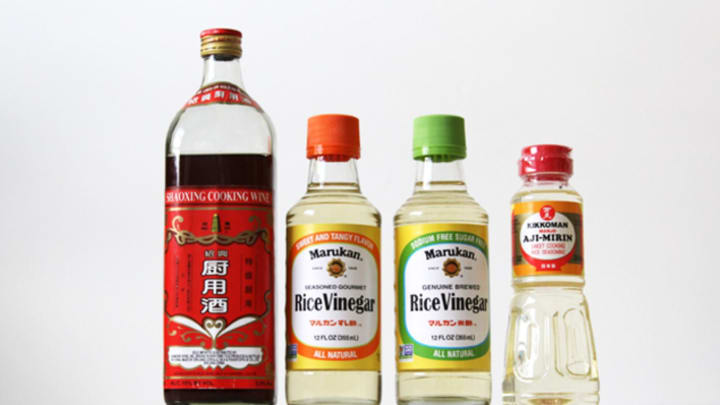 Shaoxing wine is a vinegar that people use when cooking rice. I find that its a little more hard to find, unless you have like a world market, or a store that would carry a variety of so called "Japan things."
In the picture you can see the two middle bottles are rice vinegar; One of these two would work just as well, and I find are a little more easy to find in a store.
Different Kinds of Soy Sauce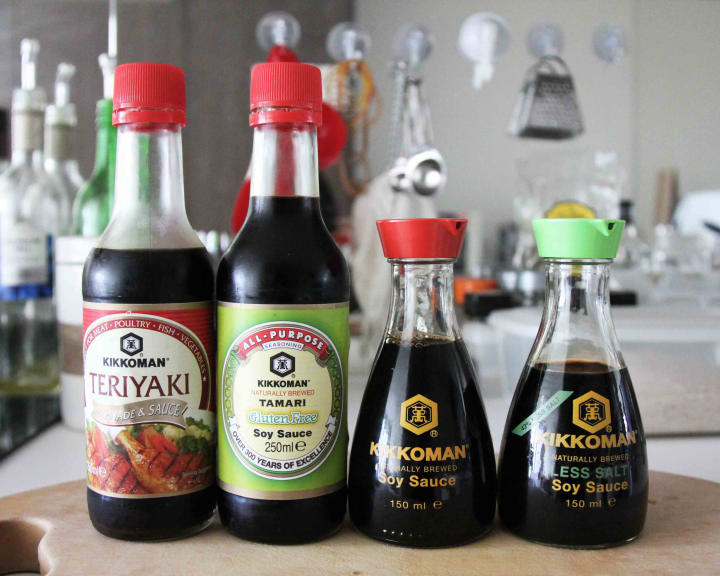 For the longest time I thought soy sauce was just soy sauce. I never really understood the difference of it until I actually started making this recipe.
As I know you saw, this recipe called for soy sauce and a dark soy sauce. Long story short they're just different in flavors. Now you can either use dark soy sauce (which I also find hard to find sometimes) or you can use tamari in its place. They are pretty close in taste and will give it just as an amazing flavor that you're looking for.
Sriracha Sauce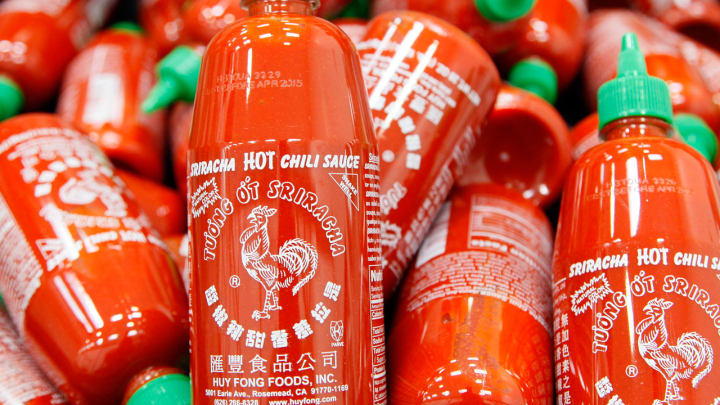 This recipe also calls for sriracha sauce. You'd be surprised how many people don't actually know about it. Sriracha is basically just "hot sauce" for other countries.
If you do not enjoy eating spicy things, you might not want to add this to your dish. It honestly isn't that much, and people hardly taste it. But if you can't eat something that burns a little, just leave it out. It's not really going to change the taste that much if it isn't there.
Hong Kong Style Noodles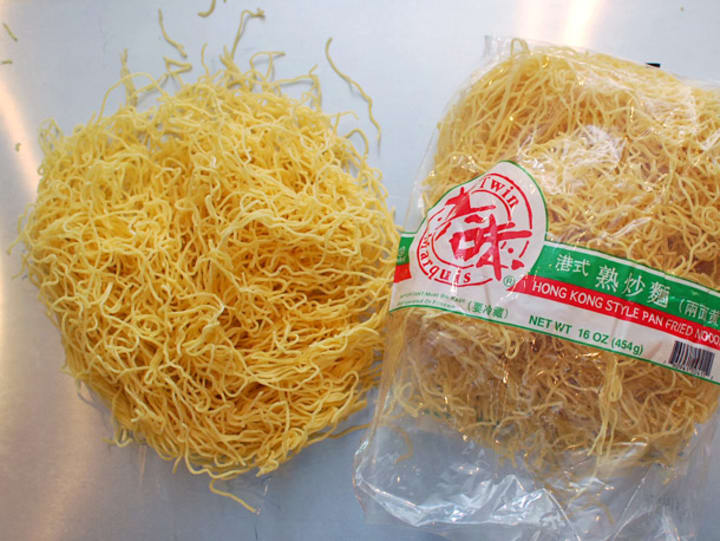 I highly recommend that you use these Hong Kong style noodles. They are one of my top favorites! I find when you really want the noodles to soak up that amazing sauce flavor, the smaller is usually better. For stir fries, I love small egg noodles, and for soups and things like chow mein, I enjoy a little bit thicker of a noodle.
Here are a couple different kinds of Korean noodles.
Different Korean Noodles
I wouldn't recommend udon noodles if you really want focus on that sauce. (If you have time to let the noodles really soak and blend in with the flavors, then try the udon noodles! I recently just tried these, and I'm a pretty big fan.)
For this recipe, I would suggest you go for an egg noodle or something like a rice or soba. Ramen would also be nice for this recipe, but I just don't recommend it with how hard of a time I've had in the past finding the right ramen noodle packet that wasn't those dried instant noodle ones. (Yuck!)