Soups of the World
2-in-1 Recipe to Make Your Tummy Happy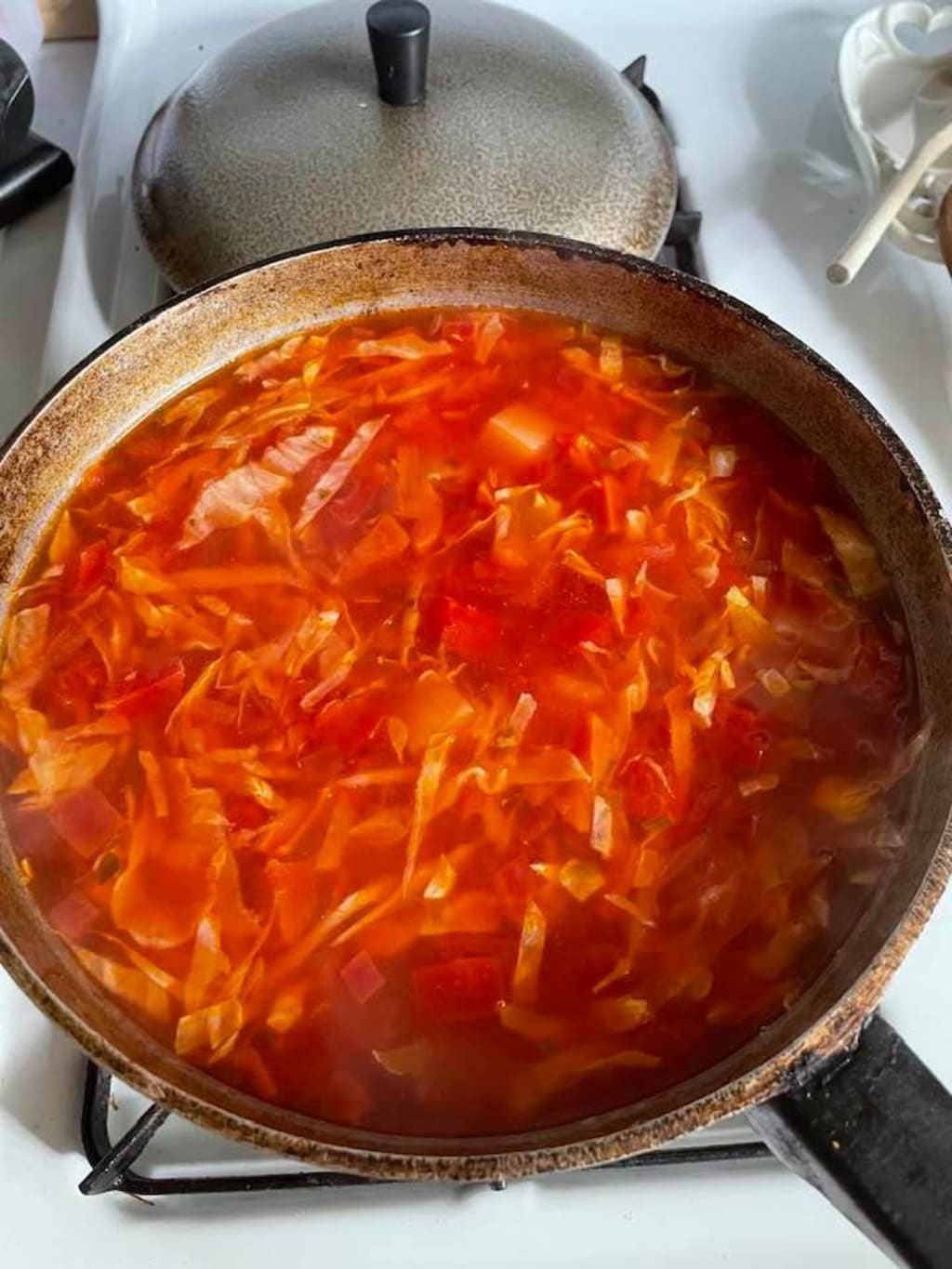 My Favorite Borsch, Hot in a Pot
Before the pandemic, I traveled a lot around the globe, both for work and pleasure. I've been to almost 30 countries and 150 cities of the world, many multiple times. Wherever I go, one of my favorite things to do is to sample local food, and soups in particular. I'm pretty adventurous with local cuisines: I would try anything once, even (or especially) if I don't know of what the dish was made. My rationale is simple: If people have been eating something for centuries or even millennia, who am I to judge them? If I don't like a food item, I will avoid it in the future but at least I'd know what it tastes like.
When I started traveling in early 1990s, I noticed that most cuisines in Europe, Asia, Mediterranean, and North Africa had dishes that included lentils. Almost every ethnic group had some variety of a lentil soup, and I sampled many of them during my travels. My absolute favorite is Turkish lentil soup (Mercimek Corbasi) because it's versatile, and both filling and refreshing. You can make it simple, using only 3-4 ingredients, or as complex as you'd like by adding various vegetables to the soup base and making it thicker by adding potatoes and rice. If you search for Turkish lentil soup recipes online you will find endless variations and step-by-step instructions.
As a Russian, I grew up on soups and still love soups. Of course, the famous borsch is something I adore and know how to cook well. But I also love lentils. So, over the years of experimentation, trying to combine my love of borsch, soups, and lentils, I have come up with my own version of a lentil soup that uses the same base as the Russian borsch. We are a family of two (just me and my teenage son) and what I realized was that no matter how small the vegetables I pick for the base, it's always producing a big pot of borsch that we'd be either eating for a week or throw out when it goes bad. So now I just use half of the base for borsch, freeze the second half and make the most wonderful, rich and flavorful lentil soup a couple of weeks later.
In fact, the soup base recipe I'm going to give you is so versatile you can use it for many other things. For example, if you exclude the red beets and include turmeric as main spice, you will get a base for an Indian lentil dish that you can combine with chickpeas and serve over brown rice. You just need to use your imagination and whatever you have in your kitchen.
For now, I'm going to give you a step-by-step recipe for the lentil soup and borsch if you decide to take a stab at it as well.
For the LENTIL SOUP you will need:
- Soup base: 1 medium finely chopped onion, 1 medium shredded carrot, 1 medium shredded red beet (for beautiful red color), 1 red/yellow/orange chopped sweet bell pepper, 2 medium chopped tomatoes, 2 tablespoons tomato paste
- 1.5 cup small red lentils
- 2 medium chicken breasts (skip for a vegetarian version, use vegetable stock to cook lentils instead).
Step 1. Start out cooking chicken breasts in a medium pot. This will be your soup stock.
Step 2. At the same time, start making the soup base in a medium frying pan. Cover its bottom with any vegetable oil. I like to use the mix of olive and sunflower oil, and avocado oil works wonderfully as well. Warm but don't overheat the oil.
Step 3. Add chopped onions to warm oil and sauté for 2-3 min until they soften. Make sure not to overcook or burn them.
Step 3. Add shredded carrots and beets to onions at the same time, sauté for 5-7 min, stirring frequently, until half-cooked.
Step 4. Add chopped bell peppers and tomatoes followed by the tomato paste, make sure the paste distributes evenly by adding about ½ cup of your cooking chicken stock to the base. Reduce heat to low and let simmer for about 10-15 min. Add more chicken stock as needed. Salt to the taste. Optional: to preserve the rich purple-red color of the beets, squeeze the juice of ¼ of a medium lemon into the base toward the end.
Step 5. Your chicken breasts should be cooked by this time. Take them out of the pot and set aside in a bowl. Pull apart into small pieces to serve on the side when the soup is ready.
Step 6. When the soup base is done, divide it into two parts. Cool off and freeze one part for future use.
Step 7. Put the second part of the soup base into the blender to be mixed with cooked lentils later.
Step 8. Add red lentils to the stock (if needed, add water to above the half-line of the pot), bring to boil and cook on medium to low heat for 20 minutes.
Step 9. Turn off the heat and use a strainer to take out about half of the cooked lentils, to put into the blender with the base. Blend everything together thoroughly to give your soup a nice even texture.
Step 10. Return the blended soup base to the pot with the remaining lentils.
Step 11. Turn on the heat and add spices. What would make this a truly authentic Turkish lentil soup is Aleppo pepper which is pretty hard to find and can be expensive depending on where you live. A good substitute for Aleppo pepper is a mixture of 4 parts of Hungarian paprika and one part of Cayenne pepper that I always keep on the ready. You can also add Himalayan salt to the mixture. For a mild lentil soup, use about 1 teaspoon of the mixture. If you want it to be spicier, add more mixture to your taste.
Step 12. Bring the pot back to boil and simmer on low for 3-5 minutes for all the ingredients to "marry each other," as my grandmother would say. Let it sit for 5-10 min. Serve with the chicken and a slice of lemon on the side, to squeeze the lemon juice on top of the soup.
If you want to make your lentil soup thin and yellow like they serve it in Istanbul restaurants in the summer as a starter dish, exclude beets from the base and add more stock or water to the pot. If you want the soup to be thicker and more filling for the winter, you can add potatoes and rice to it. Nothing should stop you from adding your favorite beans to it, just for fun. You can also make it purely vegetarian or use another type of meat for the stock. Lots of variations to make the soup your own.
For the RUSSIAN BORSCH, you will need one large potato and ½ of small cabbage instead of the lentils. Follow the above recipe through Step 6. DO NOT put the base in the blender. The borsch loves chunks of vegetables picking through its cabbage.
Step 7. Add cubed potato to the chicken stock. Bring the pot back to boil and reduce the heat.
Step 8. While the potatoes cook, shred the cabbage into thin strips. Put it into a big bowl, sprinkle with a pinch of salt and knead it like dough. This will make the cabbage let its juice out and become a little softer, speeding up the cooking process.
Step 9. When the potatoes are half-done, add the soup base to the pot. Spice it up with paprika, salt and ground black pepper to your taste. No Cayenne or Aleppo pepper here: borsch is supposed to be on the pleasantly sour rather than hot side.
Step 10. Add cabbage to the pot. Cook on medium to low for 3-5 minutes or until the cabbage becomes soft. Add 2-3 bay leaves at the end, turn off the heat and let the borsch sit for about 20 min. Serve with a dollop of sour cream on top, chicken and a piece of rye bread on the side.
Please remember that any soup tastes better on the second and third day, as long as you keep it in the fridge. There's nothing wrong with serving yesterday's soup to your dear guests because that's when the soup is at its best.
One last hint: If you don't want to spend too much time with the base every time you feel like making the lentil soup or borsch, you can go all industrial in the summer/fall when the vegetables are abundant and cheap. Simply double or triple the recipe and freeze the stock in small bags or containers for the winter. That way, just like a true Russian, you will always have a pot of soup in your fridge.
About the Creator
Avid reader and occasional writer of satire and dystopia under a pen name of my favorite wild cat.
Reader insights
Be the first to share your insights about this piece.
Add your insights