Sorry, Starbucks Baristas: A Zombie Frappuccino Looms On The Horizon
Could this be another Unicorn Frappuccino event in the making?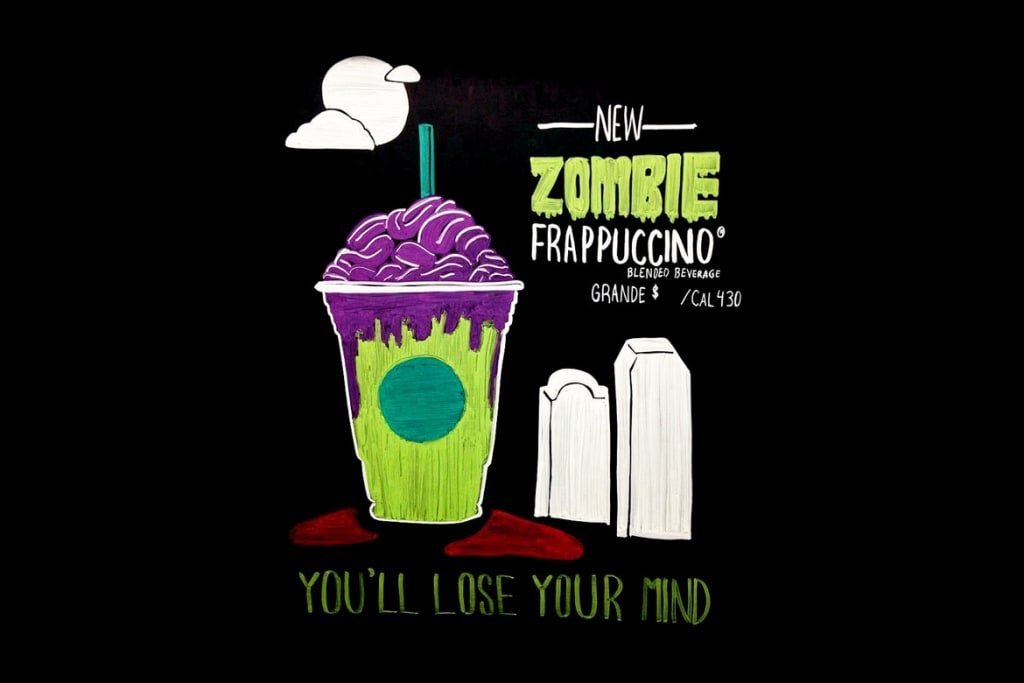 Remember the incredibly sweet confection that was the Starbucks Unicorn Frappuccino? The now-discontinued blended creme drink hit Starbucks' stores throughout North America in mid-April and baristas simply couldn't keep up with the demand. At the time, stores were reporting that although they were supposed to be able to make the beverages for the week or so that the Unicorn Frappuccino was around, they simply had not been given enough of the ingredients to keep up with the demand. Countless Reddit accounts detail experiences of customers not handling the news that stores ran out of the drink well, with baristas essentially threatening to lose their collective cool if someone asked for another Unicorn Frappuccino during their shift.
"I just got off a 6:45-3 shift and I swear if anyone says "unicorn" around me I'm gonna snap," Reddit user grapeflavoredorange said at the time, and that was one of the tamer comments about the drink.
Now, #Starbucks' baristas are reportedly bracing themselves for another onslaught of sweet powders and syrups as news of a Zombie Frappuccino is starting to make the rounds on social media. Time reports that a Starbucks spokesperson said of the #ZombieFrappuccino possibility, "Our Halloween plans are still under [mummy] wraps, but we look forward to sharing more details with the living soon."
Let's Eat Cake blogger Rebecca Swaner posted an image via Twitter of what appears to be a promotional chalk drawing of the potential beverage, widely reported to be made up of caramel apple powder and pink whipped cream "brains." While the location of the promotional drawing appears to be unclear, the fact of its existence would suggest that a Zombie Frappuccino apocalypse might be coming.
Twitter user Anthony Figueroa, who appears to be a barista at Starbucks, tweeted his concerns about the potential for a Zombie Frappuccino and appeared to echo the same concerns that were rife about the #UnicornFrappuccino.
"We are getting a new Halloween frappuccino at work #zombiefrappuccino and I'm scared because it's colorful like the #unicornfrappuccino 😳" he tweeted.
As might be expected, Starbucks customers are predictably pumped for a new frappuccino craze, though during the melée that was the Unicorn #Frappuccino, some baristas were practically begging customers not to order the sweet drink.
"I have never made so many Frappuccinos in my entire life!" Colorado barista Braden Bursen said in a video rant, according to Refinery 29. "My hands are completely sticky! I have unicorn crap all in my hair, on my nose. It has been insane! If you love us as baristas, don't order it!"
There has yet to be official confirmation from Starbucks about the existence of the Zombie Frappuccino, though the statement from the company spokesperson might lead some to conclude that perhaps a zombie (frappuccino) apocalypse is on its way.
One writer was clearly not a fan of the Unicorn Frappuccino and clearly is not really looking forward to the possibilities that a Zombie Frappuccino might bring.
"If you like the idea of shoving a bunch of Starbursts covered in Sour Patch Kids dust in your mouth, the upcoming Zombie Frappuccino may be for you," writes editor Joe Tamborello of IndyStar.
If the craze that ensued over the Unicorn Frappuccino is any indication at all, it would seem that two things are about to occur between October 26 and Halloween - the rumored life span of the equally-rumored Zombie Frappuccino:
Starbucks baristas everywhere are praying that their suppliers will give them enough product to keep the Zombie Frappuccino going for a week (stores were reportedly running short of various Unicorn Frappuccino ingredients during that drink's run);
Starbucks will likely rake in a lot of money - surely enough to see them through a legitimate zombie apocalypse.
If the Zombie Frappuccino does come, and it would appear that they may very well be, let's all remember to be gentle with our Starbucks' baristas. They're about to have some very long days.