Simply Samantha: Homemade Salsa and Tortilla Chips
Restaurant Style Salsa Made at Home!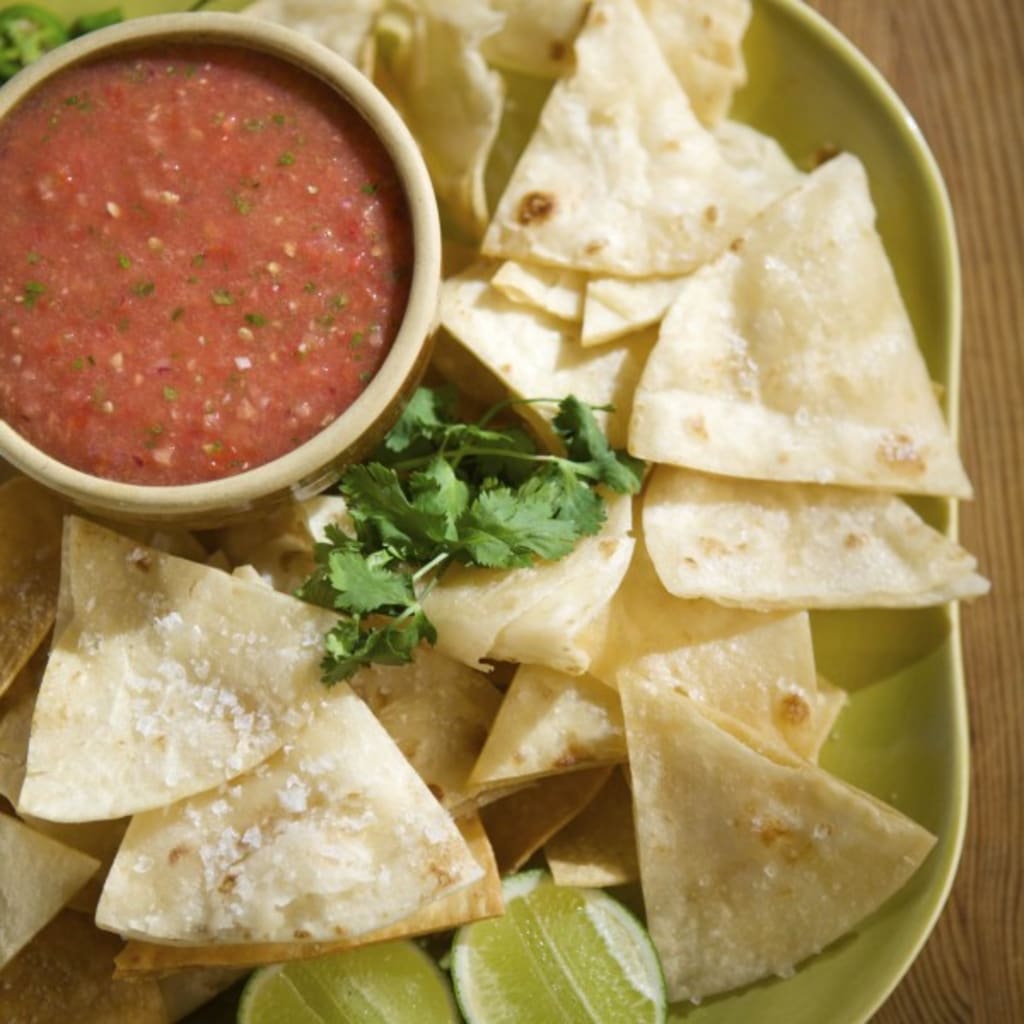 Hey guys! Welcome to Simply Samantha, where the cooking is simple, and the results are oh so satisfying!
When I was pregnant with my son, the only thing that I wanted was Mexican food! Anything from cheese dip to enchiladas, and especially the SALSA!
Even after I had my son in March of 2016, I still craved chips and salsa. So, when his first birthday came along, I thought it would be a little funny to have salsa there. Since I wasn't sure how many people were going to come to the party, I decided to make it myself. I had watched a friend do it before and theirs always turned out amazing!
Doing it this way will cost slightly more than your average canned salsa, but the taste that you get from making it is SO worth it! I believe the best part of making this yourself is that you're able to decide the heat level. If you want it spicy, add jalapenos, and if you want it more mild, leave them out and add some garlic!
Ingredients:
• 1 14-oz. canned tomatoes (with the juice)
• 2 gloves of garlic (minced)
• 1 small onion chopped (or medium if you want more)
• 2 green peppers (seeds and veins removed)
• 2 tablespoons of cilantro (equal to 1/8 cup) (they come in bunches at the store)
• 2 teaspoons S+P (salt and pepper) (add more to taste as well)
• Juice of ½ a lime
• 1 to 2 jalapenos (optional if used remove seeds and ribs as well)
**If you don't like the taste of raw onion or raw garlic, the alternative would be to leave them out and use garlic powder and onion powder
Directions:
1. The first, and best thing to do is prep your ingredients. (Side note: Put your onion in the freezer for about 10 minutes before you cut it. This will help your eyes not to tear up when cutting them.) Mince the garlic and dice the onion and bell pepper. The Cilantro will need a rough chop. If you want a stronger tasting salsa, you can choose to put the juice from the can of tomatoes in the bowl and soak your cilantro in it!
2. Once everything is prepped, you are ready to blend everything together. In a blender, put your tomatoes and their juices in. Add in all the other ingredients. To get the most juice out of a lime (or even a lemon), you can place it on the counter and roll your hand across it while pushing down slightly.
3. If you want the salsa chunky, then you won't have to pulse the blender as long as you would have to if you want it smooth. After the desired consistency is met, you can taste to make sure you have the right salt and pepper tastings. (Hint: if you have too much of a salt taste, add just a little bit of sugar. Do this just a little bit at a time because you don't want to use too much sugar; it's harder to reverse. If you use too much pepper, add more lime juice, the acid helps balance it out.)
If you are a garlic lover, like I am, feel free to add more minced garlic than what I listed above! I know the first time that I made it I used too much garlic and I was the only person that ate it! LOL!
This salsa is great for any informal occasion! If you want to get even fancier than homemade salsa, you could go as far as making your own tortilla chips as well! Here is the simplest way to do that!
Ingredients:
• 4 Tortillas (the amount you need will vary depending on guests)
• Salt to taste
• Lime juice
• 1 to 2 tablespoons of Canola oil (or olive oil, or vegetable oil whatever you prefer)
Directions:
1. Preheat your oven to 400 degrees Fahrenheit (Hint: Put the pan that you're going to use to cook the tortilla chips on in the oven while its preheating. Will help to start the cooking process instantly.)
2. Cut your tortillas into eighths and brush each side with whatever oil you picked.
3. Cook them for 7 minutes and then flip them and cook them for another 5-7 minutes until they are golden brown. Be sure to watch them VERY closely, they will burn quickly.
4. After they cook, sprinkle them with salt and a squirt of lime juice and toss them in a bowl to make sure they are coated evenly.
**If you want to make the chips spicy, you can add cumin and chili powder to the oil before you brush the tortillas with it. One teaspoons each!
I hope you enjoy this as much as my family has and remember don't knock it until you try it!
--Simply Samantha
recipe