Sicilian Sesame Cookies Recipe
Biscotti Regina Great for a Holiday or Any Day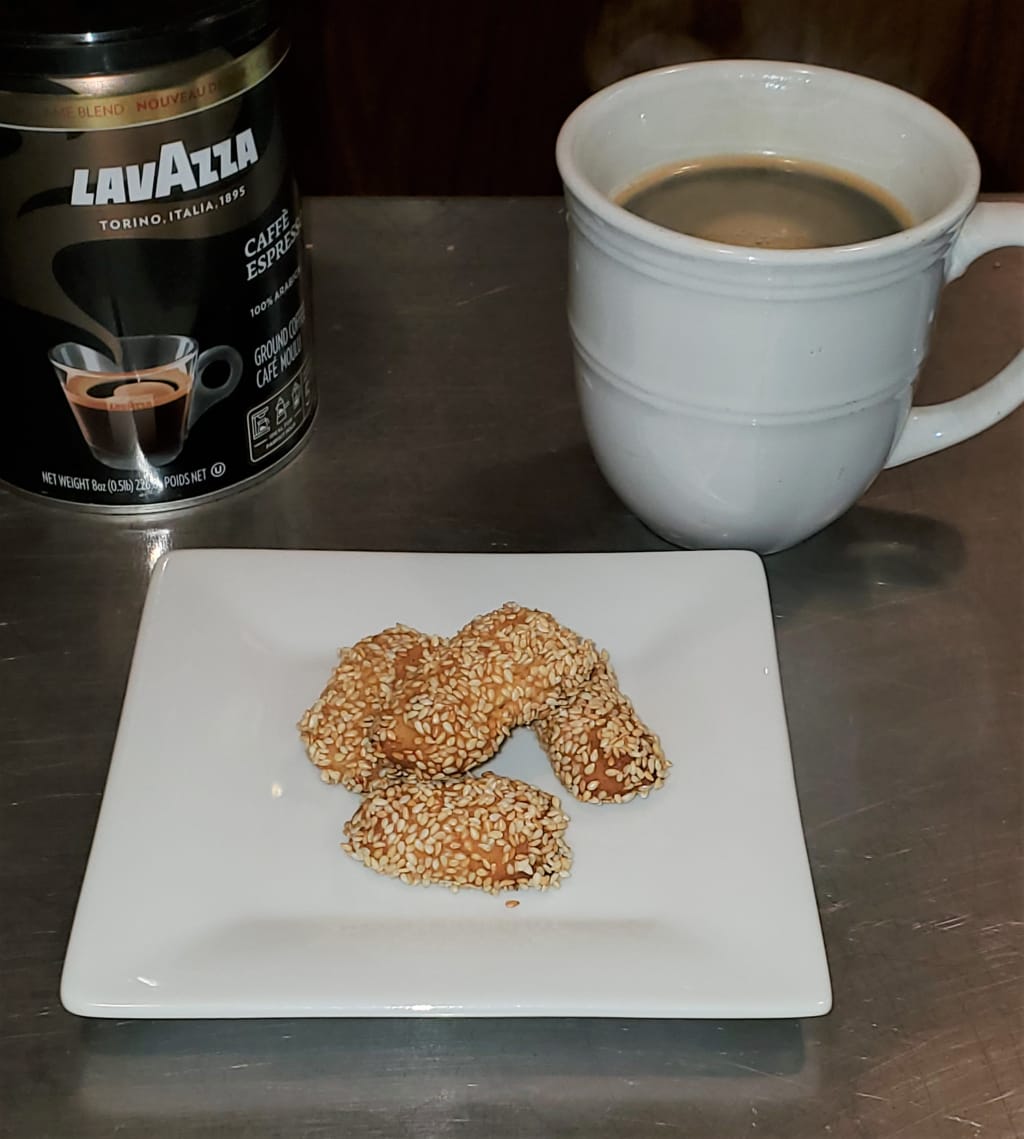 Biscotti Regina & a cup of coffee are great in the morning or for the end of a meal.
Recipe - Biscotti Regina
Also called: Biscotti col Cimino, Reinelle, or sometimes these are just referred to as Sesame Cookies.
I have fond memories of these cookies as a child from my grandparents' house. My grandmother was an outstanding baker. These were one of the types of cookies she would often make and almost always have on hand.
She and my Papa had what you might call a cantankerous relationship (she was rather mean to him) and she wouldn't give him any. But she would put a full plate of them in front of me. I, of course, would bring them into the T.V. room and share them with my Papa as we watched the Cubs game.
I don't have the same recipe that my grandmother used. My grandmother wouldn't give out her best recipes because she said, "then no one would come visit me". Another thing Italians are good at —- guilt trips.Unfortunately, her recipe died with her, but I've found two that are similar. At least, they are as close as I've gotten so far.
This is the easier recipe of the two, and I think they are quite good. For the other, I use yeast instead of baking powder and I use honey. The flavor is a bit more complex especially when I use fresh yeast. At the end of this, I will list the differences when using Yeast.
Now on to this recipe:
Biscotti Regina
Ingredients:
250 Grams + Flour (I use Semola Di Grano Duro Rimacinata which is a finely re-milled semolina flour)
100 Grams Sugar
100 Grams Lard
A few Drops Vanilla Extract
1 Whole Egg
Zest of 1 Lemon
Zest of ½ Orange
8.5 Grams Baking Powder (Same amount if active dry yeast & Double if Fresh)
To taste (1 oz.+) Milk (also some milk for coating)
Pinch Salt
150 Grams Toasted Sesame Seeds
Optional:
Pinch Saffron
Pinch Cinnamon
7 Grams Honey
The Process:
Prepping is important here. I prepare my sugar by weighing it. Then I add the lemon & orange zest as well as cinnamon and mix it into the sugar. Then let it sit for a while so the sugar draws out the oils from the zest.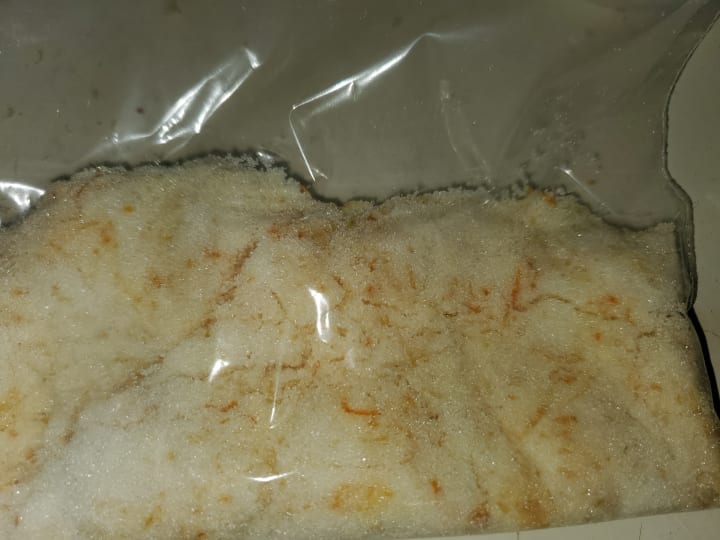 I also take a small amount of milk and add to the pinch of saffron (can be crushed). Let both of these mixtures sit about an hour.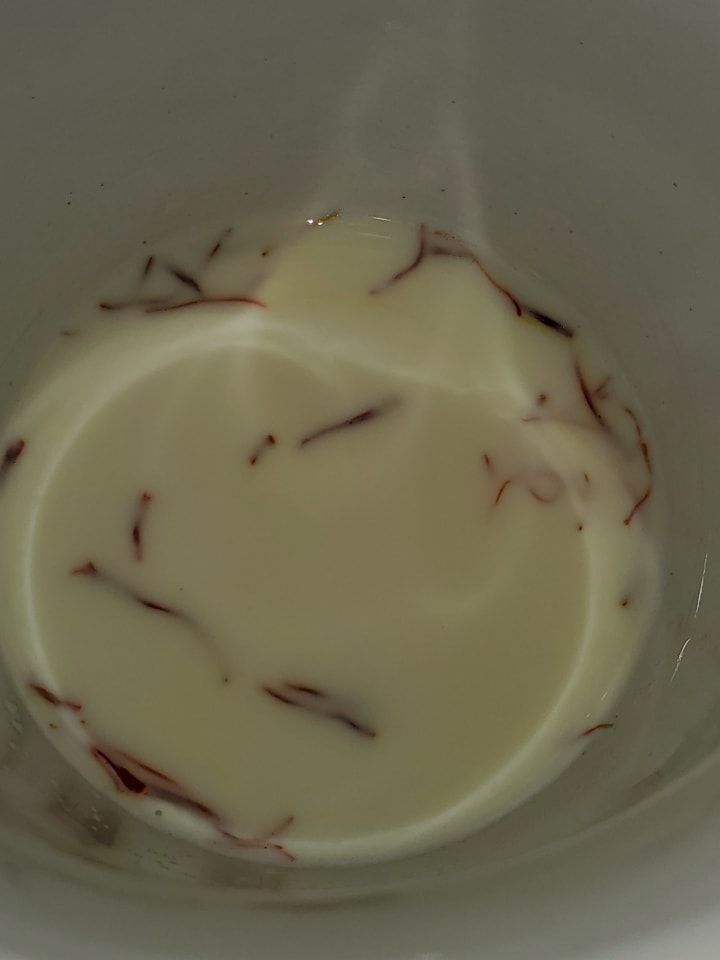 After an hour or so, combine flour, salt, sugar mixture and baking powder in the food processor and mix.
If you don't have a food processor, you can use a bowl and do it by hand or with a mixer. After all, our grandparents didn't need any food processors, but they also had really strong arms, so put some elbow grease into it.
Then add the lard a little at a time. I would say about 20 grams at a time. Mix (or pulse) and repeat till the lard is all in the mixture.
Now you can add your wet ingredients, the egg, milk with saffron, and vanilla extract. (Note: after adding the saffron mixture, I normally rinse the remaining saffron out of the bowl with a bit more milk. Saffron's not cheap and I hate waste.)
Mix together again, making sure to mix in dough on the sides of the bowl. If the dough is too wet, carefully add a bit more flour.
Take mixture out of the bowl and knead by hand, then form it into a ball and cover with plastic wrap. Refrigerate for about an hour.
Preheat the oven to 375F.
Prepare a baking sheet with parchment paper, a shallow bowl of milk, and a dish with the sesame seeds.
Cut dough into quarters and roll out, one at a time, into logs about the thickness of a finger.
Cut at 1 and a half inches and place the cookies into the milk (about 5 or 6 at a time).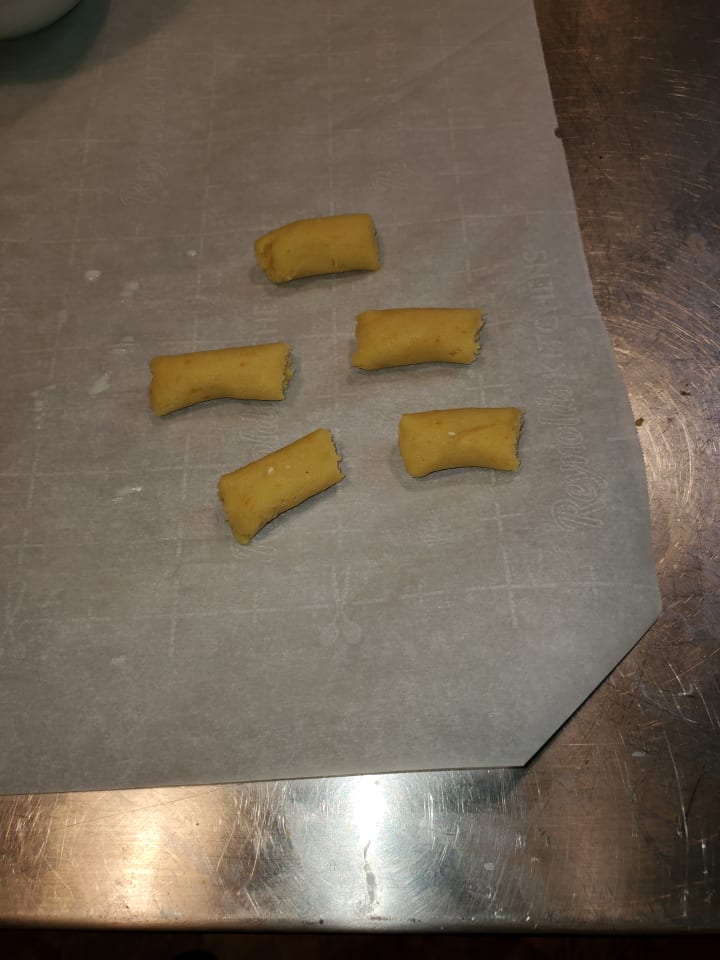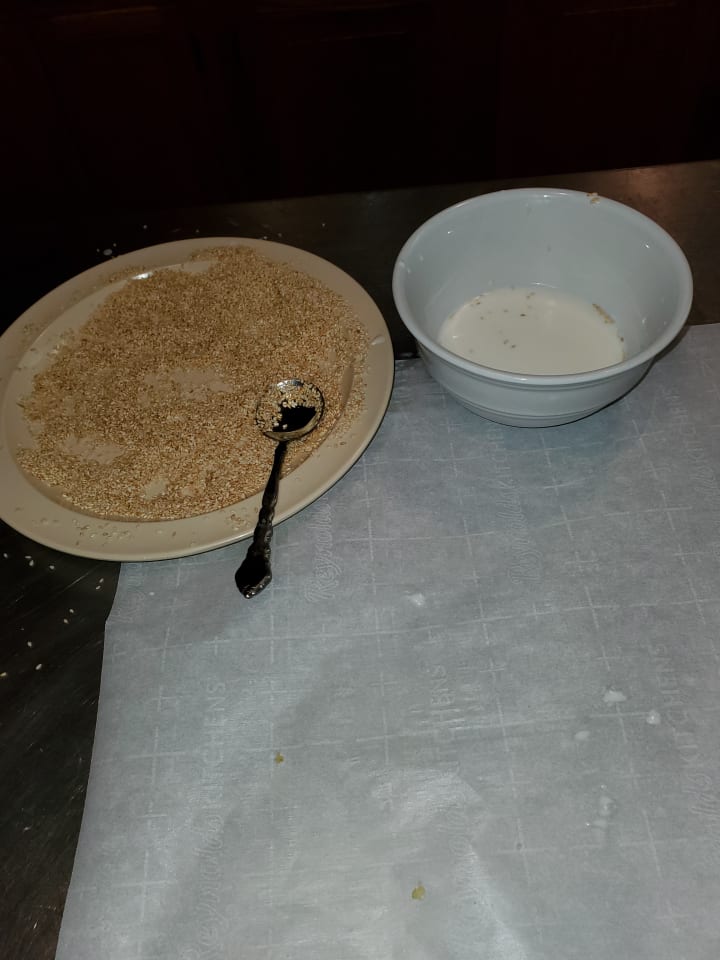 Turn over and place on the plate with sesame seeds. Cover the entire cookie with seeds and place on the baking sheet, leaving enough room between each to grow (about ½ to 1 inch).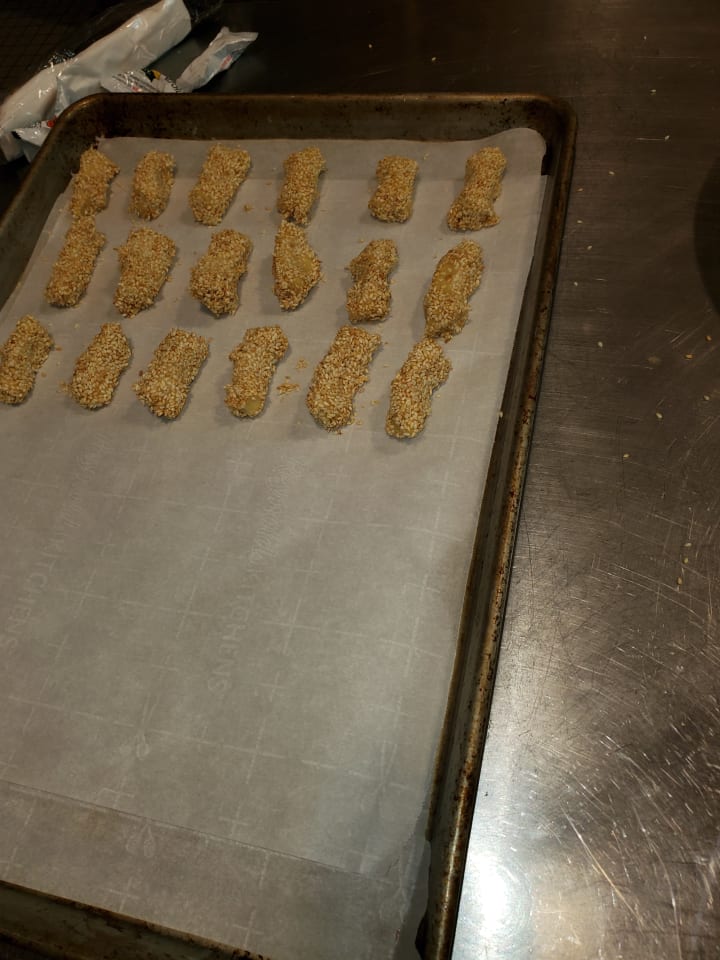 When the pan is filled or you run out of dough, place it in the center of your preheated oven and let them bake for about 20 minutes.
I normally start checking on them after 15 minutes to make sure not to over cook and I am somewhat impatient.
When done, put cookies on a cooling rack. Be careful because when they are still hot they are crumbly. They will firm up when cool. These will store in a cookie tin for about 2 weeks.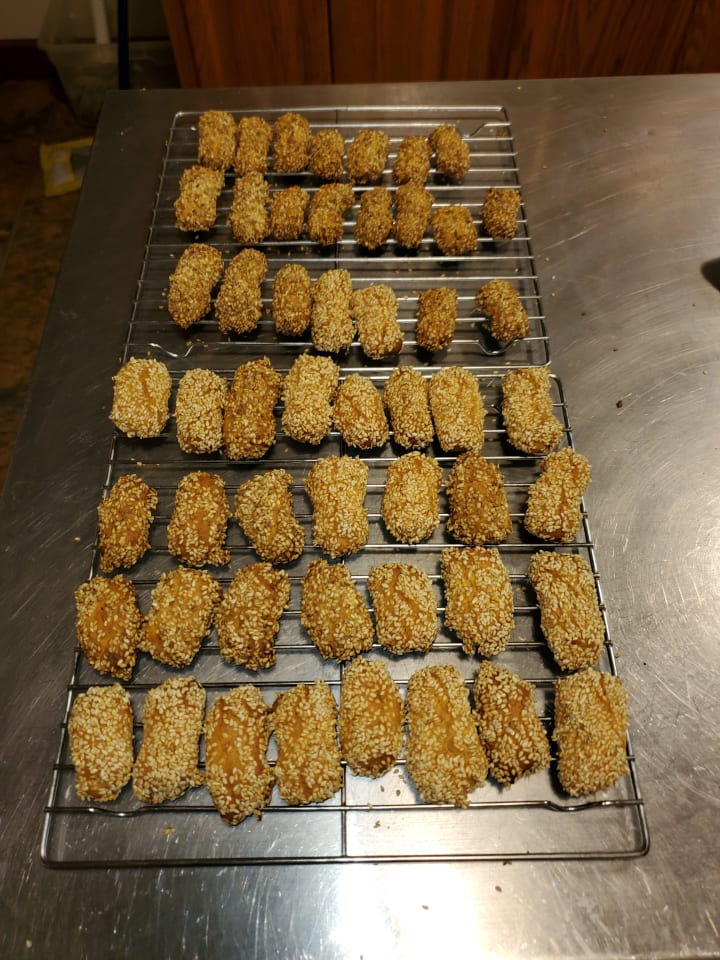 Using Yeast:
When using yeast, you are going to use more Milk as well as flour.
About 10 minutes before you start your dough, add yeast and honey to room temperature milk (Not the cup with saffron) and let proof.
I usually increase my sugar mixture by 10 grams and flour by 25 grams to get this back to the right consistency (depending on conditions, you may need to play with amounts).
Also note that yeast will make the dough rise even in the refrigerator and you will need to put in a bowl with plastic wrap covering the top instead of just wrapping the dough, to give it room to grow. Also, when you take it out, you will need to punch down the dough before quartering and rolling out logs..
Authors notes: This Recipe was previously published on August 23, 2020 by myself on my website, certifieditalian.com.
recipe
About the author
August Monteleone has worn many hats Professionally as well as in his private life.
His interests include: Jewelry, Saloons, Food & Drink as well as History, Politics & Culture.
Reader insights
Be the first to share your insights about this piece.
Add your insights