Should We Shop at Aldi's?
A Brief History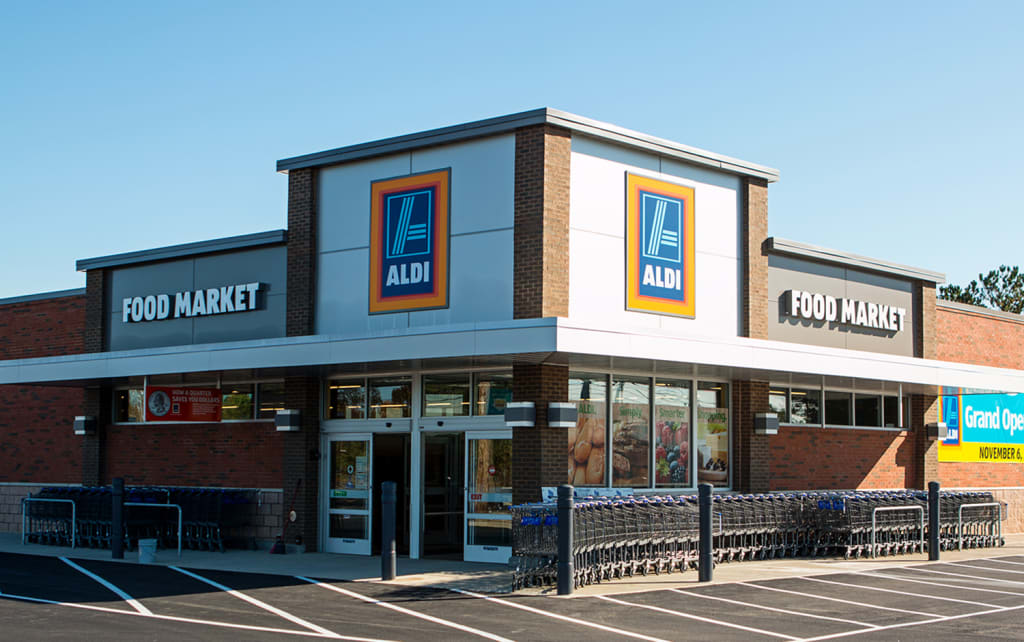 A lot of shoppers have asked themselves this at some point in their shopping life. Some people think that it is perfectly okay to shop here while others find themselves disgusted and repulsed to even consider it. To make an accurate decision, you need to look at the pros and cons of both decisions. I also believe that you have to know about the history of the corporation and their future plans.
In 1913, Anna Albrecht opened a small food store in the mining town of Essen, Germany, and by 1948, her sons took over the business and expanded to four locations. ALbrecht + DIscount = ALDI. In 1962, "Albrecht Discount" was shortened to "ALDI," and by 1968 there were more than 200 ALDI South locations. ALDI expanded to Great Britain in 1990, Ireland in 1999, Australia in 2001, Slovenia in 2005, and Hungary in 2008. Today, ALDI is experiencing unprecedented growth in the United States, with recent openings into Royal Palm Beach, FL; Rosenberg, TX; and Moreno Valley, CA. In fact, by the end of 2022, there will be nearly 2,500 ALDI stores in the US. (Credit: https://careers.aldi.us/about)
A common question that I hear pretty often is why would you want risk paying less for food, and are we losing quality in the food by shopping there. The obvious reason that people shop here is that it is a lot cheaper to shop here rather than a local Walmart. In order to test this philosophy, I tallied up my grocery shopping list in the Aldi's and at Walmart for the same food. At Aldi's, I spent $89.48, and at Walmart, I spent $115.86. Another reason why some people prefer Aldi's is because there is less distraction. If you go to a Walmart, there are a lot more different kinds of product that will run up your bill. In most Aldi stores, there is a much smaller selection of toys or extras. To answer the question if you are losing quality, the answer is simply about your own perception. There are some people who believe that there is not a difference and some people can taste the flavor difference.
The biggest argument against Aldi food is that people love the name brands that they can buy from other stores, even though some people believe that there is not a difference between the two brands. Some believe that it's the same food, just packaged in a different bag with a different logo, while others believe it's a totally different product with polar opposite flavors. Another reason why people choose not to shop is because of how they have to take their food home. The only difference between Aldi's and a typical grocery store is that Aldi's doesn't bag your groceries for you. You must bring in your own bags. If you had an offer to use a free cart or one you need a quarter to use, would you really choose the one that you need to pay for? Of course not! This is yet another reason why some people choose to not shop at Aldi grocery stores.
To find the answer to this argument, you need to assume that the person that is answering these questions compare the products with just price and quality, this cannot show favoritism to certain name brands. If you view by just price versus quality then the obvious choice has to be to shop at Aldi's. When the difference of the quality is not all that different from popular grocery stores, you can't ignore the difference in the prices. If you show favoritism to any certain brand, you should continue to pay more than you should for the same product.
product review
Practicing writing and saving money so I can become a professional Journalist for the NFL. If you have any questions comments or potential discussions please feel free to email me at [email protected]