Shish kebab at home
Try out this comfort food without going through the hassle. Not a conventional recipe but making life easy. It's a great Freezer filler too!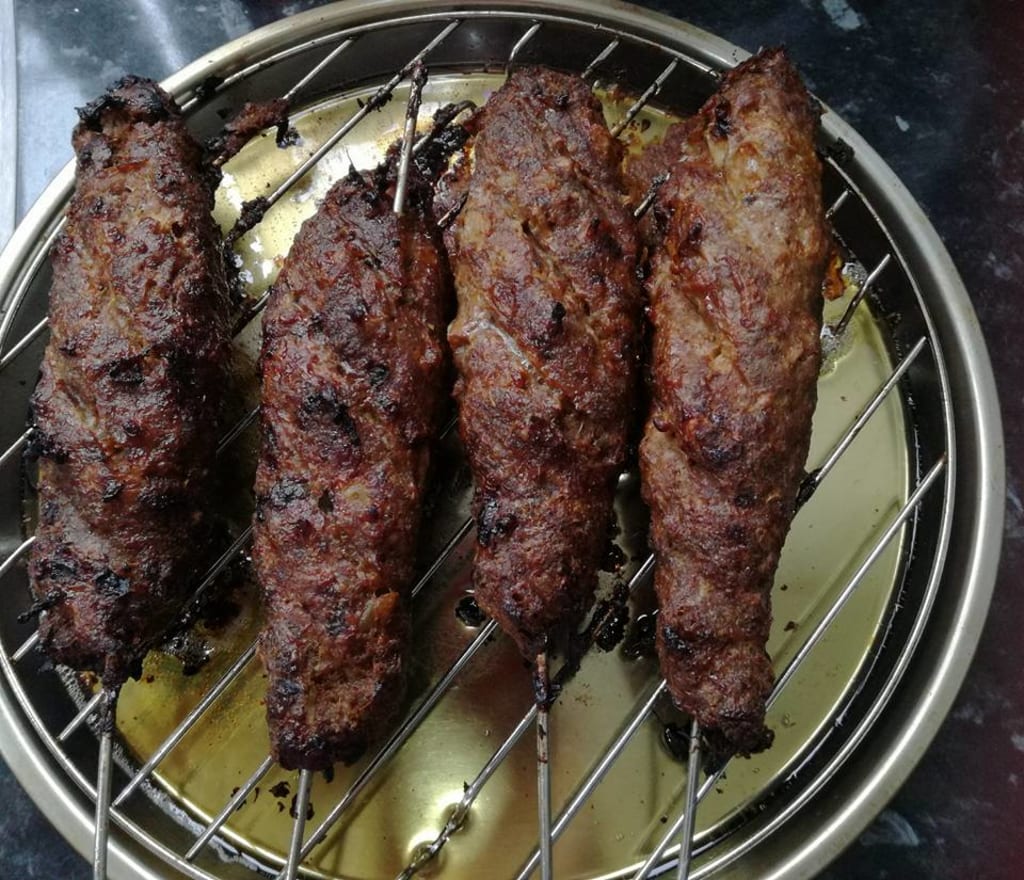 Grilled Shish: BBQ at home. Unconventional but so comforting and easy
Do you want to stay at home over binge TV? We all need to get away sometimes; sometimes "My time" is the greatest time to be inspired.
But "My time" isn't fun without yummy bites or comfort food. There is something comforting on nibbling on snacks or a quick easy dinner but still having the authentic taste and fragrance.
I was living in a small apartment and I only had a small oven. I couldn't recreate the exact recipes and I didn't have a space for barbeque either. Nevertheless it was Easter time, the time I have to have the flavours of the ancestral cookery to be inspired spiritually. So I wondered what I could do to have something close to my childhood because I was looking for that BBQ kabab flavour. Now I could always get a takeaway but is it the same thing? I love the wonderful feeling of sharing homemade, something tells that I cared. And making something for "My Time" is a way to tell me that I care for myself. That is the first step to be inspired.
I Felt I had to make Kababs, flat bread and rice with salad. So I came up with a version that could be made in a small apartment, student friendly and idiot proof.
My kababs are great accompaniment to "My time" or even if you wanted to share them with loved ones. Or you can keep them in the fridge for lunch box; just heat them up for one minute in the microwave.
This isn't a traditional recipe but carrying a lot of tradition. Great if you have a Barbecue, but if you don't, use conventional or any portable oven.
You can start with 500 g of Lamb; Beef & pork (the fat of the pork will hold the meet) or simply beef.
Mincemeat: 500 g
Onion: one big very finely chopped, preferably grated or minced in the food processor
Garlic: 5/6 big cloves crushed or paste
Parsley: ½ Cup very finely chopped
Dried oregano: 1 tea spoon
Greek or thick middle eastern/Persian yogurt: ¼ cup
Cumin: 1 tea spoon
Pepper: ½ tea spoon
Nutmeg: grate ¼ of a nutmeg or ¼ tea spoon of grated
Mace: ¼ tea spoon
Cinnamon: ¼ tea spoon ground
Egg: 1 (You may not need the egg if you are using a mixture of pork and beef)
Bread crumb: 1 cup
Chilli powder: ¼ tea spoon for mild; ½ tea spoon for medium; 1tea spoon for hot.
Sumac: ¼ tea spoon
Salt to taste
1. Wash hands or use gloves because you need to mix all the ingredients with hand very well. You may need to mix it for few minutes. I watch my favourite show while I mix or kneed; you can listen to your favourite music.
2. Divide the mixture into four equal portions.
3. Make a ball with each portion. Now put each ball in the middle of your palm and using both hands start rolling back and forth to make an oblong shape. Insert the skewers on each.
4. Chill for minimum 10 minutes.
5. Cook each side under a high grill for 4/5 minutes and turn both sides to get colour.
Or
Cook in 250 degrees in the oven for 12 minutes and turn over to cook the flip side for another 7/8 minutes or until the top develops a dark caramelised colour.
Or
Barbecue if you have the option.
Note: Best with cucumber and yogurt salad and buttered rice. You can always buy the flat bread from the Authentic Asian store. Place a flat bread on a hot pan, heat up the bread over medium heat for 1 ½ to 2 minutes and heat the flip side. This will bring out the freshness of the store bought bread. You can brush the top side of the bread with butter if you want to indulge.
Effort saving Option: you can chop the onions and the parsley in a food processor.
Save them for later: Wouldn't it be good to have something ready when you are hungry or want to treat someone but didn't have the time to cook?
Cut greaseproof paper or baking paper in rectangle shapes, roughly the same length of the kababs. Place it in the bottom of a container. Put few kebabs side by side until the container is full. Now top the kababs with another rectangle shaped baking paper and lay the next batch of the kababs on the top. Close the container and freeze it. You can now take out one or more kababs when you need them.
Cooking for more people? Increase the amounts using the basic unit.
Pointer: Kebab and Kabab are both right, depending on the culture.