When you type 'Santa's favorite cookie' into Google you will find a myriad of recipes to baking a delicately goldened, moist, sugar cookie adorned with milk chocolate candy shaded ruby red and green sapphire. You know the kind... the kind of cookie that smells like chestnuts roasting on an open fire. The kind of cookie that while baking sounds like the giggle of children dancing in the snow. The kind of cookie that allows you to taste the physical manifestation of Christmas in your mouth. Festively dressed and designed to be Santa's own personal brand of Red Bull during his most crucial hour of need... the Eve of Christmas.
As a young girl, Christmas Eve was always two things to me - One, it was the night that we went to church as a family. Our family actually went to church every Sunday morning. But we rarely, if ever, went to church at night. My two sisters and I were dressed in matching outfits, just in case you were unsure if the only three Black children in the congregation were related. We had a tendency to be seated towards the front of the church, where my mom would introduce us to "friends" we'd never met before. And the service ran longer than the past four years of 2020.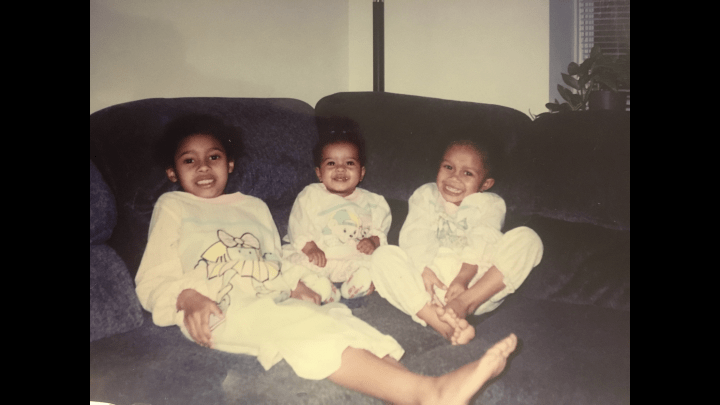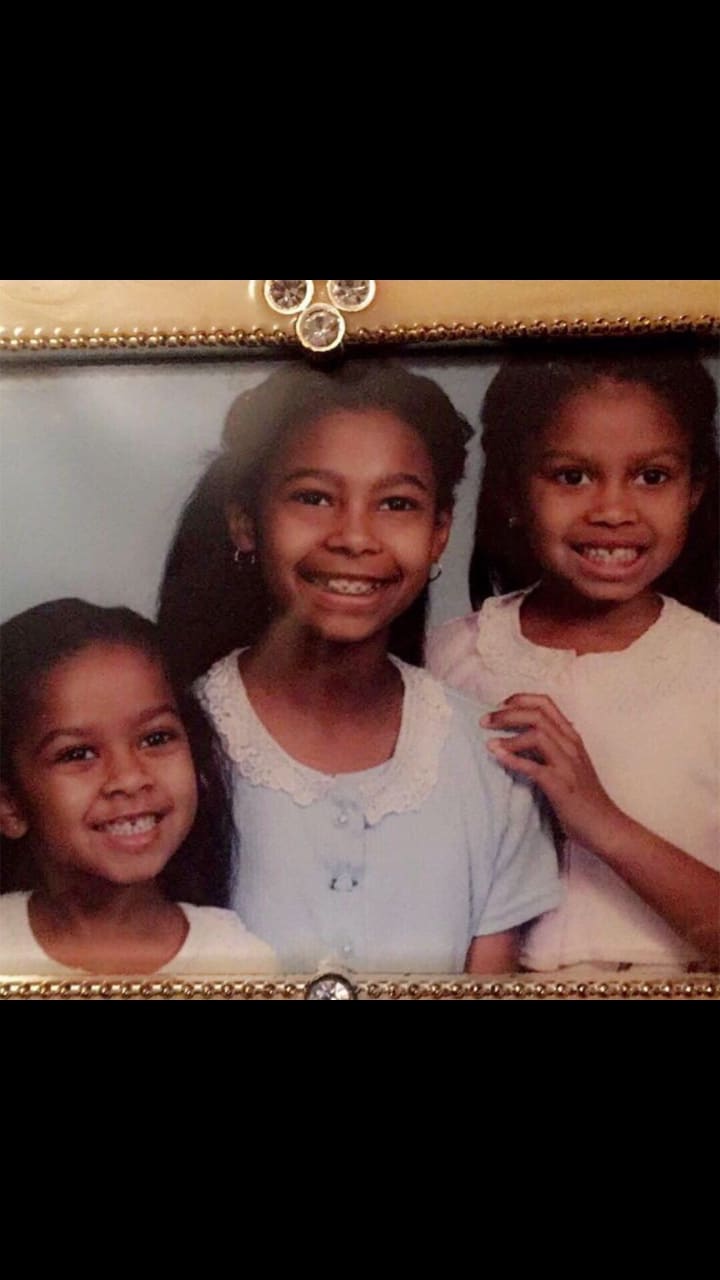 And yet, there was a certain magic that you felt as you witnessed the live retelling of the story of Jesus in the manger. Candles effortlessly breathed light into the intimate sanctuary. Hymns gently hummed throughout as the actors and actresses teleported us to a time we couldn't comprehend. The deep night sky boldened the stained glass holding the building tight. And worship was led softly by the stars hanging above the church skylight. It felt like floating home as you departed from the space. And as a young girl, the only thing that left me feeling as warm and lifted as being filled with the spirit was baking. Which brings us to thing #2- Christmas Eve was also the night that I baked for Santa.
Cooking is Love
My very first love was baking.
As a young girl, I grew up in the kitchen. My mother grew up the oldest of four on a farm in Nova Scotia. She constantly would remind us of the ways and means by which she'd have to collect food from the garden in order to have a meal on the table. Sauces, breads, soups, dishes that could often bought for convenience sake, were all made from scratch in our household. To this day my mother will scoff at the idea of me buying a jar of Prego instead of crushing the tomatoes myself. My mother would provide "stick to your ribs" breakfast every morning, packed whole wheat sandwiches every afternoon and hearty dinners with enough for seconds every night. She cooked for a family of 5, which might as well have been a soccer team, in my opinion, all while working full time. Through witnessing her tireless compassion to feed us, I greatly understood cooking to be much more than a calculated blending of herbs and spices. But rather, cooking is an act of love. For what better way to show your love for someone but than to feed them? Especially when that might be all you have to offer.
As a child of medical professionals, raking in an impressive $0 annual salary, it can be overwhelming to imagine gifting the parents who have it all. And for that matter, have given you their all in order to keep you and your two sisters happy and well taken care of. Back then (and right now) I had little to nothing in my bank account during the holidays. What I did have was ingredients and a kitchen. All I was missing was the recipe to creating the ultimate cookie for Santa's big night. And only one man could ever come close to knowing everything this is to know about achieving the impossible it was my dad.
My dad was (and still is to this day) one of my favorite heroes. His superpower, the ability to know the answer to anything you've ever needed to know. For example, do you know the two worst things to ever have in this life? Sugar and bad credit. While I indulge shamelessly in both on the daily, I've discovered an exception to this rule as I've grown older. Sugar is in cookies. And cookies were the one thing that I could afford to offer Santa on his epic journey around the globe at that time. Sugar was my way of offering Santa my love. Therefore allowing for one night of the year that sugar could be one of the best things I had to offer in life. (The bad credit comment still seems to hold water.) And luckily for me I had the man who knew absolutely anything that you could ever have a question to. While many times my dad's answers seemed undoubtedly consistent to me, there was one answer that seemed almost too inconceivable for me at that age.
Santa's Favorite Cookie
In my quest to discover and replicate the exact formula to ensure that Santa received my sincerest adoration I of course posed the question to my father. Who better than he to know the answer to such a grand question? His answer however, led me to wonder if he truly did know everything.
His answer : Oatmeal Raisin Cookies
But not just any oatmeal raisin cookies. The kind that you found underneath the top of a Quaker Oatmeal Cannister, Quaker Vanishing Oatmeal Raisin Cookies. My eyes started in bemusement as I certainly could've sworn that Santa's favorite cookie twinkled like the night sky and brought a sugar cane smile to your face. Santa's favorite cookie certainly couldn't be the mascot of a senior citizens living facility and least desirably dried fruit combination known to mankind. And yet, here my father stood aware of all things to know smirking as he relished in telling me... oatmeal raisin. The truth became even more twisted as I inquired further. Certainly if I am to make Santa cookies I would most definitely need to provide a beverage to go along with it. To which I asked my father, so "oatmeal raisin cookies...and milk". "Lactaid" he quipped back.
"Santa is Lactose intolerant"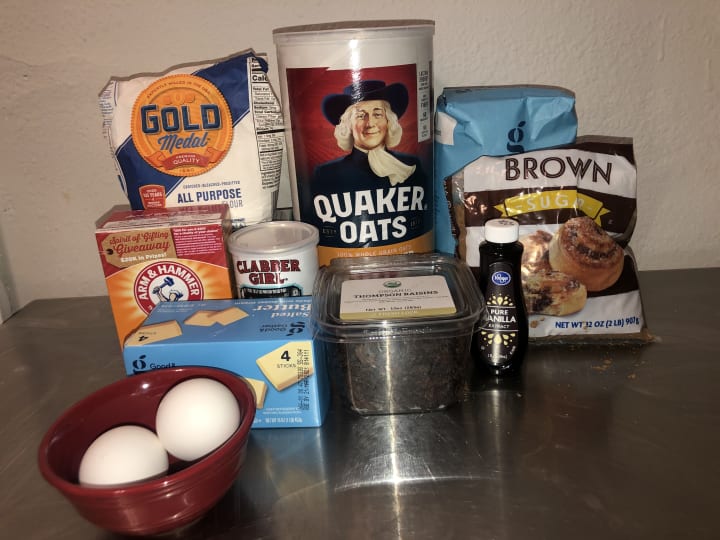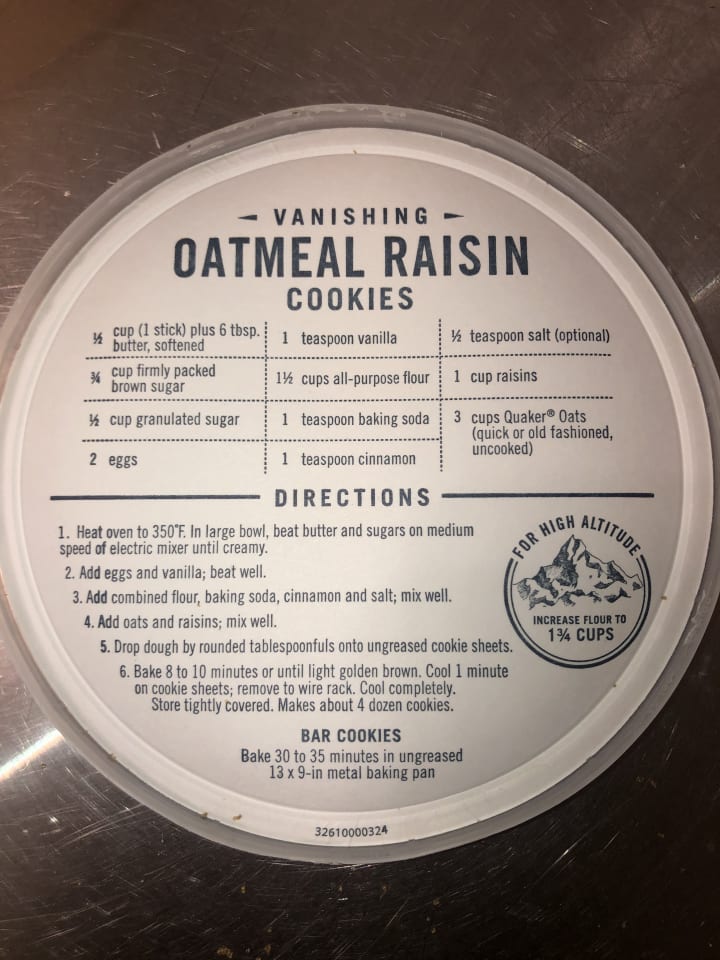 Quaker Vanishing Oatmeal Raisin Cookies
1/2 cups plus 6 tablespoons butter, softened
3/4 cups firmly packed brown sugar
1/2 cups granulated sugar
2 eggs
1 teaspoon vanilla
1 1/2 cups all-purpose flour
1 teaspoon baking soda
1 teaspoon ground cinnamon
1/2 teaspoon salt (optional)
3 cups Quaker Oats (quick or old fashioned, uncooked)
1 cup raisins
PREPARATION
Heat oven to 350°F.
In large bowl, beat butter and sugars on medium speed of electric mixer until creamy. Add eggs and vanilla; beat well. Add combined flour, baking soda, cinnamon, and salt; mix well. Add oats and raisins; mix well.
Drop dough by rounded tablespoonfuls onto ungreased cookie sheets.
Bake 8 to 10 minutes or until light golden brown. Cool 1 minute on cookie sheets; remove to wire rack. Cool completely. Store tightly covered.
This recipe is made available as a courtesy by the Quaker Oats Company, a registered trademark of PepsiCo.