San Gabriel Valley - The Asian Food Mecca of Los Angeles
San Gabriel Valley aka China Valley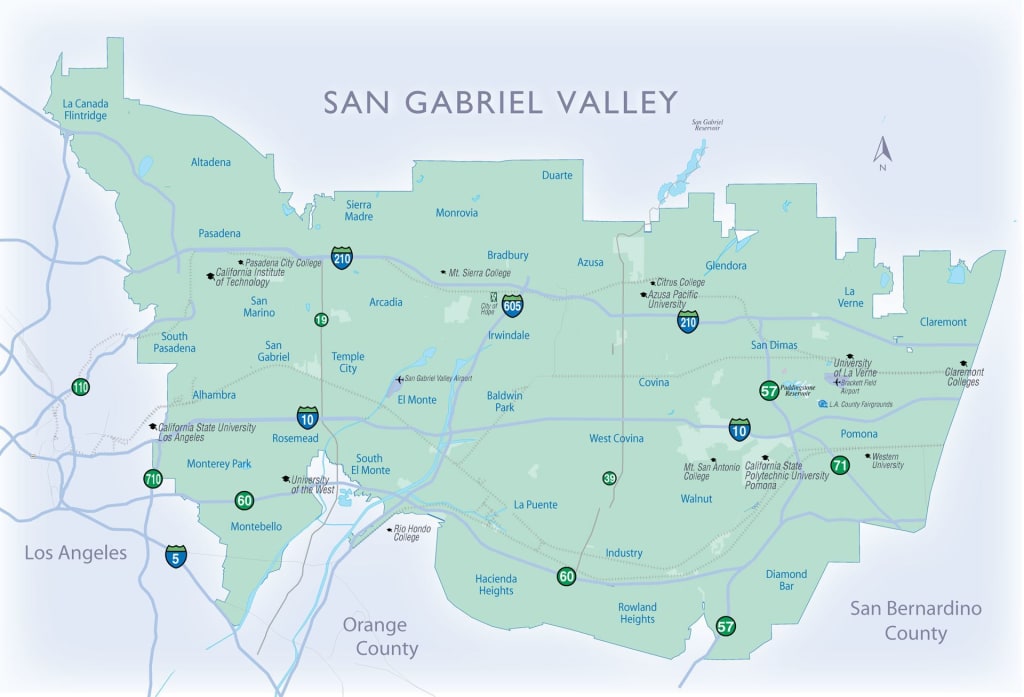 Do you think Panda Express or P.F. Chang's is Chinese food? Think again! The real and the best Chinese food in America lies in the San Gabriel Valley in Los Angeles.
One of the most signature and authentic Chinese foods is dumplings and these are very different than the gyozas you find in grocery stores. The ones I am talking about are soup dumplings.
A soup dumpling is a wonderful thing. For the newbie, a soup dumpling is not a dumpling that is found in soup like wonton. It's the reverse; the soup is actually inside the dumpling. Soup Dumplings, also known as Shanghai Soup Dumplings or Xiao Long Bao, are a Chinese delicacy that were traditionally part of a Jiangnan-style morning tea. Nowadays, you can get them throughout the day and at restaurants located in places like Alhambra, Arcadia, Monterey Park, Glendale and San Gabriel.
My favorite place for soup dumplings is Din Tai Fung in Arcadia. One of the most iconic symbols of eating at Din Tai Fung is the small army of dumpling makers who look like medical researchers.Sporting white shirts, white aprons, and white hats and masks, they work away making dumplings at a rapid pace by the quantities. But one of the best things about Din Tai Fung is that even though they produce heaps of dumplings, they are still hand-made, and you can really taste the difference. The menu is pretty extensive and includes a wide range of Taiwanese, mostly noodle based dishes, with plenty of side dishes.But really, the entire menu is sort of an up-sell for the Xiao Long Bao, which is what everyone really comes to Din Tai Fung to eat. But you'll also find noodle soup and dry noodles, vegetables, a few dim sum dishes, and a few other varieties of dumplings as well.
Din Tai Fung serves over a dozen different kinds of dumplings, including chicken, melon & shrimp, shrimp & pork, vegetarian, sweet taro and red beans, but my favorite by far is the Xiao Long Bao. These dumplings have a chewy and moist skin, which is wrapped around hot savory soup and delicious minced pork. They arrive at your table by the dozen, freshly steamed and ready to eat with vinegar, soy sauce, chili sauce if you are so inclined, and shredded ginger. The wait can be over 1 hour on the weekends but it is totally worth it. Here is a picture from Din Tai Fung in Arcadia: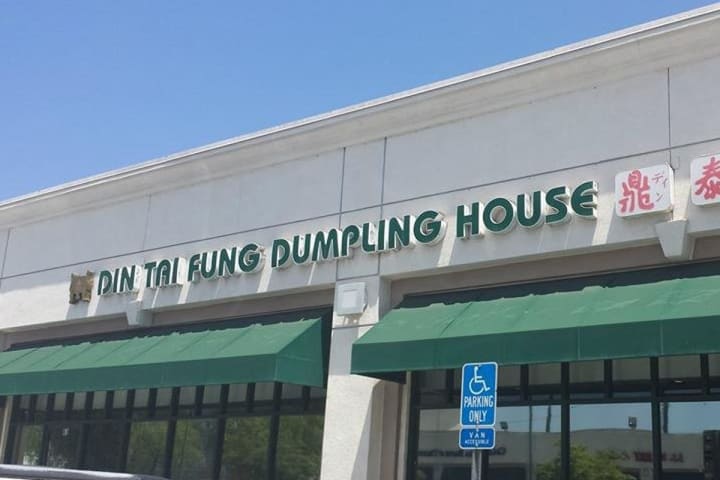 Here is how to enjoy those soup dumplings:
A) Put soy sauce and vinegar into the bowl with sliced ginger. Our waitress said 1 part soy sauce to 3 parts vinegar would be best.
B) Take the soup dumpling and dip it into the sauce.
C) Then put the dumpling into your spoon, and poke a hole in the wrapper of the dumpling to release the juices.
D) And finally eat.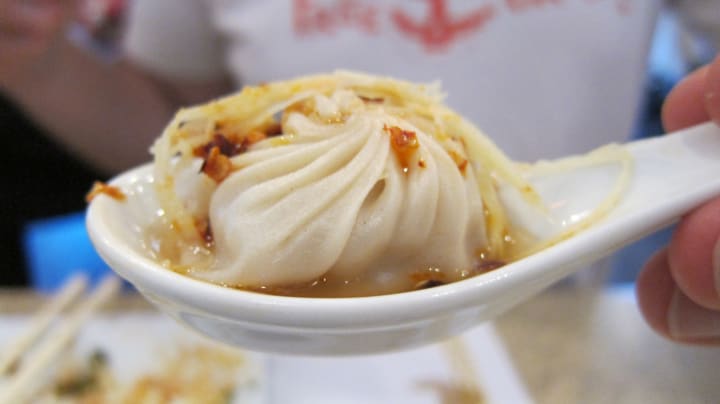 In addition to the dumplings, for more of a filling dish, I usually order noodles with minced pork sauce.The noodles are very fresh, laid on the bottom of a bowl very delicately, and topped with a few scoops of a meat mixture that included pork, Chinese sausage, bits of tofu and beans on top. The meat sauce has a mild flavor, with a hint of hoisin to it and a slight sweetness from the sausage.
The other must try food is pickled cucumbers. Right as you walk into Din Tai Fung and take a seat, they offer you their speciality salads. Being addicted to pickles, I can't resist an order of their pickles, which comes neatly arranged in a pyramid formation.The pickles are incredibly crisp, juicy, and again, not too salty, with a just a little chili oil for flavor.
Din Tai Fung is a must try for anyone who wants to get a real taste of China and you can't beat San Gabriel Valley for trying those tasty Xiao Long Bao's.