Salty Sweet Summer Treat
Tasty Memories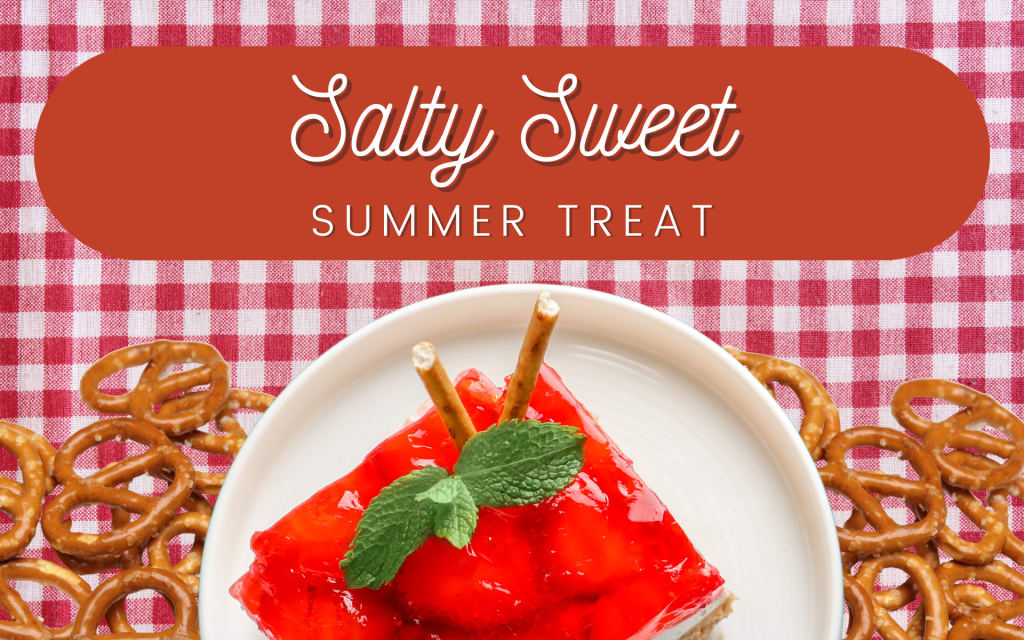 Ah summer... There is so much about the season that tantalizes the senses. You have the smell of freshly cut grass on Saturday mornings, then there's the reverberating sounds of fireworks during mid-summer celebrations, and who can forget the feel of the warm glow of the sun on your skin or the dazzling visual that it paints as it sets during those long summer days. There is no doubt that summer is a season to behold for the senses, but what about taste? Every season has its food staples but summer seems to have a unique way of making food abundantly more satisfying. Perhaps it's the pool parties where you're completely waterlogged when you sit down to eat and it just hits the right spot, or maybe the refreshing watermelon eaten at a picnic on a hot day with your older siblings teasing you that one will grow in your belly if you swallow the seeds. Whatever the food, it is sure to evoke a vivid memory when certain flavors hit your taste buds.
There are so many tastes of summer that it is difficult to pick out just one favorite, but if I had to choose I think it would be my family's tradition of Strawberry Pretzel Salad. Though this was a dish that we had several times throughout the year, it just seemed to hit differently during the summer... and more frequently. I think my favorite part was that it was called a salad but certainly felt more like a dessert. It was a simple enough dish, with minimal baking required. It consisted of 3 layers: the crust, the cream layer, and the gelatin topping. Each of these layers had its own appeal and when eaten together gave it a strawberry cheesecake type vibe but with a lighter twist. I, however, was that kid... you know the one I mean, the kid who is going to eat things one layer at a time with the exception perhaps being pizza, but that is a dish for another essay, so in the spirit of my childhood eating habits let's take this layer by layer.
The Gelatin Topping:
There is just something about wiggly food, isn't there? You either love it or hate it and there really is no in-between. I landed firmly in the "love it" camp. There was so much I enjoyed about the topping of the salad. I remember being fascinated with the red variety of gelatin specifically as a kid. The sugary flavor was great, but the color was what really did it for me. It reminded me of my birthstone, the ruby. I loved the way the red tones would diffuse light and seem to glow. Now, add real strawberries to that and you had yourself a real treasure. I recall how the sweetness of the gel met the bites of fruit that varied in tartness based on the maturity of the berries. I have always loved that about strawberries, really. It was always a gamble on how it would hit your taste buds. To this day I still find a bit of magic in munching on a fresh batch of these slightly floral tasting bits of agricultural goodness and wondering which end of the flavor spectrum that bite will land on.
The Creamy Middle:
One of the most notable things about this layer to me was how the gelatin layer stained the top of this otherwise white layer a lovely shade of pink. I realize this is an odd thing to appreciate in a dessert, but I've always had a certain fascination with vibrant colors and am still very much a fan of specifically pink, despite the protests of my goth teen years where I pretended to hate it. Beyond the hue where the layers met, I loved the sweet richness in this creamed concoction. It was simple enough to make as it consisted of only softened cream cheese, whipped cream, and sugar to sweeten the blend. I remember how much I loved watching the lumps disappear between the beaters of the hand mixer when whoever was making it would combine the sugar and softened cheese. The silken ripples it made as it began to smooth out was a true visual delight. I loved volunteering to fold in the whipped cream and watch the thick creaminess turn into a fluffy masterpiece of what was essentially a very tasty glue. Okay, if we're being completely honest here I only volunteered because I wanted to lick the bowl when it was transferred to the pan but don't pretend that you didn't have similar motivations at that age!
The Pretzel Crust:
In the spirit of saving the best for last, let's talk now about the bottom and my most favorite layer, the crust. Like most crusts it is a simple mix of butter and something crunchy. In this case that something is pretzels. I have always been a fan of savory flavors and growing up in the south my appreciation for anything buttery was pretty much a requirement. I think the best part of this layer, however, is reserved for the chef. You get to pulverize pretzels to make it! I did not fully appreciate the joy of this step until I made a batch in my adult years. Sure you can be boring and use a rolling pin or a food processor, but if you're having one of those days you can totally break out the meat mallet and go a little nuts! When the family wants to know what's going on, you're simply cooking, talk about a win-win situation. When you're done working through your aggressions you get to drown them in butter and bake them into the tastiest crust to ever cross your lips... in my completely biased opinion anyway.
Now that I am older, I have come to appreciate how the "salad" tastes as a cohesive unit but there are still times I find myself nibbling at it layer by layer like I did back in the days of my youth. I can't help but smile whenever it is served, always remembering the people it has been shared with over the years. Those small memories of tasty treats have intertwined with some of the most important events my life. At the end of the day, everything tastes so much better when you pair it with stolen moments with the people you love, and what better time to steal those moments than the long lazy days of summer?
vintage
About the author
Growing up in a small town in Central Florida, Sissi Smith developed a love for writing at a young age, but like many people got bogged down with responsibilities and put down her pen. Join her on her journey as she rediscovers her passion!
Reader insights
Outstanding
Excellent work. Looking forward to reading more!
Top insights
Compelling and original writing

Creative use of language & vocab

Easy to read and follow

Well-structured & engaging content

Heartfelt and relatable

The story invoked strong personal emotions
On-point and relevant

Writing reflected the title & theme
Add your insights