Recipes That Make Your Groceries Go Further
Make Multiple Meals From 1 Protein & More !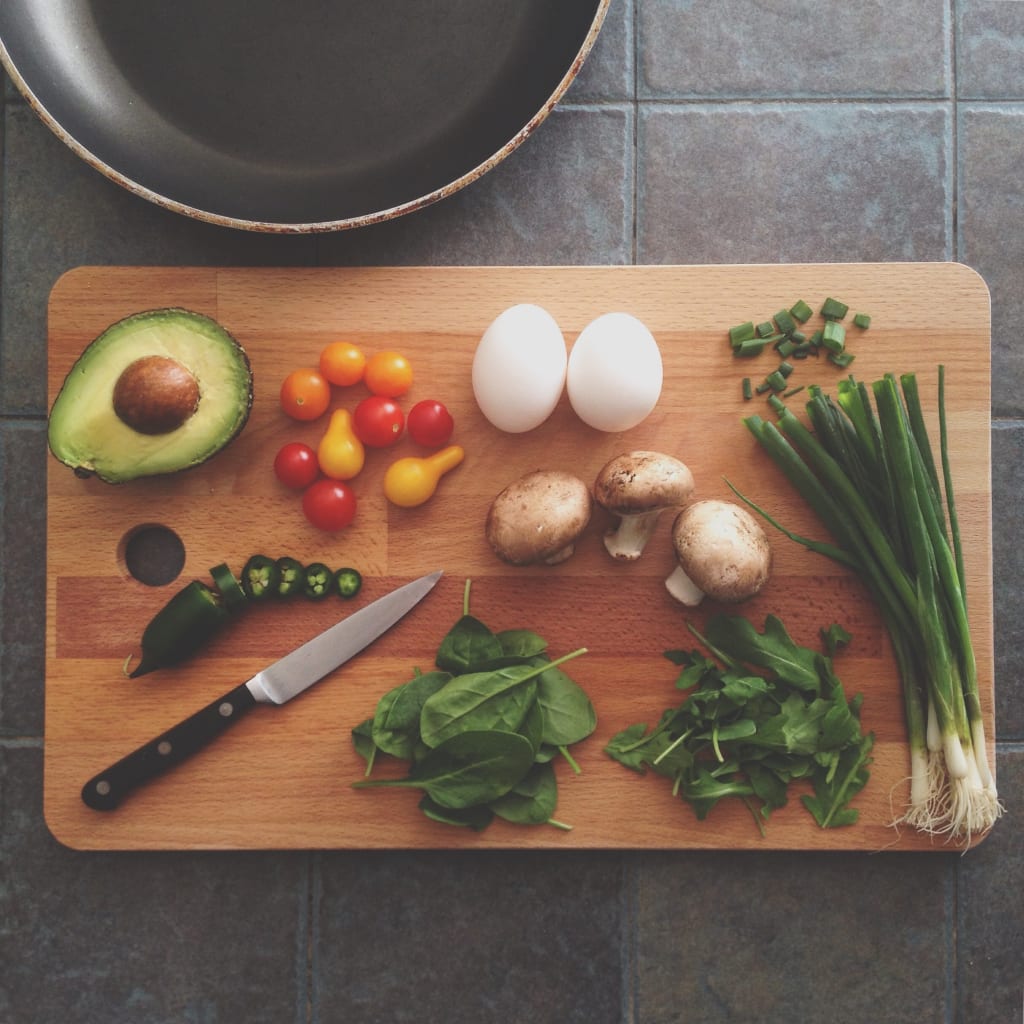 Photo by Katie Smith on Unsplash
Grocery budgets can be stressful , but I think they are especially stressful in the event of a emergency.
My hope is by putting together this article it helps couples and families make their groceries go further instead of a protein only making one dinner helping it make 2 ,3 or 4 dinners. I also plan to write a seperate article that is full of meal suggestions for vegetarian meals.
I cook for a family of four so ingredients purchased will need to be adjusted for family size.
The first idea is one that i've written about before and It's still one of my favorite go to's .
1 Chicken - 2 Dinners
Now this recipe does require breaking down a whole chicken on your own but it is very much worth it and if you aren't sure how to do so I have included this video. You can alternatively purchase a rotiessiere chicken.
Grilled Chicken Burritos
10 Soft Flour Tortilla's
Sour Cream
Chicken Meat from 2 thighs, 2 drumsticks
, and 2 wings. Add 1/2 breast only if needed
Rice
Refried Beans
2 Roma Tomatoes
Diced Red Onion
Cheese
Guacamole -Optional for topping
Garlic Power
Pepper & Salt
Season Chicken Meat with garlic powder, pepper, and salt.
Cook chicken over med-low in a skillet with 1/8th-inch water and lid on the skillet. Check for doneness by temperature, or cutting and checking for white meat with clear fluids.
Remove chicken and rinse the skillet
Debone and shred chicken, season with salt and pepper.
Layer refried beans, chicken, cheese, sour cream, tomatoes, and onion. close tightly.
Add 1tsp of vegetable oil to the pan and allow it to get warm. Grill burritos, adding 1 tsp of oil between burritos. Cook until golden brown serve with guacamole if desired.
A great side with this is a fruit salad.
Chicken Biscuit Bake
1 can Pillsbury butter tasting biscuits
2 boneless skinless chicken breast ( Use 1-1/2 if you used 1/2 for your previous recipe)
1 1/2 C. Milk
Garlic Powder
Salt/Pepper
1 can green beans
1 bag frozen carrots
2 cans cream of chicken
1 bag shredded cheese ( you'll use 3/4 bag)
Dice chicken , season and cook.
Add 1 bag crinkle cut frozen carrots, 1 can green beans add salt and pepper cook until hot.
Add 2 cans cream of chicken soup, whisk in one can of milk. Cook until bubbling , extremely hot and thick.
Spread in bottom of 13x9 pan
Sprinkle top with 3/4 bag of cheese
Open biscuits and place on top of vegetables and soup mix .
Place in 350 degree oven for 10-15 mins until biscuits are golden brown and fully cooked.
Serve and enjoy
This is a all in one dish serve with cold milk or pink lemonade. If you really desire aside you could make a light salad.
Alternatives :
Chicken Burrito bowls, use rice as a base in the bowl top with shredded chicken seasoned with taco seasoning guacamole, sour cream, beans, and cheese add tomatoes and onion if desired.
Chicken salad sandwiches - add your choice of greek yogurt, ranch or mayo to a bowl with shredded chicken , red or green grapes, diced dill pickle , sweet onion and black olives, put on your favorite bread! Chicken Fajitas & Chicken Quesadillas
5lbs Ground Beef - 4 Dinners ,1 lunch
Dinner # 1 Meatloaf ( 2 lbs ground beef) - Use the leftovers for meatloaf sandwiches For Lunch the next day!
Dinner # 2 Nachos OR Taco Salads
Dinner # 3 Big Mac Sloppy Joes
Dinner # 4 Hamburger Pouches or Mushroom Swiss Hamburgers
Easy Meatloaf
2 lbs ground beef
3tbsp minced garlic
1 egg
1/4 cup ketchup
2 Tsp ea. Garlic Powder, Salt, Pepper
1 Tbsp Worchestire Sauce * Optional
1/2 finely diced onion * Optional
1 package crushed ritz crackers
Add any finely diced vegetables youd like such as bell peppers, jalapenos, carrots ( For kids) And more !
Fancy Meatloaf
Same as above but lay bacon in your pan and fill half full with mixture stuff with babybel cheeses top with remaining meat mix wrap bacon over top of loaf and bake for 1 hour or internal temps reaches 165 or higher
Find the recipe for Big Mac sloppy joes here !
Hamburger pouches are fun and easy ! Just make your hamburger patty with your favorite seasonings and spices then put onto a square of aliminum foil and add carrots onions bell or sweet peppers and cheese and bake for a hour at 350 or until internal temp reaches 165 or higher. Top with bacon crumbles and enjoy!
Mushroom swiss burgers require 1/8th lb burger pattys , a lb of mushrooms, butter , 1/4 cup milk , cream of mushroom soup and some worcestercire sauce.
Just fry up those burgers and while they cook into mouthwatering morsels sautee your mushrooms you can add onion if youd like then add in your soup , milk and sauce let simmer for 10-15 mins. Add burgers to toasted buns top with swiss cheese then add that yummy creamy mushroom sauce.
Pork Loin into 7 meals
Did you know a pork loin can be cut down in more than one meal? No not those itty bitty ones. The big ones. Like this guy.
You get about a lb of stew meat which can make a yummy pork and vegetable stew add in some barley and itll turn into the perfect bowl dinner to sit down and enjoy. Up to 5 Center Cut chops , Up to 6 Thin Cut chops , 2 roasts , Stir Fry meat - cut this into tiny cubes about 1 1/2 inch by 1 1/2 inch and Rib eye chops.
There is a abundance of pork chop recipes on pinterest but my favorite are these 3.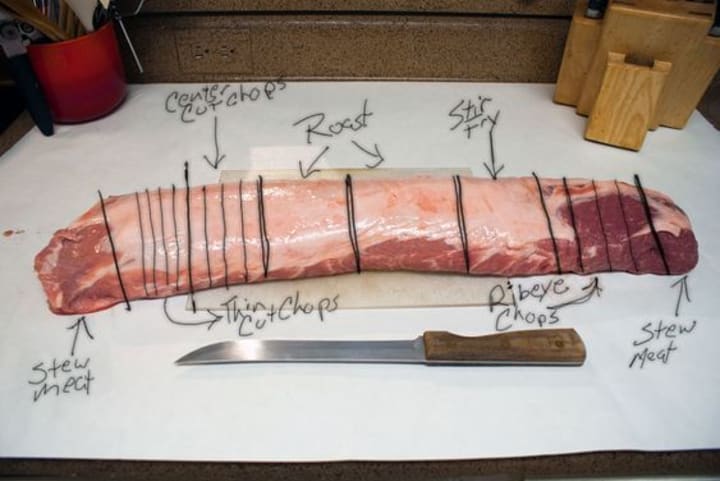 Dutch oven pork roasts are amazing and I encourage you to find your own favorite recipe but this is my favorite.
Potato's - Egg's & Tortia's
Potatos have the awesome super power of being able to be many different things and still taste good so here are some meal ideas using potatos, eggs and tortias.
Loaded Baked Potatos - Bake your potatos then halve them and scoop out the inside. Blend insides with butter, salt, pepper , cheese , crumbled bacon , and more ! Stuff the shells back up broil for 1 minute then top with additional cheese and sour cream.
Take is up a step and replace one of those ground beef dinners with shepards pie potatos and make taco meat , grab a can of cream style corn and layer your beef , corn , potato filling then cheese.
Or do a classic shepards pie.
Don't forget to add some of these tasty spuds to your stew!
You can also peel , rinse , cube and fry for breakfast burritios which you guessed it is where the breakfast burritos and eggs come into play.
Heres my favorite easy breakfast burrito recipes
20 Tortias
6 eggs
1/4lb potatos or 5-6 large potatos peeled and fried.
3/4 C Cheese
Optional ** Ground Sausage
Cook your potatos
Scramble your eggs
If using sausage brown it , strain it n drain it.
Now assemble your burritos cheese , tatos , and eggs then seal .
Add sausage if youre using it before sealing.
You can wrap these in saran wrap then freeze and microwave wrapped in a paper towel for 40 seconds.
You can also sneak on over to the pioneer womans website and make twice baked potato casserole.
Quiches
I'm sad to say I had never had a quiche until I was 27 . It's honestly somewhat disapointing but also it has chnged our lives. Last 6 eggs , 2 strips of bacon a handful of spinach or finely chopped broccoli, dont have bacon what about ham or spam cubes, dont have that what about left over taco meat? Turkey breast ? Yeah quiches can be the perfect cozy breakfast solution with a little milk or heavy cream you have a delicious morself surrounded by a crumbly butery crust.
Half a Ham - A Handful of lunches and Grab & GO breakfast or Brunch
For some this may seem gross but its honestly some of the best sandwiches I've had in my teens and through adult hood.
Equally as tasty are the following ham and cheese muffins !
Ingredients
2 cups chopped ham (finely chopped with the food processor)
1 cup shredded swiss cheese
1 teaspoon dijon mustard
1/2 cup mayonnaise (or Miracle Whip)
Optional Ingredients
pickle relish (sweet or dill)
diced onion
diced celery
Instructions
Combine the ham, cheese, mustard and mayonnaise in a bowl.
Mix well.
If you'd like, add in a few tablespoons of relish, onion or celery according to taste or preference.
Leftover Ham Recipes
If you are looking for what to make with leftover ham, we've got three ideas for you!
Hot Ham & Swiss Sandwiches: Take a bakery-style bun (we like pretzel buns). Spread about a tablespoon of dijon mustard on the bottom half of the bun. Place slices of ham and two slices of swiss cheese on the bun. Top it with the other piece of bun to make a sandwich. Wrap the sandwich in aluminum foil and bake at 400 degrees for about 15 minutes or until the sandwich is heated through. Serve warm.
Ham, Swiss & Pineapple Rollups: Take a tube of refrigerated pizza dough (13.8 ounces) and unroll it onto a lightly floured surface. Press the dough gently with your fingers to even it out. Sprinkle 3/4 cup finely chopped ham over the dough. The sprinkle 1/2 cup shredded swiss cheese and 1/3 cup drained crushed pineapple overtop. Roll up the dough starting at the short end as you would a jelly roll. Cut the roll into 8 or 9 slices. Place the slices cut side down in a greased 8×8 pan. Bake at 400 degrees Fahrenheit for about 25 minutes or until the rolls are golden brown and baked through.
Ham, Cheese & Broccoli Stuffed Potatoes: To make the potatoes, bake or microwave the potatoes until they are soft. Slice off the very top of the potato. Scoop out the potato pulp, leaving about 1/4 of an inch of potato attached to the skin. Place the pulp in a bowl and add about 1/4 cup of diced ham, 1/4 cup of shredded cheddar cheese and 1/4 cup chopped broccoli. Mix well and stuff the mixture back into the potato. Sprinkle the top with a little bit more shredded cheddar cheese. Bake at 400 degrees Fahrenheit for 15 minutes or until the cheese is melted and the potatoes are heated through.
For now those are the suggestions I have to make your weekly or monthly groceries stretch just a little bit further. These are recipes I typically cook for my family and I hope they bring some joy and ease into your kitchen and family meals.
As always thank you for reading !