Recipe: This healthy Malay-inspired okra dish will spice up your life
Whets the appetite, friendly to the wallet and easy enough for teens to make!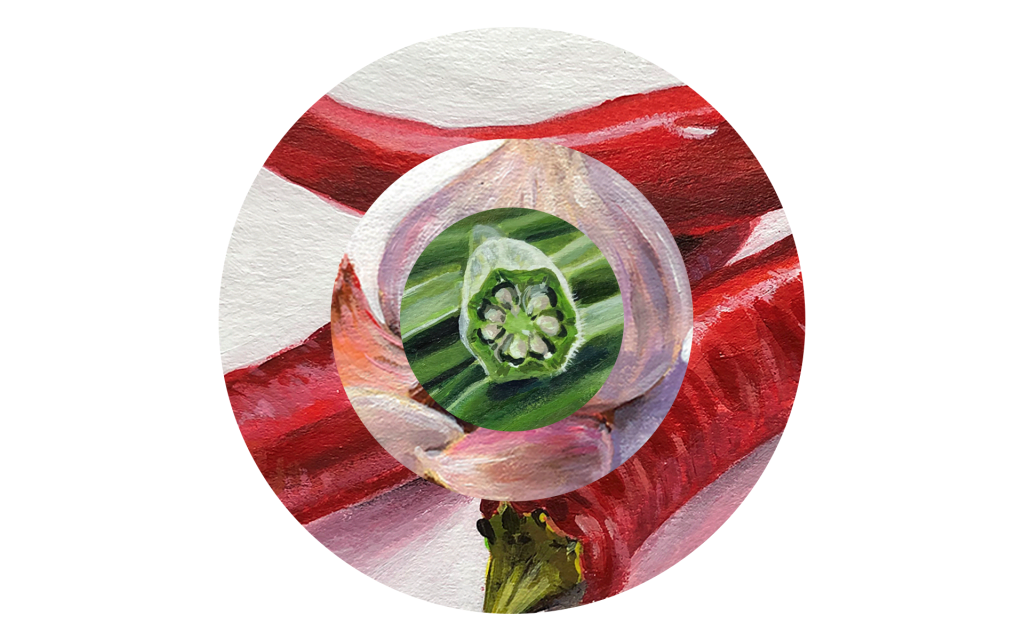 Top Image: David Berube / Berube Studio
Growing up, my foster family had to force veggies down my throat, and I eventually fell in love (with greens) and gave willful consent to it at age 12. Ha. From then on, not having at least one vegetable side dish on the dinner table would be entirely abnormal for me.
I can't vividly recall what made me change my mind, but if it had to be one dish, I'd say it would be—and I'm not going to italicise it—"kangkung sambal belacan."
Wait—what?
I'm assuming that these words might be foreign for you, so let me break it down.
Kangkung, the leafy greens
"Kangkung" (Malay for "leafy water spinach") is a tropical semi-aquatic plant species known for its invasive nature, found across Asia and Southeast Asia. It grows relatively quickly on moist soil, is omnipresent in markets, and is reasonably inexpensive within the region.
I've had a friend from London (he now lives in Bali) who told me that back home, no one harvested these. People regard them as weeds and would chuck them out.
You should've seen the look of horror on my face. I would never have minded a lifetime supply of these, and here people are throwing them out?!
Fools.
Sambal is not a type of dance
Somewhat similar to the Mexican salsa, "sambal" is simply a type of hot relish or chilli paste. Traditionally, you would pound the chillies with a stone pestle and mortar on the floor.
You know, maybe that's how the Samba and Salsa dance styles came about; an Indonesian or Mexican was making his dips and a Brazilian or Latin neighbour decided to move her hips to the percussive kitchen beats.
Imagining that beautiful scene just made me smile. Ha!
However, if you live with Karen next door and wish to preserve your sanity, try grinding using a wooden version on your kitchen countertop. Otherwise, try pounding on something soft to absorb the noise, like a piece of towel.
Pro tip: If unlike me, you do not have the caveman tools I mentioned above, opt to chuck it all in a blender instead. It will lack a certain oomph in taste that I can't exactly describe, but it will come close texture-wise if you blend coarsely.
For the sambals I make, I typically use bird's eye chillies and for an antioxidant boost, I add one or two cloves of garlic.
Okay, I lied; it's not for the health benefits but rather, I am too lazy too mince the garlic with a knife—yes, I'm living life like a self-made bachelor should.😉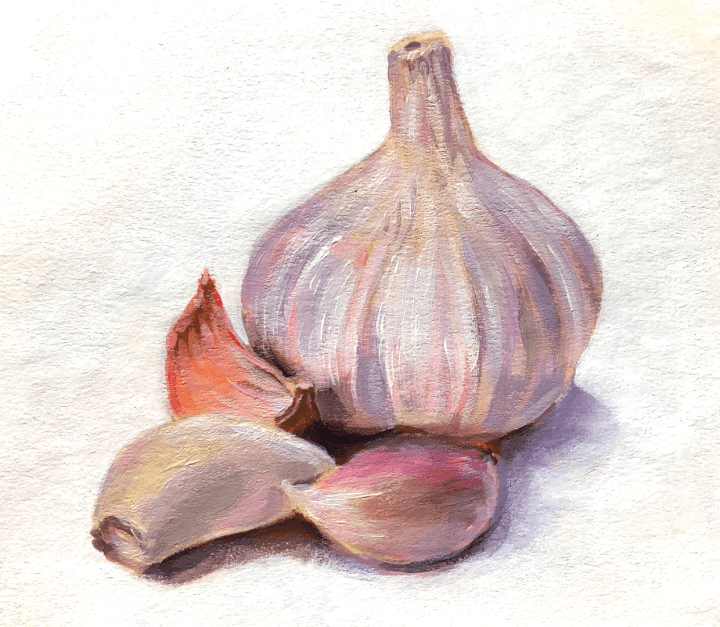 Belacan enhances flavours
"Belacan" is a shrimp paste comprising fermented dry krill with salt, and is an essential component in a lot of Malay or Indonesian cooking.
Fair warning—belacan has a robust flavour and challenging smell. Toasting it on a pan helps to remove the raw, fishy taste, giving it an excellent flavour profile that goes a long way to elevate your cooking.
Make sure your kitchen is well-ventilated when cooking with belacan!
In the Malay community, we have a strong belief that one's never truly Malay until they've had belacan.
"Having a little taste" of belacan doesn't count. You must love it, to the point you can speak "Belacantongue" (I made that up, that's not a real language).
Putting it all together
So there you have it, the full translation when you combine three words—water spinach stir-fried in spicy shrimp paste—a dish bursting with umami flavour and chillies that add a nice little kick.
Sounds delicious, I'd love to try it!
If you visit Singapore (ay!), Malaysia or Indonesia, you're bound to find this dish at the local eateries. Thailand has its rendition too, but what sets theirs apart is the replacement of belacan with fish sauce.
However, thanks to this pandemic, none of us can travel out to try this brilliant dish.
Look no further, because I'm sharing the recipe with you below!
OKRA SAMBAL BELACAN
(Pronunication: Ow ·kruh saam ·baal buh ·laa ·chaan)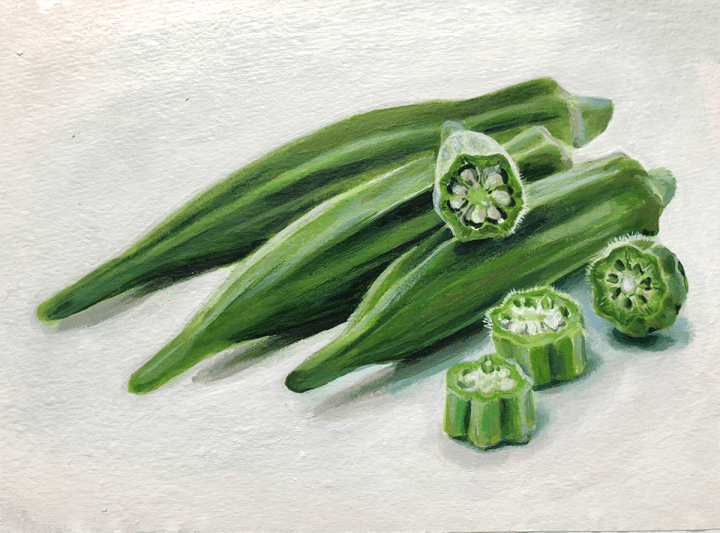 For this recipe, I will be substituting kangkung with okra, as a little nod to The Okra Project:
The Okra Project is a collective that seeks to address the global crisis faced by Black Trans people by bringing home-cooked, healthy, and culturally-specific meals and resources to Black Trans People wherever we can reach them.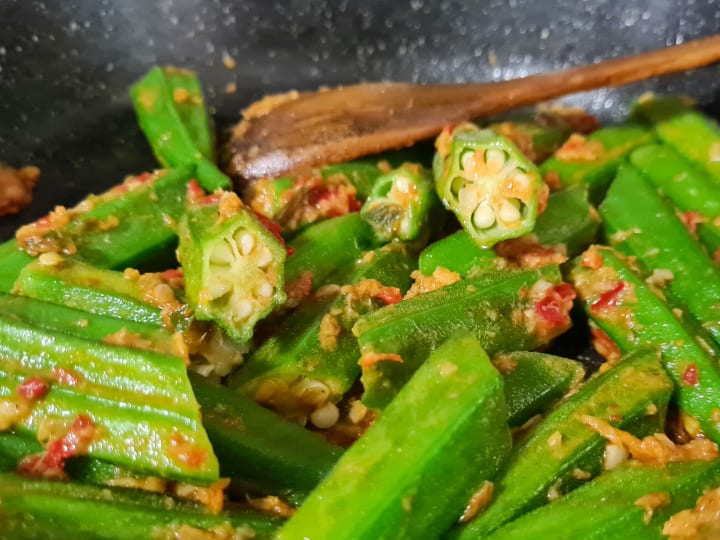 What you'll need:
10 to 15 fresh okras, remove stem and cut into pieces
3 chillies (I used 1 red chilli and 2 bird's eye chillies), sliced thinly
3 cloves garlic, peeled and chopped
1 tbsp (15g) dried shrimps, washed and soaked for 10 minutes to soften before chopping | Buy from Amazon
¾ inch cube belacan (shrimp paste), toasted | Buy from Amazon
2 tbsp olive oil
A pinch of salt to taste
Instructions:
1. Rinse okra well .
2. Pound (or blend) chillies, garlic, dried shrimp, belacan with 2 tbsp of water into a paste—this is your sambal belacan (or get a ready-made one here).
3. In a large pan or wok, heat oil.
4. Saute sambal belacan mixture for 4 to 5 minutes until it is fragrant.
5. Add a pinch of salt.
6. Add 1/4 cup of water.
7. Add okra and fry on high heat for 2 to 3 minutes before vegetables are wilted; you still want that crunch!
8. Remove and serve immediately with steamed rice.
If you are still struggling with the recipe, you can watch the video below:
That's it. I hope you enjoyed reading this!
If you followed the recipe, do take some pictures and feel free to tag @layzrquill on Instagram or mention me on Twitter—I'd love to know how it turned out!
Credits and shoutout to David Berube, artist and founder of Berube Studio, who generously supplied me with the hand-painted images found in this article.
Check out the Instagram, or browse David's store that has products featuring his other artwork!