Recipe Review: Buttercream Cupcakes
I tried some Pinterest recipes and here's what happened.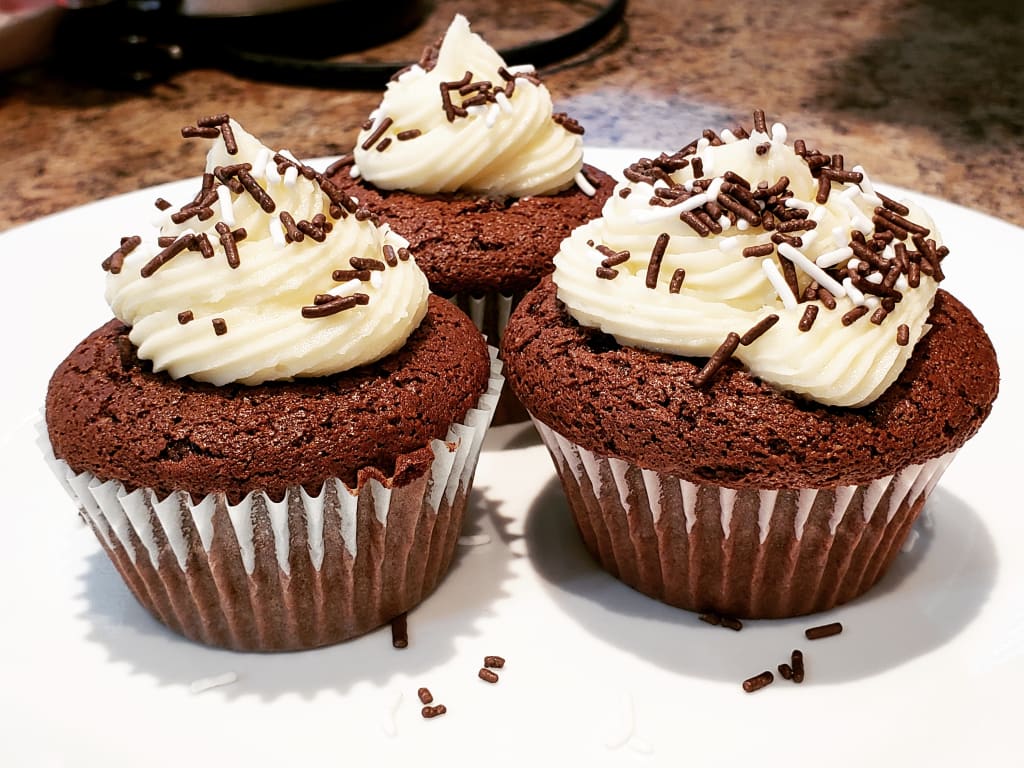 Pinterest has been one of my favourite apps since high school. That's where I found makeup tutorials, hair tutorials, tattoo ideas, and of course, a ton of delicious dessert recipes.
For years I was pinning rainbow cupcakes and Nutella cookies, but admittedly I was never very handy in the kitchen so I never actually tried to make any of the yummy things I saw.
Fast forward a few years later and I'm now on my way to becoming a wiz in the baking department. Once again, thanks to Pinterest. I'm obsessed with cupcakes and I'll take any chance I get to visit a local cupcake shop in the city. Recently I decided I wanted to make my own, so I took to Pinterest to find the best recipes. After a few hours of searching, I found a recipe for chocolate cupcakes and buttercream icing that seemed worth trying.
The "Super Moist Chocolate Cupcakes" Recipe
Ingredients:
3/4 cup (95g) all-purpose flour (spoon & leveled)
1/2 cup (42g) unsweetened natural cocoa powder
3/4 teaspoon baking powder
1/2 teaspoon baking soda
1/4 teaspoon salt
2 large eggs, at room temperature*
1/2 cup (100g) granulated sugar
1/2 cup (100g) packed light brown sugar
1/3 cup (80ml) vegetable or canola oil (or melted coconut oil)
2 teaspoons pure vanilla extract
1/2 cup (120ml) buttermilk, at room temperature*
Frosting: chocolate buttercream or any other
*Courtesy of Sally's Baking Addiction
This one called for two bowls—one for your dry ingredients and one for the wet ingredients. Everything mixed together easily with a spatula so there wasn't much need for the electric mixer. Within ten minutes you'll have your batter mixed and ready for the oven.
Now a key point that was made in this recipe was to fill the cupcake liners to the halfway point. Any more than that would lead to crisp tops or sinking centers. Boy, am I glad I listened. These cupcakes come out super fluffy and swell to the full size by the end of the 12-minute baking period. The batter is also fairly thick so I'd suggest a large spoon to scoop it and maybe even a smaller one to scrape the excess.
While those were in the oven, I got started on the buttercream frosting—the thing I was most excited about!
The "Best Buttercream Frosting Ever" Recipe
Ingredients:
1 cup salted butter (2 sticks), softened
4 cups confectioner's sugar, sifted
1 tablespoon pure vanilla extract
3-5 tablespoons heavy cream
*Courtesy of Unsophisticook
For the buttercream, I used an electric mixer to make things a little easier. I wouldn't suggest mixing for long since you don't want it to come out too thin. I also made a little error in the process by forgetting to take my butter out of the fridge to soften. It made the mixing process a bit difficult but once the butter started to melt it was smooth sailing.
I love buttercream because it has such a nice scent and it's not overly heavy. This recipe was no exception. I had quite a few samples while making it and I wasn't disappointed. The final product was light and sweet. If you're not a fan of overly sweet things, then have no fear. Since this is made with confectioner's sugar, everything melts together nicely and doesn't have that sugary taste.
Once my cupcakes were cool, I used a star pipe tip to ice them and finished off with some white and brown sprinkles. I'd highly suggest going to Bulk Barn or any other local bulk store for pipe tips and decorations. A tip and sprinkles only ran me about $5 and I still have more than enough sprinkles left for future baking.
Overall, I'd say these recipes were a success. My family and I loved them and will certainly be making them again in the near future. The best part is you can really get creative and add food colouring and different decorations to suit your liking or occasion. The cupcakes stayed moist until the fourth day (that's how long they lasted) and the icing never got hard or crumbly.
So if you're looking for something yummy to impress family and friends, give these recipes a try. I promise they won't disappoint!