Quick Potato Snack
For the Healthy and Not Healthy Vegan 🥔🥔
This quick snack takes takes about 30 minutes, and all you meed is an oven or toaster oven, a few washed potatoes, whatever herbs and spices are your favorite, and a lot, or a little bit, of oil.
Prep time: About 5 minutes
Cook time: About 20-30 minutes, depending on how crispy/well done you like your potatoes.
Preheat your oven or toaster oven to 375° F.
1. Wash your potatoes well.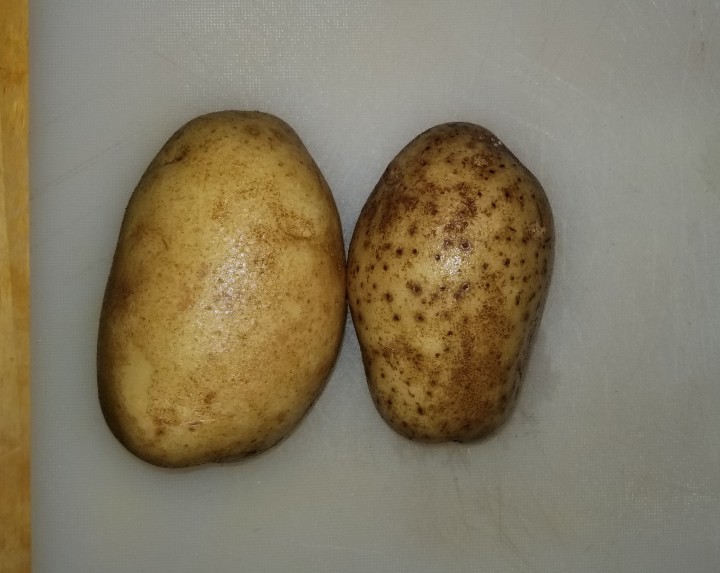 Make sure to clean them very well, because we cook with the skins on. I recommend using a potato scrubber or brush of some kind.
The skin holds a lot of the nutrients, and you want to keep as much of that in as possible. Typically, two average size russet potatoes have about 14 grams of protein. So this quick snack could also be a great base for an actual meal. Maybe add some sides or greens, maybe mix some bell peppers in, and serve it with a stuffed mushroom... throw some asparagus on the second rack of your oven. Or if your feeling something new, try some artichoke with it! They all blend really well!
2. Slice your potatoes about a quarter inch.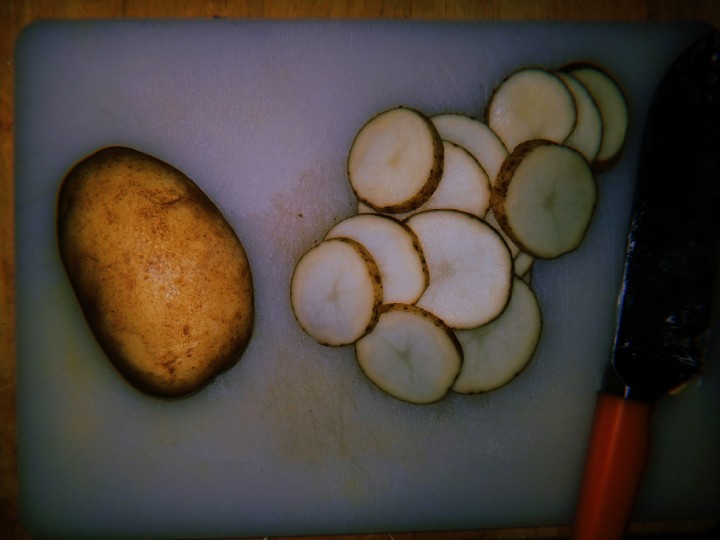 You want them to be thin, so they cook quicker, and if you're like me you'll want them to be as crispy as possible. This recipe can also work with diced potatoes, that would tie nicely into making this a whole meal. Mix it with some of the veggies I mentioned earlier.
3. Coat your covered baking sheet in olive oil and lay the sliced potatoes.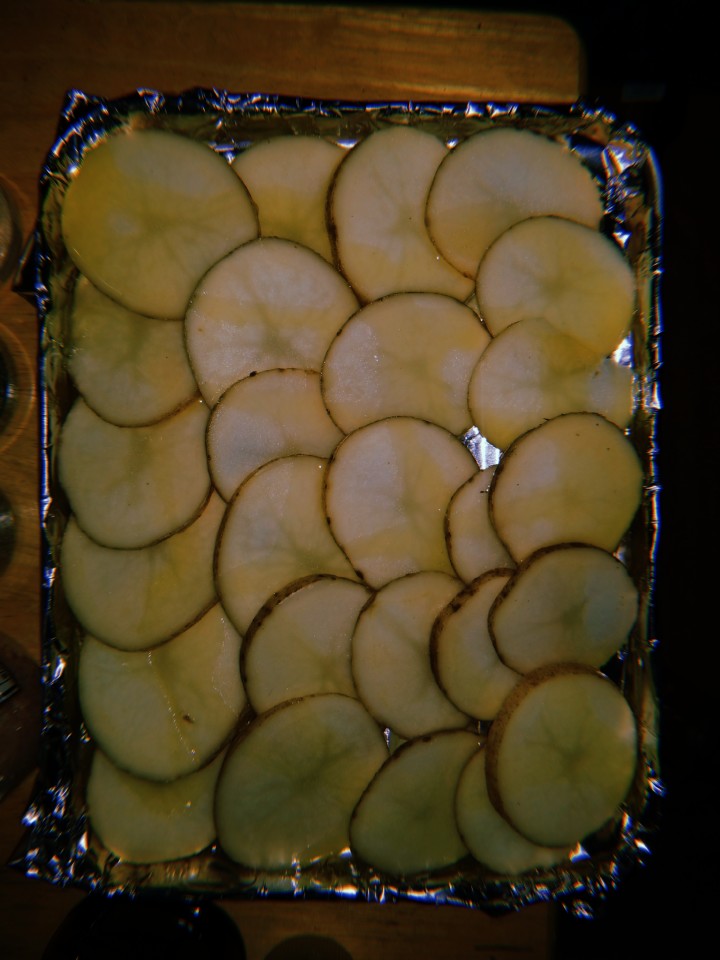 BEFORE YOU LAY THEM: put a thin layer of oil (I use olive) on the wax paper or foil. Then, proceed to lay your sliced potatoes on the tray. You can overlap them a bit if you need to, it doesn't really effect the potatoes' cooking.
AFTER YOU LAY THEM: Add another thin layer of oil, this will help the seasonings stick as well as the cooking process. (This is a part a lot of people accidentally look over, and it really does change the game.)
4. Season to your liking!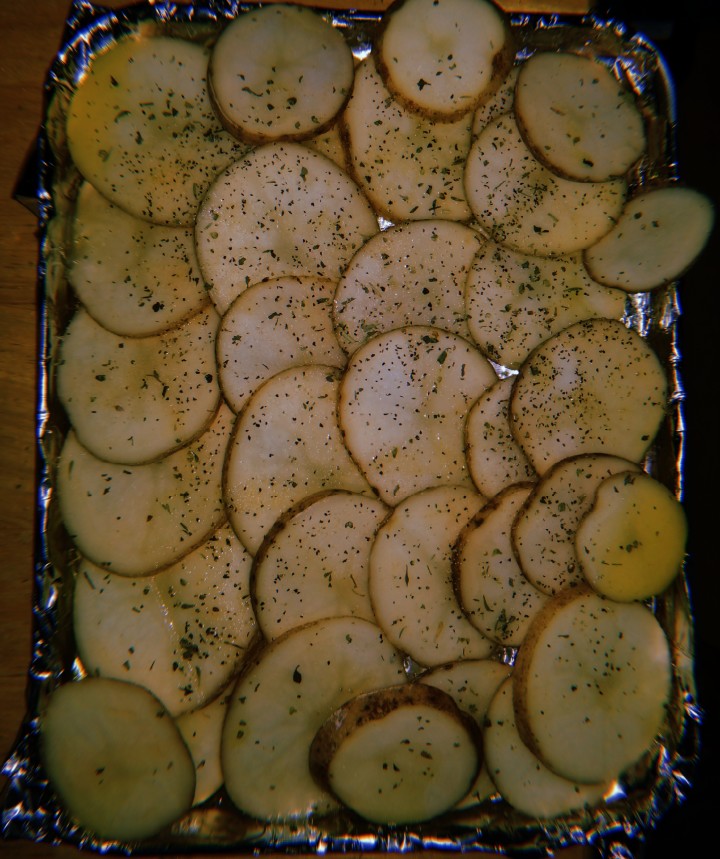 Of course, you can use whatever seasonings you have on hand, you never need to follow a recipe directly.
Personally, I use:
Ground himalayan pink salt (It contains more calcium, magnesium, and iron, which is why we tend to use it. Regular salt will work just as well, though!)
Organic garlic powder
Organic Italian seasoning
Organic ground black pepper
Nutritional yeast
Minced onion
Again, of course, add whatever you and your family like, or try my recipe and let me know what you think. To each their own!
5. Get them cooking!!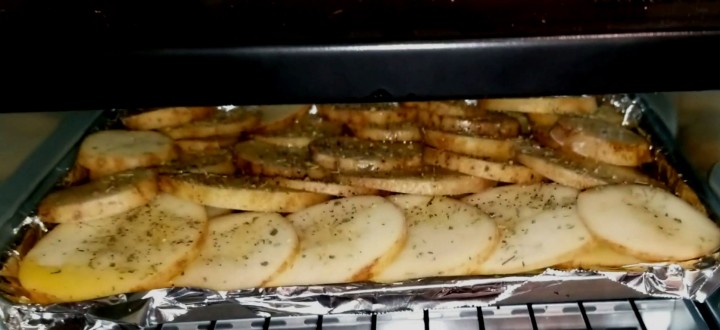 Next up, add it to your preheated oven or toaster oven and cook for 20-30 minutes. Depending on how dark, crispy or soft you want your potatoes. I recommend cutting one in half with a fork to make sure they're done before you serve them.
When you feel like they're ready for serving, take them out and let them cool down on a plate, add ketchup or don't, and enjoy! Oh, hot sauce is a great add on as well!!
My husband and I live full time in a camper, so almost all of our meals are quick and easy. We are also vegan, so if you would like to see more about our lifestyle, and how we do it, check out our YouTube: Valestra Adventure. Also, feel free to email us at [email protected] if you have any questions you'd like answered in either a Vocal post or one of our Q&A videos!
PS. Also feel free to email me links to any delicious vegan friendly recipes you find here on Vocal ([email protected]). I've found some already I need to try.
Thank you for reading and I hope you have a great week!