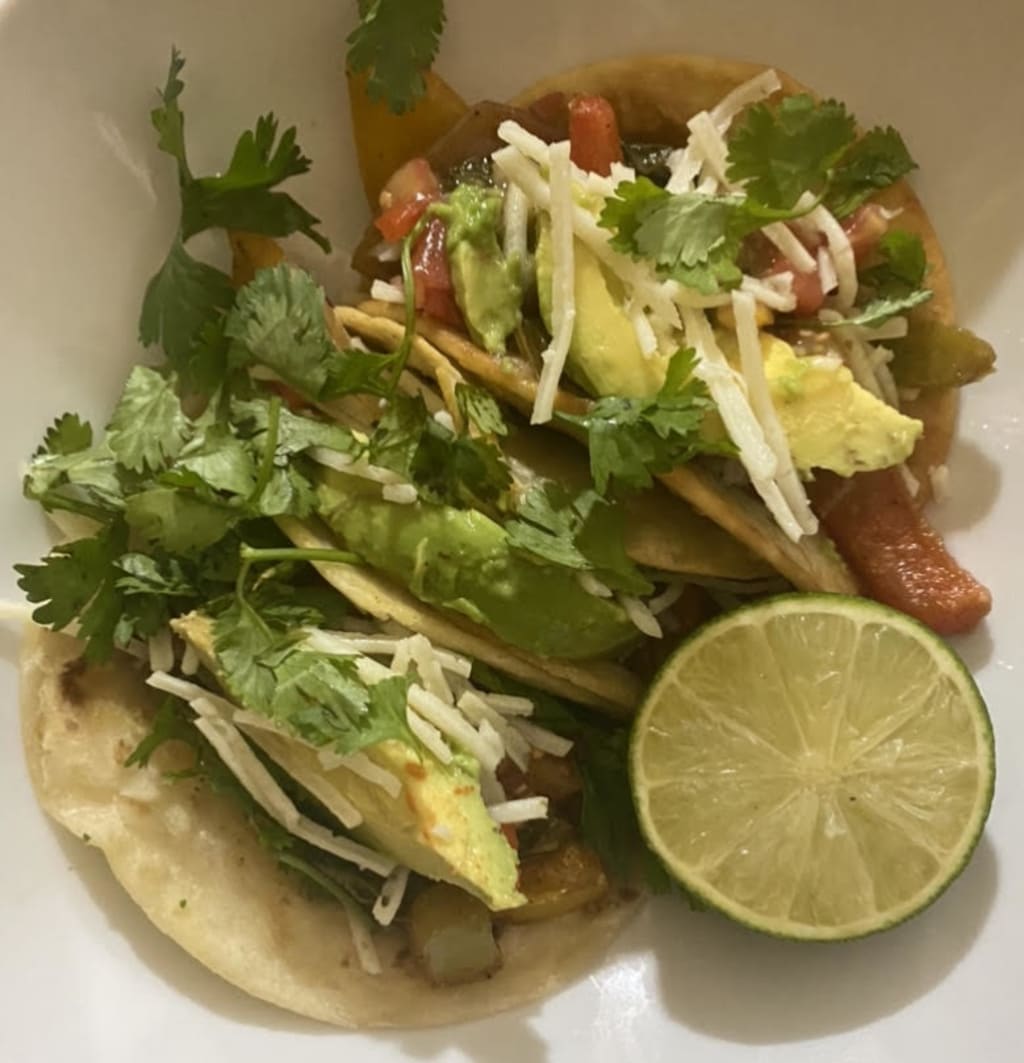 The tacos you will create!
Making the choice to go vegan can be a beautiful thing, but it can also be a little tough to start. Once you begin, one of your first questions are, "what do I cook?" or "where do I begin?". Don't worry love I got you! Follow me on throughout this mini series to get started and learn how to make some quick and easy vegan meals.
This week we will be learning how to make Tacos!
Before we get cooking, make sure you grab the following ingredients:
Swiss Chard
Tomatoes
Bell Peppers (all colors)
Red Onion
Cilantro
Taco Shells
Vegan Cheese
Salsa
Avocado
Limes
Garlic (optional)
Salt
Lemon pepper
Garlic
Chili powder
Allspice
*Remember to ALWAYS read the ingredients list on products before you purchase them. You don't want to end up with taco shells that have animal by-product!*
Time Totals
Prep time (includes taco construction): 10 minutes
Cooking time: 5-7 minutes
Now, let's get started cooking!
Step 1
Prep your veggies!
Chop all your vegetables in preparation for cooking. This includes the onion, bell peppers and cilantro. You may also slice your avocado at this time. Remember not to smash it, try to keep the avocado in slice form.
Step 2
Get the oil ready; 1-2 tablespoons to be exact.
Heat up your oil for the veggies. You can use any oil you like. I used olive oil but you can use any oil such as avocado oil, sunflower oil, etc. I would advise staying away from corn oil.
Step 3
Drop those veggies in!
Once the oil is nice and hot, place the sliced onion and bell pepper in the oil. Add in your salt, lemon pepper, garlic powder and allspice. Allow them to cook until the onions become slightly translucent and the bell peppers become soft. This will take about 3 minutes.
Now add in your swiss chard and chili powder seasoning. Allow your veggies to cook another 2-4 minutes.
Step 4
Prepare the tortillas!
You can eat the tortillas straight out of the bag but I like them cooked. Take another 2-4 tbs of oil and heat it up in a skillet. Once the oil is hot, place the tortillas in the pan two at a time and toast both sides. Only toast each side for a few seconds. It should take you a total of 1 minute to prep about 4 tortillas.
Step 5
Cooking done! Now let's construct the tacos!
Take a tortilla and layer on the ingredients in the following order:
Vegan cheese
Veggie mix
More vegan cheese!
Salsa
Slice of avocado
Garnish with cilantro
Repeat these steps for each taco.
Step 6
Enjoy!
I hope you loved this quick and easy recipe for some delicious, healthy, vegan tacos. If you loved the tacos please leave your feedback. For a video tutorial on how to prepare these tacos please click the link below. Enjoy!