Queenside Story
A local cafe owner has creatively responded to the effects of COVID-19
The first thing I learned about Jim was that he was obsessed with games, specifically chess.
I'd met him through a mutual friend at a games night hosted at Jim's house. We played Dungeons and Dragons over champagne and pickles while Jim narrated a story of mythical creatures and marvellous missions in outrageous role-playing style.
The second thing I learned about Jim was that he was about to open a cafe called Queenside. In celebration of his favourite board game and a homage to all his favourite chess players, Queenside was a chance for Jim to combine his love for chess with his passion for hospitality and to let his imagination run free.
When Queenside opened, the menu featured meals named after Grandmasters (the highest level title bestowed upon a professional chess player) like The Komarov Burger (named after Ukrainian grandmaster, Dimitri Komarov) and The Hambleton Sambo (named after Canadian grandmaster, Aman Hambleton).
The cafe was also fitted out with discreet pop culture references - another one of Jim's loves. At the cafe's entrance, there was a mini Mr Sparkle (an ode to The Simpsons' iconic Japanese Homer doppelganger). The meal pass was home to two blue, mischievous Mr Meeseeks figurines, while customers could order the "Pickle Rick" or "The Morty" (references to Justin Roiland and Dan Harmon's eccentric cult television show, Rick and Morty).
But beyond being a cafe and love letter to Jim's quirks and hobbies, Queenside was also a games night hosting space (not dissimilar to the one where we met). Queenside doubled as an after-hours meeting place for friends and family with a fully stocked bar fridge and commercial kitchen to carry us through long, tournament-filled nights.
Even if you weren't into chess or didn't know what Dungeons and Dragons was, everyone was welcome at Queenside. The cafe-slash-games-club was a sanctuary for those of us who knew Jim through a shared love of board games as well as Jim's regular cafe customers who knew him as a quirky business owner.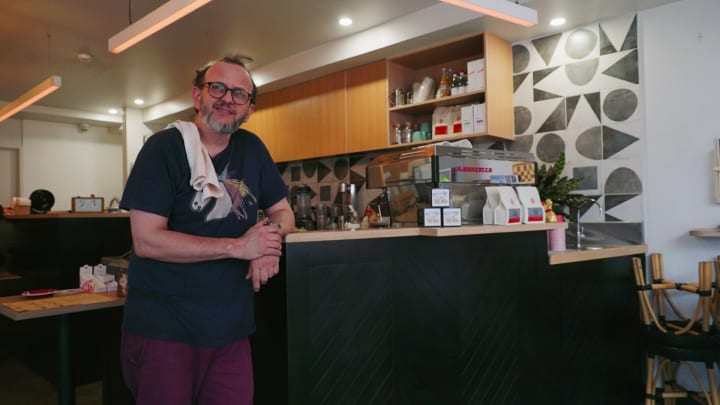 Even while filming this, I saw an ordinary interaction of a customer ordering a coffee. But instead of the exchange ending at $3.50 and a skim flat white, Jim scurried to his storeroom to find a deck of Adventure Time Fluxx cards and a printed out pile of piano sheet music - a gift to the customer's daughter that he'd prepared earlier.
Jim's immense generosity and love are what makes Queenside so special, and you can see that within all of Jim's family. Throughout the years, I've come to know his wife, Antonella and his son, Luca, who you'll find alongside Jim on any given day of the week, behind the counter or waiting tables.
Queenside is Jim's family's lifeblood; it's a retreat for his regulars and a special place for gatherings and playing games. But with businesses around the world getting hit by COVID-19, Jim has had to adapt.
With the closure of all dine-in restaurants in Sydney, Jim has transformed Queenside into takeaway-only and has had to temporarily say goodbye to games nights. He's remodelled his cafe so that customers can pick up their favourite meals or buy fresh produce from local suppliers and is holding gaming tournaments through live stream.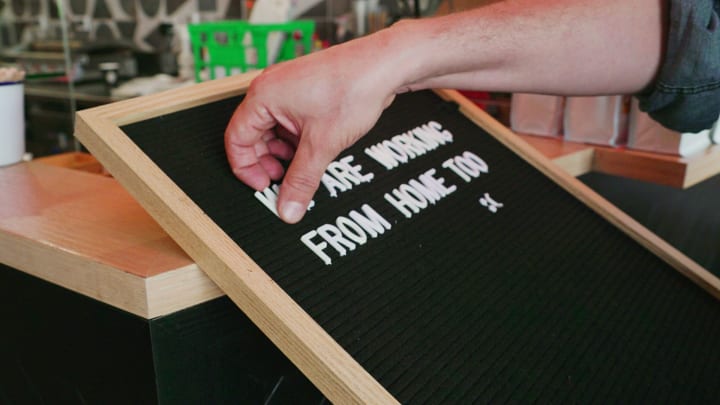 If you aren't in Sydney, Australia, the one way to support Jim and Queenside is to support all the other Jims out there in the world - buy your groceries from your local bodega and order directly from your favourite restaurant.
Or better yet, if you happen to be in Sydney, swing by Queenside, pick up a coffee or two and grab a bite from Jim's limited edition Quarantine menu. We might be "In a Real Pickle Now, Rick!" but after all, "Shiit Happens" and if we all show some support, it's far from being the "Wurst Kase Scenario".
Website: queensidedulwichhill.com
Instagram: @queenside_dulwichhill