Pumpkin Pie Squares
This is an easy and delicious recipe to try that's perfect for pumpkin season.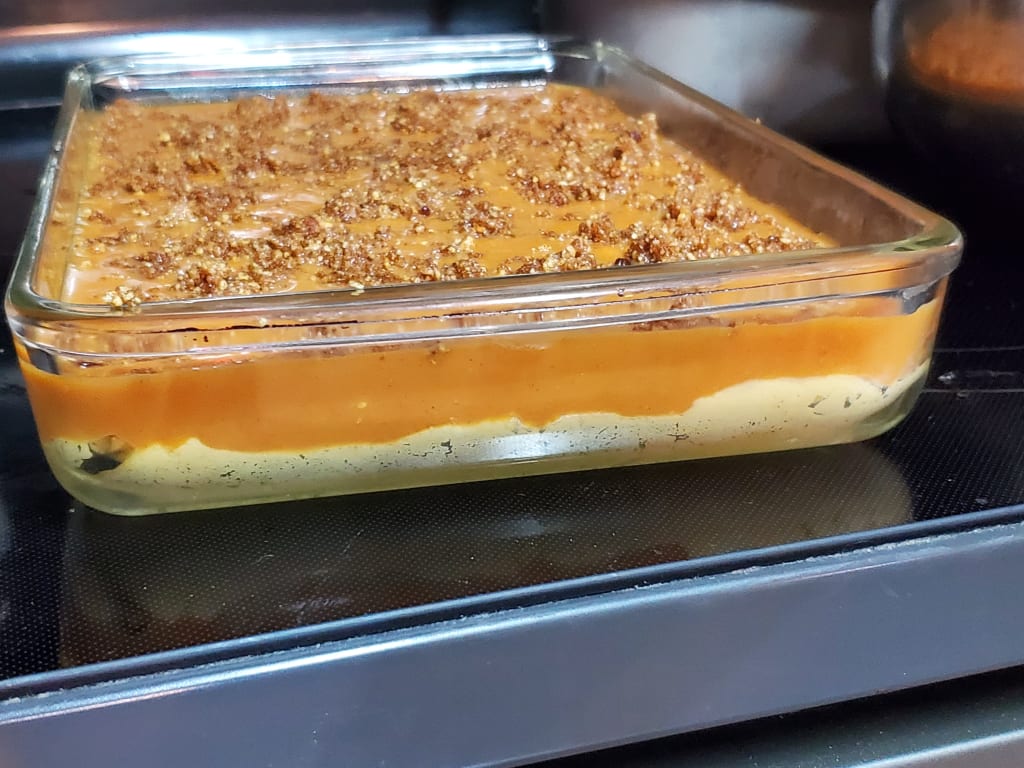 If your a fan of pumpkin pie this is a great take on the classic dessert. It has a sweet buttery crust with a rich filling that has just the right amount of spice. Whether it's for a party with friends or an add-on to the dessert table at a family dinner, it's a great recipe that's not too hard to make.
To get started you'll need to get a few things together:
1 package yellow cake mix
1 egg
1/2 c. melted butter (crust)
3 c. pumpkin pie mix
3 eggs
2/3 c. milk
1 tsp. cinnamon
1/4 c. sugar
1/4 c. melted butter (topping)
Whipped cream topping recipe below recipe
To begin you'll want to grease a 9"x13" pan and preheat the oven to 350 degrees. Next, you'll want to reserve one cup of cake mix for the topping.
Combine the remaining cake mix, the half cup of melted butter, and one of the eggs. Press the mixture into the bottom of the pan, making sure it completely covers the bottom.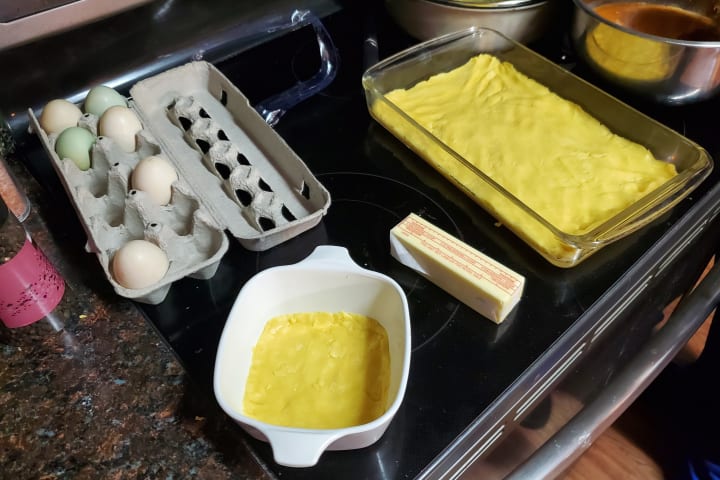 Next, you'll want to get the filling mixed up. In a medium-sized mixing bowl combine the pumpkin pie mix, the two remaining eggs, and the milk, making sure the ingredients are combined. Pour over the crust covering it completely, a spatula always helps.
For the finishing touch combine the cup of cake mix that you set aside with the cinnamon, sugar, and the remaining melted butter. Sprinkle the mixture on top of the filling making sure it's spread over the pan.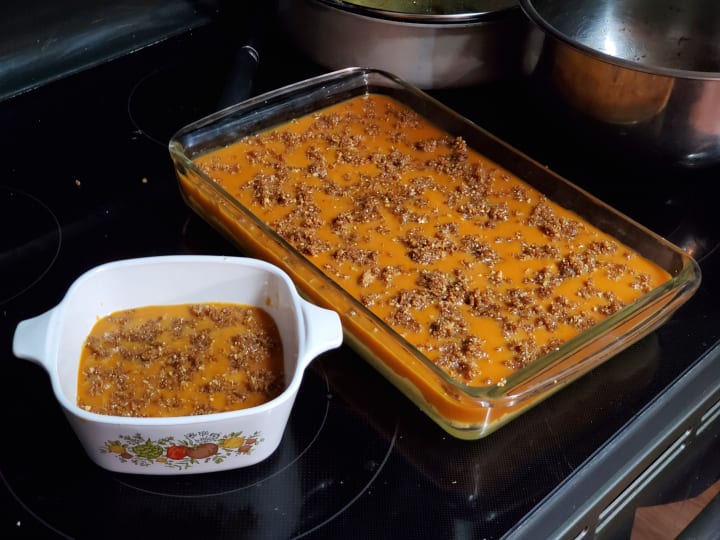 Insert pan into the oven and bake for 45 - 50 minutes. When a knife is inserted into the pan and comes out clean the squares are done. Be careful removing it from the oven!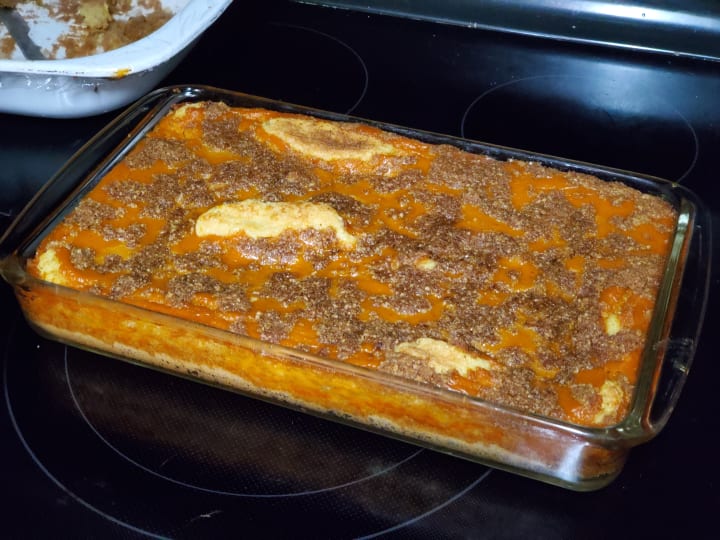 Cut into even squares and serve (tastes great with whipped cream!). Store any leftovers in the fridge in an airtight container.
For an easy whipped cream topping:
1 c. heavy whipping cream
1 tsp. vanilla extract
1 tbsp. powdered sugar
In a large bowl or fitted mixing bowl whip, the cream until stiff peaks are just about to form. Add in vanilla and powdered sugar and beat until stiff peaks form.
Make sure not to overbeat!
Tips:
- Be careful when separating the cake mix.
As you can see my crust puffed up through the filling on this attempt. I tried to keep a little more mix in the crust and I believe that may have affected how much it rose while baking.
- Refrigerate once cooled.
Keeping the bars cold or cooled can help them keep their shape. It also helps to keep them tasting fresh.
- Experiment with the topping
I occasionally like to change up the topping mixture by adding some new flavors or textures. I tried adding some graham cracker crumbs on one attempt and I thought it turned out pretty well.
- Make your favorite filling
You may have your own pie filling or spices that you always enjoy, feel free to try making the filling your own. I personally enjoy adding some nutmeg to my filling.
- Try different sizes
I usually use the 9x13 pan, but feel free to experiment with different sizes. You can even half the batch or separate it into several small batches. As you can see in the picture below they work pretty well in small casserole dishes.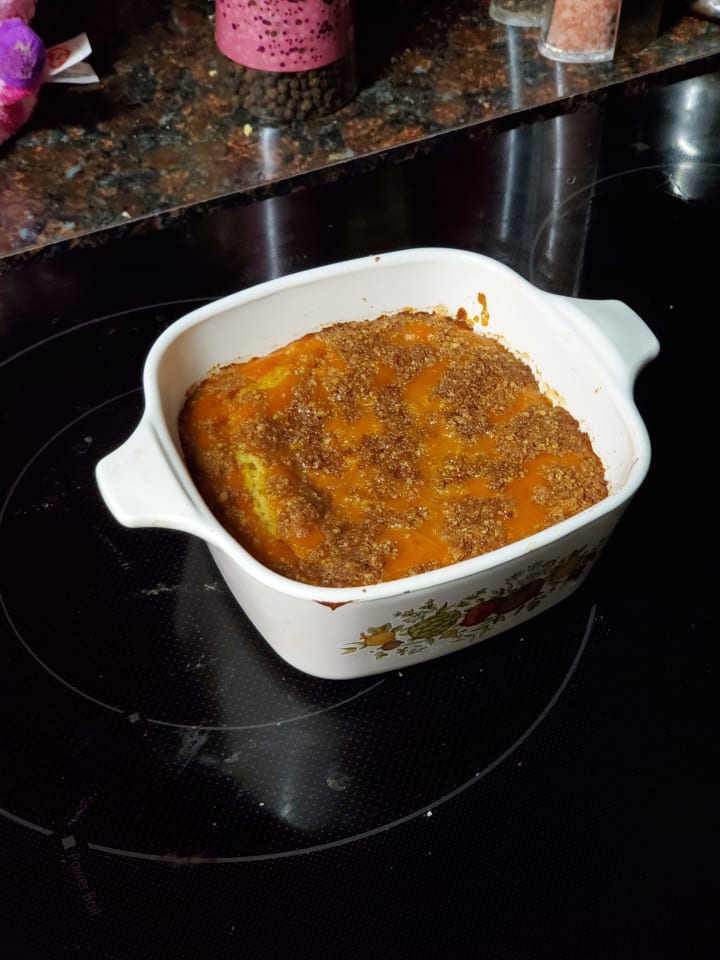 - Flavor your whipped cream
Try changing the flavor you add into the cream for different flavor combinations. Be careful! Some extracts and flavorings are stronger than others.
These bars are great for parties or potlucks and make a great midnight snack. They are great warm or cooled so choose how you want to enjoy them.
Enjoy!
recipe
About the author
Hi there! I enjoy baking and sewing and thought I'd share some ideas and projects.
Insta: ari.holloway.vocal
Youtube: https://youtube.com/channel/UCL8NaeUoIbdicH6p2gXMs3g
Reader insights
Be the first to share your insights about this piece.
Add your insights