Pulled Pork on the 33rd Parallel Line
Tastes of Home, by Debbie McCurdy.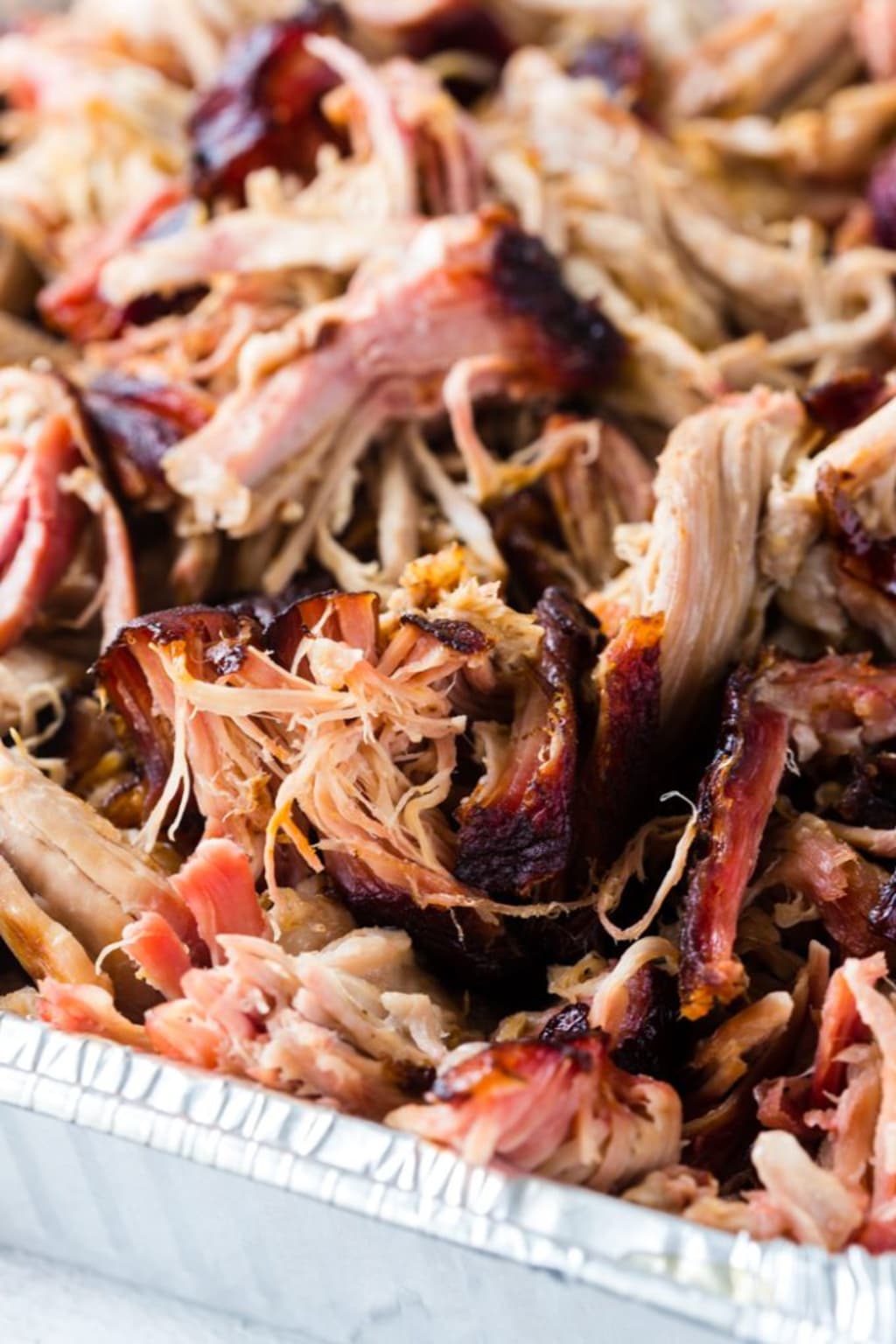 Pulled pork in the South is called barbeque and it's a noun, not a verb. If you're ever visiting in the south and someone says let's go get barbeque, they mean pulled pork, slow cooked over a hard wood fire.
I grew up in Shelby, North Carolina, a city famous for its barbeque among other things. There have always been several rival restaurants to choose from, each with a loyal following and a slight variation on flavor featuring vinegar and spices. Yes. I said vinegar. You might recoil at this. Especially if you've grown up with thick red and brown BBQ sauces. But one experience with vinegar-based sauce could change your whole perspective. You see. It's the blending of flavors in the mouth, specifically tangy moist pork with sweet barbeque coleslaw on a warm bun. Even the subsequent belches that follow are pleasant reminders of why you love that food so much and keep going back for more.
Bridges BBQ on Hwy 74 in Shelby has won several national awards for its pulled pork cooked over hickory wood. People will literally drive 2-3 hours one way on any day they're open just to feed their barbeque addiction. By rights, your pulled pork sandwich at Bridges BBQ should include barbeque coleslaw, their heritage hushpuppies, (not sweet), and be capped off with their signature banana pudding for dessert.
Without question any southerner will insist a pulled pork sandwich should include coleslaw. You are denying yourself an important part of a full savory experience otherwise. As for barbeque coleslaw, it's hard to find outside of North Carolina. Barbeque coleslaw includes ketchup. Don't recoil. Surprisingly, it gives the slaw a nice red hue and creates a unique flavor when paired with the meat. Ideally, the cabbage should be finely chopped. I like bites that come away clean, not long strands of cabbage one must slurp like spaghetti noodles. However, having said this, if that's the only coleslaw you're served – take it. You can't have one without the other. It's a must. Like ice cream and cake. Or salsa and corn chips. Or peanut butter and jelly. Or brown mustard on a bratwurst. Or French onion dip on ripple potato chips. Or mashed potatoes and gravy. I could on and on. You get the picture.
Leaving Shelby as a high school grad for college led to a subsequent marriage and life as a military spouse, which took me out of the South and away from pulled pork the way I like it. Every new assignment offered places to try, but none delivered. I was resigned to getting it only during trips back home.
Fast forward to present day. Semi-retired, I now live in Las Cruces, New Mexico. I decided I loved the arid climate of the southwest more than humidity of the south. On my usual routes across town, I always passed this unique little corner building with huge rounded windows on S. Solano. It must have been something in its heyday, but as an older building now its track record has featured small businesses coming and going. Imagine my hope when I saw a sign going up Jim Bob's BBQ. With a name like Jim Bob, one must assume southern roots, right?
Meeting the owners Jim and Patty for the first time felt like talking with people from back home. The first thing on their menu is… drum roll…Pulled Pork Sandwich. So, I inquired about their sauce. To my pleasant surprise Jim had done his homework during culinary school. Yes. He knew about the vinegar-based sauce from North Carolina. As I took my first bite into that sandwich my taste buds sent a message to the nostalgic part of my brain and tears welled up in my eyes. I wanted to cry. The coleslaw isn't BBQ slaw but it's tasty good and creates that magic flavor in your mouth. Here's the review I gave them after my first trip:
I LOVE Mom and Pop places that serve delicious food. The kind that keeps you coming back for more. Whatever I order it's always cooked to perfection. The pulled pork with vinegar-based sauce is my favorite. (Because I'm from North Carolina.) You must get the seasoned fries with whatever you order. And never question Jim Bob's Green Chile Cheeseburger. It cannot disappoint. Down home food at it's finest. End quote.
I have since migrated over to Jim Bob's onion rings for my favorite side. Because he makes them the correct way. A REAL onion coated in a tasty batter, fried to a perfect crispness and offered with a delish dipping sauce (ingredients unknown). I would be amiss to not mention their equally crispy sweet potato fries lightly seasoned with sea salt, or the fact they always run out of mac n cheese. I talked to a fellow patron one day standing in line and learned he only orders their brisket sandwich. Apparently, it's a nice, thick, tender and moist slab of brisket that extends beyond the bread. I haven't tried their ribs yet, but you can see how others feel about them in the reviews.
But wait! That's not all. There's more! At Jim Bob's BBQ every table features a little catty of popular BBQ sauces from every region of America. Imagine that. No matter where you have lived in the US, you can find your hometown BBQ sauce at Jim Bob's. I found mine. They call it the Lexington sauce. (Probably because Lexington won in the barbeque runoff to cater the White House sometime in the 1980s.) That's okay. My husband and I never missed going to Southern Barbeque in Lexington, North Carolina, whenever we traveled east to see our mothers. They also understood barbeque coleslaw. We cried when the owners retired and closed the restaurant.
God bless the Mom & Pop restaurants scattered throughout America. Those little hole-in-the-wall specialty places with inadequate parking and waiting times to get a table. Pulled pork is a specialty. It owns and deserves its place as a major contender on the American stage of favorite dining out experiences. If it's not a regular go-to in your diet, you're missing out. For the 'other' white meat look no further than Bridges BBQ on Hwy 74 in Shelby if you're taking the southern route through North Carolina, or Jim Bobs BBQ if you're taking the I-10 southern route through New Mexico or traveling north/south on I-25. Take the University exit and turn north on Solano. I know I was only supposed to talk about one favorite local place, but how could I talk about Jim Bob's BBQ without first talking about Bridges BBQ? They are both home to me and reside on the 33rd parallel line of the globe. Just recently a second location for Jim Bobs BBQ opened at the Las Cruces airport. What does that tell you? Bon Appetit!
About the Creator
Senior hippie with BA degrees in Journalism and Art from NMSU and always looking for creative outlets. I give public support to our local film studio Film Las Cruces, where goals include moving clever stories in writing to film.
Reader insights
Be the first to share your insights about this piece.
Add your insights