Positivity in crisis
How an independent café is bouncing back from four months of lockdown.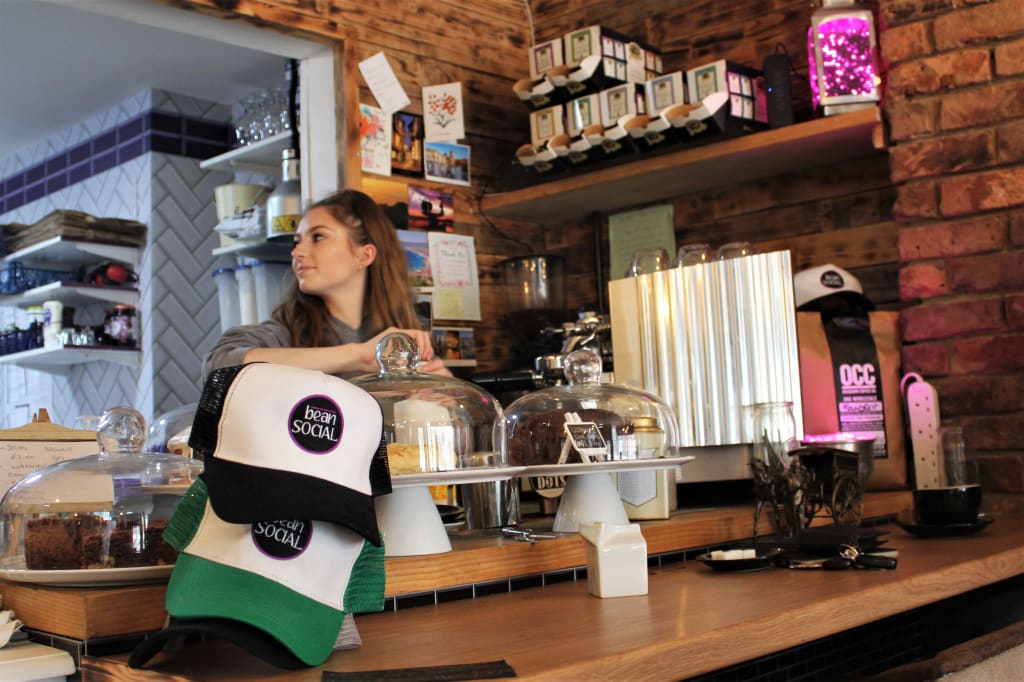 Social distancing doesn't have to mean isolated. At lunchtime in Bean Social, a lively café on Durham's North Road, the tables may be spaced out, but conversation still ebbs and flows between them. A couple of weeks after returning from lockdown, it feels appealingly normal; a space to meet and eat.
It's a testament to the community spirit that has grown up around the vegan-friendly hang-out since it opened in 2017 – and gives James Gardener hope that, despite four months with no trade, this independent café can survive.
"We're up against the ropes, we've got one knee on the canvas, the referee is at the eight count; but this café has one more haymaker left in it," James said. "From a sustainability point of view, we might survive. I can't guarantee it, but I will keep fighting for our customers."
Amid the hubbub of chatter, James is quietly proud of how well customers – old and new – have embraced the reopened café.
"It's the customers that make this place, they are the reason why we still have that same friendly atmosphere," he said. "We just have the three separate tables now, but people are still chatting to each other. Looking around today, these people haven't really met before, they might have seen each other from a distance in here but they don't know each other. And the new layout is helping to create that atmosphere.
"That's why we're 'Bean Social' – we want to be a community hub."
And that community has rallied round. The reconfiguring of the café to meet social distancing requirements – a false wall removed to free up space, more power sockets to support the 'Infinite Tea' offer for homeworkers looking for a change of scenery – was done by regular visitor Dave Toth, proprietor of Durham Electrical Contractors, who did the job free of charge. James also pays tribute to his wife Zoe, whose photographs provide the artwork, colleague Brogan Perry, an ever-smiling whirl of activity behind the counter, and business partner David Booth. "They've been real rocks during all this. We couldn't have done it without their support," he said. "People have bonded together and, if anything, the community spirit has increased during this crisis."
There's also a testament to the support of his family, from grandparents who "helped bring me up right" to mum, an infection control nurse. Corona-hygiene? No problem. "I didn't need coronavirus to teach me how to clean," James smiles. "I've known all about it all my life."
Back to the roots
Closer inspection shows that, beneath the surface normality, there have been big – enforced – changes.
"If we'd tried to return to our normal menu, our normal routine, I would have brought everyone back and the front door would be closed permanently after about three weeks," James added. "Costs have to be shaved. We've lost the luxury of being able to do what we were doing. We started life as a simple coffee house and we've returned to that."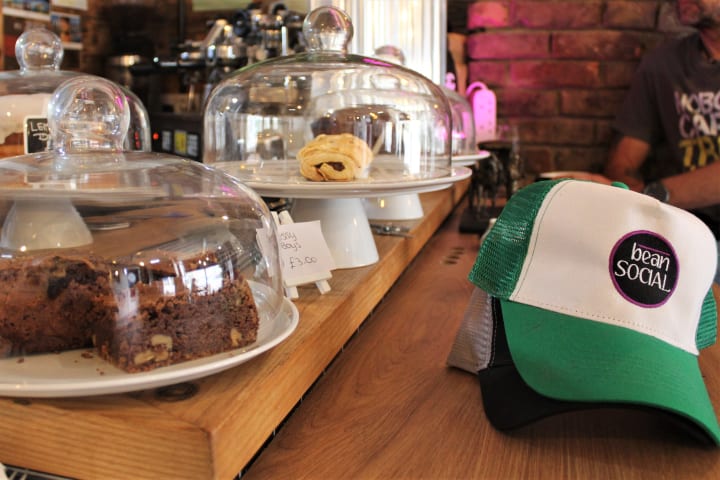 As a result, the old menu – which required an outlay of about £1,000 a week on fresh ingredients for sandwiches, pizzas and more – has been slimmed down to five Bean Social staples. There are dairy-free brownies, two vegan cakes – one chocolate, one lemon drizzle – and the 'burgle', a home-made veggie burger served on a bagel. Plus the famed 'sossy bois', also available at the nearby Station House pub, proving the existence of a market for vegan sausage rolls long before they hit the headlines early last year. Coffee comes from Tyneside's Ouseburn Coffee Company – "the Rolls Royce of Coffee, I wouldn't use anything else" – as the aim is a distinctive, high quality offer.
Early evidence suggests that the new offer is perfectly pitched for a post-lockdown market. "People aren't really ready to eat out yet," James added. "They're dropping in for cake and coffee but I don't think the confidence is quite there yet [for people to order a cooked meal].
"But the support from our café – I don't call it community, I call it family – has been overwhelming. I'm an emotional mess at the end of every shift, in the best possible way. During lockdown, more people have been out walking where they wouldn't normally walk. They've seen the café, maybe for the first time, and they've come along now and loved it. We're seeing familiar faces coming back, everyone leaves with a smile on their face and it makes all the stress worthwhile."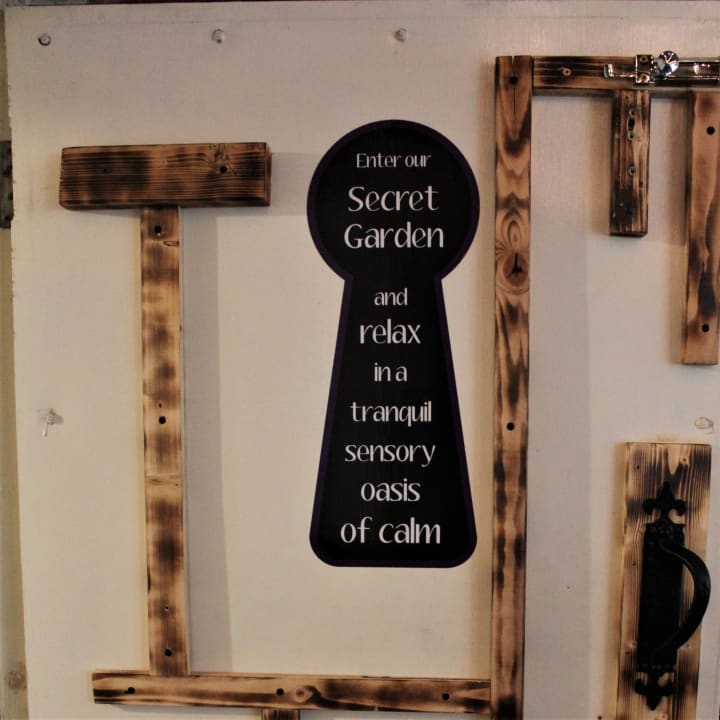 Changing perspectives
Meanwhile, lockdown has been a chance to reassess. While some changes might be relatively short-term, the unexpected luxury of free time has brought a shift in priorities.
"My old thing was that we didn't say the 'S' word or the 'C' word in here; I would have totally agreed that people should come to places like this rather than go to the big coffee chains," James explained. "Just now, though, support everyone. Those chains employ an awful lot of people. We're all in this together.
"That's my current stance. I'll go back to my 'no chains' thing further down the line but at the moment we've all got to get on with it together."
A more lasting change, though, is a recognition that life isn't just about battling to keep the business growing. Recently, James was diagnosed with fibromyalgia, a legacy of a car accident a decade ago. Previously preoccupied with the business, it was a problem pushed to the side – until now.
"Strange as it seems, this change of pace has been beneficial for me," he said. "During lockdown I did some therapy with Jaimie Mahaffey at InHealth Pain Management. That helped me learn to adapt and live with it, I don't know how much longer I could have gone on without this. I've changed my attitude. I used to be head down, a million miles an hour, working on the café, not caring about the pain.
"Not now. I'm really turning over a new leaf in life."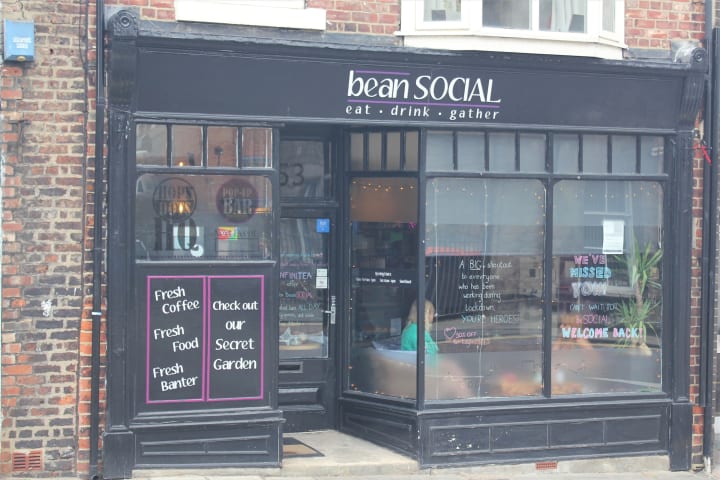 Waste not, want not
That doesn't mean James was idle during lockdown. Having bought up his stock for the coming week just before the government told cafés to close, he was faced with a mountain of food to dispose of. And started giving it away rather than letting it go to waste. Care packages for key workers, an impromptu pizza dinner for police officers investigating an incident near the bus station, free cake to accompany the ales at a local pub. Much like REfUSE in nearby Chester-le-Street, there's a twin commitment to reducing food waste and making a positive contribution to the wider community.
Then came the delivery scheme. With Durham suddenly turning into something of a ghost town, supplies that were scarce in the out of town supermarkets were often readily available in the city centre.
"It seemed like the supermarkets all went into a meltdown but in Durham, when the students all went away, I could walk into Tesco, Sainsbury's and Iceland, not queue and get whatever I wanted for people," James said. "So I started dropping off supplies for my friends and people were amazed. They'd be asking where I was getting flour from, but it wasn't difficult. Down here it was pretty normal, just quieter."
Today, the buzz is starting to come back. There's still uncertainty, there's still a need to adapt to a fast-changing, unpredictable environment. But, most of all, there's still hope.
"As we grow, as the hospitality industry returns to normal, we'll keep changing and adapting," James concluded.
"We projected a bare minimum cost to keep trading and hoped we'd start reaching it within a couple of weeks but, oh my word, we were hitting it straight away. We're covering our costs. It will be another 12-18 months before we're back to some sort of normality, but we're going to be OK."
This article is part of the Talking Northeast project, now running on Substack. Please take the time to explore the blog and consider subscribing if you like our work. If a subscription is not right for you at present, please consider making a one-off donation via Talking Northeast's 'Buy Me a Coffee' page.
About the Creator
Community focused sports fan from Northeast England. Tends to root for the little guy. Look out for Talking Northeast, my new project coming soon.
Reader insights
Be the first to share your insights about this piece.
Add your insights