Pork Roll, Egg, & Cheese
a reflection on diners of the Jersey Shore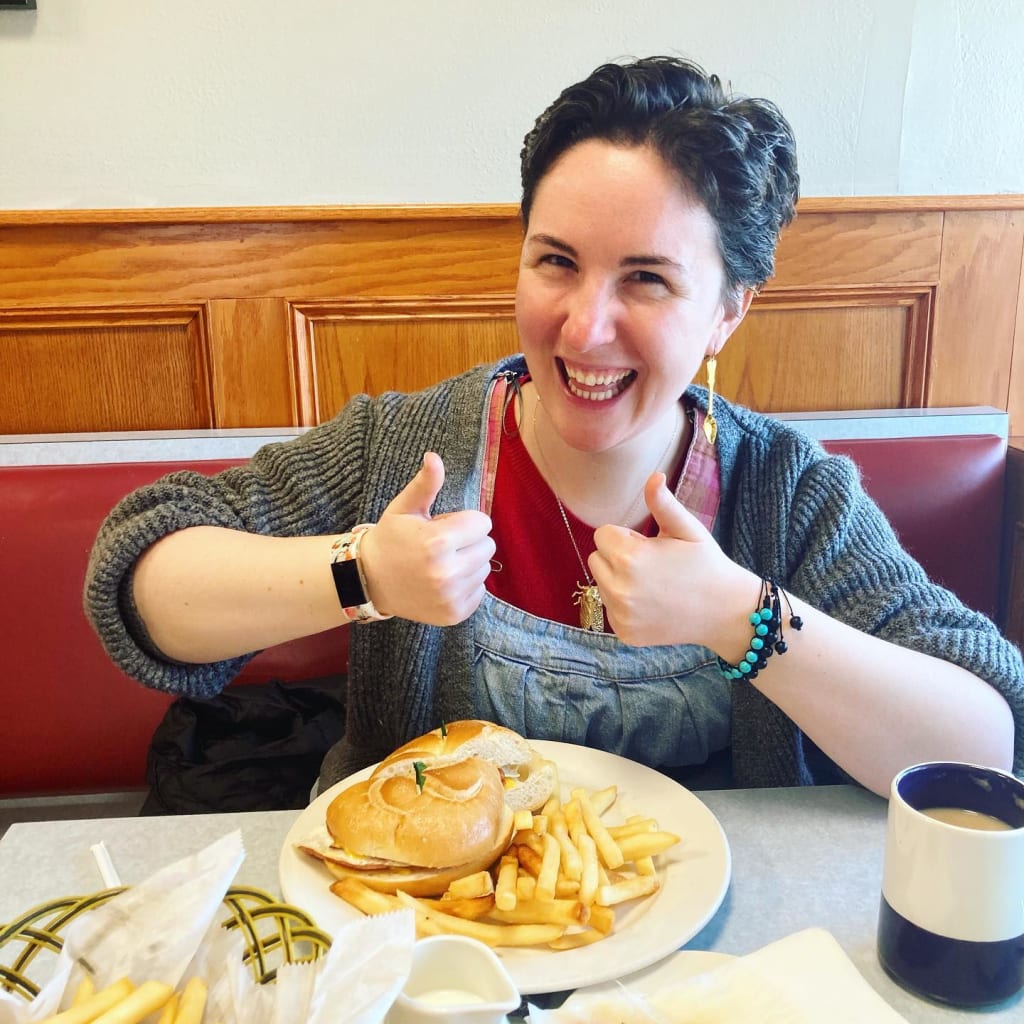 If you are not from the Jersey shore, a love of pork roll is hard to explain, but I will try. Salty and tangy, the cooked meat is shaved into slices, cooked again on a griddle or flat top grill, and piled three- or four-slices-high onto soft rolls with drippy eggs and cheese. Salt, pepper, and ketchup are added as per the buyer's preference, and the sandwich is wrapped in a sort of foil paper. Then, the greasy masterpieces are thrown into paper bags. Pork roll can be purchased in logs, which are wrapped in cloth at grocery stores, but I've never seen the meat at any 'real' butcher's shop. The cheese is usually yellow American or mozzarella, which is what my mother used to order, when she still ate bread.
The sandwich is so quintessentially New Jersey that when an out-of-town couple came into the bookstore, asking for what to do, I immediately recommended three bagel shops that I trusted to get the job done. It was pouring rain that day, and they were friendly and curious about the store, and I was friendly and curious about the fact that they'd never tasted pork roll before. I didn't think to ask if they were vegetarians, which would have made my recommendations different – maybe Papa Ganache, the local vegan bakery up the street, with its delectable cake pops and earnestly friendly staff – or Local Urban Kitchen, which also serves vegan and vegetarian fare.
Some years ago, I had a friend visiting from England and I wanted to take him for a pork roll sandwich. The most extravagant version of the sandwich is from The Committed Pig, which will be reopening in my hometown of Manasquan shortly. They pile meat, eggs, and cheese onto two slices of Texas French toast and allow you to douse the whole thing in maple syrup and ketchup. The restaurant also has red velvet fried Oreos, which come with cream cheese frosting dipping sauce. I told him as much and promised we'd have to go. He told me that he'd already tasted the sandwich and was not too impressed; he called it 'luncheon meat'. I remember feeling personally offended.
To me, New Jersey diners feel like home. The busy staff will recognize me after a few return trips and tips. The menus with hundreds of items ranging from breakfast to dinner and beyond intrigue me more than puzzle me. I like searching through the names of the concoctions for unusual combinations. The clink of forks and knives against the porcelain plates, the chatter of strangers, the loud Billy Joel blasting through the speakers… It has rose-colored nostalgia. I try not to be naive about that; the fact that it all reminds me of my childhood.
My cousin always came off as sophisticated when she ordered eggs benedict. My brother, the youngest, a beach lifeguard and championship swimmer through college, often ordered 'combo platters' of as many things as the restaurant could pile onto a plate. My grandmother, whom we called Dada, ordered black coffee – I can still see her nicotine-stained fingers thumbing through the little packets of Sweet-N-Low and Sugar in the Raw. These memories melt together sweetly, like maple syrup through a short stack of pancakes.
After drama club productions in high school, we would go to the OB Diner in Point Pleasant. I asked why we went there once. As a quiet fourteen-year-old, I'd somehow landed the lead role in a production of Miss Frankenstein's Monster, and I was happy to be along for the ride – but I had a lot of questions.
"Why do we do this?" became a frequent refrain.
"It's tradition," one of the upperclassmen said simply. And that was often the case.
So the people I've gone with have changed over the years, but the food has stayed the same. My love of the fluorescent lighting, the paper placemats, the mason jars filled with painfully sweet lemonade or iced water – these have stayed the same. I left for a few years to go my own way, but I'm happy to report that when I returned to the New Jersey shore, the pork roll sandwiches I'd left behind were still waiting for me. The grills of the diners were still lit. The French fries are still hot and ready, bubbling in their grease. The diners still feel like home.
Reader insights
Be the first to share your insights about this piece.
Add your insights