Pork Kebabs
A Mrs Huston Recipe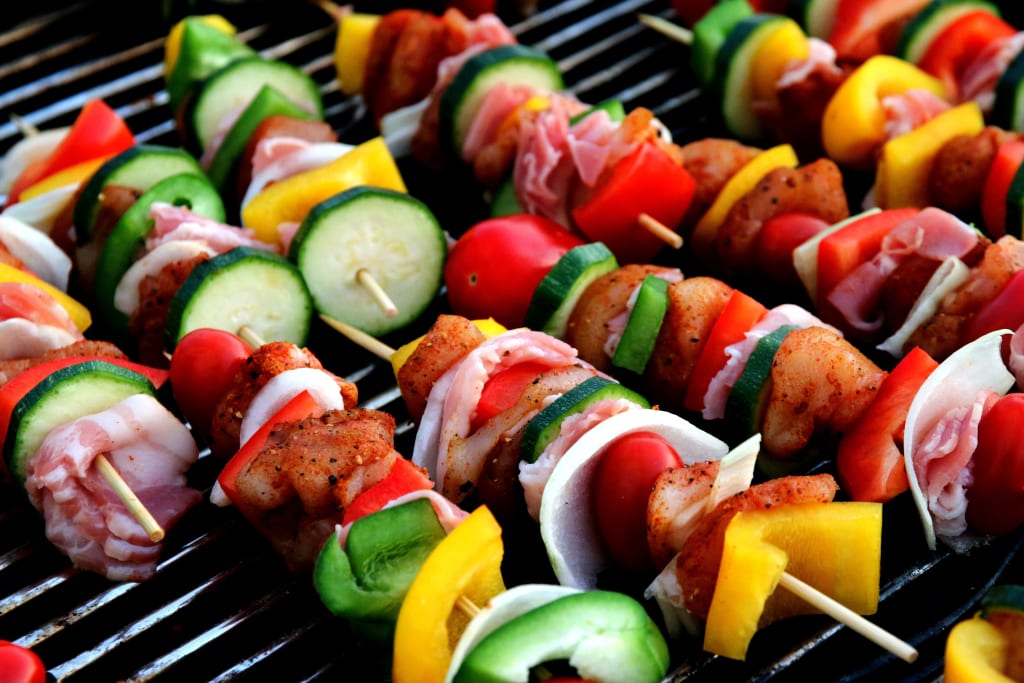 Photo courtesy of https://www.pexels.com/@pixabay/
Hello, my name is Pyxy, and I have a thing for food on a stick.
I always have. And kebabs were something my mother made for dinner a lot growing up. I think it helped to make sure the kidlets had the same amount of food on their plates. And, no one could say "Johnny got more than me!" (names have been changed to protect the guilty, btw.)
Ingredients
Oil - This is for the grates on the BBQ. You can also make this in an oven but I would lay some parchment paper down on a cooking tray. if using a BBQ, you can use any oil, but, I would stay away from olive oil as it is too light and tends to burn at a lower heat than some vegetable oils.
1/4 cup Apricot Jam - You can use any jam you happen to have on hand. I like using apricot with pork but any fruit jam goes with pork really.
1/4t Cayenne Pepper- If cayenne is too strong for you, you can replace it in the recipe with paprika.
1 Pork Tenderloin - About 1 pound. If you are vegetarian or vegan, you could also use cubes of Extra Firm tofu.
1 pound of Apricots - About 8
1 red onion - medium to large
Skewers - If you are using wooden, soak them in water for 15 minutes.
Salt, pepper
Directions
Slice the pork into 1 inch slices. For each slice cut crosswise into 1 inch fingers. Cut the fingers into 1 inch cubes. Set aside.
Cut the apricots into half. Remove the pits and cut the halves into quarters. Set aside.
Cut the onion into quarters. Separate the layers and set aside.
Heat your grill and llightly oil the grates. If you are doing this in the oven, preheat the oven to 400.
To make the basting sauce, heat the jam ina saucepan over low heat until it starts to melt. Add 1 tablespoon of water. Stir until mixed well. Add the cayenne powder and season to taset with the salt and pepper.
Thread the skewers in this pattern: Onion, Pork, Onion, Apricot, onion, until all are used up. I made 4 skewers. 
Put the skewers on the grill or baking sheet. make sure they are not touching. Baste the skewers with the sauce.
Cook the skewers, turning and basting with more sauce every three minutes until the pork is cooked. This took me about 15 minutes.
Notes
Traditionally, a lot of people use apples with pork. I have an allergy to apples so I tend to go with other fruit. In this recipe I used apricot but peaches pair well with pork as well.
You can use any other protein in this recipe from beef to chicken to pork to tofu.
As for the skewers, I do not like using the wooden ones. I have metal skewers that I use instead. They are reusable and no chance of splinters. The last thing you want when enjoying a meal is to chomp down on a piece of wood.
Feel free to mix it up with the fruit and vegetables you use as well. I have been known to use pepper slices, broccoli, zucchini and eggplant when making kebabs. As for fruit, the sky is the limit really. There are many fruits I have used in the past depending on what I had on hand and what was in season. I have tried mango, apricot, peach and even some citrus fruit go well with meat on a stick. The only one I have never tried is pineapple as I have a sensitivity to the acids in it.
About the Creator
Canadian Graphic Designer, Young adult novelist and gluten free recipe developer from Canada
Reader insights
Be the first to share your insights about this piece.
Add your insights