Please Make Me a Sandwich
Most popular sandwiches in the US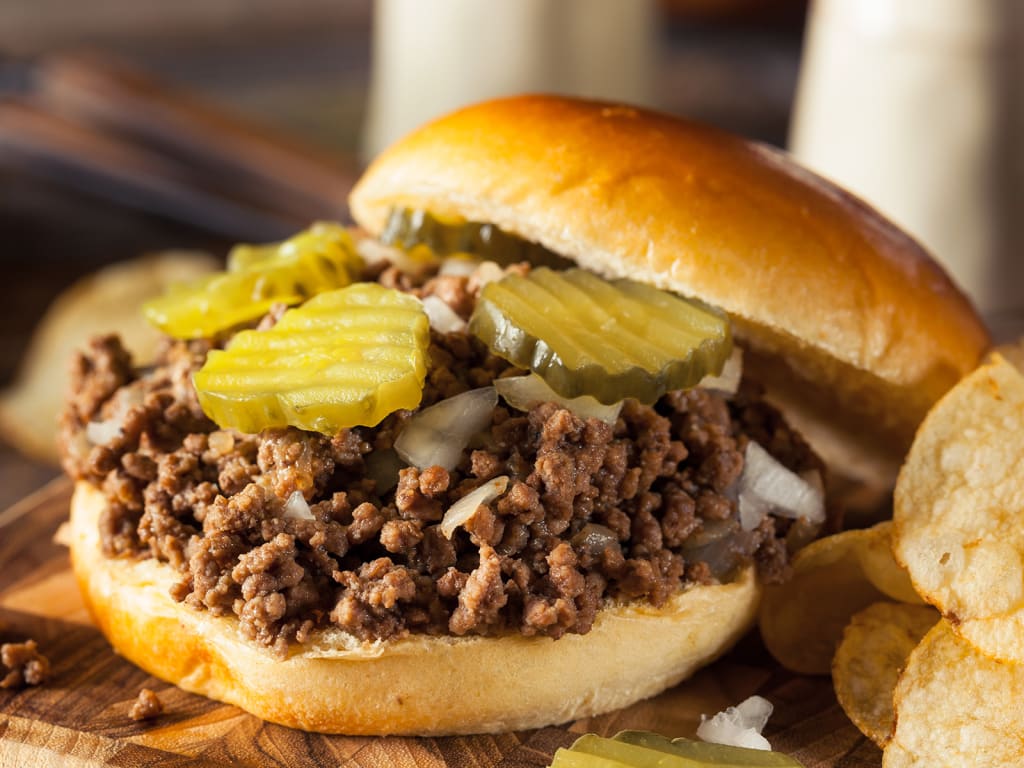 The loose meat sandwich is an American invention. A hamburger bun is split and filled with sauteed ground beef and onions. It is topped with ketchup, mustard, cheese, or pickles.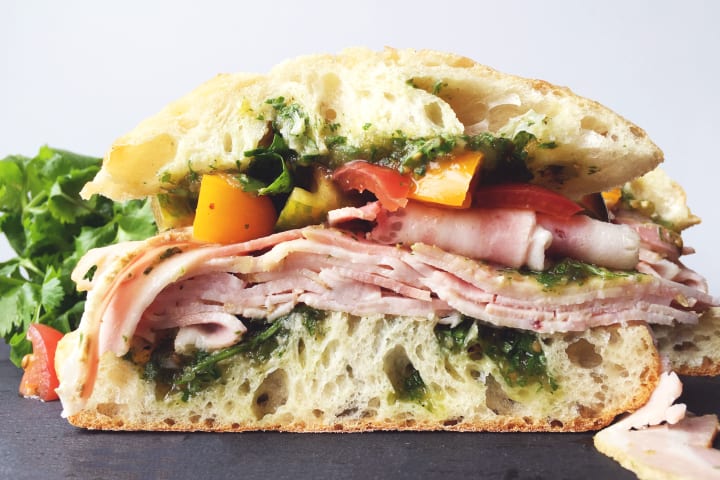 Traditional Italian boneless pork roast called porchetta is placed on an Italian roll to make a sandwich. Toppings include cheese, various veggies, or sauces. If nothing more the porcheta can be drizzled with olive oil and sprinkled with salt and pepper.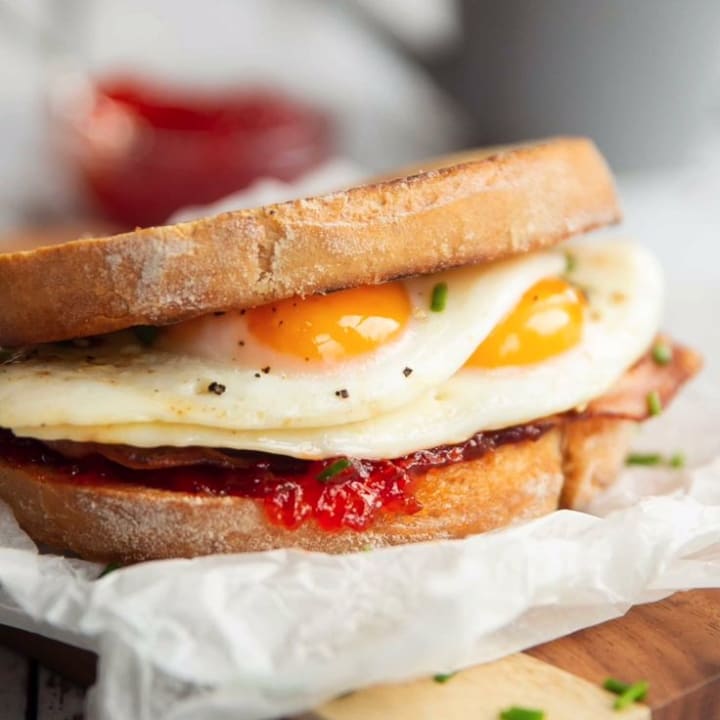 Fried egg sandwiches are a kind of comfort food. Slices of sourdough bread are topped with fried eggs and cheddar cheese. The sandwich is broiled to melt the cheese. Variations can include bacon or sausage on the eggs.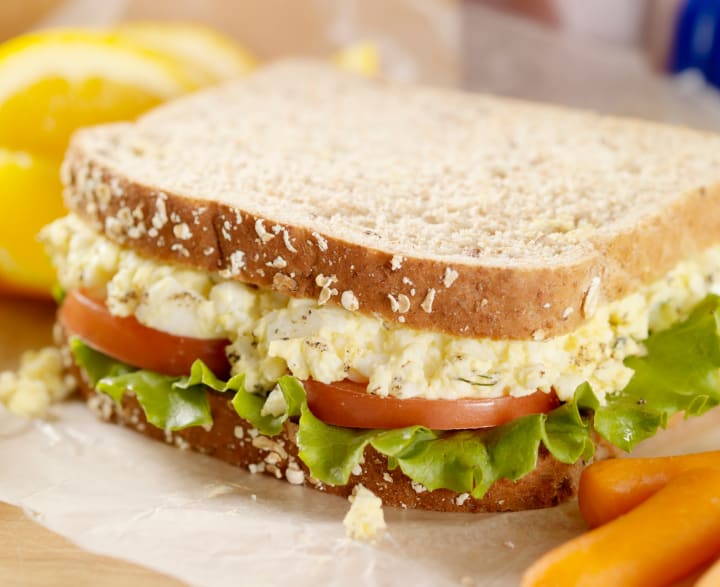 Egg salad sandwiches are simple sandwiches with chopped hard-boiled eggs mixed with mayonnaise and salt and pepper and placed between two slices of bread. The egg salad can include chopped celery, olives, or tomatoes.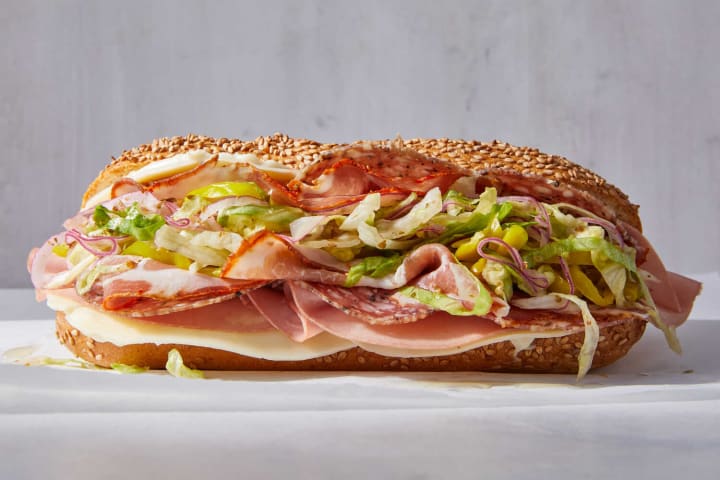 The Italian sandwich consists of a long bread roll that is filled with cheese like provolone, meat like salami, mortadella, and ham, and topped with tomatoes, olives, pickles, and onions.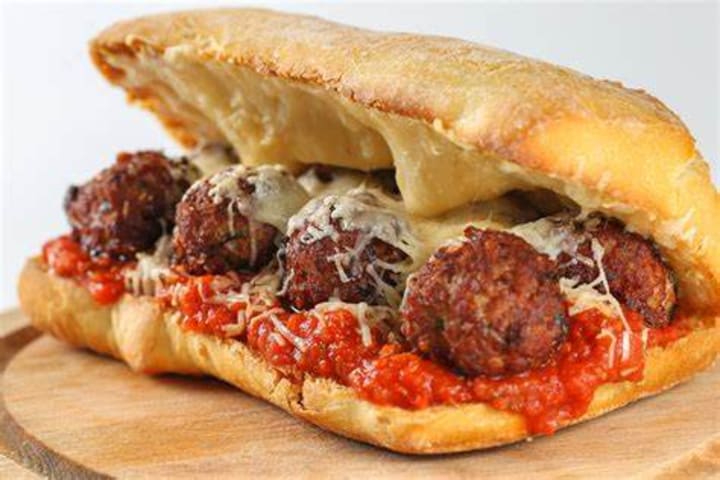 Meatball sandwiches are an Italian-American creation. Long Italian rolls are split and filled with meatballs, red sauce, and cheeses like provolone or mozzarella. The sandwich is broiled until the cheese melts. The meatballs are prepared with a mix of ground beef and pork, eggs, bread crumbs, garlic, basil, parsley, garlic, and onions. Then fried until brown on all sides and placed in the sandwich.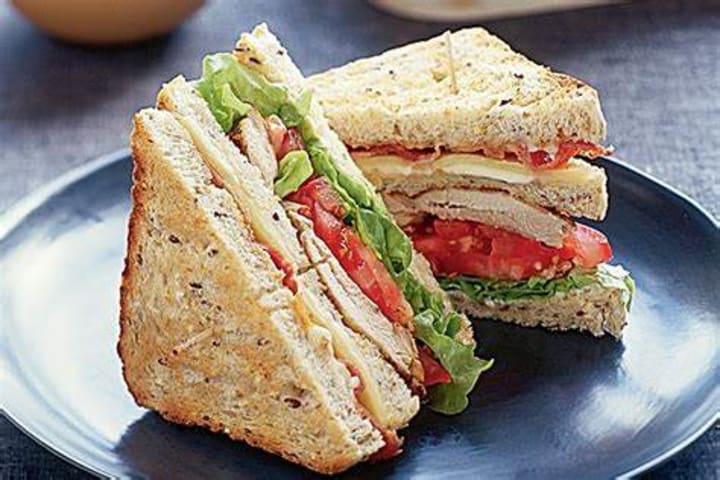 Club sandwiches are iconic American sandwiches. Toasted bread slices are filled with bacon, cooked chicken breast, tomatoes, and lettuce with mayonnaise.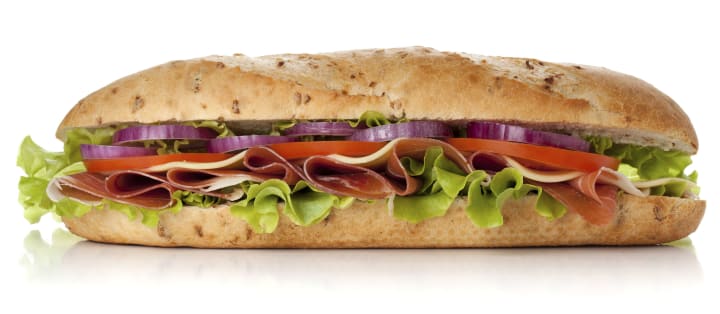 Submarine sandwiches consist of long, split bread rolls filled with various meats, cheeses, sauces, vegetables, and seasonings. Most subs are seasoned with oil, vinegar, basil, salt, and pepper. No matter what you call it these sandwiches are delicious. They're grinders in the Midwest and California, subs in New York and Northern New Jersey, heroes in Delaware, hoagies in Baltimore, South Jersey, and Philadelphia, Po'boys in New Orleans, and Italian sandwiches in Maine. No matter how you slice it or fill it or the name just bring your appetite and place your order.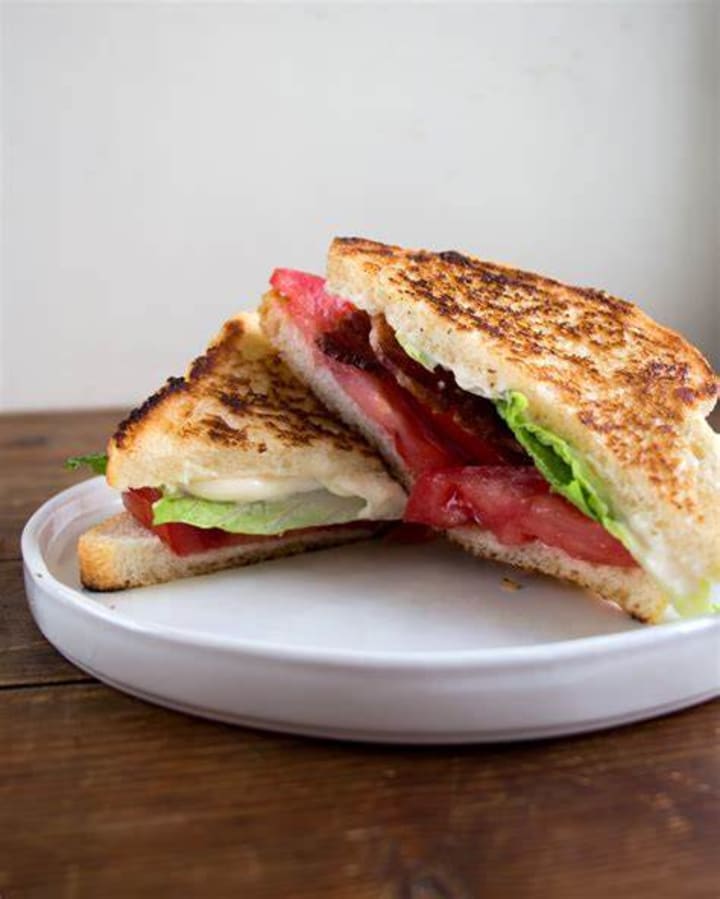 Bacon, lettuce, and tomato on crispy toast, or the classic BLT sandwich. Crispy fried bacon is placed on thinly sliced tomatoes and lettuce. It is flavored with mayonnaise. To be a true BLT don't use iceberg lettuce. The bread must be toasted golden brown.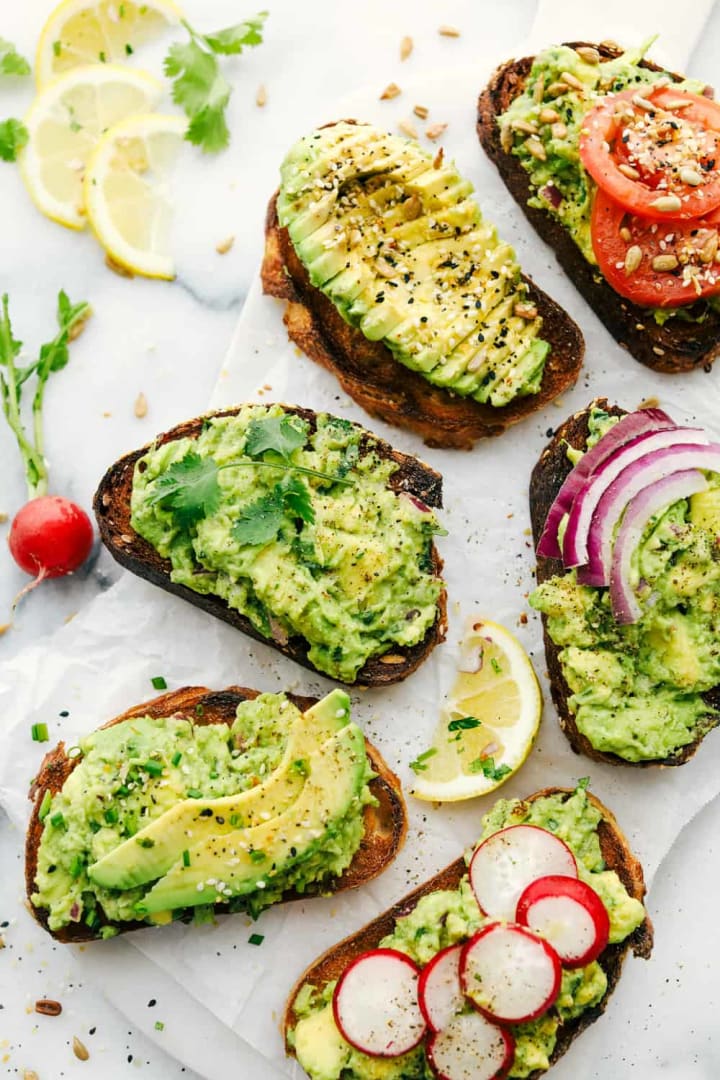 California
Avocado toast supposedly originated in Los Angeles. Two slices of toasted bread are filled with mashed avocados, salt, pepper, and citrus juice. Varieties can include salmon, tomatoes, onions, eggs, garlic, cheese, olive oil, or red pepper flakes.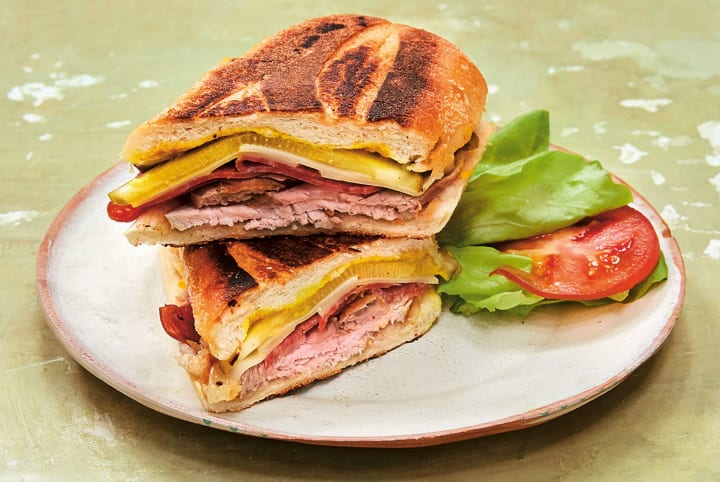 Florida
Cuban sandwiches are grilled, pressed sandwiches. They're prepared with Cuban bread filled with ham, roasted pork, Swiss cheese, pickles, and mustard. This is the creation of Cuban immigrants to Florida.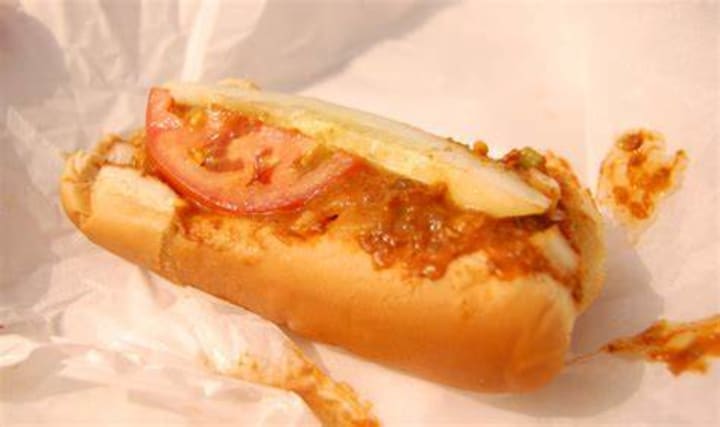 Illinois
The mother-in-law sandwich comes from Chicago. This is made with a tamale topped with chili and served in a hot dog bun. There are many variations.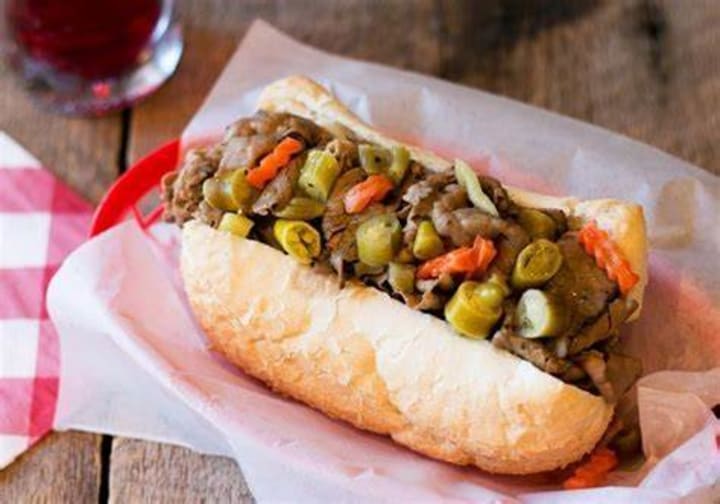 Italian beef sandwiches are popular Chicagoan sandwiches. They are made with thinly, sliced, seasoned layers of roast beef on an Italian roll and topped with pickled gardiniera relish or roasted green bell peppers. Cheddar or mozzarella cheese can be added.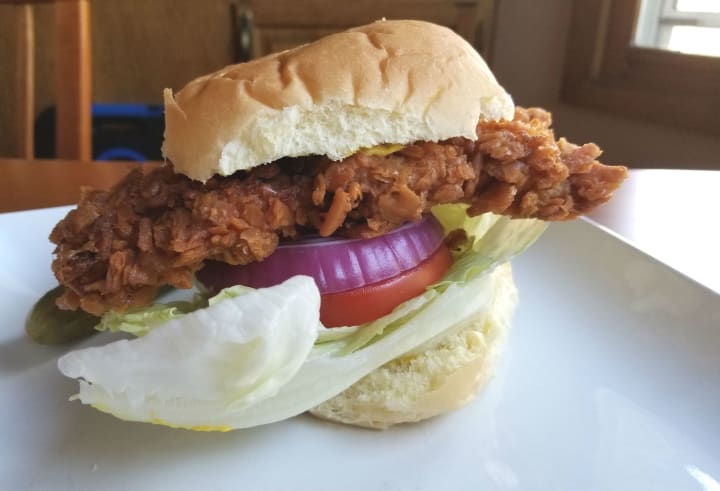 Indiana
The pork tenderloin sandwich is made with a breaded, deep-fried pork cutlet on a hamburger bun. It is topped with mustard or mayonnaise, lettuce, and pickles.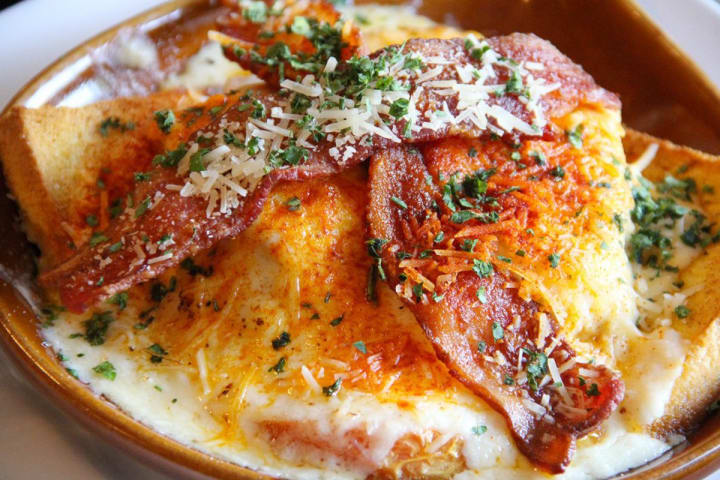 Kentucky
The hot brown is an open-faced sandwich that comes from Louisville. Roast turkey and bacon are covered with Mornay sauce and baked or broiled until the bread is crispy.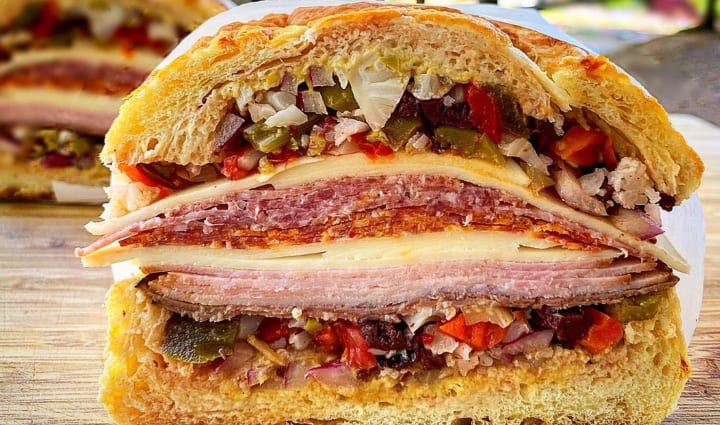 Louisiana
A muffuletta is a traditional American sandwich that originated in New Orleans. A bread roll is split and filled with olive salad, salami, ham, mortadella, and cheeses like provolone and mozzarella. The olive salad is a mix of olives, capers, shallots, pepperoncini peppers, and giardiniera (an Italian relish with pickled vegetables.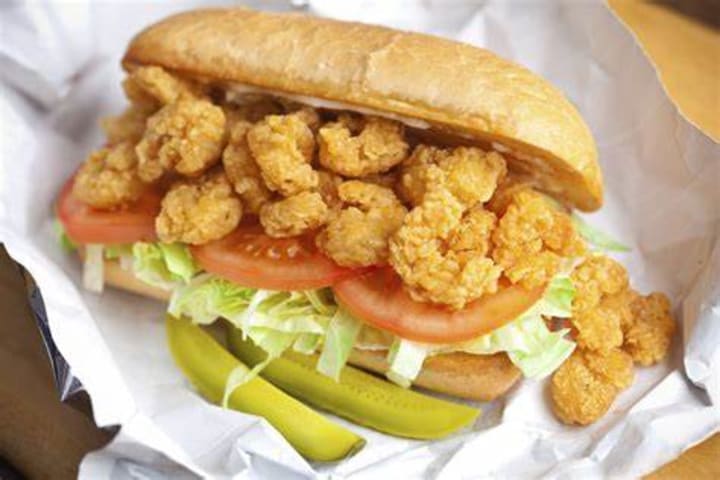 Po'boy sandwiches originated in Louisiana in the early 20th century. A French bread roll is split and filled with a variety of meats like roast beef, ham, and cheese, or meatballs. It can be a seafood sandwich filled with fried shrimp, crab, or oysters.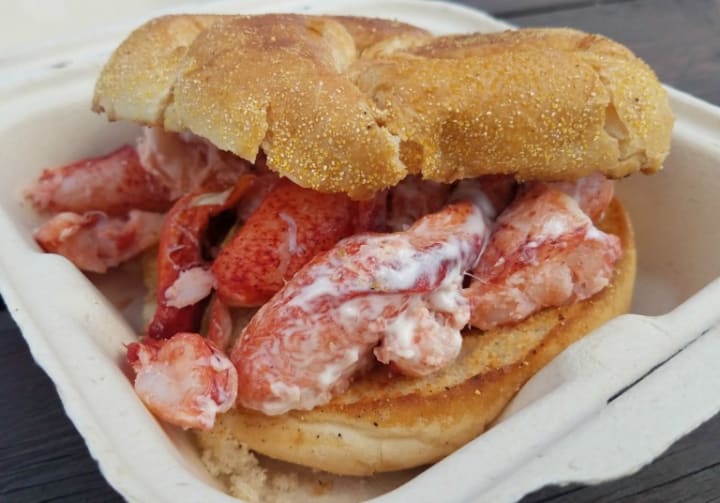 Maine
Among the best sandwiches in the New England States. The lobster roll comes from Maine. Chilled lobster salad is filled into a split-top bun. The lobster salad includes mayonnaise, and chopped celery, and is seasoned with salt and pepper.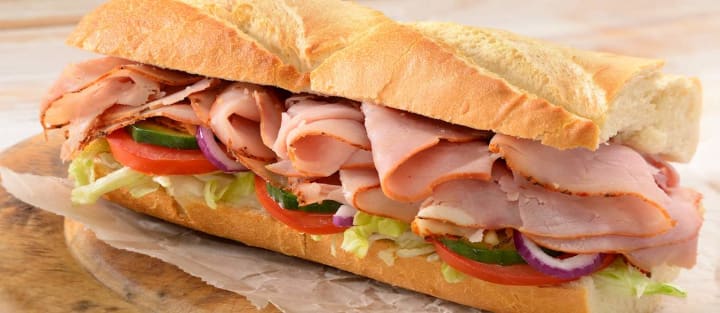 Grinders also come from the New England States. These are a variety of submarine sandwiches popular in this part of the US. Long bread rolls or grinder rolls are sliced halfway and filled with sliced ham, turkey, salami, prosciutto, provolone cheese, tomatoes, and lettuce. To be authentic the lettuce has to be shredded. Once filled the sandwich is dressed with vinegar, olive oil, oregano, salt, and pepper.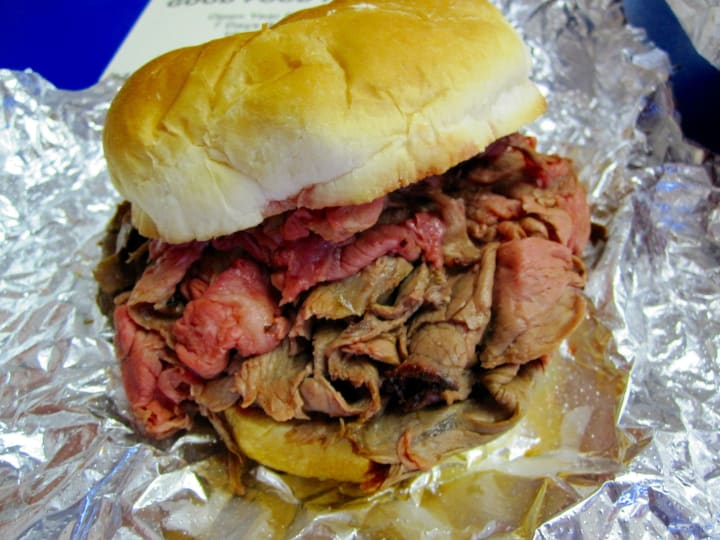 Maryland
Pit beef is a traditional sandwich that comes from Baltimore. Charcoal-grilled beef is thinly sliced and placed on a bread roll or white bread slices with horseradish, mayonnaise, and thin-sliced raw onions.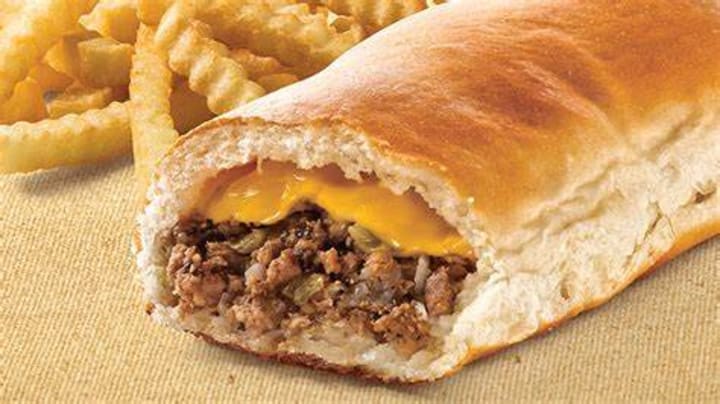 Nebraska
Runza is a sandwich prepared with a yeast dough bread filled with beef, cabbage, onions, and various seasonings. It can be baked in many different shapes like squares or half-moons or in the traditional rectangular shape.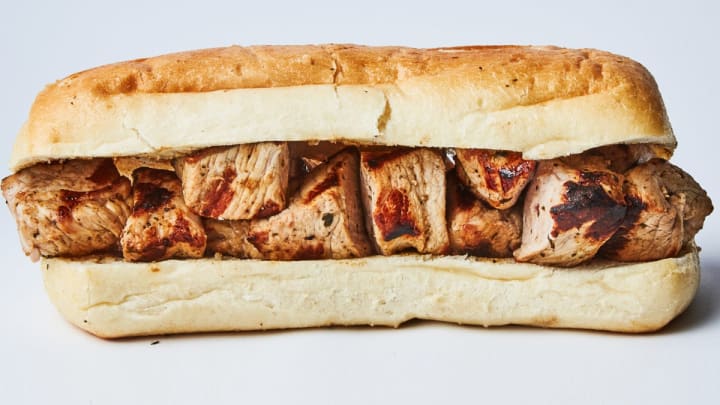 New York
The spidie sandwich comes from Binghamton. An Italian roll or white bread slices are filled with cubed marinated chicken, pork, or lamb. The meat cubes are marinated and grilled.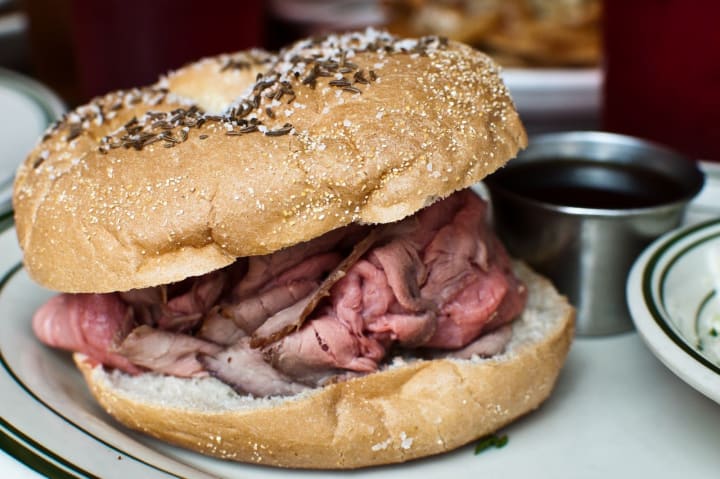 Beef on weck comes from Buffalo. The sandwich consists of three parts meat, bread, and horseradish. The beef has to be thinly sliced and slightly pink on the inside. It is served in a weck or kummelweck roll which must be sprinkled with caraway seeds and coarse salt so the beef can remain as under-seasoned as possible.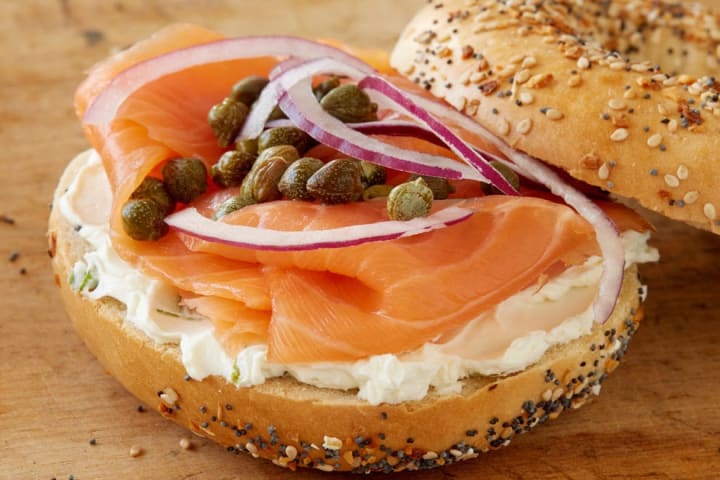 A bagel and lox sandwich is a classic New York City sandwich. A freshly baked bagel is split in half and topped with cream cheese and cured salmon. It can be garnished with capers or thinly sliced red onions.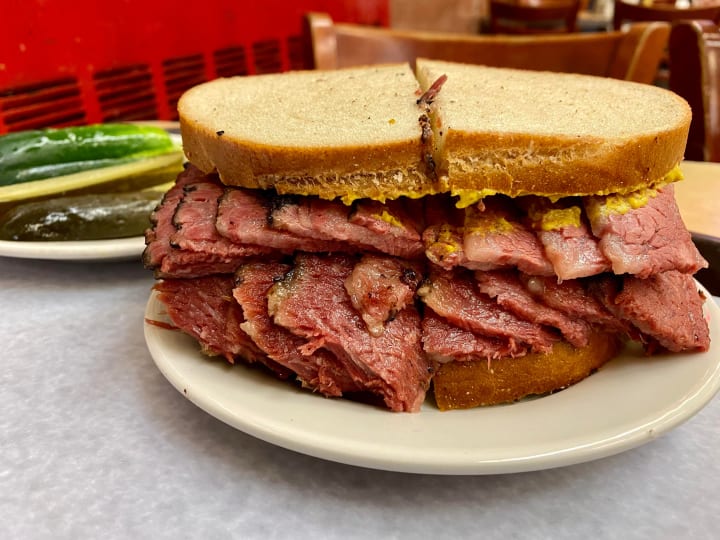 Pastrami on rye is the signature sandwich of New York City. It consists of two rye bread slices filled with thin pastrami slices topped with spice mustard and served with kosher dill pickles on the side.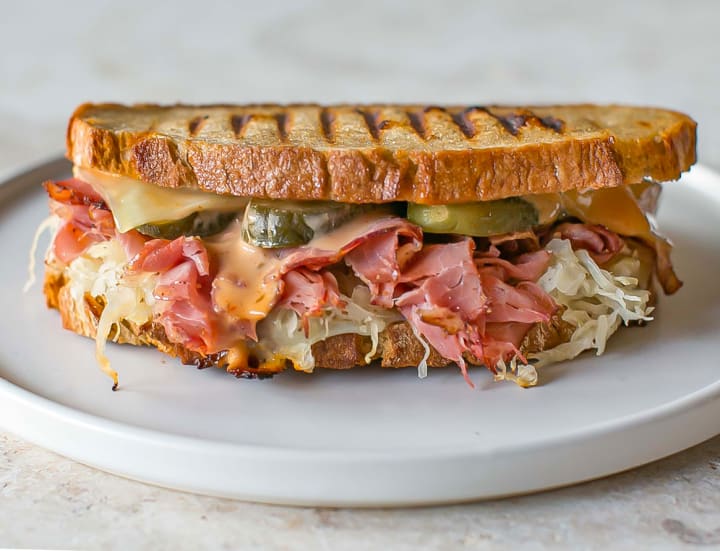 Reuben sandwiches are a tasty combination of corned beef, sauerkraut, Russian dressing, and Swiss cheese, between two slices of rye bread. They were created in Manhattan, New York City at the Reuben Delicatessen.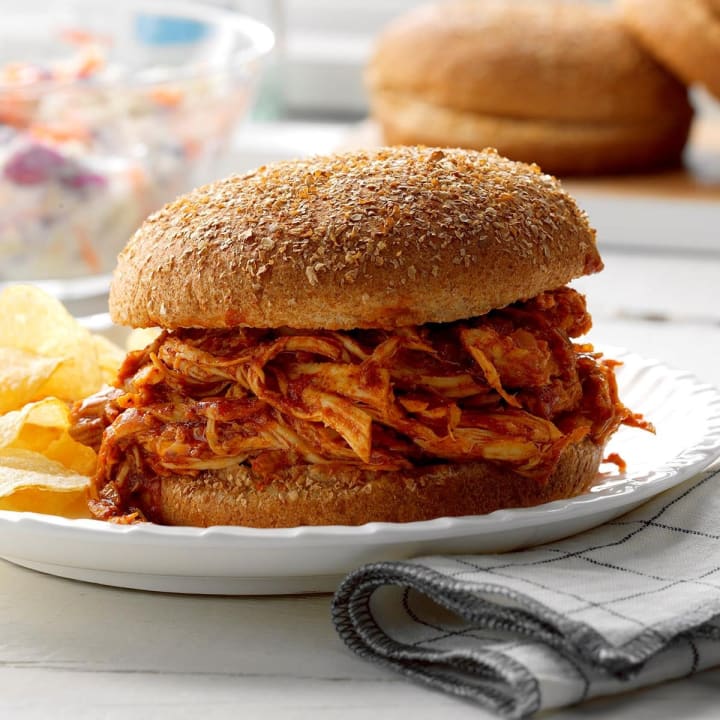 Ohio
Shredded chicken sandwiches come from Northern and Central Ohio. Juicy chicken meat is cooked in chicken broth or condensed chicken soup with flour, bread crumbs, or crushed potato chips. The combination is flavored with black pepper and the meat is shredded and placed on hamburger buns.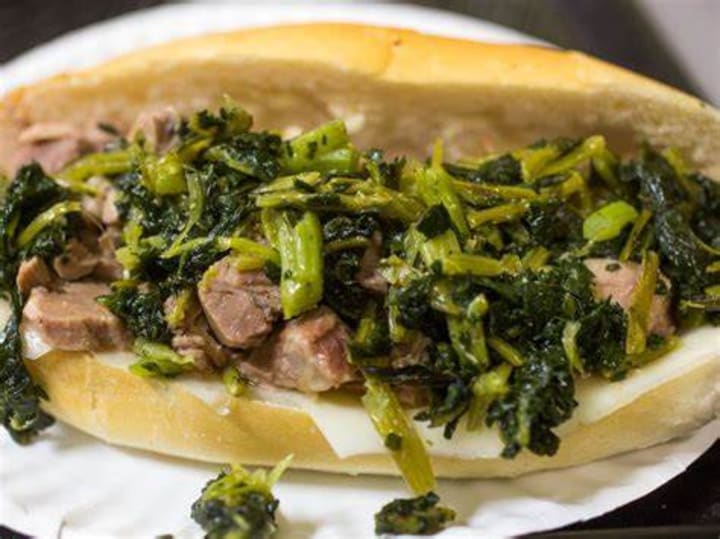 Pennsylvania
Roast pork sandwiches originated in the city of Philadelphia. Sesame seeded bread rolls are filled with juicy pork slices, roast pork chunks, or pulled pork and topped with broccoli rabe or spinach, and melted cheese.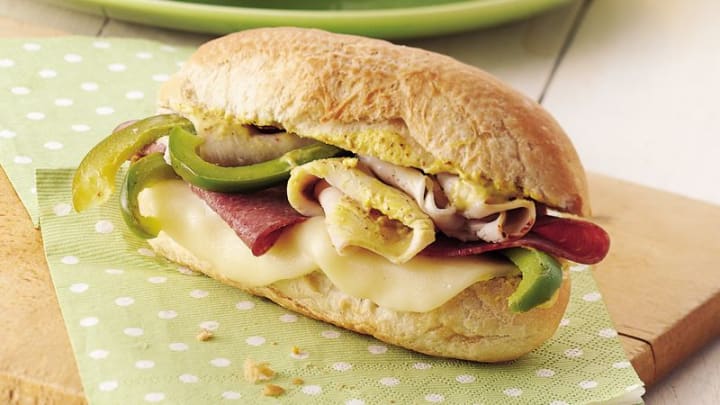 In 1992 the hoagie was made the official sandwich of Philadelphia. The sandwich is made with a split Italian roll sprinkled with oil and vinegar and layered with onions, tomatoes, shredded lettuce, provolone cheese, and various types of meat. The sandwich is sprinkled with oregano, basil, salt, and pepper. To be authentic mayonnaise and pickles are forbidden.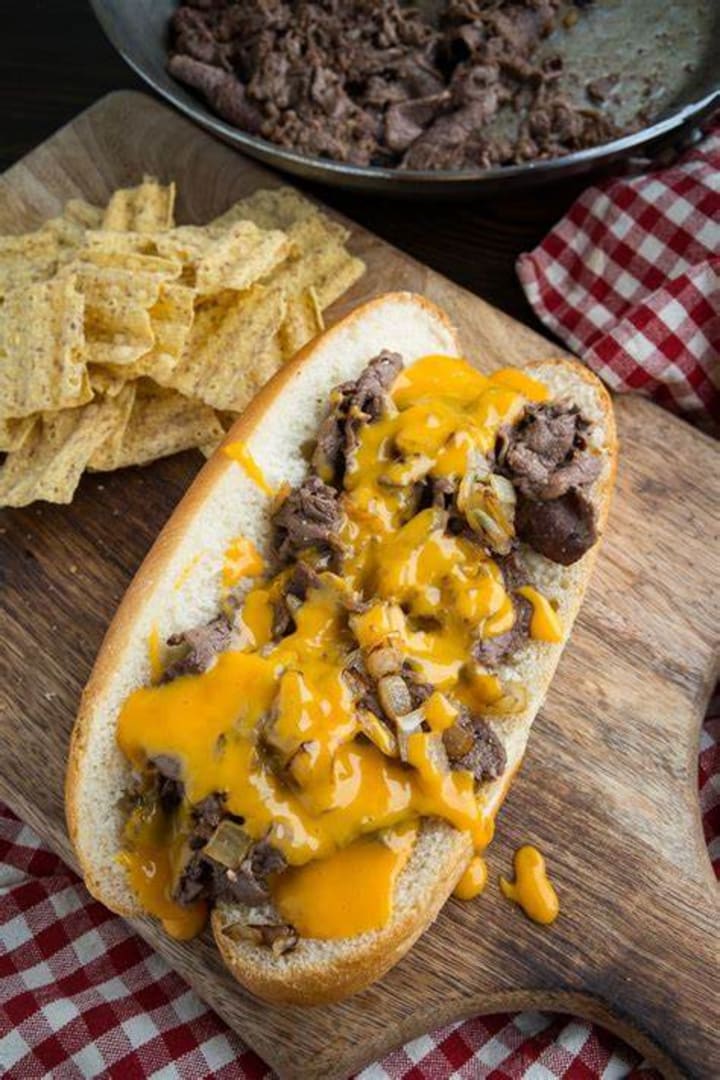 An iconic sandwich from Philadelphia is the Philly cheesesteak sandwich. A long crusty hoagie roll is split and filled with thinly sliced juicy rib-eye steak slices topped with melted cheese. Onions can be included.
Tennessee
Hot chicken sandwiches are the signature dish of Nashville. Crispy, fried marinated chicken pieces are served on toasted white buns. Various cuts of chicken can be used. The chicken is covered in a cayenne-based hot sauce. Toppings can include pickles, shredded lettuce, mayonnaise, or a sour cream dressing with herbs.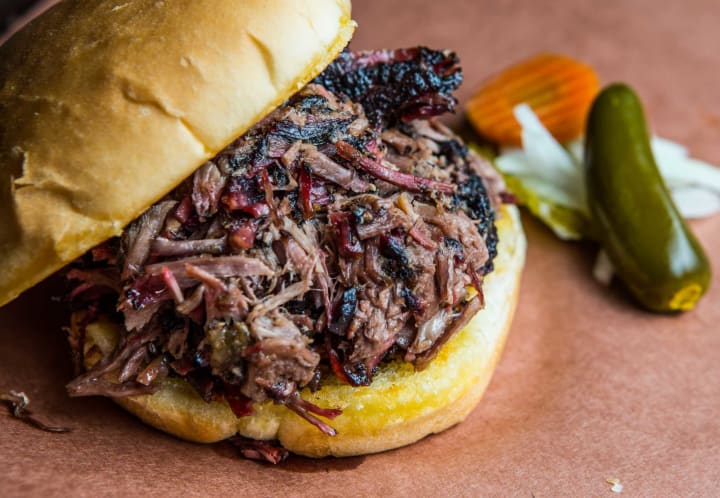 Texas
Texas brisket sandwiches are made with smoked brisket which is a long tradition in Texas. The slow-cooked smoked brisket is sliced and placed on a bun, drenched in its own juices, and topped with cheese, pickles, and onions.
Virginia
Ham biscuits are traditionally served as snacks or sandwiches in Virginia. A thin slice of country ham is placed on flaky biscuits. The biscuits are made with flour, baking powder, butter, fat or lard, and buttermilk. Ham biscuits are served with condiments like chutneys, jams, mustard, or honey mustard.
About the Creator
My passions are writing and creating poetry. I write for several sites online and have four themed blogs on Wordpress. Please follow me on Twitter.
Reader insights
Be the first to share your insights about this piece.
Add your insights