Philips HD2515/00 Toaster Review
Philips HD2515 / 00 HD2515 Daily Collection for Daily Use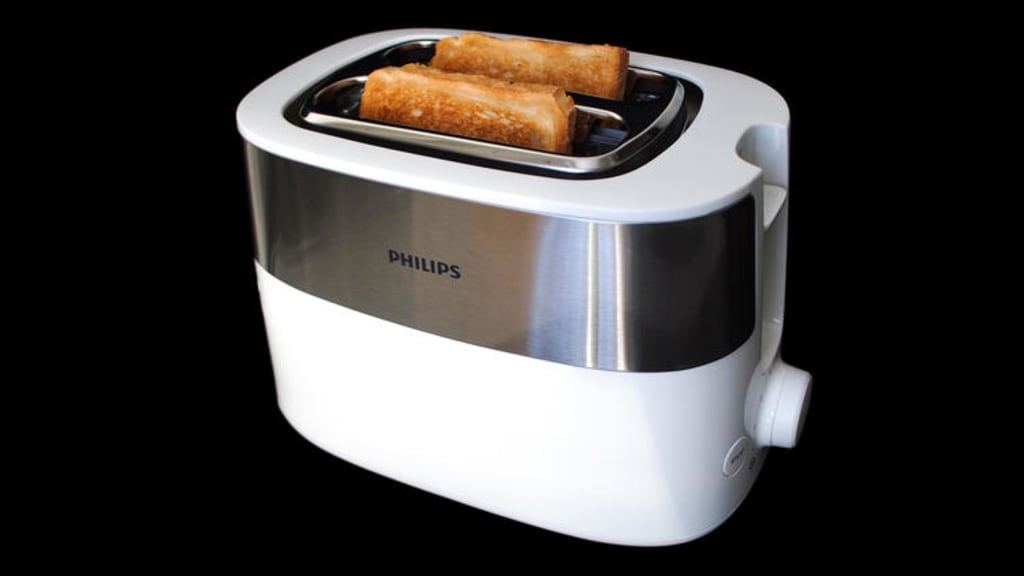 Everyone loves toasted toast with a golden crust and a soft center. You can make it on a hot, oil-free frying pan, at the risk of not getting what you expect, or you can use a toaster—a device that was created to become an indispensable morning assistant. Of course, this is a highly specialized device, but it is used every day.
Until recently, toasters were a variety of sophisticated devices that require the constant attention of the hostess. Modern devices are able to adapt to different types of bread, have an auto-shutdown system, simple warm-up modes and even defrosting. But, what is most important for many modern housewives? Design! The toaster is transformed from a simple kitchen assistant into an interior element. On one of these devices and will be discussed in this review. Meet the Philips HD2515/00 toaster.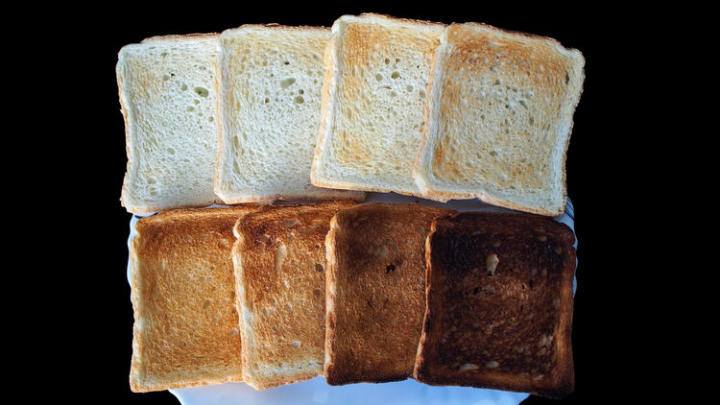 Specifications
General settings
Type: Toaster
Model: Philips HD2515/00
Primary Colors: White, Silver
Key Features
Power: 830 watts
Voltage: 220-240 V
The Number of Compartments: Two
Case Material: Plastic, Metal
The Number of Degrees of Frying: Eight
One-Sided Frying: No
Management: Mechanical
Heating Function: Is
Thermally Insulated Housing: Is
Features
Defrost Function: Is
Automatic Centering of Toasts: Yes
Extra Lift for Small Slices of Bread: Eat
Grill for Heating Buns: No
Non-Slip Feet: Is
Dimensions
• Height: 18 cm
• Width: 26 cm
• Depth: 17 cm
• Weight: 1.13 kg
Optional
Removable Crumb Tray, Automatic Shutdown, Cancel Button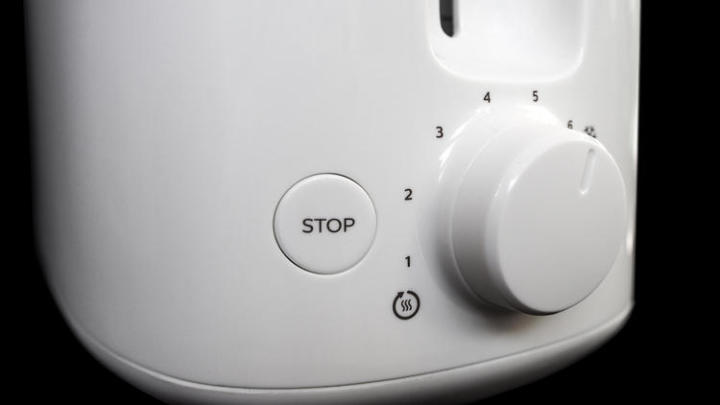 The delivery package of the toaster comes with a solid paper application in several languages: user manual, information booklet, warranty card and certificate of conformity. The papers contain brief information on the operation of the device, as well as safety tips. The warranty is two years.
Design
The form of the Philips HD2515 is a classic for this type of device. Due to the white glossy plastic with metal inserts, rounded corners and the minimum number of buttons and inscriptions, the toaster has a laconic modern design and organically fits into the interior of any kitchen. Light indicators, indicating the operation of the device is not provided. The quality of materials and workmanship is on top, however, as always, when it comes to home appliances from Philips. Front and back sides of the device look identical. To focus the toaster with respect to other items in the kitchen can be different—the front side can be either side except for the one with the tray.
Two rubberized legs of the toaster prevent sliding on any type of surface. Perforation at the bottom of the device is responsible for ventilation, and a simple cable management system helps to reduce the length of the cord if there is a lot of available 90 cm. For convenient withdrawal of the cord at the bottom there is a special notch. Plug—hybrid European, with grounding.
In Work Testing
In accordance with the fire safety technique, it is not necessary to place toasters near flammable objects (primarily curtains), as well as under wall kitchen cabinets. Before first use, the manufacturer recommends driving the toaster several times to idle (without bread) at the highest degree of roasting. This will remove possible dust and unpleasant odor. In our case, it took four cycles.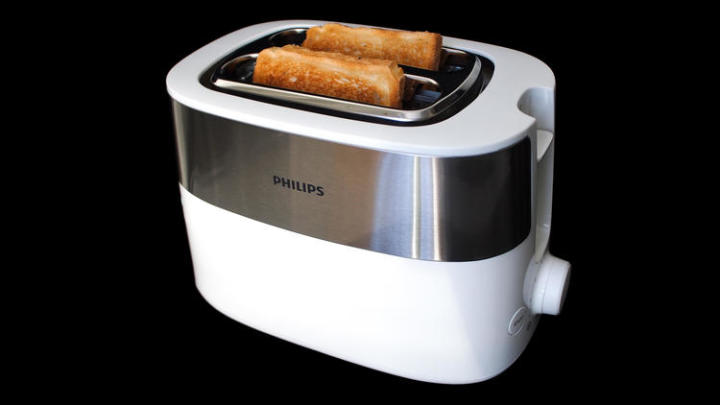 In a toaster, put pieces of bread corresponding to the slits size, not more. In this case, cracked or pieces with compromised integrity is better not to use—they can get stuck. You can not fry slices with butter, but the presence in the bread of fruit or raisins is allowed.
Choosing a cooking mode, you need to focus not only on the desired level of roast slices but also on the type of bread. Low degree of roasting is used for thin and dry pieces with lower moisture content, for sweet bread and bread with fruit or raisins. A high degree is suitable for thick slices, as well as rye and recently very popular whole-grain bread. Since the regulator is smooth, it is possible to set intermediate values.
After the slices of bread have been placed in the toaster, you need to put the regulator in the desired position and then lower the toaster lever down. If the toaster is not connected to the network, the lever in the lower position will not lock. At this point, the bread will fall down and clamp the grilles of the automatic centering system. After some time, the ready-made toasts "bounce" in their heating chambers. There is no special sound signal for the end of work. Pieces of standard size are easy to reach, fingers are not burning.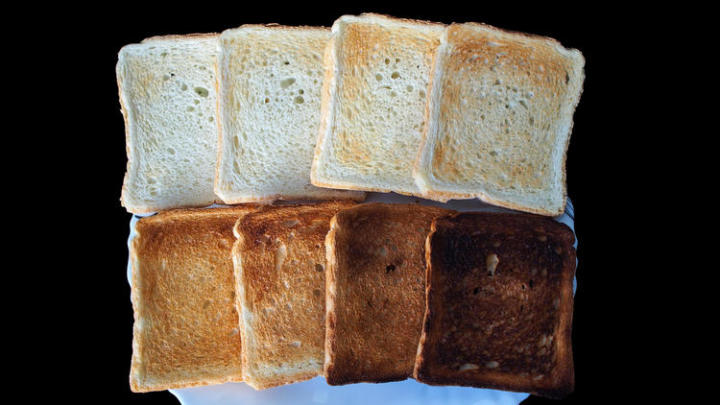 The buckwheat bread and the so-called bread for healthy nutrition (with a high content of dietary fiber and cereal inclusions) were approached with a degree of roasting of six and five, respectively. Each new type of bread needs to choose its own mode since even similar types of white turned out to need different degrees of roasting.
Pros
Concise Design
Predictable Results
Eight Degrees of Frying
Quality of Materials and Assembly
Easy Operation
Cons
Thermal Insulation of the Upper Part of the Body
No Heating Function Buns
Uninformative Instruction