Perfect Dough Every Time
How To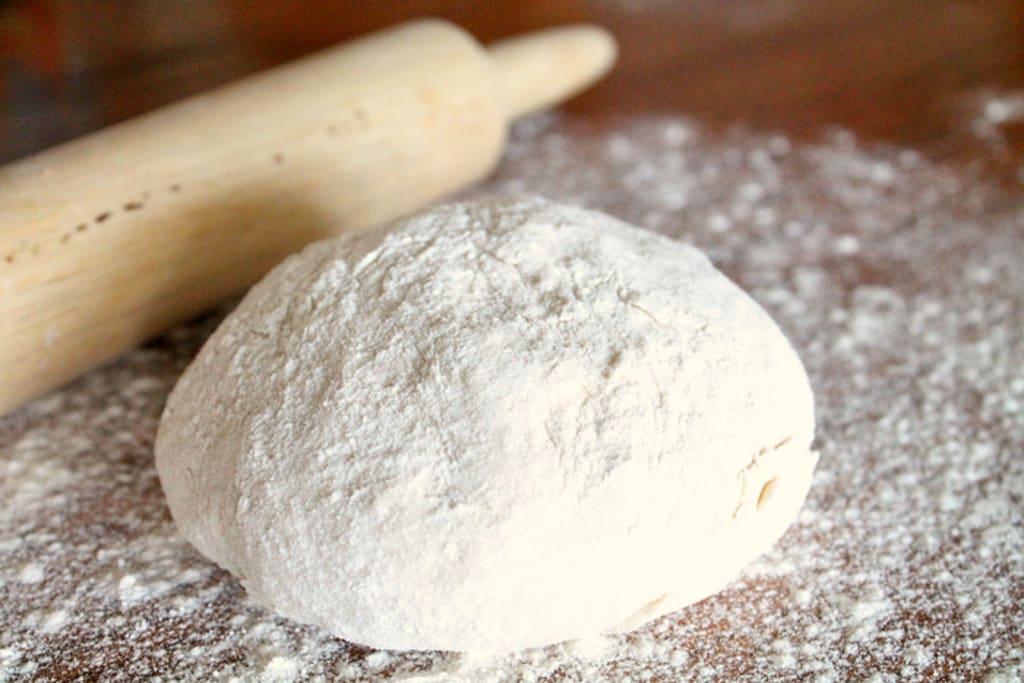 If you read my page on Egg Noodles you know I LOVE to handmade dough, like any kind of dough. Noodles, Breads, and especially pizza.
As you know, for the sake of word count, I tell stories. If you just want the recipe, scroll on down.
Ive always loved pizza, going to grandmas house with all the cousins and making our blanket forts to sleep in, ordering out pizza and wings, making brownies and watching movies until we fall asleep. Its a favorite in my immediate family as well. Everyone loves pizza and wings, we used to order it all the time for dinner when those night arose that mom and dad worked late and my sister and I didn't really feel like making dinner, we would order out a pizza.
I found my love of cooking in chicken. (I know that probably sounds funny) but i'm serious. I used to be really close with my youngest cousin, I considered her to be my sister and not my cousin (she seriously would spend WEEKS at my house... I even moved another bed and bed frame down in my room, just for her!) Anyways LOL, her parents NEVER cooked homemade meals… they literally went out every night (mainly because both her parents worked until about eight every night). But she loved to try new things and we always made desserts together when we went to grandmas house.
When my sister went off to college, my cousin was at my house like I said for week, so with our love for chicken, we wanted to try to make our own special seasoning for our famous chicken. Our family went CRAZY after this, we had the chicken down to a T; That perfectly juicy, easy to cut piece of chicken that had the best homemade seasoning on it. My cousin eventually went home and started making it almost every night for her family and as I made it for mine. Our grandma would beg us to come over "I need your famous chicken" as she would say. So we thought to ourselves how awesome it would be to make more… famous things. The first thing we tried was pizza dough. We soon found a way to perfect it, and then made that every night for our families. Again they were obsessed with what we had made, and now my mom requests it at least once a week. I hope to share more of these awesome recipes that my cousin and I made up over the last two years, our families adored them, so it must be worth sharing with the world.
Ive found this recipe makes about two LARGE pizzas, with a family of four, I tend to cut the recipe in half, and make four personal pizzas, or two medium pizzas.
I also found that this dough doesn't like to be frozen (you have to use it right away)…I once made a huge batch for a party I was hosting and it got all dried out in my freezer.
Ingredients:
2 cups warm water
1 TBSP yeast
1 TBSP salt
5 cups flour (divided)
4 TBSP olive oil
Directions:
Mix warm water a yeast, let sit for 5 minutes, or until yeast proofs
Add 2 1/2 cups of flour in a stand mixer, pour in water yeast mixture, mix with a dough hook
Add additional 2 1/2 cups of flour, add salt, and mix
Cover bowl with saran wrap, place in a dark warm place to rest for 20 minutes
Pour 2 TBPS of olive oil onto a baking pan, evenly coat
Move dough from bowl onto a floured surface, Cut dough in half and roll out each ball onto the baking pans
Preheat oven to 400 degrees
Style pizzas however you prefer (or try a breadstick recipe)
Cook pizzas in oven for 18-20 minutes (for breadsticks bake for 15 minutes)
I LOVE LOVE LOVE to make cinnamon sticks, or cheesy bread with this recipe as well!
how to