Pellet smoker vs Charcoal smoker: Which is better?
Smoking is an Art!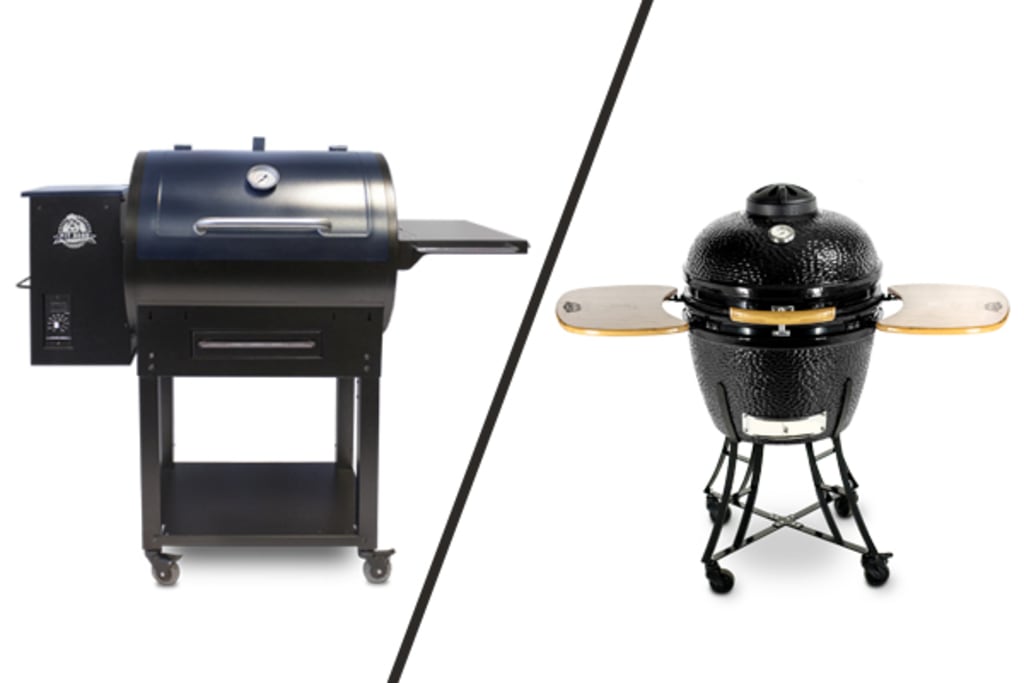 Smoking is an Art! It requires a lot of patience, quality meat and of course, practice with a bit of professional's help, especially when it comes to smoking meat. If someone thinks, throwing away wood chips over hot coals and observing smoke coming out of a brisket gives juiciest scrumptious meat then wake up from the dream! An authentic smoky flavoured piece of meat is prepared taking long hours where the entire mass is cooked precisely penetrating spices and smokiness.
While it's up to the cook to go for cold or hot smoking, just make sure to pick an excellent range of smoker and quality chips, chunks (wooden) or pieces. Here in the blog, you will get to know detailed information and comparison of pellet and charcoal smokers. Go on, read and pick our perfect smoker for the next barbeque jamboree!
Pellet Smoker
One of the most popular outdoor cooking pieces, vertical pellet smoker are ruling the market for more than three decades. These smoker's functions using food-grade wood pellets which are placed into the hopper of the burner and then ignited inside. The pellets catch heat from the "hot rod" producing heat and smoke after getting burned. Smoke risen adds smoky flavour without using wood chips (like charcoal smokers). Also, for beginners, it is easy to adjust high or low heat as per the preferences. Pellet Smokers are absolutely free from additives and fillers which are usually present in briquettes. So, in the end, it burns up altogether leaving no waste or ashes behind.
Charcoal Smoker
Charcoal Smokers are undeniably the favourite among the barbeque lovers! Today one can find variety in charcoal smokers when it comes to range, shape and sizes. Cooking meat or any food in a charcoal smoker usually takes reasonable time and needs practice and mastery as it needs a little assistance in controlling the internal temperature. One needs to collect briquettes that work as a primary source of fuel; alternatively many people prefer to use wood chips to the fire. However, the flavour and smokiness of the meat cooked in a charcoal smoker have no match! Although, winding up the setting also needs efforts as cleaning up ashes takes equal time and energy.
Compare and Contrast- Pellet Smoker vs Charcoal Smoker
Few factors help us to determine some unique features of each smoker while discussing the contrasting components that give the perfect smoking.
Flavour
Cooking with pellet smokers means the smoky taste will be a little absurd, giving a different taste and flavour to the food. Those who are addicted to the classic smoky flavour might not like the finished preparations of pellet smokers.
While the Charcoal smoker is the exact item that doesn't compromise with the authentic smoky flavour of the meat, also the availability of higher temperature, one can prepare meat with a good sear.
Ease of Use
Using a pellet smoker is easy to learn and handle; one has to keenly observe and practice filling the hopper with pellets and set the desired temperature for cooking. An auger installed in the smoker initially feeds the pellets to the firebox that will help it to burn. Rising the temperature will speed the process and ignite fire inside the smoker.
In Charcoal smokers, it needs more effort while cooking meat or any food. Initially one has to collect either charcoal chimney or fluid from igniting charcoal pieces. It will take around 30 minutes to be ready to cook on. For beginners, it is challenging to set up the charcoal grill, it needs help to set up temperature and airflow to cook food perfectly while handling functions of vents.
Temperature Range and Control
Pellet smokers function accurately on low flame than higher temperature. If you try to exceed 500°F, it will be hard to adjust temp. These days digital pellet smokers might help the users to control low or moderate smoke.
In charcoal smokers users can control the temperature by opening and closing air vents, it will increase the temperature if there is a good flow of air. Depending upon the size of the smoker, one needs to adjust the temperature. Well, smoking is always advised to be done in lower temps!
Run Time
In pellet smokers, it is expected to cook entire meat or food items within 8 to 9 hours without the need for extra pellets to add. One can cook and start to prepare with few pellets; in minimum cases, you have to open the lid and place more pellets for heat.
In charcoal ones, there is a wide range of cooking and smoking using different amounts of pellets according to the recipe and quantity. It will take more than 12 hours to prepare meat in a single loading of charcoal during low or medium smoke. Usually, smoking or grilling can end up preparing food in 10 hours if it is burning on hot and fast methods.
Versatility
Pellet smokers are usually for a single purpose and are not suitable for grilling. They can quickly cook on a lower or moderate level of heating temperature as higher is quite a problem in case of reaching with pellets. Also, they can catch heat quicker than charcoal.
With Charcoal smokers, it is always easy to cook food at low or high temperatures, as required by controlling the airflow. Also, charcoal smokers are versatile enough to cook, grill and smoke food.
Conclusion
It is necessary to select the right smoker that gives the unique flavour to your next smoky recipe. As you have gathered the peculiar details about the utility of both the smokers, it will be easy to select the ideal smoker!
Reader insights
Be the first to share your insights about this piece.
Add your insights