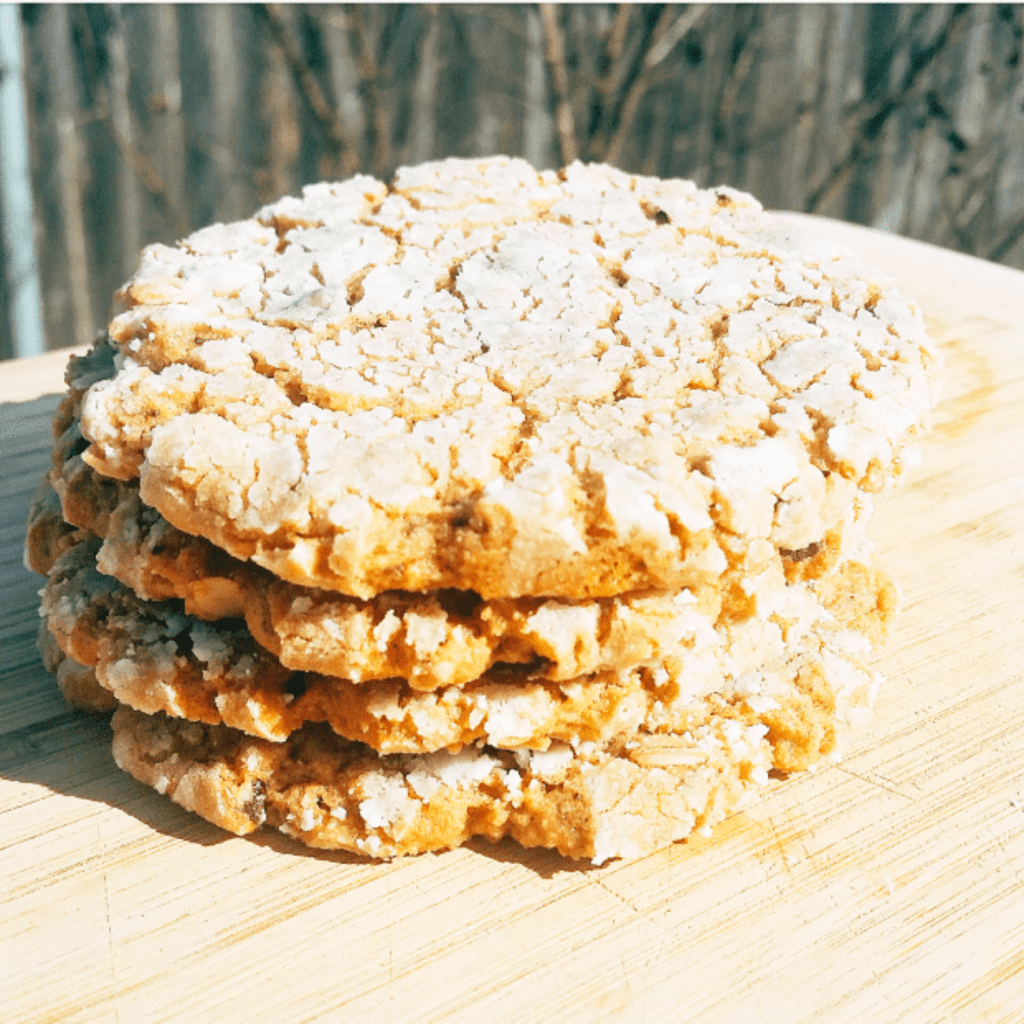 Here is what we are making!! Peanut Butter Crinkle Cookies!
Man, I practically grew up on peanut butter cookies! My mom had a recipe using just peanut butter, eggs, and sugar that she would whip up for almost every occasion. I usually crave them around the holidays, but since I'm vegan now, I had to improvise.
I tested and tested and tested and finally created a great recipe! Every time I make them, my mind goes back to the good old days, when I was a kid-- before I knew about rent, and deadlines, and working 40 hours a week to just barely afford life-- and I would bake in our tiny kitchen with my mom!
Looking back, I wasn't really helping-- I was probably just in my mom's way! But I'm grateful that she allowed me to annoy her while she baked because now my passion for baking is huge!!
As I was testing and tweaking my recipe for vegan peanut butter cookies, I wrote down what I wanted to incorporate: The fluffy, the sweet, the crispy edge, and the chewy center (like my Mom's recipe) but figured I'd spice it up a bit for the holiday by rolling them in powdered sugar before baking to give the "crinkle" look!
After I created a recipe that I was completely satisfied with, I brought some of the peanut butter crinkle cookies to my mom. I wasn't nervous about what she would say because she has always supported me and she has a huge sweet tooth! So as long as they were not burnt or too salty, she'd tell me they were good.
When I gave my mom the cookies to try she literally said "Hmm, these taste like the ones I used to make!" And I nearly fell on the floor! I was so excited that I got her approval and to hear from another person that I had succeeded in creating my favorite childhood cookies!!
But the true test was what my siblings would say. I knew they wouldn't sugar coat their answers-- and while neither of them said they tasted like Mom's, they did agree that it was a delicious cookie that didn't ' taste vegan '.
So… here is what I came up with. 100% vegan peanut butter cookies. Daughter tested, and mother approved!
Ingredients :
1 cup brown sugar (dark is preferred, but light is fine)
¼ cup applesauce
½ cup coconut oil, melted (can sub for melted vegan butter if needed)
1 tsp vanilla extract
¾ cup smooth peanut butter
1 tsp baking soda
1½ cups all purpose flour
OPTIONAL: ¼ cup oats + ¼ cup chocolate (chips or chopped)
OPTIONAL: ½ cup powdered sugar (for coating)
Instructions :
Preheat your oven to 350*, and lightly grease a cookie sheet (or use parchment paper to cover it).
Combine your brown sugar, applesauce, oil, vanilla, and peanut butter in a medium bowl. Mix until a smooth and uniform batter forms.
Add in your flour and baking soda, and mix until incorporated.
Fold in chocolate and oats. These items are not needed, but I like the extra texture from the oats and the sweetness of the chocolate!!
Scoop 2-3 TBSP sized balls of dough and roll them in powdered sugar
Flatten slightly onto cookie sheet. Just a light push, don't press them down too much.
Bake for 9-11 minutes or until the edges are lightly browned.
DEVOUR! Share with friends and family if you feel led to, haha.
Feel free to add some oats for extra protein, or chocolate chips for some more sweetness. Let me know if you tried this recipe or made any changes and how your cookies turned out!
These cookies make a great gift or stocking stuffer for the holidays! Not only are they beautiful, but they're also delicious and they stay fresh and chewy for 3 days!