Pâte Sucrée, Whipped Mascarpone, and Raspberry Coulis
The cookie combination of endless variation.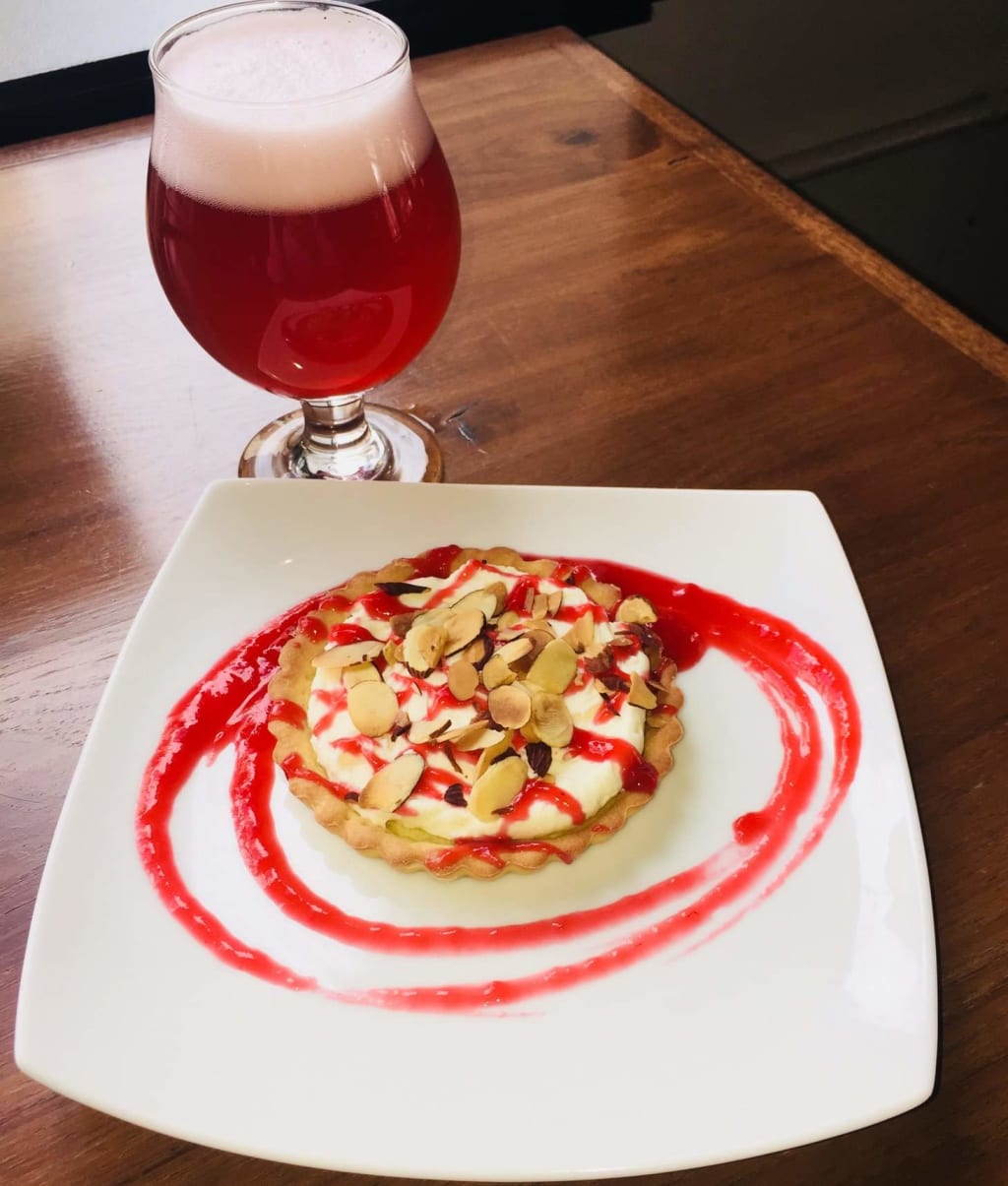 The cookie is evolving.
When you create any dish you need to consider its sweetness, acidity, fat content, and texture. When you create a cookie, you need to consider all of these things and multiple them by 100. After all, there isn't tons of salt, smoke, umami, or bitterness to hide behind.
Once you find that perfect balance of flavors and textures you'll find it quite difficult stop reaching for another cookie. Which is fun once in a while! In my opinion, it's what dessert on the holidays are is about!
I make at least one variation of these cookies every holiday season, even if it's just me celebrating. These treats don't stick around long.
The real mind blowing aspect of these three basically prepared building blocks (cookie, frosting, and jam) is how infinitely different your cookie can become.
The Dough
This specific cookie dough recipe has the sweetness and flavor of a subtle lemon vanilla sugar cookie, while having a slightly sturdier texture of a short bread. Which means it can handle decadent amounts of creamy frosting, which we will be balancing out with a sweet but acidic jam.
Apart from this dough being delicious on its own, I'm a firm believer that this is one of the most versatile doughs in existence.
For example, the cookie dough can be pressed into a tart tin, pie pan, or whole sheet tray and blind baked. This can results in your finished product resembling a "no bake cheesecake" cookie...of sorts
Or even stranger...
I've cut out doughnut shapes and deep fried them until golden brown, delicious.
Hell, I've chilled this dough close to frozen and used a cheese grater to make miniature shredded cookies. Which I then flash fried. Imagine funnel cake prepared like speatzle dumplings in the form of tiny deep fried sugar cookies. I know, I need to get help.
But truly...
95 times out of a 100 I roll it out flat and bake it like a regular sugar cookie. A decorated rolling pin looks beautiful on this dough, and who doesn't love to get all their cookie cutters out at once.
Cookie Dough Ingredients
200 g. butter softened
200 g. caster sugar
1 vanilla bean, split and scrapped
2 lemons, zested
4 eggs lightly beaten
500 g. AP Flour
- Beat butter and sugar, then fold in vanilla and lemon zest.
- Gradually add eggs.
- Gently fold in flour, don't overwork.
- Rest wrapped until throughly chilled before rolling.
The bake time solely depends on the size of you cookie or project, either way roll your dough out on a lightly floured surface 1/4 inch thick.
If it's going to be blind baked in a pie pan, grease and flour the pan. Press the dough into the pan and using a fork dock holes into the cookie. Place parchment over the dough and then pour in roughly a pound of dried beans, or marbles, or anything to keep the dough flat. 12 minutes at 400 degrees should do it.
If your cutting out regular sized cookies it should be easier to check when their done, start by laying parchment on a sheet tray and spacing your cookies at least an inch apart. Bake 6 minutes at 375 degrees. If cookies seem slightly doughy in the middle give them another two minutes and check again.
This dough freezes well, makes a to die for stand alone cookie, and can easily be blind baked for huge projects like mock "pies" or "cheesecake".
The Frosting
This is where the good old fashioned holiday cookie fun really comes to life. Any kid will tell you the best part about making cookies is decorating them with frosting, and I think most adults will agree.
This frosting is rich, and it's sweetness isn't so overwhelming that it will leave your teeth ringing. This means you can really lay it on these cookies thick, thankfully, you have a sturdy cookie that can take it. Sometimes I'll even bake the dough off into rectangles just so they make the perfect scoop for my tub of frosting.
Frosting Ingredients
2 lbs. Marscarpone
8oz, Heavy Cream
1. c. powdered sugar
1 t. sea salt
1T. Vanilla Extract
Juice of half a lemon.
-Whip all ingredients until fully incorporated.
If marscarpone seems a bit expensive, use cream cheese, just leave out the lemon juice. You won't be disappointed, and it's abit more affordable for bigger projects.
As lovely as a fresh baked batch of cookies and a tub of frosting is, we need some jam to contrast and liven it up. It's essential for tangy brightness, as well as color. It's also just really fun to make. Your home will smell magical.
Jam Ingredients
340g. Raspberries
80 g. Caster suger
10 g. sea salt
100 g. Chardonnay
5 g. pectin
Juice of half a lemon.
-Bring all ingredients to a simmer for a minute.
- Blend until smooth.
-Pour through a fine strainer to remove seeds.
- Add pectin, and return to a simmer for a minute.
-Cool down before using.
The beautiful thing about this jam recipe is that it can be swapped out for other fruit. Blueberries for example won't need to be run through a strainer to remove seeds. Also try pineapple or blackberries!
If you want to be the ultimate over achiever, make a double batch of jam before putting your frosting together. Keep the jam hot and slowly add your jam to the frosting ingredients while whipping them all together. It won't hurt the consistency of the frosting, it will take on a beautiful color, as well as enhance the flavor. (Side note, this is how I make blueberry cream cheese, with... you guessed it...sweetened cream cheese whipped with hot blueberry jam.)
Alternatively, to get a simpler, rustic, and still effective, way to cut through the richness of the frosting is to skip the jam and thinly slice any fruit you want to place on top.
One final tip, if I'm not using fresh fruit I'll place sliced roasted almonds or crushed hazelnuts on top. It gives some nice added texture.
Lastly, I'd like to say that the recipes I've written here can be used in any million of ways, and ultimately it's up to you to see what sparked inspiration.
I've simply baked this dough off hundreds of times and only had compliments, but that's a bit safe. Why not push the envelope? Blow somebody's mind this holiday with a cookie that's obviously original.
Be a freak of nature. Use all of your less utilized resources at your disposal. Hopefully including some tools you picked up from this article.
My Chocolate Zuchini Cake recipe will be coming up soon.
Thank you for reading, and happy holidays!
recipe
Young chef from the Midwest writing recipies and cooking stories. My content's only on Vocal. Please consider supporting by sharing anything you enjoy or by leaving a tip. It's greatly appreciated! Thanks and enjoy!