Passover Brisket
Family, Love, Culture, and a Recipe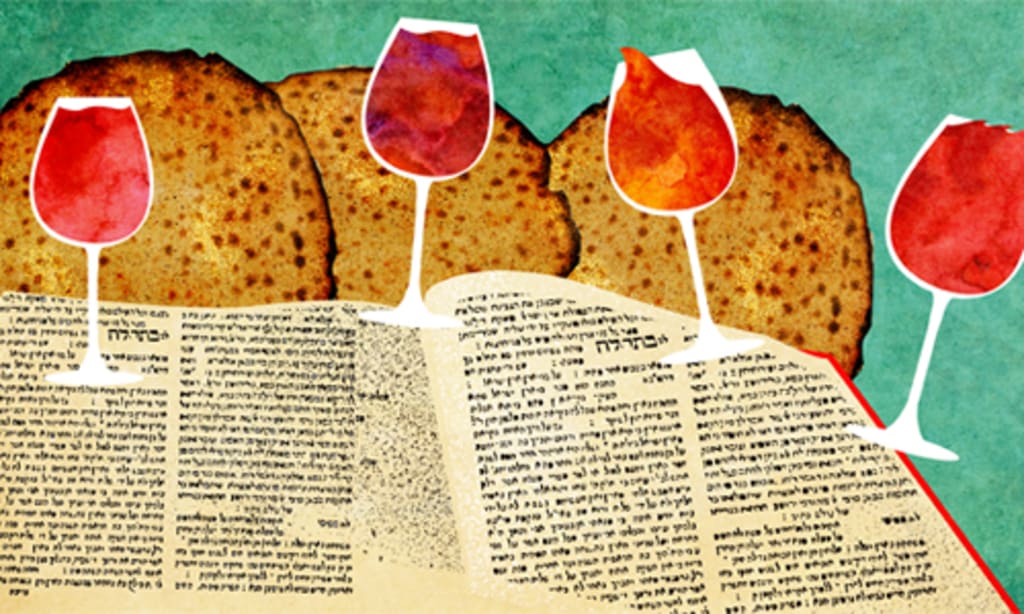 My grandmother has never been an amazing cook. She hated cooking and always took the easy way out. Microwave "baked" potatoes, instant mashed potatoes, seasoning packets of every variety, her cookies were made from boxed cake mix, and her chicken salad was made with store bought rotisserie chicken. The only two things Alice Meisel ever made from scratch was matzo ball soup and Passover dinner, specifically "The Best Passover Brisket."
It would be about eight in the morning on the first day of Passover, and I remember getting onto one of our mahogany stained dining room chairs and pulling down her cookbook, a thick blue folder that housed every recipe she makes on Passover. I searched for the stained and flimsy notecard that read "The Best Passover Brisket" that my grandma wrote one day on her lunch break at work. She was an English teacher at the middle school up the street, so her handwriting was distinctive and curly, slightly difficult to read like almost every English teacher anyone has ever had.
She pulled the brisket out of the fridge, along with a bottle of Canada Dry ginger ale. My grandma is very particular with brands. "I only use the best," she would say. I would go into the pantry, a narrow pea green cabinet my grandmother purchased one day at Pier One Imports on a whim. There stood the pièce de résistance, Lipton's French onion soup dip packets. She would leave all of the fat on the brisket, and slice it in half the long way down the middle, and then cut those pieces in half again. Into her Crock-Pot they went.
Next was my part. I would open the two-liter bottle of soda carefully, making sure it didn't explode. As my grandmother would open three packets of soup mix, I would pour us half-glasses of ginger ale, a treat for being her helper. She would massage the seasoning onto every inch of the brisket, as a BBQ pit master would do to a prize-winning rack of ribs. Then in went roughly half a bottle of soda, directly into the Crock-Pot. She would leave the soda on the counter with the cap half off, letting the soda go flat on purpose. The Crock-Pot went on high for four hours and then on low for about eight hours or until the brisket was "pulling like the threads of an old sweater," as my grandmother would say. If the liquid ever got lower than halfway down the meat, she would pour the flat soda over it, bringing it just to the top. This happened about three times throughout the day.
The house was filled with a bouquet with slow cooking brisket, noodle and potato kugel, and seasoned potatoes. Right before the Seder started, my grandmother would take the brisket out, cover it in foil and keep it in a warm oven. Then she would bring the cooking liquid to a boil in a medium sized pot and add a slurry of cornstarch and water, just to thicken it just a bit.
After Seder, my mom and grandma would bring all of the food into the dining room and onto the table. We made Elijah's plate, filled his cup with wine, and then filled our own. Elijah, according to Jewish belief, will be the forerunner of the Messiah. In preparation for the Messiah's coming, he will resolve doubts and restore peace to the earth. He is significant in the Passover because the Passover is not only is a celebration of past deliverance but also looks to future freedom from bondage. As the Jewish people look to Elijah for the resolution of doubts and as a bearer of peace, his ministry has become intimately intertwined with the Passover feast. My grandmother once told us that Elijah is a vegetarian and doesn't eat brisket (I know now that she just didn't want to waste any).
My favorite dish to soak up all of the brisket gravy was seasoned potatoes: boiled potatoes rolled in melted margarine mixed with half of a packet of soup mix and baked in the oven while the brisket stayed warm. They were crispy and soft all at once. I believe they tasted like happiness. My family always stuffed themselves to the brim, then would sit and talk for hours. After the Seder was over and we were all half-asleep there was one last thing to do, the matzo hunt. My grandparents would hide two pieces of chocolate covered matzo wrapped in paper towels around the house for my brother and I to find. It was a race between the two of us to see who would find one first. I always look back on this day and smile; The Best Passover Brisket reminds me of such amazing times with my family, and shows me how I came to love food and my Jewish culture.
The Best Passover Brisket
The Best Passover Brisket Yield: 10 servings
5-7lbs Beef brisket; cut to fit in your slow cooker or crockpot
3 Packets of Lipton's French onion soup mix
2L Ginger ale
2Tb Corn starch
4Tb Water
Method
Cut brisket to pieces that fit into your slow cooker or crockpot (keep in large chunks) and place on the bottom of a Crock-Pot (some overlapping is okay)
Open 3 packets of Lipton's French onion soup mix and sprinkle over the top of the brisket in an even layer
Add 1 liter of ginger ale to the crockpot, save the extra liter for later.
Plug in crockpot and set at high for 4 hours
Turn temperature down to low for another 8 hours, or until brisket is fork tender; should gently pull apart with just a fork.
Heat oven to 300 degrees
Remove brisket from crock pot and put in a glass baking dish then cover in foil, put in oven to keep warm
Put half of the cooking liquid into a medium sized sauce pan and bring to a low boil.
Mix corn starch with water until lumps are gone. Stir into cooking liquid and bring back to boil.
Pour thickened cooking liquid into a bowl or pourer
Pull brisket out of the oven and top with thickened cooking liquid.