Overnight Oats: The Fastest And Most Delicious Meal For Busy Professionals
Meal prep has NEVER been this easy!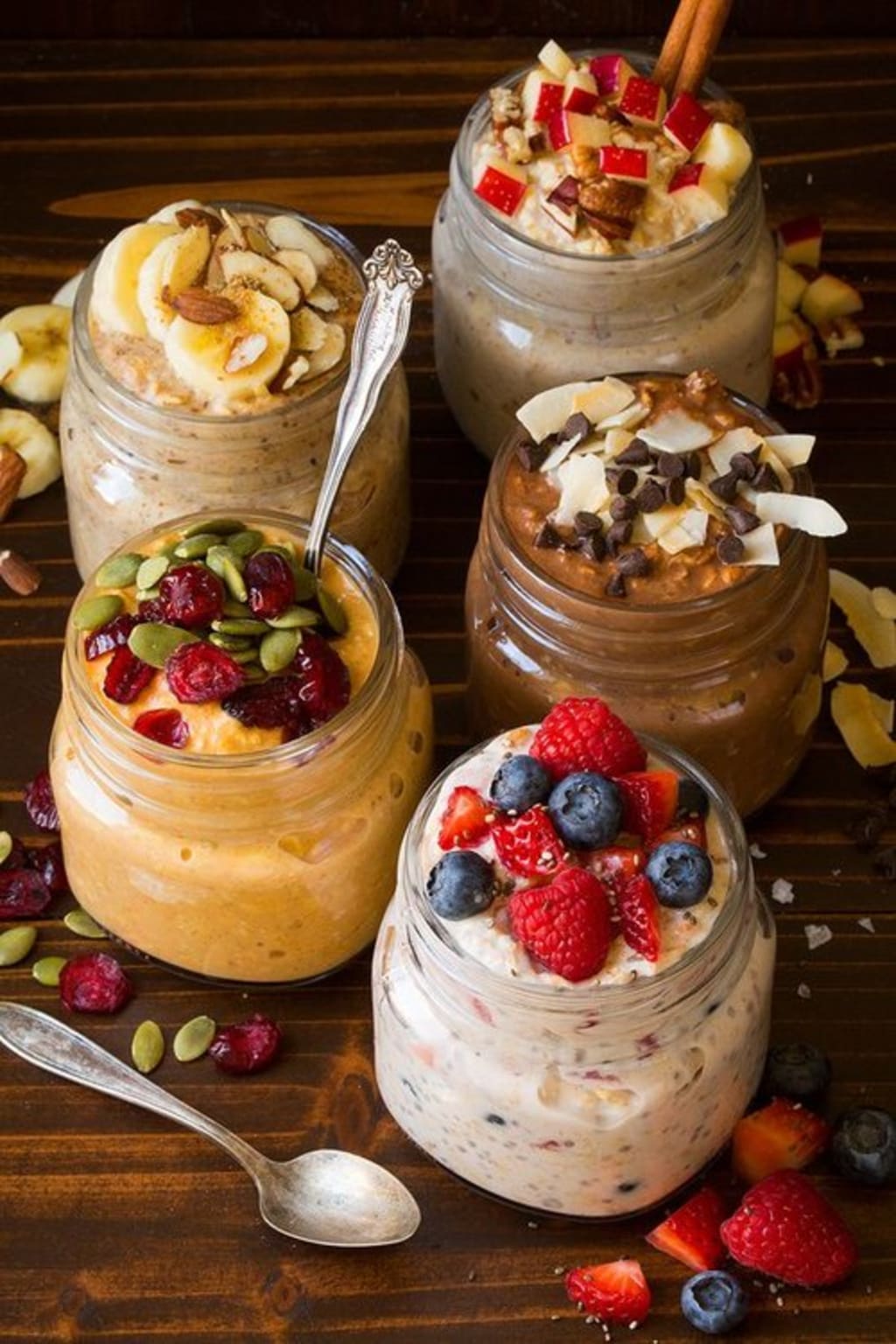 Overnight Oats has been gaining more and more popularity lately, and for good reason, too! It's arguably the perfect meal prep option for busy people and it's extremely tasty, too! I'm going to take you through how to make your own customized overnight oats.
There are no recipes required (though I will post a few at the end of this article anyway!) Overnight Oats are fully customizable and how healthy and how it tastes is completely up to you!
The first thing you will want to do is make sure you have a sealed jar. I bought some cheap mason jars from the dollar store; that's all you need!
Now you can get started with rolled oats. You can use any type of Rolled Oats, but keep in mind instant oats don't work as well—I personally use the basic Quaker Oats.
Next, choose your liquid of choice. I used normal milk but you can also opt for unsweetened milk or coconut milk or any other flavoured milk or liquid of your choice. Don't be afraid to experiment!
Using Greek yogurt can make Overnight Oats rich and creamy if you like your overnight oats in that texture. You can use plain or flavored yogurt, it's all up to you!
Adding seeds such as chia and flax can provide a good amount of fiber, omega-3's, and protein if you want a healthier bowl of oats.
To sweeten the deal, adding real maple syrup, stevia, brown sugar, and even chopped dates can make your Overnight Oats even more enjoyable.
Add all of these things to the jar (you can layer it however you'd like) and then pop the jars in the fridge and leave them overnight! That's it!
After the oats have chilled overnight, make sure the jar is sealed and shake it up! You may want to add a little bit more liquid at this point. It all depends on what texture you like.
Now comes the fun part! Take fresh fruits and nuts of your choice and top the jars with them and enjoy!
You can make as many Overnight Oats as you want and keep them in the fridge. I tend to make three at a time, as I feel they stay their freshest for up to three days in the fridge but I know of people who make five for their full work-week.
Now, I said you don't HAVE to follow recipes with Overnight Oats, but there are some really delicious recipes out there. Here are a couple I'd recommend:
PB and Bananas Overnight Oats

Makes: 2 servings
INGREDIENTS
1 ripe banana (mashed - about ½ cup)
¼ cup of creamy peanut butter
1 cup of rolled oats
1 cup unsweetened almond milk
½ teaspoon vanilla extract
½ teaspoon ground cinnamon
1 teaspoon light agave or honey
1 tablespoon chia seeds (optional)
Optional Toppings:
Sliced Bananas
Cinnamon
Drizzle of Maple Syrup or Honey
Coconut shavings
Dark chocolate shavings or chips
INSTRUCTIONS
In a medium bowl, mash your banana with a fork.
Add the remaining ingredients to the bowl and mix until well combined.
Pour the mixture into two airtight containers and refrigerate for at least three hours or overnight.
When ready to eat, give the oats a good stir, add toppings of your choice, and dig in!
PB & J OVERNIGHT OATS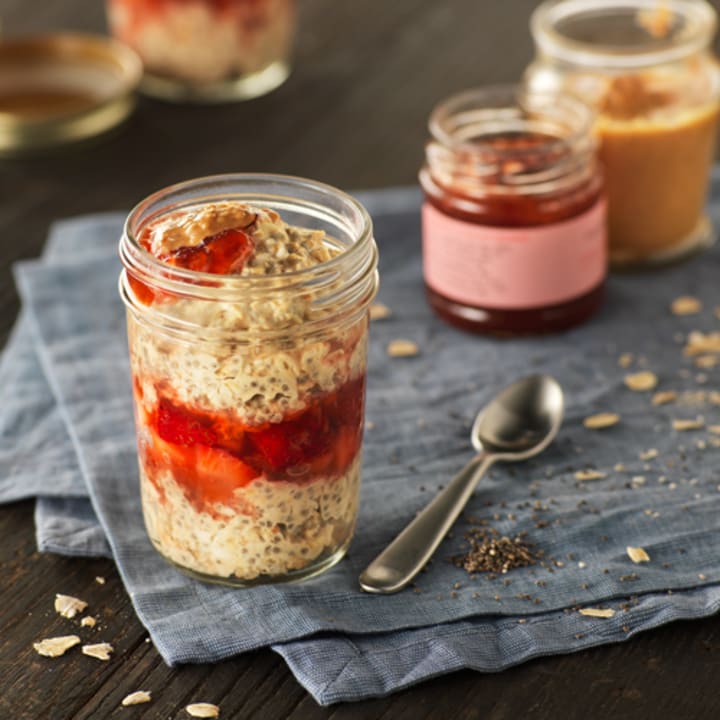 INGREDIENTS
3/4 cup old-fashioned rolled oats
2 tablespoons Peter Pan® Simply Ground Peanut Butter
3/4 cup almond milk
1 tablespoon seedless strawberry jam
1/2 cup chopped fresh strawberries
1 tablespoon chia seeds
DIRECTIONS
Stir together oats, peanut butter, almond milk, and chia seeds in a bowl. In another small bowl, stir together strawberries and jam gently.
Fill two jars with half of the oat mixture. Top evenly with the strawberry mixture and then add the remaining oat mixture. Put the lid on the jar and put in the refrigerator for at least four hours. For best results, chill overnight. Scoop a small spoonful of peanut butter and put it on top with strawberry jam just before serving.
Source: Ready Set Eat!
recipe
Veronica is a freelance writer from Toronto. Passionate about cats, astronomy, painting, comedy and beauty.
Receive stories by Veronica Thor in

your feed