There's nothing more nostalgic in the fall & winter than sipping on a nice mug of hot cocoa on a chilly day. It's a drink both sweet and rich that makes you feel cozy and at home no matter where you are. Not to mention, what cup of hot chocolate doesn't stir up wonderful memories of us as children sipping on a fresh mug of the good stuff after playing outside in the snow all day?
While hot chocolate can be a very simple and basic drink, it can also be elevated to amazing new heights that we never thought possible, and these heights are more than worthy of even the most mature and tasteful people.
So we've done the "hard" work of scouring the internet for, what we think, are the BEST hot cocoa recipes we can find. So gather your chocolates and your whipped cream and your favorite mug, and let's dig into some cocoa!
1. Creamy Hot Cocoa from Jeanie Bean
This creamy and delicious hot cocoa recipe from Jeanie Bean on AllRecipes.com is a classic take on the beverage, and one that you definitely need to make! It feels old-fashioned as you are making it, and it feels even more nostalgic when you take a drink.
Add some whipped cream and chocolate dusting to make this drink even more decadent!
Here is the link to the full recipe, and we've also outlined some personal notes on the some of the ingredients!
To make the most rich and decadent classic hot chocolate, we would recommend using whole milk. But, feel free to substitute this for your favorite dairy free alternative if you would like! The sky is really the limit here!
This recipe calls for vanilla extract, and we would suggest using pure real vanilla extract. It is more expensive then the imitation stuff, but you can really taste the difference, and it generally still lasts a while! If you want to get even fancier with it, you could buy raw vanilla beans and add in the delicious, sweet insides! We would suggest adding a bean pod or two into the pot as you are heating up the milk to add a delicious vanilla taste!
2. French Hot Chocolate From The Sweetest Occasion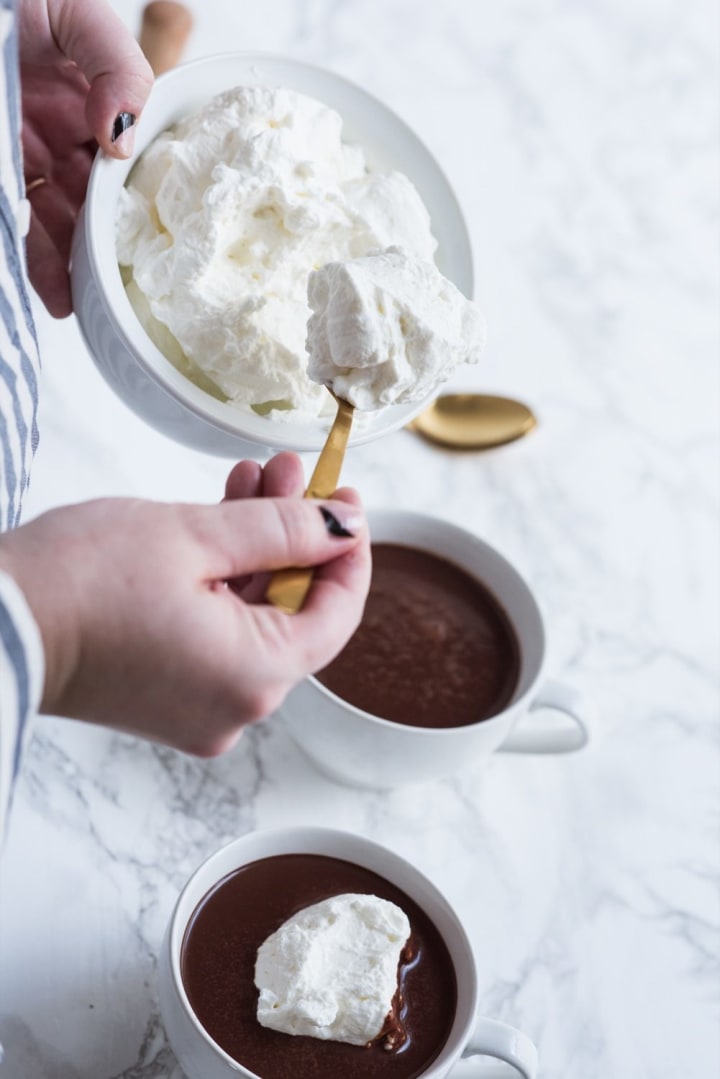 If you are looking for a decadent dark chocolate recipe for hot cocoa, look no further than this amazing French Hot Chocolate from Cyd Converse at The Sweetest Occasion! You'll feel like you are sitting in a French cafe while you sip on this one, and making it will make you feel like a real chef!
Click here for her full recipe and article!
We think one of the most important things to really elevate your hot chocolate at home is making homemade fresh whipped cream! Here's a yummy recipe we found that makes it pretty easy to make!
3. Vanilla Mocha Hot Cocoa from Half Baked Harvest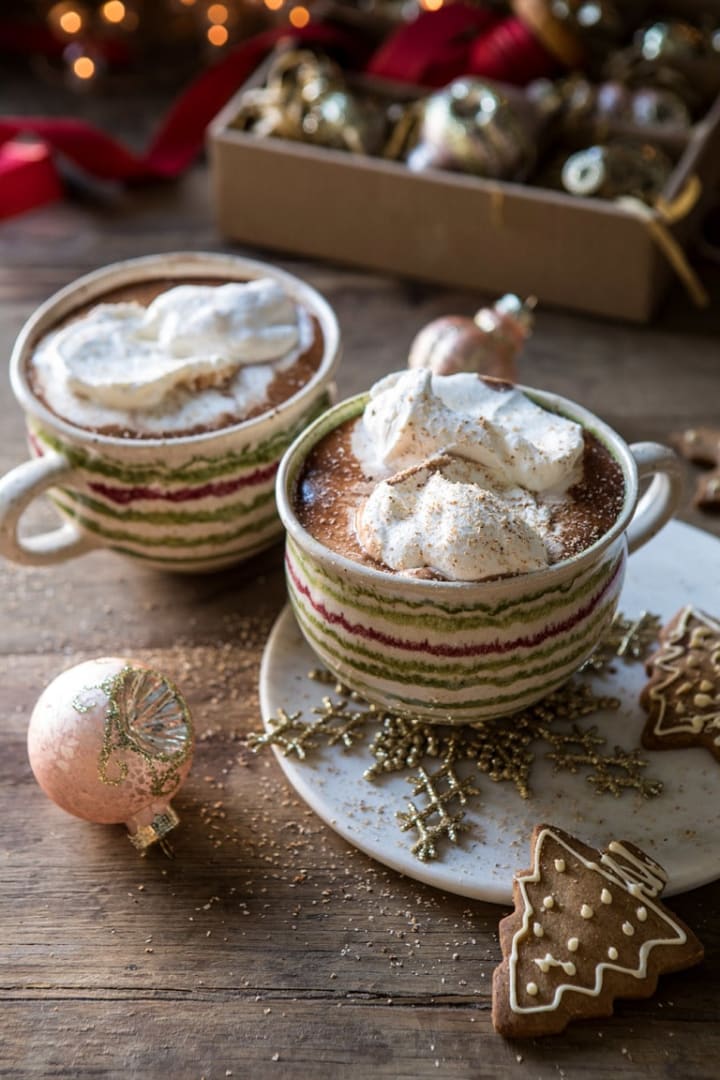 This recipe for a vanilla mocha hot cocoa is the perfect recipe for coffee lovers. Combining milk, maple syrup, and instant coffee, this is an easy recipe that you'll fall in love with on the first sip!
You can find the full recipe here!
As she mentions in her blog article about this recipe, it feels very rich and indulgent, but it's actually not loaded with a bunch of sugar like some other recipes! That means you can drink more of this recipe through the cold days of winter.
4. Peppermint White Hot Chocolate from Creme de la Crumb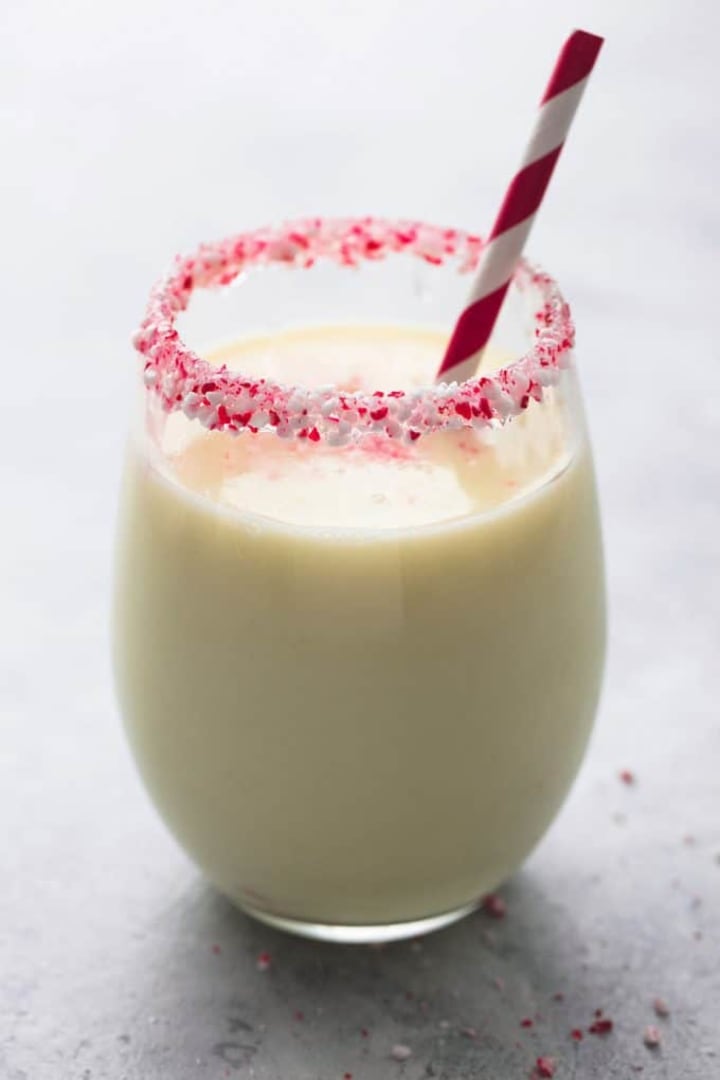 You were waiting for a white chocolate recipe on this list weren't you? This delicious peppermint white hot cocoa just SCREAMS Christmas! They list the crushed candy canes as an optional ingredient, but we would think they are definitely necessary! :)
5. Nutella Hot Chocolate from Gimmie Some Oven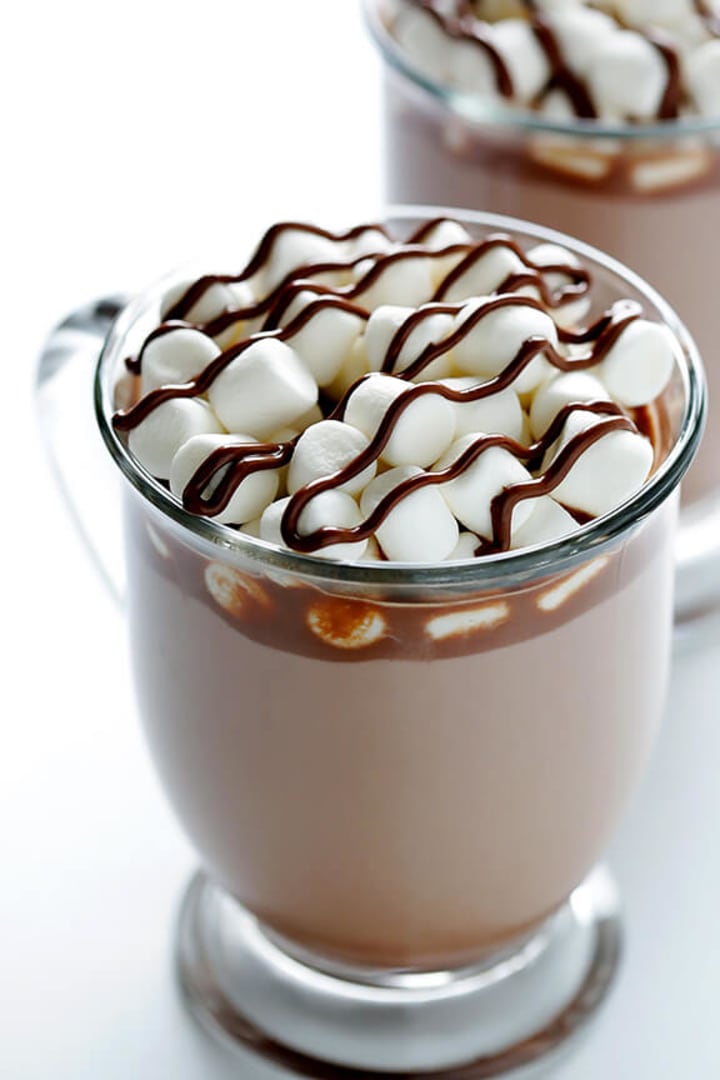 We couldn't in good faith make a hot chocolate recipe list without including one with Nutella! What makes this recipe even better, is that is only has 2 ingredients! Talk about easy right? Top it off with some homemade whipped cream or homemade marshmallows and you have a cup of cocoa that even Santa Claus would approve of!