On the 8th Day, God Made Maryland Blue Crabs
an ode to crabs, rites of passage, cicadas and the Eastern Shore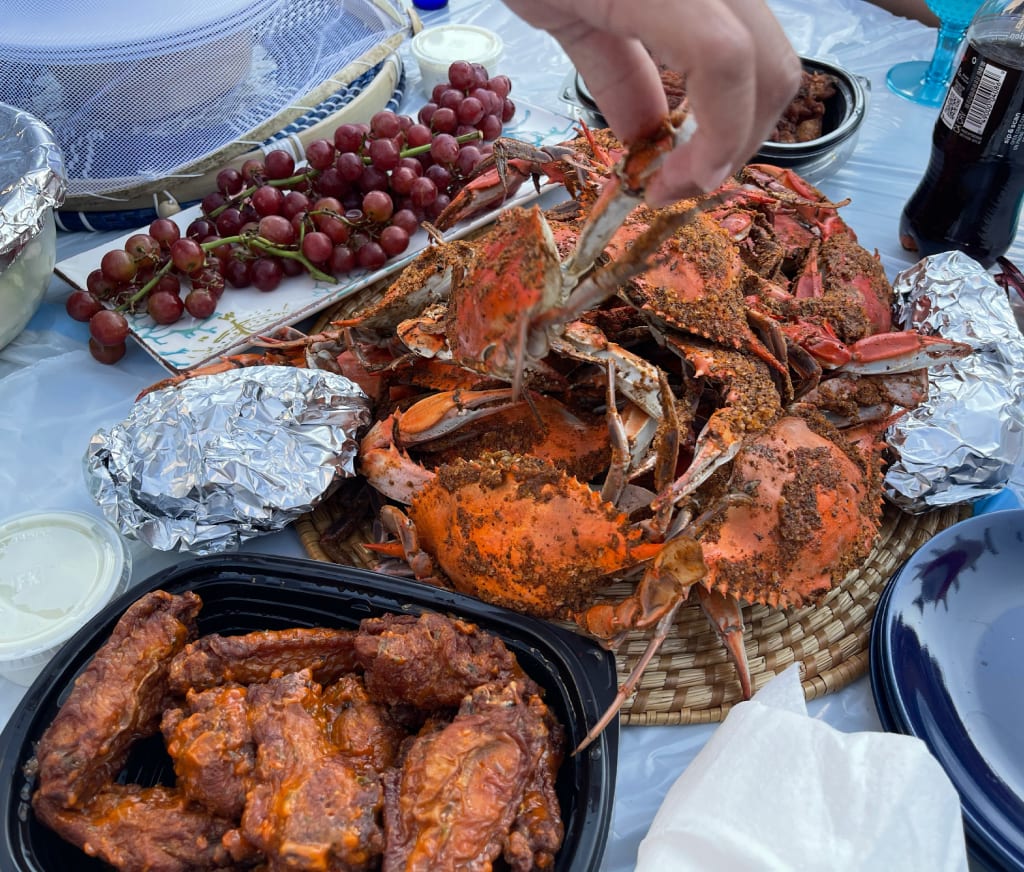 Eating with friends in person, June 2021 - Personal Image
The Maryland blue crab is at the heart of the state's cuisine. On bumpers, backpacks, masks the Maryland blue crab is everywhere in this Chesapeake-centric state. My earliest summer memories include sitting outdoors, waiting for the blue crab to be cooked down and powdered up in Old Bay seasoning, a seasoning that is a staple and can be used on anything from corn to poultry.
This is a Maryland summer, an event where Maryland blue crab is the sacrificial guest of honor. After all, despite its centrality to Maryland cuisine, the blue crab is expensive. So for many reasons, blue crab has never been food for fast consumption. Unlike any other Maryland food, it is a food that requires intimate work; the intention to be social; cold beers, or Thousand-Island-type homemade sauces and melted butters. Forego the dressy white tablecloths, Maryland blue crabs are best served on a wooden plank summer picnic table covered in old newspapers and small city gazettes. The running competition at the table is guessing how many one will eat. There are crab mallets and seafood crackers strategically placed for group access.
The tools mean it is serious. There is a method. There are slight variations, too. But, one thing for sure: those legs must come off first. They must be pulled out with the appropriate force, a gentle tug that looks like you know what strength level is required at first eyeballing that steamed blue crab. The legs are always the surprise-factor and a snapshot of the meat in the main crab body. They are important. Did you make a clean pull when you pulled it? Was the tug clean enough that the succulent meat was full enough to be bitten and then sucked for its sweetness?
Blue crab is sweet, thin, white except for when covered in its own "mustard". It is an easy texture against the tongue. Maryland blue crabs make for excellent storytelling; everyone becomes a griot. It feels so intrinsically human to eat from fresh waters and work collectively passing mallets and crackers to get the precious protein. Everyone offers or consumes a story at the altar of the Maryland blue crab. Everyone instinctively knows that good crabs create neural pathways in the brain. It is special: the crabs, the stories, the moment will not be forgotten.
So, throughout summer 2020 and into 2021, when the pandemic rightfully hoarded our brains and sheltered us in place - travel for me became an extremely local endeavor and social summer gatherings with family members and friends around sacrificial crabs came to a halt. It personally felt like a crabless summer for me - without friends and family to share in the experience, I would not be purchasing crabs.
By March 2021, some things had improved. But I personally had to stay within the state, a condition for my daughter to be able to attend her school in-person. I modified exploring by driving the coastal walls of this small Mid-Atlantic state I call home. So, when spring break came in April 2021, I decided on what I called the Maryland daycation. I dropped my daughter off at school. She had a different spring break schedule than I did as a teacher for DC Public Schools, and then I headed to a small town within two hours of her school. My condition was to be back by the time her school bell rang for dismissal.
Maryland is divided into two basic divisions: the Western Shore - warning - people do not really use this term colloquially, but it simply means the counties in Maryland west of the Chesapeake Bay and the Eastern Shore which people very much use colloquially- the counties east of the Chesapeake Bay. The Chesapeake Bay is the center of the state because it is the largest watershed in the entire contiguous United States. It is the lifeblood of the region's food; a great contributor to the economy. Its biodiversity and its historical memory are synonymous with Maryland's culture. The towns I chose to visit were on the Eastern Shore because I live on the Western Shore comfortably half-way between the nation's capital of Washington, DC and Maryland's largest city, Baltimore, Maryland. But, the Eastern Shore pulls at me and fascinates me. It was the birthplace of Harriett Tubman and Frederick Douglass and countless other resistors, so my daycation as a proud Black American scholar had to include looking back into their homes, descendants and stories. But my lunchtimes were reserved for Maryland blue crab via crab cakes. For three consecutive days, each day was a different Eastern Shore town and a different crab cake: St. Michaels, Chesapeake City and Chestertown, Maryland.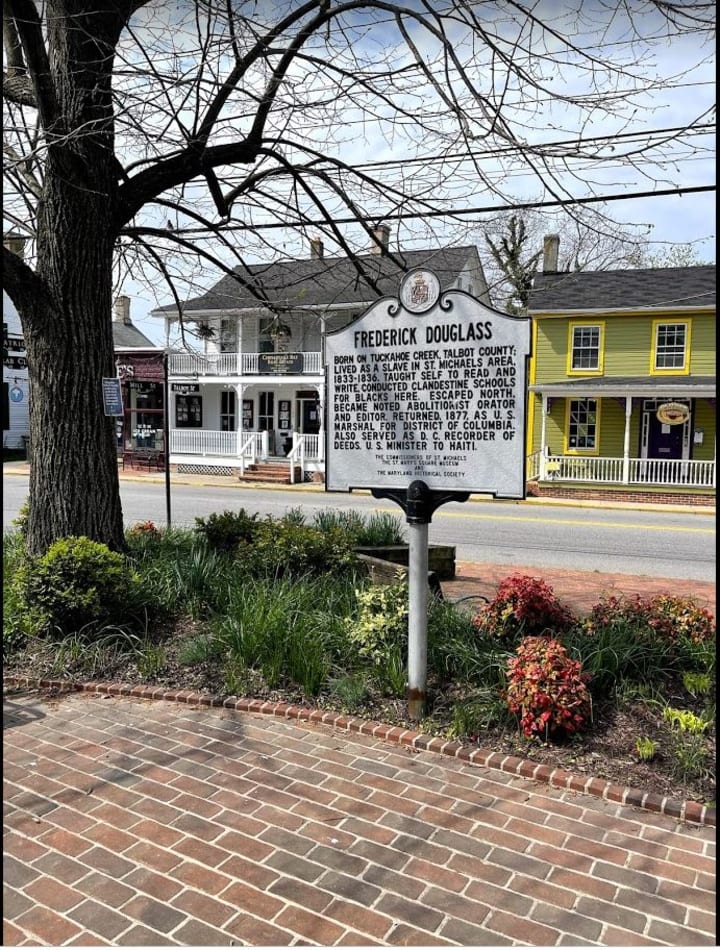 The key to a good crab cake is the crab, lump crab meat with no or very little filler.
As I alluded to earlier, the past is present when it comes to the Maryland blue crab. It was the indigenous tribes along the Chesapeake who first fished and used crab as a staple to their diets and who still live in the Maryland region. It was their harvesting of crab meat and the removal by hand that heavily shaped Maryland's colonial seafood cuisine. The colonizers learned from the indigenous people who had the culture of harvesting and eating its sweet meat.
The most common way to eat Maryland blue crab after eating the actual crab is via the crabcake, whose traditions seems to be a coming together of indigenous, African and European roots. At its most basic, it is crab meat extracted, put into a ball or flat shape, congealed together with egg and seasonings and fried. This is how it was first referred to historically in 1891 under the first known mention of the "Baltimore Crab Cake."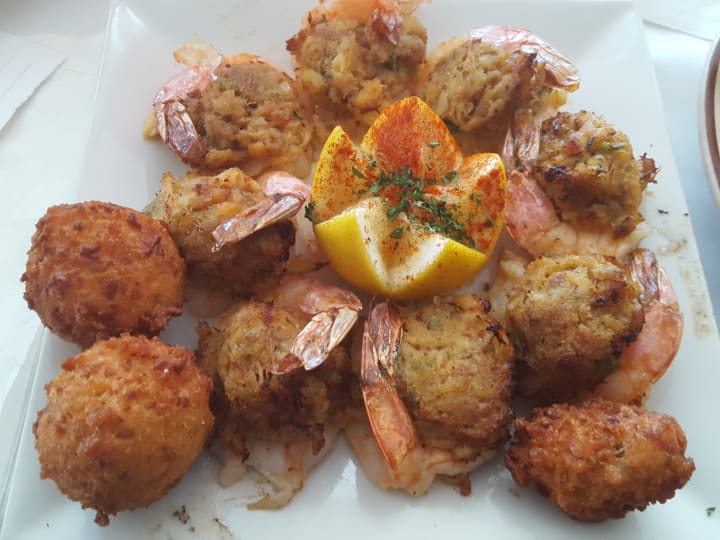 The crab cake since then has taken on larger-than-culinary-life status in the Maryland region. Finding the best crab cake, tasting new crab cakes, recommending places to get crab cakes is a whole Maryland knowledge sharing practice. So, when I went about my Maryland daycation solo, I decided that I would simply go off my own travel instincts to find a crab cake that might entrench a new neural pathway for me at first bite.
The crab cakes in each city did not disappoint. I have come to add honey mustard lightly to lettuce to sweeten the already sweet meat. I paired it with sweet potato fries or French fries and a cold beer. I sat and wrote notes on what I observed in the small towns. I reflected on the historic Black experiences in those towns and took sumptuous filling bites of the Maryland crab cake.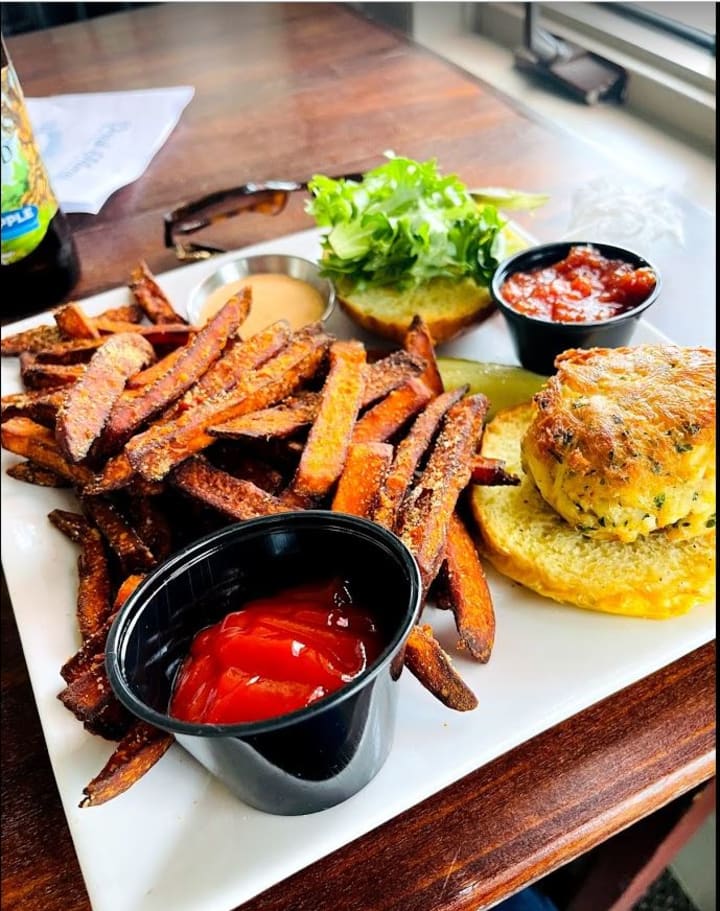 By the first of June 2021, the pandemic's grip on Maryland had loosened substantially and another phenomenon had begun to take place - the rise of the insect, the cicadas, after 17 years. This phenomenon unique to the Mid-Atlantic region and woodlands happens every 17 years, and billions of cicadas rise from underground to date, mate, pro-create and die.
My middle school friends and I are extremely close, and throughout the pandemic we had been meeting every first Friday virtually to catch up, talk trash and let's be honest see who I am dating. I am the only single one. We had finally motioned to turn our virtuals to in-person. All of us were vaccinated and ready to resume. I had decided to host, and of course reuniting with my girls after the pandemic was to be done over crabs, and crabs are to be done outside.
But, then cicadas.
I watched them closely that week. Were they growing in number? Were they clumsier than normal? Did they follow food per se? All three answers turned out to be a "no." I bought fancy covers for our outdoor feast just in case. Now, it was time to determine who would do the steamed blue crabs for us. Should I get them spicy or mild? Heavy on the Old Bay or light? I began calling around and driving around local towns from Catonsville to Laurel, Maryland checking out restaurants and prices. I was reading all the Yelps and Google Reviews for fresh steamed crabs I could find. I live in a crab and seafood paradise. The options were so numerous. I tried to read not only reviews about the crab's seasoning, but anything about their business model to know if they were pro-Black Lives Matter, pro-environment. I needed to make an informed decision on every level.
What was clear: the prices of crabs had greatly risen. The crabbing industry has in more recent years depended on immigrant workers to process crabs. But due to visa reductions and shortages due to the previous administration's crackdown on immigration, there were fewer workers as well as other factors.
Ultimately, I bought a half a bushel of males for $150 from a roadside place in Laurel, Maryland. They told me they would have them ready at the time I chose and at the spice level I requested. My middle school and lifelong friend Syrena went with me to pick them up. We waited from inside our cars until an extremely handsome man walked over with our half bushel- about 48 crabs.
The crabs were purchased and we were ready to be together over crabs again at last. In fact, at 40, it was the first time I had purchased a half bushel of crabs - a rite of passage so appropriate to perform with my once middle school friends turned lifelong friends. With the cicadas at bay, the table set, the music popping, and the crabs on the sacrificial altar, I think I may have officially turned into a full-grown Maryland adult.
Amen.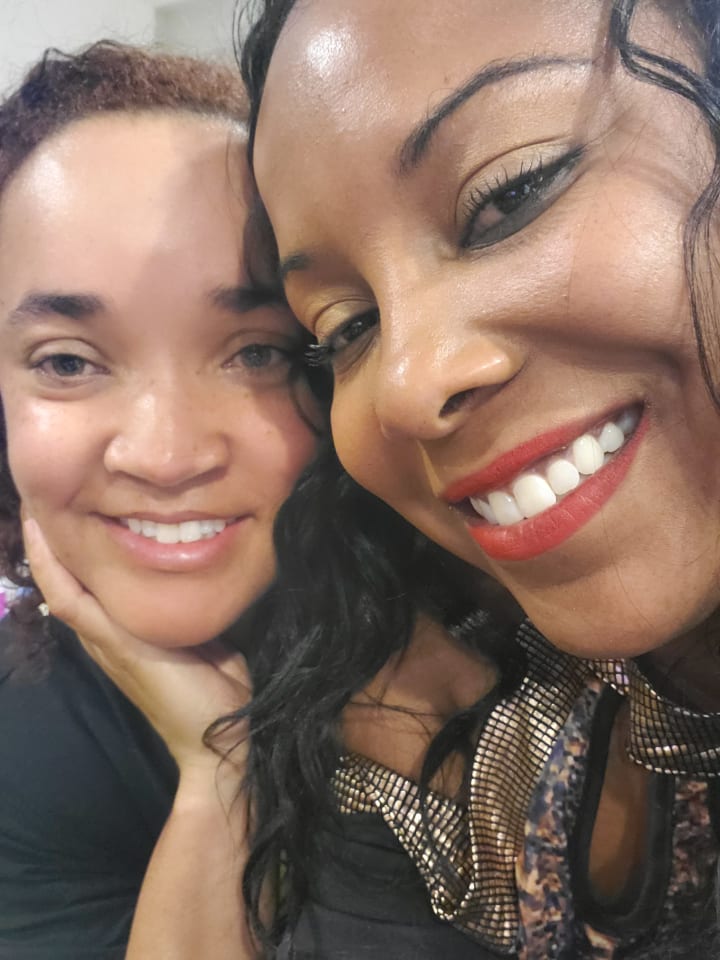 Recipe taken from Visit Maryland. Org Website
Not my original recipe.
Maryland Crab Cake Recipe from Visit Maryland.Org
Ingredients:
1 pound jumbo lump, handpicked Maryland crabmeat
½ cup breadcrumbs
1 egg, beaten
5 tbsp mayonnaise
1 tbsp finely chopped parsley
1 tbsp Worcestershire sauce
1 tsp prepared mustard
1 tbsp Old Bay Seasoning or J.O. Crab Seasoning
1: Combine breadcrumbs, egg, mayonnaise, parsley, Worcestershire sauce, mustard, and crab seasoning and mix well.
2: Pour mixture over crabmeat and fold in taking care not to break up the lumps.
3: Form into six cakes and pat until just firm, then deep fry in 350°F corn oil 2-3 minutes until golden brown
cuisine
About the author
A daughter/granddaughter of the Great Migration telling Black stories from here, there, then and now.
Reader insights
Be the first to share your insights about this piece.
Add your insights