Óbidos Ginjinha in a Chocolate Jacket
An ancient dark cherry-red bittersweet elixir
Liqueurs are a cultural commonplace to almost every human society worldwide. The art of combining fruits to make this sweet but potent delicacies go back millennia to a time without pharmacies. These beverages were considered medicinal and a cure to all sorts of afflictions.
Medieval monks, alchemists, and all sorts of merchants would prepare these so-called elixirs to make medicines and tonics, love potions, and aphrodisiacs.
According to Britannica, the word liqueur is derived from the Latin liquefacere, meaning "to make a liquid."
"Fruit liqueurs are produced by the infusion method, in which fruit is steeped in the spirit, which absorbs aroma, flavor, and color. Plant liqueurs, naturally colorless, are produced by either percolation or distillation. (…) After the base spirit is completely flavored, it is sweetened and filtered. Plant liqueurs are frequently colored with vegetable colorings. Liqueurs may be aged or bottled immediately.
Mediterranean liqueur's origin is unclear, but some believe these fruit-based liqueurs originated from Asia Minor, on the Caspian River banks. Afterward, they were disseminated through trade routes.
In the sunny Portuguese shores, the tradition found a precious fruit praised even by the Romans when they invaded the Peninsula: the sour cherries of Lusitânia, or ginjas.
Portugal's mid-west has an ideal microclimate for ginjas, and, namely, in the Óbidos municipality, we can find some of the best wild cherries in Europe.
Hence, the birthplace of Portugal's most famous dark cherry-red fruit liqueur, the Ginjinha de Óbidos, a sweet and intensely flavored elixir. This drink is one of Óbidos trademarks, produced locally and served on practically every town establishment.
The Ginjinha liqueur has a conventual origin. For centuries, locals have perfected the recipe by infusing ginja berries (sour cherry, Prunus cerasus austera, the Morello cherry) in aguardente  -  a potent local alcohol also called bagaço  -  then adding sugar and other ingredients to the mixture.
However, recently another intensely flavored ingredient was added to the mix, creating the perfect pairing: chocolate.
The perfect symbiosis between the bittersweetness of sour-cherries and chocolate led to the concept of serving cherry in an edible chocolate cup; hence this became the customary way to partake in the ginjinha ritual.
The traditional ritualistic pairing also led to a new variant of ginjinha, the cherry liqueur with chocolate.
The city of Óbidos has become a touristic ex-libris for tourism. Every year, the medieval town becomes a chocolate lover heaven on earth. There's even a Chocolatier of the Year award for the best chocolate sculptures and pastry-based artwork.
Ginjinha is abundantly served in its chocolate shot form with a piece of the fruit (the so-called "com elas" variant) or straight ("sem elas") in the bottom of the cup.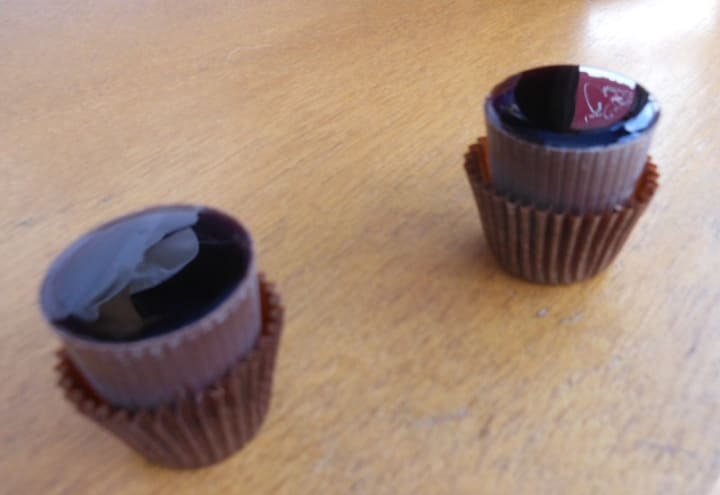 How I became a ginjinha zealot
I live in a small town near Porto, the northern part of Portugal; hence, even if we can find ginjinha in any supermarket, the first time I had a taste of the real deal ginjinha de óbidos was during my army years.
The Portuguese Sergeants Academy is located in Caldas da Rainha just a few miles away from Óbidos. During a weekend interval out of boot-camp, I had the chance to experience the Óbidos Chocolate Festival.
Let's be honest! What you buy in a local supermarket under the label ginjinha tastes great. Still, there's nothing like drinking the original liqueur from a chocolate cup with a cherry inside within the walls of the Óbidos medieval stronghold.
Only then I understood how ginjinha, with its chocolate-jacket, is the favorite liqueur of many Portuguese with many fans abroad and helped Óbidos become one of Portugal's seven wonders. In 2016, Ginjinha de Óbidos e Alcobaça was registered as Protected Geographical Indication (PGI).
In case you don't have the chance to visit Óbidos any time soon because of the COVID-19 pandemic, I recommend you give it a go and try to make it yourself at home. You can easily find the recipe online, but please don't forget to pair it with some tasty dark chocolate.

Rui Carneiro is a graduate of the Faculty of Arts and Humanities of the University of Porto. A teacher and life-coach specialized in strategic communication and self-development.
We can share further insights via LinkedIn or Twitter. Thanks for crossing the labyrinth. Your feedback is appreciated.

Rui Alves
I write to find the surrogate writer in me.
Rui is a graduate of the University of Porto, teacher, and life-coach.
He is also a partner of Rock n'Heavy and the founder of ZENite.
See all posts by Rui Alves →