No-bake Chocolate Cheesecake
Dairy-free Cheesecake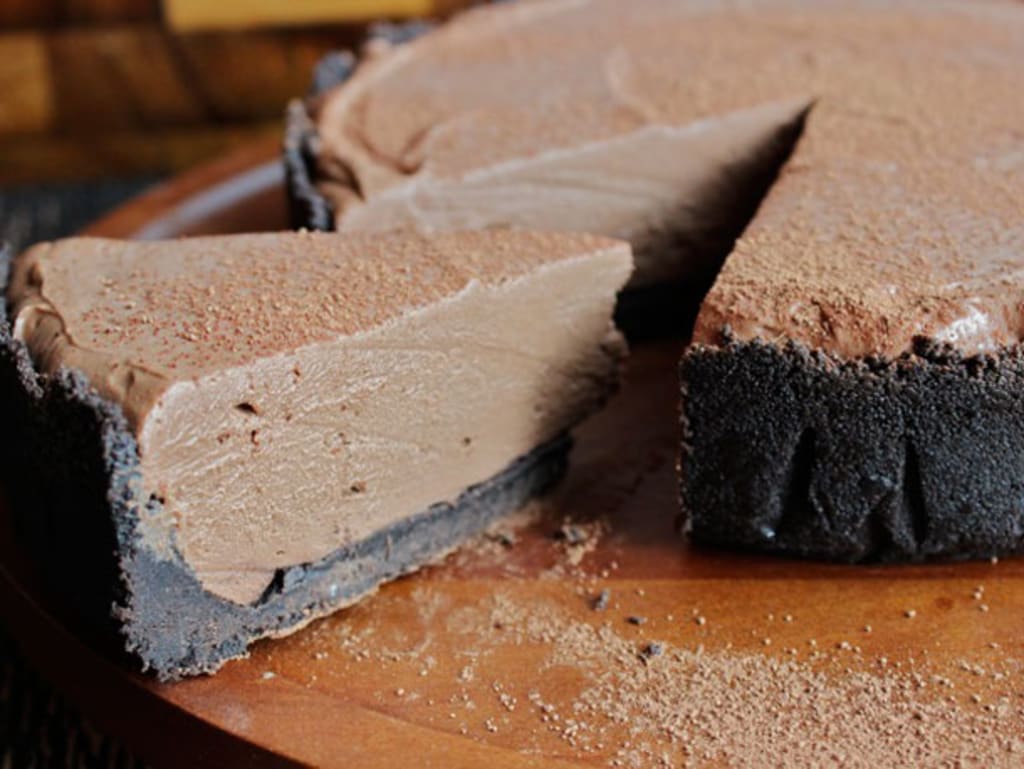 No-bake dairy-free chocolate cheesecake!
When I was in middle school I found out I couldn't eat any dairy. I was allergic and it made me sick. It was hard being the only one in the house not able to eat dairy. My family helped make adjustments, but it was hard going completely dairy free. There weren't that many products out there that were dairy free. It started becoming more and more popular. Throughout high school and early college, I still continued to eat dairy but I would just take pills to help. It was never enough, but now that I live on my own I am able to go completely dairy-free! I have found many dairy-free substitutes and now I live my life worry-free. I love being able to give up dairy and know I don't have to worry because there are so many options out there. I am able to eat everything I love and it all tastes the same still! Even if you aren't dairy-free because of health issues, this recipe is great for vegans and vegetarians. Dairy-free options are also healthier and aren't as heavy as dairy products.
One of my favorite desserts is cheesecake, but I had to give it up. Cream cheese was always my killer. Kroger, my favorite grocery store, carries dairy-free cream cheese now. I was beyond excited to find this gem, and today I made a dairy-free chocolate cheesecake!!
The dairy-free cream cheese is called: Green Valley Organics. It tastes the same as regular cream cheese and that's what I love! So I took the recipe I found from Pinterest and substituted all the dairy products for dairy-free. The recipe calls for cream cheese, milk, and whipped cream. I used Green Valley Organics dairy-free cream cheese, almond milk, and dairy-free whipped cream. I was able to find all of this at my local Kroger. Meijer, Walmart, or Aldi will have a version of these dairy-free products!
This past week, I got a new stove and the electrician hasn't been back to install it. I haven't been able to cook anything in the oven or stove so my options have been limited. But I've been craving a dessert all week! All the recipes I have saved require baking and I'm not a fan of no-bake cookies because I have peanut butter, LOL! But I finally found a no-bake dairy-free chocolate cheesecake! It's currently in my refrigerator and I'm beyond excited to eat it. I also love to eat my mix while baking and of course I had to try this before I put into the pie crust. It was amazing and super lite! I'm about to dive right in now and eat it! This dessert is exactly what I needed after the week I had. I strained my back muscles and I'm not allowed to drive or go to work so I've been stuck at home. This also helped me because it was really easy to make and didn't put any strain on my back!
Now let's get cooking:
4 oz dairy free cream cheese
1 cup Almond Milk
1 package of instant chocolate pudding
1 tube of Whipped Cream
1 pre-made oreo pie crust
Directions:
In a mixing bowl, whip of the cream cheese with a hand mixer until smooth. Mix in the milk and chocolate pudding until smooth and creamy. Then add the whipped cream until the color is consistent! After all the ingredients are mixed together, pour the mixture into the pie crust and smooth out. Put a cover on the cheesecake and refrigerate for one hour to allow the pudding mixture to set and chill. Now enjoy your dairy-free cheesecake!!
If you enjoyed this recipe, let me know! Have any good recipes you want me to try?