New Jersey Coffee Cake Recipe
Crumb cake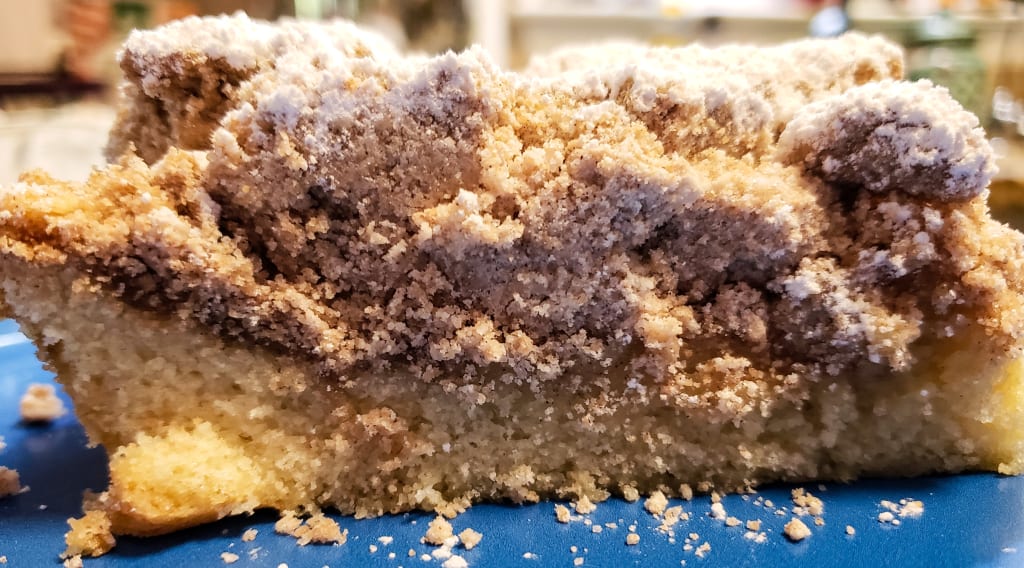 New Jersey coffee cake
Growing up in New Jersey, I was fortunate enough to experience New Jersey coffee cake. Unfortunately, after moving from New Jersey to North Carolina, the coffee cake I grew up eating went away.
In New Jersey, I could get a chunk of crumbly goodness at any bakery or deli. You may be thinking, what exactly is New Jersey coffee cake? Well, it's a slice of vanilla cake that is about 1/2 inch thick, topped by cinnamon crumb topping that is about two inches thick. So, there is substantially more crumb than cake in each slice.
When I think about New Jersey coffee cake, I picture eating it along with a piping hot cup of coffee. Hence the name, coffee cake, right?
After living many years in North Carolina and having New Jersey coffee cake withdrawals, I decided to generate my own recipe for the delightful cake I enjoyed growing up. Here it is:
NJ Coffee Cake
1 stick butter, salted and softened
1 1/3 cup sugar
2 cups flour
2 tsp baking powder
2 eggs
3/4 cup milk
1 1/2 tsp vanilla
Crumb Topping
1 1/2 sticks margarine
2 cups sugar
1 cup brown sugar
6 cups Bisquick
5-6 tsp cinnamon
1/2 cup powdered sugar
Preheat oven to 350 degrees.
Line a 9x13 pan with no-stick foil.
Cream together butter and sugar.
While creaming, mix together flour and baking powder in a large bowl.
Set aside.
Add eggs into creamed mixture.
Add milk into creamed mixture.
Add flour and powder into the wet mixture.
Add vanilla and beat until combined.
Pour batter into prepared pan.
Prepare crumb topping:
Add sugars, Bisquick, and cinnamon into a large bowl.
Cut in margarine and combine with hands until well mixed.
Sprinkle topping over the cake with your hands, squeezing it together as you do. (You want the topping to be lumpy).
Bake for 50 minutes or until cooked through in the center.
Cool for 15-20 minutes and top with powdered sugar.
You may have topping leftover. You do not want the topping to run over the sides of the pan.
Save money and make the Bisquick!
Bisquick
8 cups flour
1 1/4 cups nonfat dry milk powder
1/4 cup baking powder
1 tbsp salt
2 cups shortening
Combine 1st 4 ingredients into a large bowl.
Cut in shortening until coarse crumbs are formed.
Store in an air-tight container in the refrigerator.
This recipe makes about 10 cups of baking mix.
Tips:
If the recipe calls for butter, use butter, and where the recipe calls for margarine, use margarine. Do not interchange the two.
This coffee cake can be frozen for up to several months. First, cut into 3x4 inch pieces and wrap each piece in plastic wrap. Then, add the wrapped pieces to a plastic zip-top bag and freeze. As long as they are wrapped well, they will last in the freezer.
Oven temperatures do vary. Be sure to check for doneness after 50 minutes by inserting a knife in the center of the cake. If it comes out with crumbles on it, the cake is done. If it comes out with liquid cake mix, pop it back in for five-minute increments until it is baked through.
Press cinnamon crumb topping gently into the cake batter as you apply it over the top. This will help the crumb topping stick to the cake, and it will allow you to pack on as much topping as you can without it running over the sides of the pan.
New Jersey coffee cake makes the ideal weekend treat, Holiday treat, or Holiday gift.
About the Creator
I am an author, blogger, foodie / baker, copy editor, photographer, and social media manager. When I am not writing I enjoy running, watching the Food Network, sleeping, coffee, chocolate, and hugs.
You can find my books on Amazon!
Reader insights
Be the first to share your insights about this piece.
Add your insights