Nantucket Shrimp Shack
They've Got Fish Down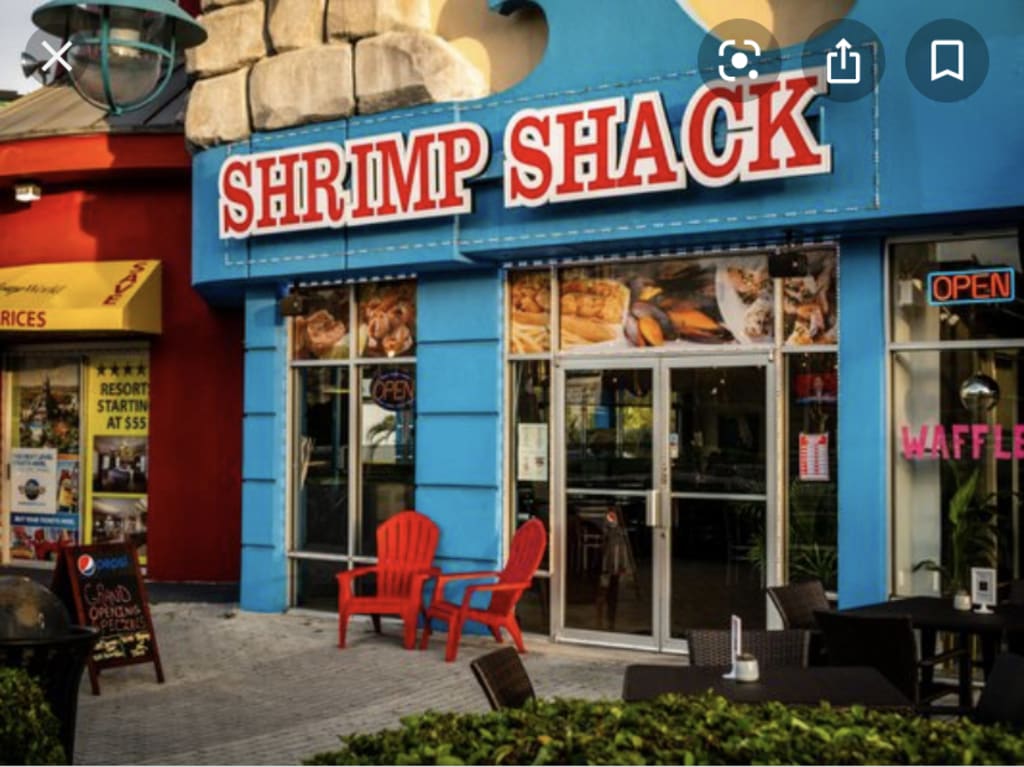 So my wife suggests we should go miniature golfing in the heart of tourist street in Orlando, International Drive. Since we live in Minneola, FL, that is not to far a drive for us, and I'm game.
We go and have a great time. After a few hours of fun and sunburns we are starving and we don't want to wander too far away. We want something quick, so we do the Groupon thing. You know how it is. Trying to save a buck and all that.
First it's Japanese restaurants and we are all excited. But then we find that they are all closed until later in the evening. It is only 3pm. What are we to do?
Then I come across this fish shack. We haven't had fish in a while and I am a seafood junkie, so I'm like, "Hey, babe. Why don't we go check this place out? It's only two minutes away."
She likes the idea. We take the drive and find ourselves pulling into what looks like this rundown back alley lot, and the place doesn't look like much. It is all blue on the outside, windows are tinted so that you can't see inside, advertisements look faded.
But when we get inside, we are greeted with cheer and hospitality like I've never seen. The lady and gentleman behind the counter, who we come later to find out are husband and wife, start treating us like we are their kids, back from a long vacation.
The place is huge, two stories, with seating above and below, but we are so exhausted that we pick a booth closer to the door. We take our seats and order. My wife gets one pound of snow crab, with mac and cheese and fried okra, and I order the fried seafood platter with tilapia, oysters, and shrimp.
My goodness, friends. What an experience! Let me go in order.
The oysters were so good that I ended up ordering another round. The breading was crunchy and flaky with what tasted like paprika on the outside, and just the right amount to make the juices in my mouth rise.
But the best part was the explosion of flavor inside. The oysters were cooked to perfection, meaning not chewy at all. They melted right in my mouth and absorbed the spices from the breading.
And the okra. Anyone who has had okra knows that sometimes its too crunchy and sometimes its too soft. It is hard to get that sweet spot of balance. Well, the cook at Nantucket got it. The breading was crunchy but the okra was sweet and creamy.
The snow crab was tender, but not overcooked. All my wife had to do was crack the shell once and the meet came sliding out. It didn't even need the butter they brought on the side.
And the mac and cheese was off the chain. There had to have been at least five different kinds of cheese inside. The noodles were perfectly al dente and mixed indescribably well with the creaminess of the cheeses.
We left with two boxes full of goodies. And to top everything off, when we expressed that we really enjoyed something the staff took care of us, adding a little extra in each order. The server even brought me an extra glass of wine at no charge because they saw how much I was enjoying everything.
I, frankly, was astounded, and I do not get that way over very many restaurants. If you want a good family experience with lots of flavor and seafood knowhow, then Nantucket Shrimp Shack on International Drive comes highly recommended. Get the family together and head on down.