Mystery of the Missing Cookies
Where did the cookies go?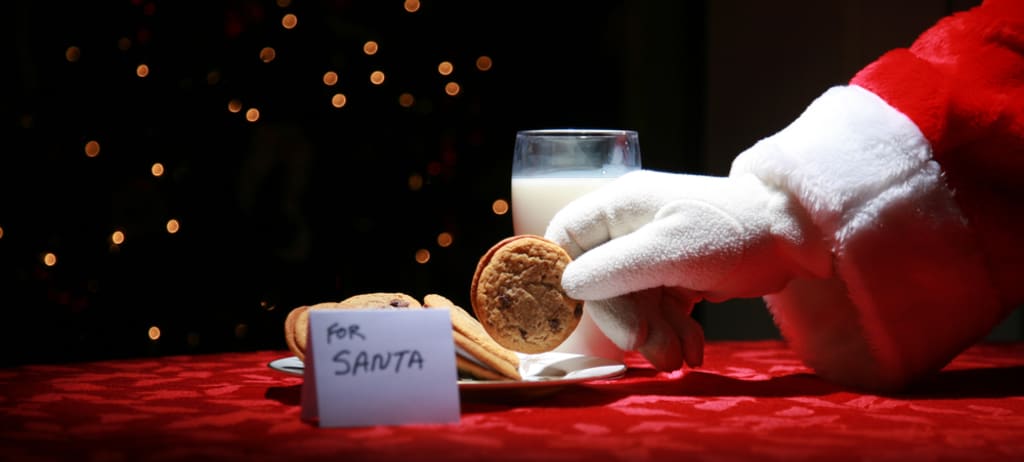 Credit: Shutterstock
'Twas the night before Christmas, when all through the house, not a creature was stirring, not even a...

- "A Visit from St. Nicholas" by Clement Clarke Moore
It was in fact the night before Christmas in 2004. But unlike the famous Christmas poem, something was stirring, only we didn't know what.
It started as a typical Christmas Eve. The whole family was over, Christmas tunes were playing on the DirectTV holiday channel. The fireplace was stacked with logs and the family gathered around its warmth in the living room. I mean it wasn't that cold, I live in Florida. But if the temperature drops below 50°, we use any excuse to have a fire.
Our family has three Christmas traditions that we've upheld every year, for as long as I can remember. They're probably similar to many other American families. The traditions all take place on Christmas Eve. The first is playing board games, although now that we're older the games have changed. We used to play Monopoly and Candyland. Now we play Jackbox with our iPhones, or adult-themed card games like What Do You Meme? and Cards Against Humanity.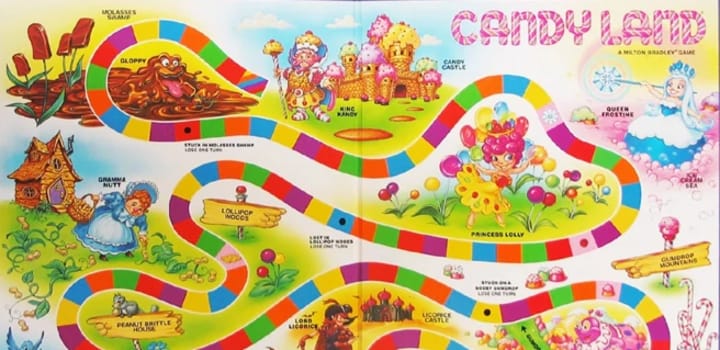 The next tradition is opening one present before we go to bed. Usually, our parents give us something we can use that night. Pajamas, socks, or a new game to play. My little sister always tries to open more, and I get mad because I like surprises, and don't mind waiting. Even now that we're both in our twenties, she still wakes up at the crack of dawn on Christmas morning and drags me out of bed.
The last tradition is making cookies and leaving them out for Santa. We've always been firm believers in Santa Claus. We've long known the truth, but we like to have faith in things we can't see, and it's fun to pretend. But after we unwrap our presents we know who to really thank. I come from a long line of bakers, so we always make a delicious batch of cookies to leave out for Santa. Although the family usually devours most of them before the next morning.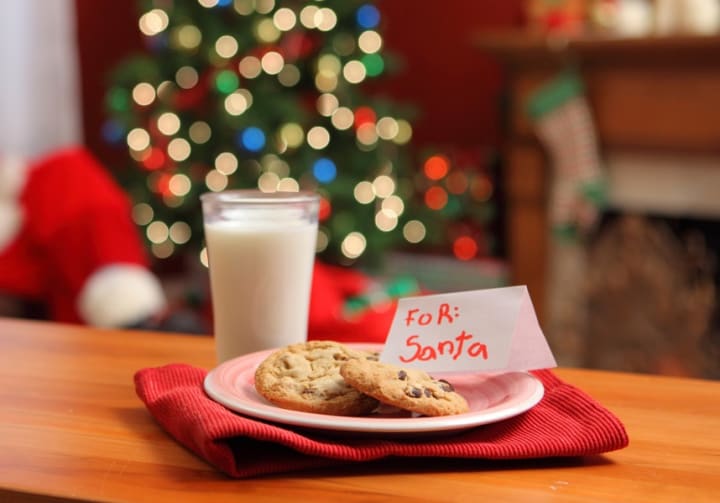 That fateful day in 2004, me and my sister Jackie helped Meme prepare dozens of her famous $100 cookies. I don't know why they're called that, they certainly don't cost that much to make. The cookies are filled with goodies like Rice Krispies, pecans, coconut, and rolled oats. The cookies are soft, but the toppings are crunchy making it an all-around versatile cookie that pleases everyone.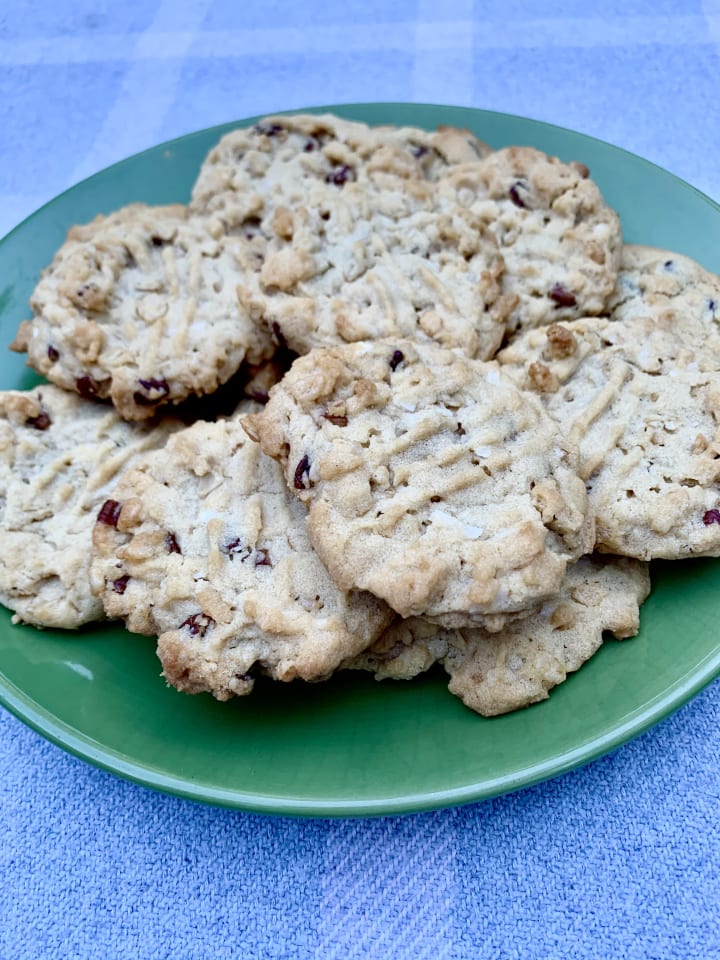 It was getting close to bedtime, so we laid out the cookies in the kitchen on a platter next to a glass of milk, and then headed off to our beds to spend hours trying to fall asleep. We woke up the next morning before the sun rose and eagerly ran into the living room. I love early Christmas morning, with the twinkling lights on the tree, and wrapped presents beneath it. Our Mom was mad that we woke up so early, but was also excited to see us unwrap our gifts.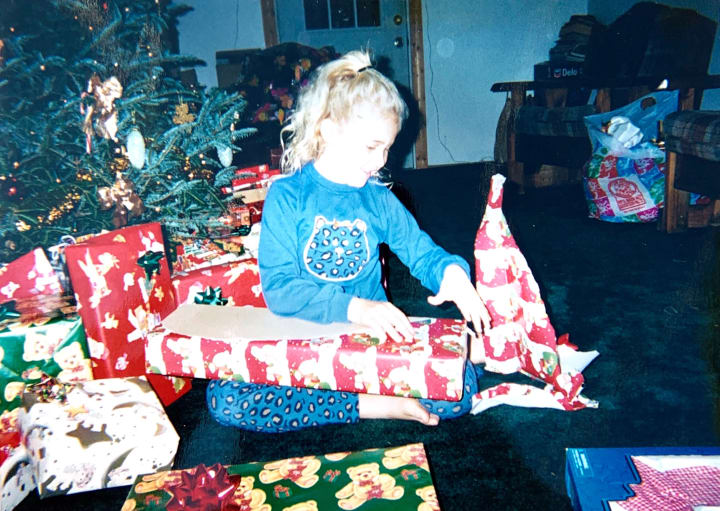 My sister and I sat on the floor waiting for our Mom to make a pot of coffee. She went into the kitchen and yelled, "Did y'all eat all the cookies?" Of course we were the first to be blamed. We pleaded and swore that it wasn't us. We told her it was Santa Claus, and she couldn't say anything to that. It would give away the secret that he didn't exist. As the day went on she forgot about it, and Christmas continued as normal.
A couple of nights later the mystery was solved. It was around 11 PM when we heard our mother scream from the kitchen. We rushed in to see what was going on. We got to the kitchen just in time to see a fat furry raccoon running out the back door.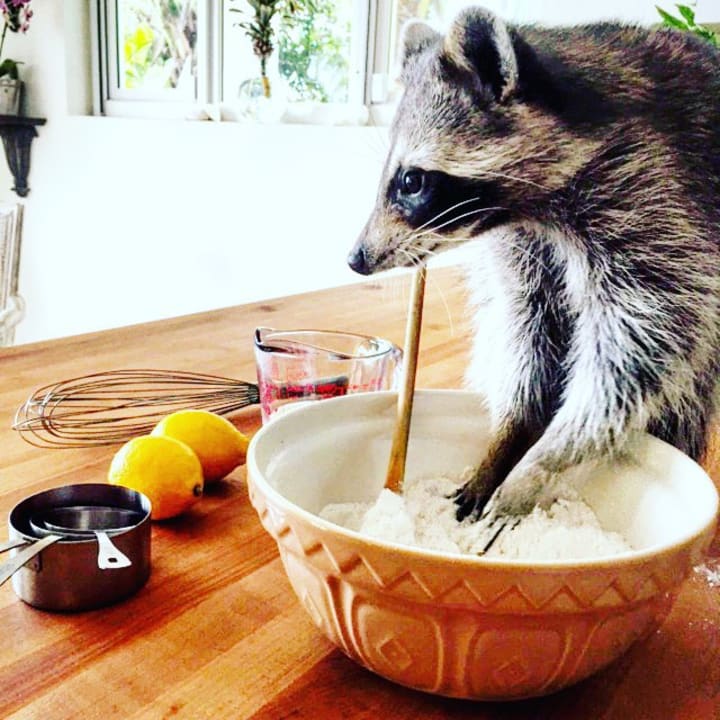 My parents live in the country and if it was cold outside they'd leave the back door slightly ajar. Our Mom was usually the type to deep clean the kitchen every night, but this particular evening there were some holiday leftovers left out on the counter, and the raccoon had been happily snacking away. Unfortunately, it was the time before smartphones, I would have loved to get a picture of that chubby raccoon eating snacks.
We figured it was the raccoon who had eaten all of Santa's cookies. Ever since that happened, our Mom keeps the backdoor firmly closed, and now we've renamed the $100 cookies to Bandit Cookies. I wanted to call them raccoon cookies, but my Grandma didn't like the sound of that.
Here is the recipe for Bandit cookies, famous among all friends, family, and furry creatures that roam in the night.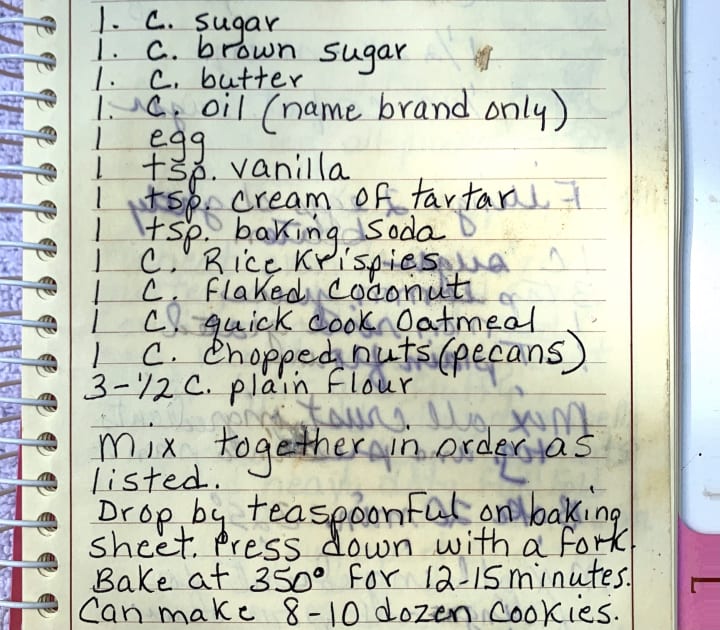 Meme's Bandit Cookies
1 cup granulated sugar

1 cup brown sugar

1 cup softened butter

1 cup canola or vegetable oil

1 egg

1 tsp vanilla

3 1/4 cups of sifted flour

1 tsp of salt

1 tsp cream of tartar

1 tsp baking soda

1 cup rice krispies

1 cup flaked coconut

1 cup rolled oats

1 cup chopped nuts*

* Nuts are optional, especially if you are allergic. If you do use nuts, I reccomend pecans. You can substitue anything for the nuts if you omit them, Example: 1 cup of toffee bits, 1 cup of chocolate chips etc.

Warning: This recipe makes A LOT of cookies, between 6-8 dozen.
Gather your ingredients, and let's get ready to bake!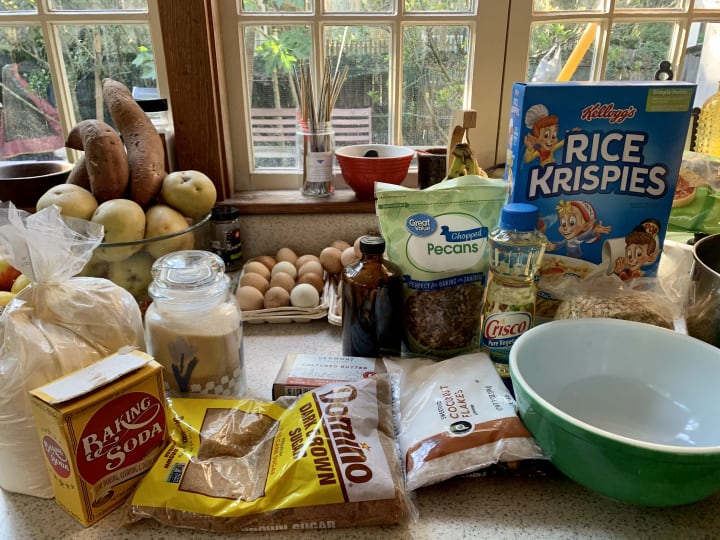 I'll guide you through the recipe with some added pictures for those visual learners. I love to listen to music while baking, below is a Spotify mix I made, packed with feel-good Christmas oldies.
Step 1
Gather all your ingredients, I like to pre-measure everything into three separate bowls. First bowl: softened butter, granulated and brown sugar. You'll add the oil, egg, and vanilla later. Second bowl: sifted flour, baking soda, salt, and cream of tartar. Third bowl: All of your mix-ins, Rice Krispies, rolled oats, coconut flakes, and chopped pecans.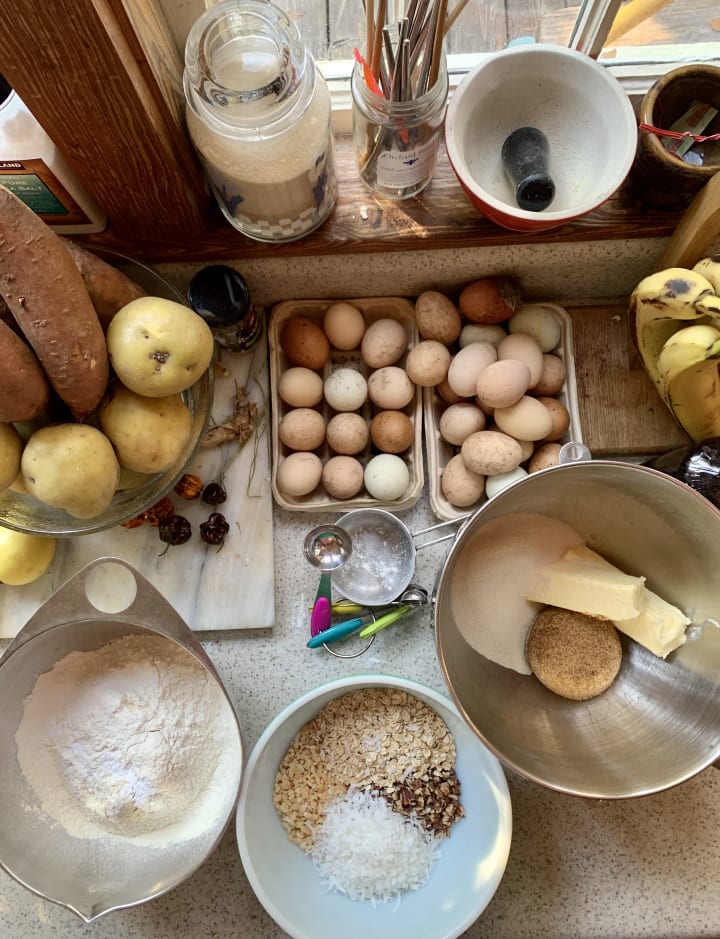 Step 2
With electric beaters or a Kitchen-Aid mixer, cream the sugar and butter together. Then add your egg, vanilla, and oil. Mix again until well combined.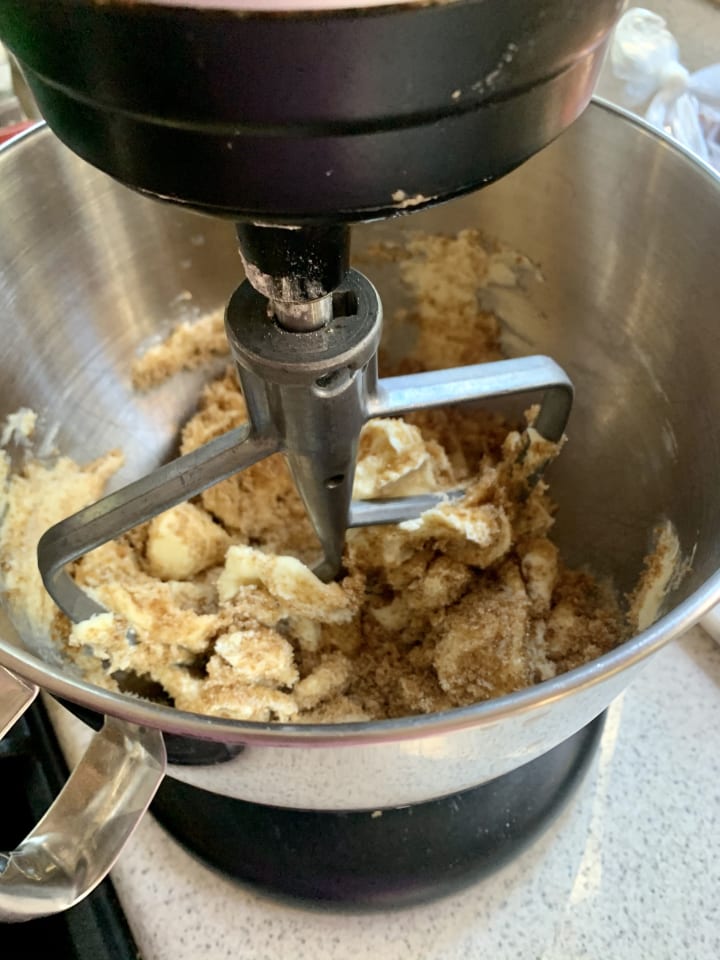 Step 3
Slowly add flour mixture into the wet batter. I usually add 1 cup at a time and mix until well combined, then add another cup. Repeat until all the flour mixture is combined with the wet ingredients. Next, fold in your toppings from the remaining bowl using a rubber spatula.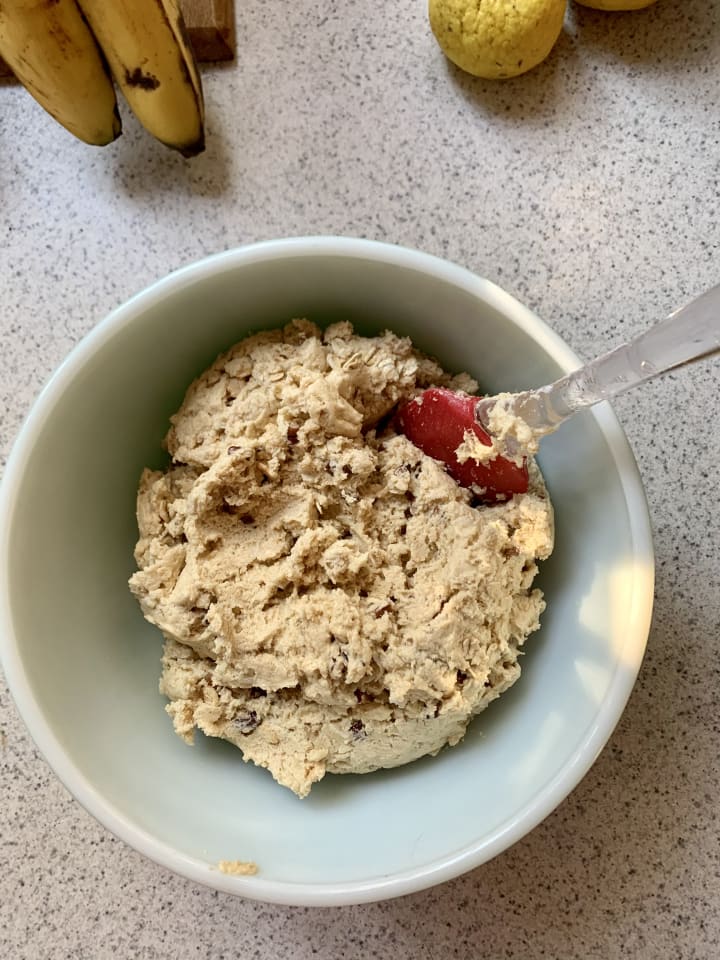 Step 4
Stick the assembled cookie dough into the freezer to chill for about fifteen minutes. This allows the butter to firm back up, so the dough is easier to spoon out. Go ahead and preheat your oven to 350°F. I like to freeze half of the batch for another day. I use a cookie scooper and portion out balls onto parchment paper. Freeze until they retain their shape, then transfer to a Ziploc bag.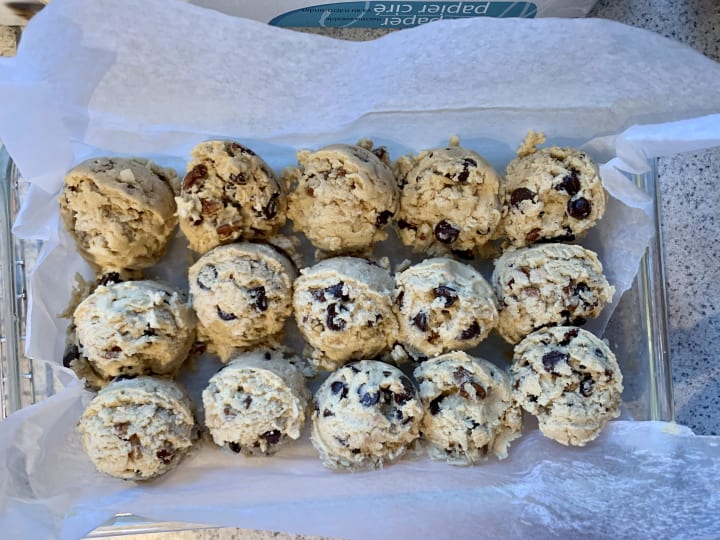 Step 5
Remove cookie dough from the freezer. On a non-stick pan evenly place cookies leaving enough room to spread. Use 2-3 tablespoons of batter per cookie, depending on if you want them big or small. I lightly press mine with a fork to help them spread better.
Bake for 12-15 minutes at 350°F, or until they just begin to brown at the edges. Remove from oven, let sit a few minutes before transferring the cookies to a cooling rack. Then stuff your face with warm cookies!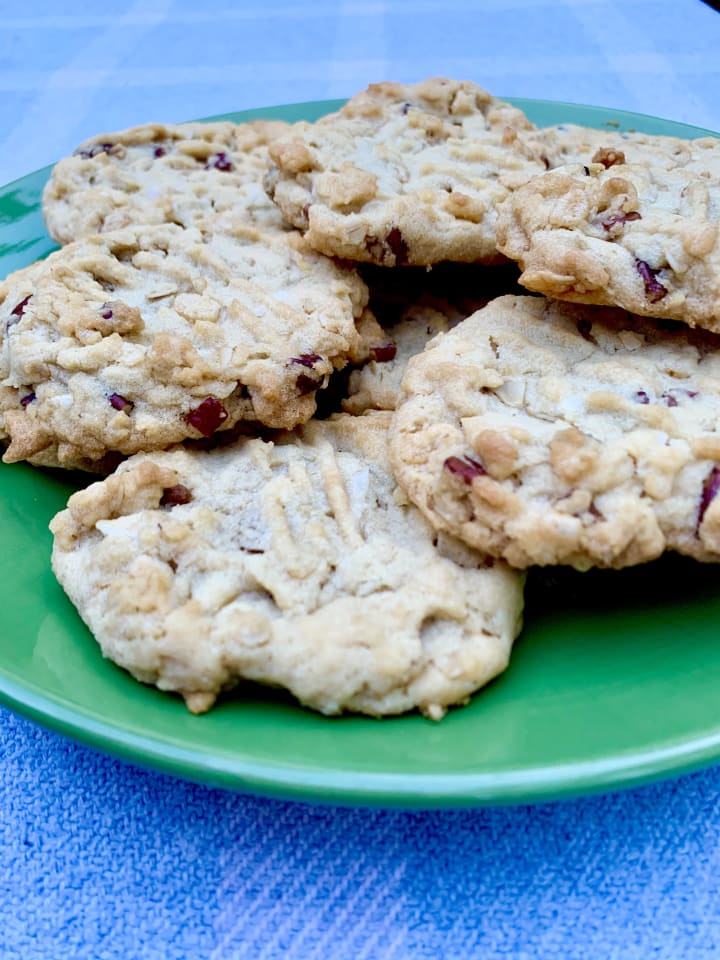 Happy Holidays! And don't forget to hide your cookies from creatures of the night.