My Garlic Paste turned Greenish Blue
I blamed it on China
As an Indian by birth, I tend to use a lot of garlic in my food.
Almost every curry I make includes a spoonful of minced ginger-garlic paste. This paste is the most common ingredient you may find at any Indian's home, who is even meagerly interested in cooking.
Normally Indians living abroad buy it in a nearby Indian/Turkish Store. I do the same. The downside with this paste is its peculiar pungent smell that gives me an impression of staleness. This pungency is then transferred to the food, taking away its natural aroma.
An epicure inside me somehow detests this infidelity with my indulgence in gastronomy. I thought to myself why not try mincing ginger and garlic paste at home?
I started by buying half a kilo of garlic and an equal amount of ginger. The garlic looked fresh and white. Whiter than any other garlic I had ever seen before.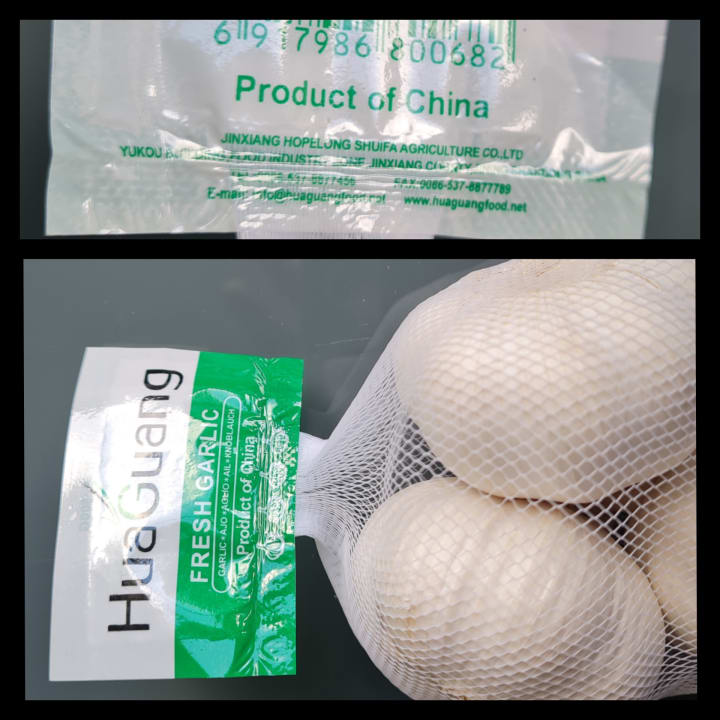 I peeled the garlic and kept it in a steel wok overnight to prepare for the next day's lunch. The next day, as I scooped the garlic to put in my mixer, I noticed that the sides of the wok had turned bluish pink. It glimmered with an array of colors similar to those on the surface of a soap bubble.
I ignored it for the first time and continued fixing my mixer jar on its grinder base. It was plain garlic and water, no salt, no oil, no turmeric. As traditional cooking suggests, I stored this garlic paste in a glass jar and went on peeling the ginger.
In the evening, I noticed the garlic paste in the jar was green! Normally the paste looks white, whiter than the garlic itself. Though green is the color of health, it is often associated with poison. Its appearance on my sacred paste made my stomach churn. I also felt a bit bloated that day after lunch.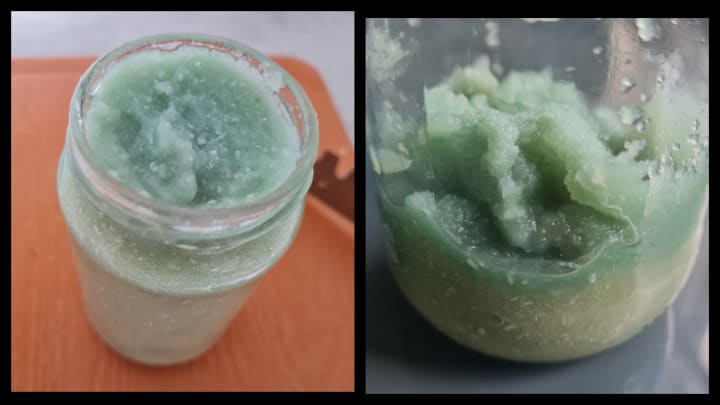 Instead of looking up the reason for the greening of the paste, all I remembered was, 'it came from China'! So I took to youtube and searched for the Chinese garlic. Look at the dreadful results that popped up!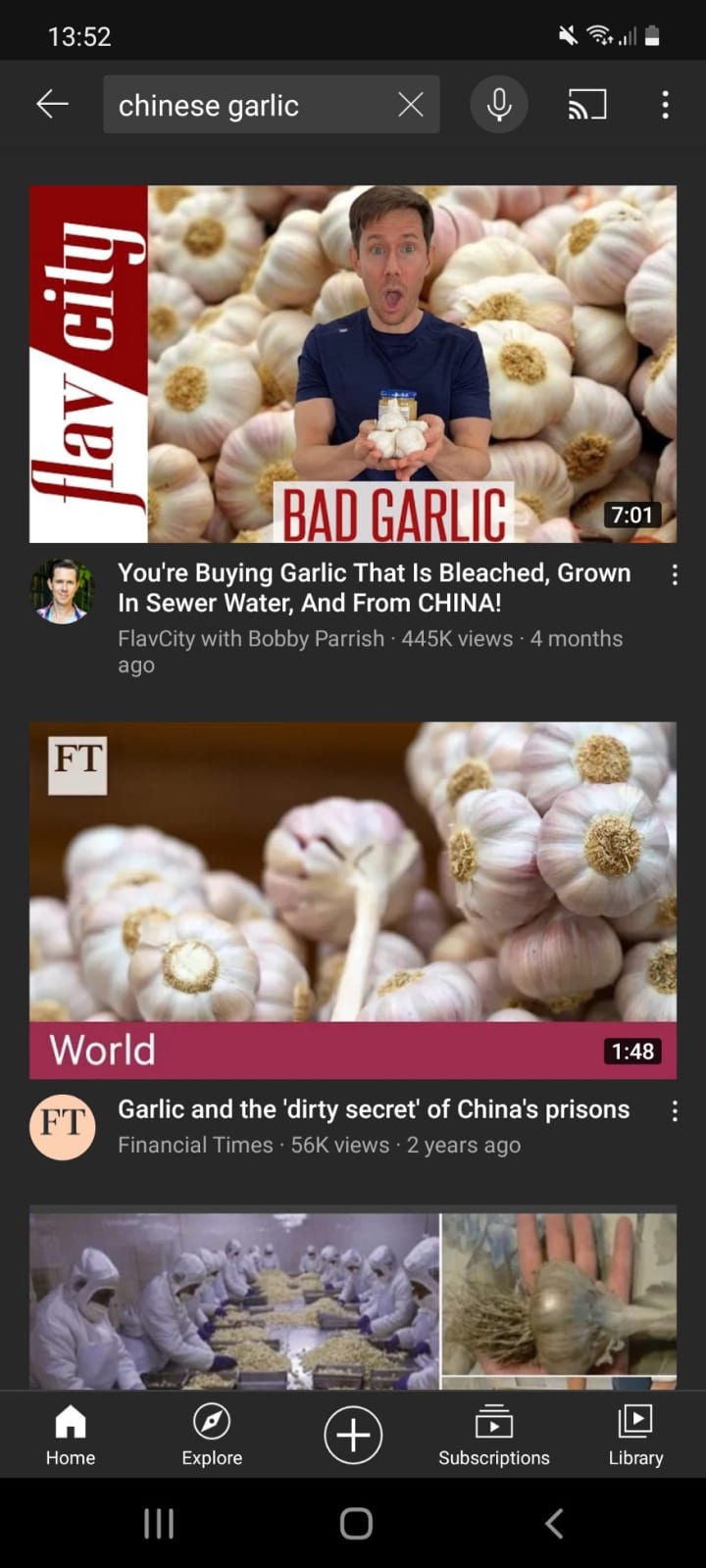 All of them talking about the adverse conditions in which garlic is grown in China, how it is bleached to make it appear white and fumigated with neurotoxic chemicals to prevent sprouting. I watched at least half a dozen videos on garlic that day.
The garlic that I bought came from Jinxiang, the garlic capsule of China. Less than a decade ago, all the garlic we bought came from the USA. But now, more than 60% of the world's production came from Jinxiang, Shandong to the south of Beijing.
How to identify Chinese garlic and US garlic?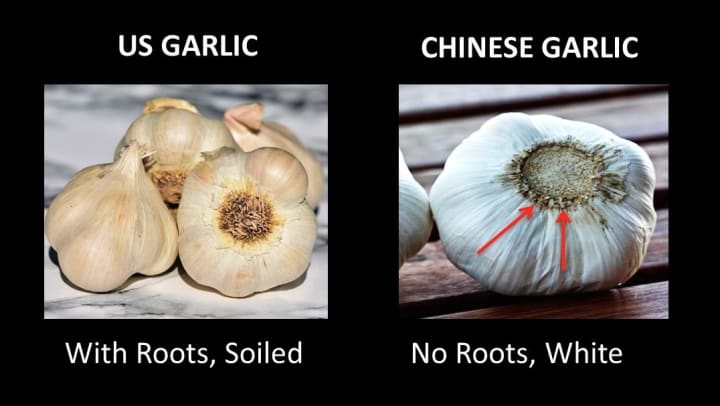 Coming back to the greening of the garlic paste. I googled again about this and found something totally opposite.
Garlic contains more than 30 organosulphur compounds and their metabolic products. Sulfur is a highly reactive element that shows its presence through vibrant colors like blue, green, orange, and even red. The glimmering colors on the steel wok might have been a result of its reaction with these sulfur compounds.
Garlic releases a characteristic garlicky smell when chopped or cooked due to the presence of allyl methyl sulfide (AMS) and the sulfur compound allicin. On the injury to garlic, the chemical alliinase is released as a defense mechanism to ward off predators.
Garlic does not become inedible or toxic even if it shows greenish blue shades. It can be normally used in cooking after adding oil to it. The change in its smell or taste is a result of similar reactions.
Eating more than six cloves of garlic may cause an upset stomach, bloating, flatulence, and nausea. You should also limit your garlic consumption if you're taking drugs to thin your blood as garlic extract may keep blood from clotting.
After all of this, I have decided that I will buy garlic from locally sourced supermarkets. Also, don't forget to add oil to it while mincing. ;)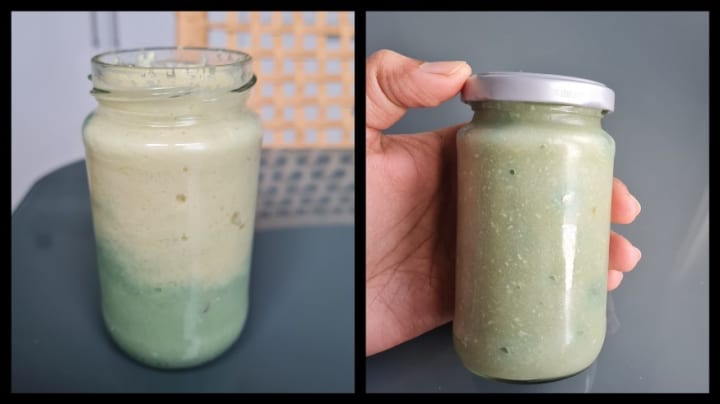 For those who prefer watching to reading:
This is how to make ginger garlic paste at home!
Priyanka Mane : Agilist | Digital Content Creator | Learner

Connect here: Youtube: Crunchy n Fit

Instagram: wanderess_priyanka | LinkedIn: Priyanka Mane