Mushroom Stew with Beancurd Stick
A vegan mushroom goulash recipe for Instant Pot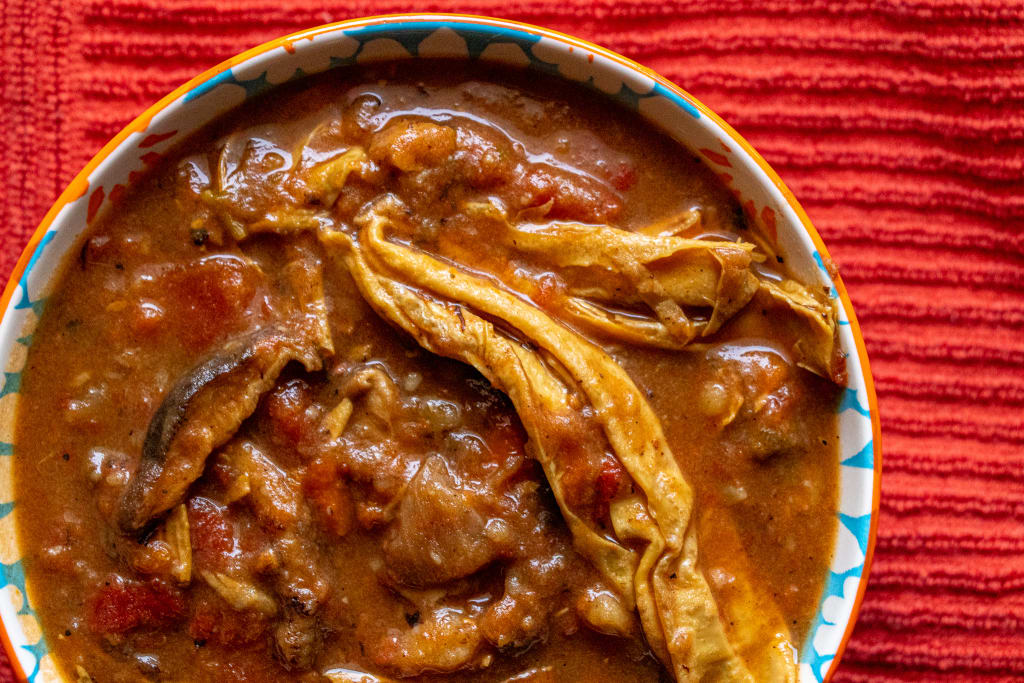 Mushroom stew with beancurd stick. Photo by Nissa Tzun
For six years now I've been an avid recipe developer contributing to the growing bank of creative plant-based recipes with the intention of encouraging others of the human community to eat more plant-based. I created Solidarite Kitchen, a lifestyle blog offering personal chef and support services, to share my passion for eating plant-based, and anecdotes of living intentionally, mindfully and non-violently.
As first generation Chinese and Haitian Americans, the dishes we create in our family kitchen often contain influences from both cultures, while honoring our commitment to nonviolence through eating plants. Therefore our dishes are often remixes of tastes from our childhoods with new blends combining our cultural foods and plant-based experiments.
This Mushroom Stew with Beancurd Stick is no different. First of all, I love mushrooms - before and after becoming vegan. Mushrooms are a part of the mycelium network which are tasked with passing nutrients and intelligence to the plant world. As a vegan, vegetables that have meaty textures like mushrooms, jackfruit and artichoke often become centered in plant-based recipes. You can really use any kind of mushroom you want for this recipe - however, for accentuated aromatic shiitake flavors, sourcing dried shiitake mushrooms (readily available at Asian markets) is recommended. Beancurd sticks, also known as tofu skins, were a staple in my home growing up - often added to stews, soups or congee - beancurd sticks are a chewy, tasty, protein-packed meat substitute. For this dish they effortlessly soak up the delicious flavors of shiitake mushrooms complimented by the medicinal roots of ginger and turmeric, which are often used in Chinese dishes. The carrots, potatoes and tomatoes add to the heartiness of this stew and this alone is a meal and perfect for cold, wintery temperatures.
I made this recipe for Instant Pot users specifically - if you don't have one, you can still create this dish via the stove. For stovetops, follow the initial directions. Once you begin adding the mushroom broth you'll have to leave the stove on medium-high for at least 30 minutes to boil down the potatoes and carrots. Stir occasionally and check often.
Enjoy with a side of bread, or favorite grain or pasta.
Ingredients:
1 tbsp, coconut oil
1 bay leaf
1 lb of shiitake mushrooms, sliced
3 medium potatoes, chopped
3 garlic cloves, minced
1 in knob of turmeric, minced
1 in knob of ginger, minced
1 can of diced tomatoes
3 large carrots chopped
1/4 bunch parsley, chopped
5 tsp vegan worcestershire sauce
4 c mushroom broth (or vegetable broth)
1 pack of dried beancurd stick (6 oz)
Himilayan pink salt, or sea salt
Procedure:
Prep your vegetables and herbs. Set your Instant Pot to sauté for 5 minutes and add a tablespoon of coconut oil and your onions, garlic, ginger and turmeric. Add water when needed. Set your instant pot to saute for another 5 minutes. Add your mushrooms, potatoes, and carrots, diced tomatoes and 5 teaspoons of vegan Worcestershire sauce. Stir the contents of the pot while sautéing. Add 3 cups of mushroom broth (vegetable broth is fine too), parsley, and then 1/2 of the bean curd sticks (you'll need to break them in half so that they fit into the pot). Set to pressure cook for 12 minutes.
Release the pressure of the pot. Stir the pot, and add your last cup of mushroom broth and the second half of the bean curd sticks. Set to pressure cook for another 8 minutes. Release the pressure of the pot. Open the pot. Stir the contents, salt to taste and serve.
Makes 4-6 servings.
-Nissa Tzun, Solidarite Kitchen