Most Iconic Summer Food
My favorite summer food!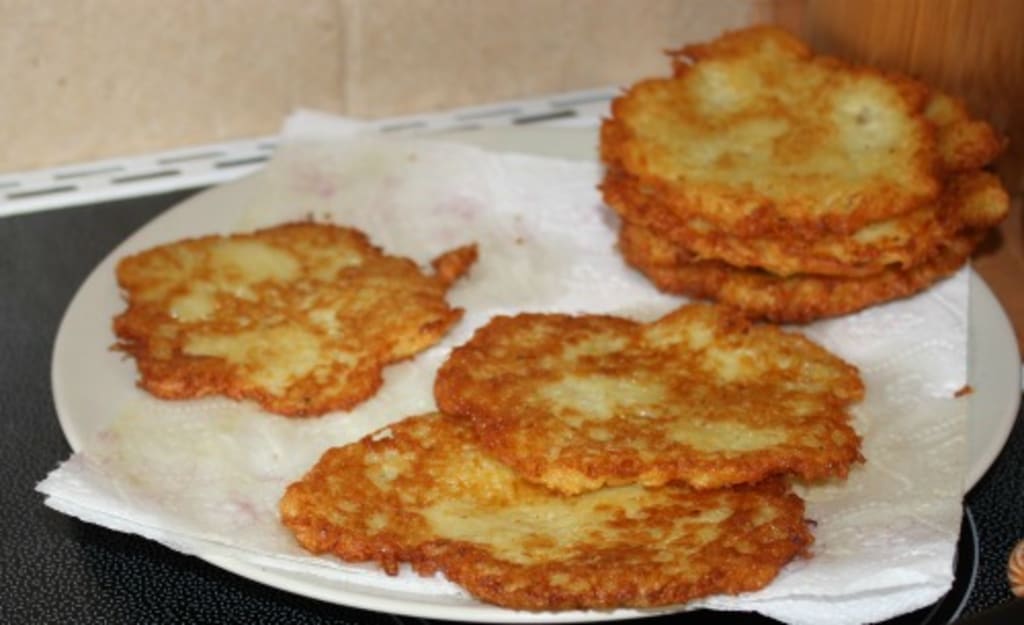 Yummy potato pancakes
I moved to NEPA when I was 12 years old and that summer, was indoctrinated into the summer activities starting with the Rattlesnake Roundup, hosted by the Noxen Volunteer Fire Department. Aside from the snakes (contained behind a double fence) these gatherings featured music and food. According to my taste buds Potato Pancakes were the most wonderful of these. They were Invented in Eastern Europe by the Ashkenazi in the 1800s when there were crop failures. Polish and Ukrainian farmers planted potatoes to replace the lost crops because they were inexpensive and easy to grow. When they emigrated to the Wyoming Valley in NEPA they brought their recipes. These delightful pancakes are sold three for a dollar and served with applesauce or sour cream (I like both). It is a delicious combination that tones down the oil (usually grapeseed or vegetable) and is most perfect when the potato pancakes come hot off the griddle. Because they are lightly fried in oil (not drowned deep fried), potato pancakes have a light flavor of potatoes and onion.
The key to a good potato pancake is freshly grated potatoes. The ladies who make them may grate them the old-fashioned way or use a blender to grate the chunks of potato that have been soaked in fresh water. No one in NEPA uses mashed potatoes (that is the wrong texture).
I remember volunteering to help at the potato pancake booth at the Snake Hunt. The ladies had pre-made the chunky batter with potatoes, flour, water, salt and onion (to keep the raw batter from turning brown). They sealed it in five gallon buckets and refrigerated the batter. One hour before the event opened in mid-morning, we lit the burners on the large griddle and added the oil. It took about half an hour to heat the oil to the right temperature, then we made a few test pancakes. This was my favorite time to eat before the crowd swelled. The trick was to use fresh cooking oil every day.
The smell of the fresh oil and newly fried potato pancakes was so tempting that we always had a constant line of consumers.
Potato Pancakes are called "Placki Ziemniaczane" in Polish, pronounced as "plat-ski zyem-nya-chaneh." I practiced the pronunciation for when I visited the booth at the church bazaars. If I asked for them from the venerable Polish cooks, then I usually was presented with two extra potato pancakes the applesauce and sour cream. Altogether In Wyoming and Luzerne counties there were enough churches hosting summer bazaars so that I could have potato pancakes every weekend. I took advantage of visiting bazaars until I was in my mid-twenties and moved to Chicago.
I didn't give up the quest for potato pancakes in the summer, but now I had to wait until Taste of Chicago, the Illinois State Fair and the Wisconsin State Fair. Did I mention I'm not a fan of huge crowds? There were some Polish restaurants that served them, but it wasn't the same as getting potato pancakes at an intimate church bazaar, after which one could wander to the beer tent and listen to musical acts on stage. Supplemented by rare trips to NEPA, I hung on until I moved to Texas, where apparently no one has heard of potato pancakes. They'll deep fry Twinkies in batter, Snicker's Bars and sticks of butter, but no one makes potato pancakes. The State Fair of Texas was a total potato pancake bust. Thank goodness for Oktoberfest in New Braunfels and German style Kartoffel Puffers! They believe only applesauce is the perfect condiment but, I'll take it.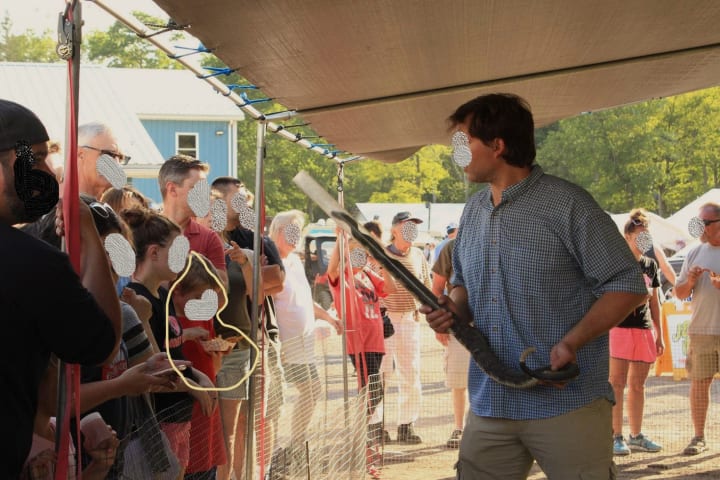 About the Creator
Writer, Certified Professional Dog Trainer, Pet Portrait Artist, Devoted Dog Mom, Gardener, Singer, Amateur Archeologist, Every-Woman. I was an Airforce Brat who threw up over half of Europe. Traveling is my jam.
Reader insights
Be the first to share your insights about this piece.
Add your insights