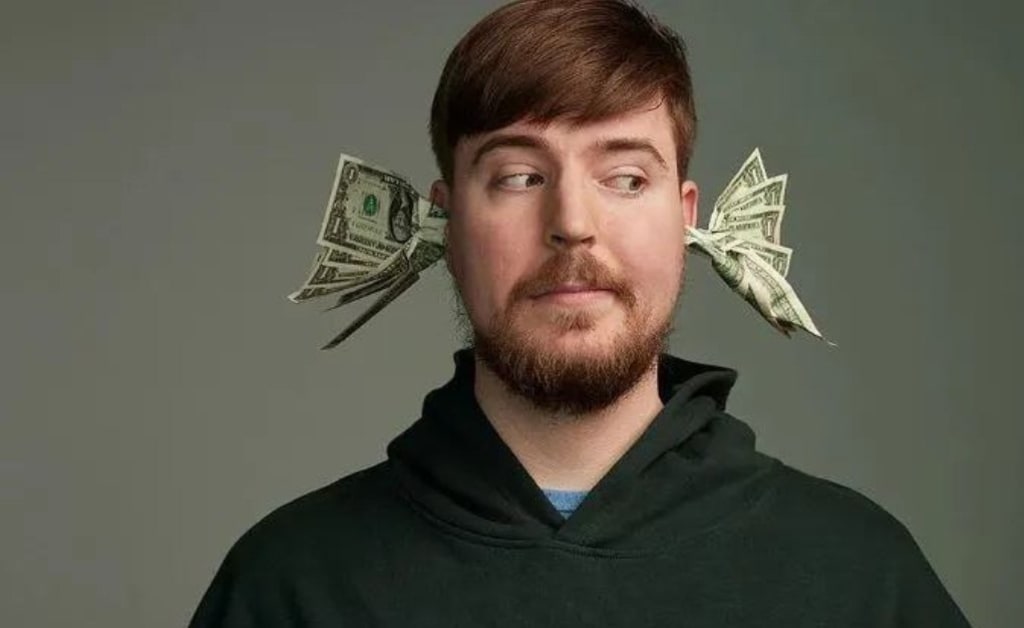 Today, YouTube is a little different, with creators spending sometimes as much as Hollywood production budgets to produce pricey, high-quality material.
YouTube may be free to watch, but it isn't free to produce, from films showing enormous sums of money to bizarre inventions and even attempts to launch space rockets.
So today, we're examining the movies with the greatest budgets and looking at some of the priciest YouTube movies ever.
A Magnet Sandwich
It's been said that some guys prefer to see the world burn, but in 2015, YouTuber TechRax settled for destroying an Apple see made of 18-karat gold.
TechRax has damaged enough iPads and iPhones over the years to fill an entire Apple Store, but his most costly purchase to yet was a $10,000 gold Apple Watch.
Of course, for the YouTube views, an opulent watch deserves an extravagant demise. TechRax then carefully pushed two strong Neodymium magnets together while sandwiching the device between them.
The world's strongest magnets are made of neodymium, and when two TechRax magnets were close enough to attract one another, they shot together with 650 pounds of force, compressing the watch like a magnet sandwich.
The hit was so strong that some magnets broke off during the collision, making it obvious that the watch wouldn't survive since the screen exploded in a flash of sparks.
The ten thousand dollar watch appeared to have died. However, the device did produce a charging indicator sound when TechRax put it on charge, indicating that it was still functional in some way. Of course completely useless, but still alive.
TechRax could have certainly afforded to get the watch fixed after this video was published, but I'm not sure if he bothered to do so.
Currently, YouTube content creators make $5 per 1,000 views on average in ad revenue, however the actual figure varies from YouTuber to YouTuber.
At these rates, TechRax's 7,000,000 views would have brought in about $35,000, which would have been enough to pay for three additional gold Apple Watches and enough extra cash to fix the first one. I suppose causing harm pays. So let's use an explosion transition to wrap up this part.
Home Made Hoverbike
A YouTuber from Stamford, England named Colin Furze is well-known for his bizarre creations.The former plumber-turned-mad scientist has produced workable handmade hoverbikes, backyard bunkers, and authentic Assassin's Creed swords throughout the years.
Furze's most popular video, Homemade Hoverbike, has over 50 million views and is probably also his most expensive, The flying bike was over $16,000 in construction costs. Two parajet motors, which are enormous fans generally used for powered paragliding, are attached to the bike. These motors are quite powerful and cost between $5,000 and $8,000 per fan. And after Furze built the bike out of aluminum, they were sturdy enough to let him fly after some trial and error.
Although the approximate overall cost of about $16,000 would seem high, with 50 million views and growing, this video could have brought in an additional $250,000 for Furze, making the price of his functional hoverbike appear to be a steal.
Do you believe that justifies riding this death-trap vehicle in spite of the small chance of dismemberment? Please tell me in the comments section below.
Crushit's Gold Bar
The Crushit crew has consistently outperformed the competition when it comes to creating YouTube videos, both literally and figuratively. With its hydraulic press, the channel has crushed a wide range of objects, including batteries, cell phones, and bars of pure gold.
Crushit's bar for the latter achievement was one kilogram of 24 Karat gold, which was worth $40,000 in 2016—a very steep amount to pay for something you're going to trash right away. The hydraulic press quickly crushed the bar when it was time to crush it, with the gold folding down like an expensive sheet of paper.
The stainless steel hydraulic press was able to crush the bar until it was nothing more than a glossy glob because, despite its high worth, gold is actually one of the softest metals. The metal offered almost any resistance during the crushing process.
The bar was obviously still worth $40,000 even after it had been smashed, and since then, the price of the same kilo of gold has increased to somewhere above $60,000, making that bar a decent investment.
Crushit enjoyed the extra $20,000 that was added to the gold's value even if the team didn't really need it.
Crushit could have purchased another gold bar with the approximately $90,000 that the film would have made at 18 million views, plus tens of thousands more. That is what I mean by a golden ratio, now.
In "Video Game High School."
High-budget YouTube videos are very commonplace today, with creators like Mr. Beast regularly spending a fortune on each new piece of material.
But Freddy Wong's online production business Rocketjump was one of the first YouTubers to post high-end video on the site.
"Video Game High School," an online program set in a made-up universe where competitive gaming is the most well-liked professional sport, was Rocketjump's most popular series.
The protagonists study at VGHS, a bizarre high school that prepares exceptional gamers to enter the gaming industry.
The show was a success and ran for three seasons, expanding in scope and budget every time. The cost of the sets, stunts, special effects, and actor wages were high for these episodes.
That is to say, by the time of the final season, the budget had increased to over $2.5 Million, with each of its 6 episodes costing $416,000.
Spending 416,000 on a YouTube video was extraordinary at the time and the episodes were some of the priciest videos on the service.
With over 150 million views over the course of its three seasons and nominations for several digital media awards, VGHS became one of the first examples of a YouTube series that resembled a Hollywood production. The funds were primarily raised through sponsors and crowdfunding.
As you can see, I am happy to continue this tradition. explosion change. Very important Search and Find. Here it is, Mr. Beast, the moment we have all been waiting for.
With over 100 million followers, Mr. Beast, actual name Jimmy Donaldson, has become the fifth most popular YouTuber in the past several years because to his channel's explosive growth.
The number of members to Mr. Beast would surpass Turkey, Germany, France, and the UK to become the 16th-largest nation in the world.
The large sums of money that Mr. Beast gives away in his films have attracted the majority of his residents, or subscribers.
We would be here all day if we covered all of his expensive challenges.
Considering that he reportedly spends over $48 million annually on YouTube videos.
Instead of making this movie a Mr. Beast compilation, I'm going to highlight some of his most inventive, outrageous, and pricey works, starting with his imaginative take on the game of hide and seek.
You would assume that hide and seek is merely a kid's game, but in 2021 Mr. Beast decided to up the ante by hosting a game with a $1 million cash prize.
As if that weren't bizarre enough, the game was played in the SoFi stadium, home of the NFL's Los Angeles Chargers and Los Angeles Rams.
The 70,000-seat stadium is often utilized for football games, but Mr. Beast hired out the entire facility for him and his friends to have fun.
Logan Paul, Bella Poarch, Zach King, and other well-known content producers are among the hiders.
While Mr. Beast and his gang hunted them down, the competitors hid inside the stadium.
Zach King was awarded a million dollars for hiding in the ceiling of one of the stadium's rooms after hours of rigorous hiding and seeking. The biggest expenditure for the film was undoubtedly the cash reward.
However, renting out SoFi stadium would have also been incredibly expensive. Such an absurd thing to do is to rent out a whole large stadium, There is very little information available about how much it truly cost the YouTuber. To estimate, we can utilize other celebrities, though.
The San Francisco Giants' home stadium, AT&T Park, was rented out by Kanye West in 2013.
According to sources at the time, such a wildly lavish stunt would cost about $220,000 for the day.
Therefore, Mr. Beast's little game of hide and seek may have cost upwards of $1.2 Million in total if he obtained a comparable bargain for the SoFi Stadium.
With just over 67 million views on the video, which was partially funded by Mr. Beast and his sponsors, he could have made up to $325,000 in income to put into his future videos.
And to think, we used to enjoy free hide-and-seek games on the playground.
A Block of Cash.
The challenge in the next Mr. Beast video, which is all about money, revolves on a wad of $1 million in actual, hard currency.
Mr. Beast put four competitors through an endurance test by asking them to place one hand on the money block and hold it there as long as they could.
The million-dollar prize goes to the final contestant. Later, when questioned about the video's budget, Mr. Beast revealed that it was approximately $1.2 million, including the cash award, studio rental, and production fees.
With so much money at stake, the competition lasted 36 hours, with two of the competitors managing to hold onto the money for one day and a half.
Neither of them showed any signs of giving up as they stood for the entirety of their waking hours while sometimes peeing in a bucket.
Up until one of the competitors experienced a knee spasm and immediately lifted his hand in discomfort and tiredness. It goes without saying that his regret was tremendous.
Mr. Beast awarded the prize to the victor after the challenge. The winner didn't feel like a million dollars at all—he was hungry and exhausted—but he had won a fortune and had taken the money home.
He wasn't the only one who received a hefty paycheck. With his own money, Mr. Beast was able to recover some of the absurd cash award from the video's over 90 million views and prepare for other ridiculous ventures that we'll soon learn about.
Dramatic Drone Shows.
It's time for a non-Mr Beast break, and to celebrate Intel's 50th anniversary in 2018, the company decided to set a new world record by sending 2,000 drones into the air.
The electronics business specializes in developing cutting-edge technology, and the YouTube video they produced to mark their anniversary was no exception.
Drones carried images of planet Earth, dancing spacemen, floating brains, and of course, the company's logo.
Only 163,000 people saw the video on YouTube, which means it probably only made $815. However, Intel's main objective wasn't to produce a popular YouTube video.
This celebration of Intel's 50th anniversary broke a Guinness World Record at the time for the most unmanned aerial aircraft airborne concurrently. Although the performance was quite amazing, Intel's record has recently been surpassed.
In a movie to mark the launch of its vehicles in the Chinese market, the Korean automaker Genesis deployed 3,281 drones.
The company's emblem and many Genesis car models were displayed throughout this performance across the Shanghai skyline. These light displays feature drones that look simply amazing.
The idea that all those colored lights are thousands of individual quadcopters, often constructed of lightweight plastic and Styrofoam and outfitted with potent LEDs, is practically incomprehensible.
A show with around 500 drones will cost you $299,000 due to the required computational power, planning, and sheer number of drones.
Implying that the estimated cost of Genesis' 3,281 drone display was little around $2 million. When I need to rejoice in my YouTube videos, I take that price into account. I believe I will continue to use stock video of fireworks for "Justin Bieber: Seasons."
Being one of the most well-known persons on the planet, Justin Bieber makes it simple to forget that he was once simply a young Canadian boy posting cover songs on YouTube.
The Biebmeister made the decision to go back to his roots in 2020, teaming up with YouTube to produce the original series "Justin Bieber: Seasons," a music documentary that chronicles the making of his fifth studio album.
YouTube spent $20 million on the 10-part series, making it one of the platform's largest investments to date. According to reports, the majority of the funds went to Justin Bieber's teams in order to grant YouTube exclusive rights to the documentary.
Although $2 million each episode seems expensive for a documentary, YouTube believed that Justin Bieber's celebrity power would bring in large profits.
The series received over 227 million views overall in the first three months as Beliebers flocked to YouTube to see the documentary, so it appears that the risk paid off.
Another important fact to consider is that YouTube keeps the remaining 55% of the advertising revenue generated by a video, leaving the creators with only roughly 45% of that total.
Additionally, given that YouTube itself uploaded and maintained the Bieber series, the corporation would have received more than twice as much in advertising revenue for those 227 million views.
However, given that this would generate only about $2.7 million in revenue, it's still a sizable loss, so they probably had some sponsorship arrangements and other strategies in place to help recoup some of the money.
In any case, the 227 million views are still insignificant in light of the 2.7 billion views of Justin Bieber's "Baby" music video.
Though I'm sure they're not too upset because YouTube would have also received about a 55% portion of the advertising revenue from that video.
The Priciest Pokemon.
Kids all across the world fired up their Gameboys, turned on their TVs, and begged their mothers for $4 so they could buy a pack of Pokemon trading cards when "Pokemon" first came out in 1996.
It turns out that $4 was a fairly wise investment because today's booster packs may be worth a small fortune, with boxes of the first edition fetching hundreds of thousands of dollars.
Nobody is more enthusiastic about this new investing opportunity created by price inflation than YouTuber Logan Paul. Logan has publicly acquired some of the most pricey playing cards, diamond-studded them, and worn them around his neck.
Paul posted a video in 2021 with the title "I spent $2,000,000 on Pokemon cards," and it wasn't a click-bait headline. Paul is seen in the film purchasing six first-edition packs valued between $325,000 and $350,000.
Even with almost 9 million views, Paul would have only made about $45,000 from this video. Logan put all of the first edition packs up for auction, though, once he had amassed the most priceless Pokemon collection in history and had complete market control.
Nobody is certain how much money the poke-billionaire made with his cards, but he apparently made a sizable return on his investment. Logan has spent millions on Pokemon, but he hasn't yet managed to capture them all.
And the YouTuber keeps dropping cash on the cards. Paul purchased a very rare Pikachu Illustrator card for $5.2 Million after posting the aforementioned video, making it the most expensive Pokemon card ever.
The YouTuber then inserted the card into a $80,000 diamond pendant in pure Logan Paul flair.
And to show everyone that he is the best at collecting Pokemon, he wears the card around his neck at public events.
♪ Like no one ever was ♪
"Squid Game in Real Life."
Now let's return to YouTube's highest-spending channel with Mr. Beast's most costly video.
"Squid Game in Real Life."
If you haven't seen it, "Squid Game," an extremely popular 2021 South Korean show on Netflix, follows 456 players as they compete in lethal variations of kid-friendly activities.
Trying to win a reward worth 45.6 billion Won ($38 million), or. The show made the ideal subject matter for parodies on YouTube, and soon after the debut of "Squid Game," Mr. Beast uploaded one of the site's most inventive films to date, a real-world parody of the program.
Before assembling 456 people to compete for a $456,000 reward, he constructed nearly exact copies of the extravagant TV show sets.
The contestants competed in less dangerous variations of the tasks featured on the show, competing in tug of war, the Dalgona challenge, a Korean children's game that includes cutting shapes out of thin cookies, red light/green light challenges, and the Dalgona challenge.
Mr. Beast disclosed throughout the video that the lavish sets cost $3.5 million to create, which was split between him and the ad's sponsor.
However, given that the video has received over 269 million views to date, Mr. Beast most likely made over $1.26 million from only ad income.
You can start to understand how this crazy dude continues going when you consider that the Beast often receives over 120 million views on films that cost a lot less to make.
Stay the course, Jimmy Boy.
Stratos Red Bull. When Felix Baumgartner broke the world record for the highest skydive in 2012, Red Bull paid for him to do so. Baumgartner floated up to 127,852 ft. in a stratospheric balloon, then dove back to the surface of the planet.
Baumgartner reaches 843 miles per hour, breaks the sound barrier, and eventually lands safely in the YouTube video that captures the moment.
It goes without saying that the video's production and equipment costs were extremely high.
From the balloon-and-capsule combination itself to Felix's cutting-edge spacesuit, which allowed him to breathe and reach the stratosphere without freezing.
According to media reports, Red Bull put more than $64.8 million on the event, paying Baumgartner's salary, covering the costs of planning and developing the leap, and using their own production firm to capture the achievement and broadcast it to other media outlets.
Baumgartner's attempt was televised to the entire globe on YouTube, but sadly, Alan Eustace, the former senior vice president of engineering at Google, shattered his record just two years later by diving from 20,000 feet higher.
I'll wager that Baumgartner felt very deflated after that, much like a stratospheric balloon that had been pierced.
Rocket Science.
The truly heavy hitters are now in play. Or, to be more precise, large rockets. They say that practice makes perfect, and Space X spent $804 million in 2017 to demonstrate this.
Space X has been working diligently to develop a reusable rocket ship since Elon Musk established the company in 2002. This technology would make space travel much simpler and more affordable.
In order to demonstrate the testing and failure that went into creating the reusable rocket, SpaceX posted a YouTube video in 2017.
The film documents every unsuccessful launch and landing by Space X between 2013 and 2017, including 12 orbital rocket boosters that crashed, burned, and even exploded in midair.
The amount of money burning up on screen is not anything to giggle at, even though the video is very entertaining.
The 12 unsuccessful landings cost Space X $804 million, or $67 million each Falcon 9 rocket. The film has only made about $135,000 with 27 million views, which isn't a very large profit margin.
Of all, the goal of this entire space project was not to produce viral videos.
Most individuals would find the size of these losses to be incomprehensible, but Elon Musk, who has a $220 billion net worth, sees them as nothing more than business expenses.
Musk and Space X's supporters kept investing money in the project, and the business eventually succeeded. They can now reliably land multiple distinct models of their rockets, reusing them for next launches.
The failure video is hilarious, but it also has a meaningful message: try, try again if at first you don't succeed. particularly if you are a multibillionaire.
Oddity in Space.
Every great song deserves a terrific music video, but they can grow rather expensive, frequently costing more to film than the music itself, thanks to pricey costumes and Hollywood special effects.
When Chris Hadfield uploaded a music video on YouTube in 2013 that cost $150 billion to make, he created the best and most costly music video of all time.
Confused? Since Chris Hadfield is an astronaut and not a musician by profession, his cover of David Bowie's "Space Oddity," from 1968, was made into a music video that was shot on the International Space Station.
Although covers rarely surpass the originals, Bowie himself hailed Hadfield's performance as the song's most moving performance.
The astronaut is seen floating through the space station and looking down at Earth as Bowie's words on space travel are being sung.
The version is undoubtedly rather poignant, but it is also quite expensive, with costs generated in a number of different ways.
First of all, the set.
Despite the fact that the precise cost of the ISS is unknown, experts believe that it cost about $150 billion, making it a somewhat pricey location for a music video.
Even without taking into account the expense of the venue, the video was still quite expensive. Of all, the ISS wasn't constructed in the 1990s just to serve as a backdrop for Chris Hadfield's song cover.
Each second an astronaut spends on the ISS apparently costs roughly $90 since, in space, time is money.
Hadfield independently set up and shot the entire video, which means that the few hours he invested in the production may have cost NASA millions of dollars.
Regarding the tools used in the clip, Hadfield's guitar is a Larrivee P-01, a parlor guitar that was one of several items put on the International Space Station (ISS) to keep personnel sane.
On Earth, the guitar costs around $2,000. However, the instrument's interstellar variant is about $100,000, with the majority of the expense going toward shipment. It requires a lot of money, planning, and fuel to launch cargo to the ISS; the cost is determined by the weight of the cargo.
NASA apparently had to pay close to $100,000 to launch the little, lightweight guitar they specifically selected for the space station into orbit.
It becomes a little difficult to estimate the final cost of producing the YouTube video when you factor in the costs of employing people to record all of the other instruments on Earth, mix and master the song, edit the film, and other expenses.
However, Hadfield's cover of Space Oddity is undoubtedly one of the most intricate videos ever made, whether it cost $150 billion or just $150,000.
Given the extraordinary level of human technological advancement we are currently at, it is possible to argue that it represents the apex of entertainment for humans.
It's a record-breakingly costly YouTube video that demonstrates the immense potential of the service we all like. It's one tiny step for man, one giant leap for 1960s psychedelic pop, and one small step for man.
And that pretty much sums up the most expensive YouTube videos. Since I was limited in my ability to cover YouTube's most opulent content today, please share any of your preferred high-end faves in the comments section. Thank You!
About the Creator
BBA in Marketing, Full time Freelancer
Hobby traveling, reading, observing, learn new thing,
Subscribe Please :)
Reader insights
Be the first to share your insights about this piece.
Add your insights